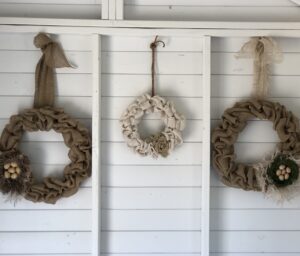 I've been busy in my little shack making these fun burlap bubble wreaths. Bubble wreaths are all the rage these days and I've put my own little twist on a few. I'm currently using up a stash of nests and twigs and all sorts of other things I have in my crafting supplies. Each one pictured is unique and handmade by me.
If you're in the Paso Robles area, you can contact me using the Contact Us page on this website and I can arrange to deduct shipping if you're willing to pick the item up.  I'm not currently taking custom orders but may do so after the holiday season is over. My "real job" is getting in the way of my creative time! Ha ha! Something has to pay for all of these crafting supplies that are surely going to make me a million dollars some day 😉  If you'd like to stay up to date with the new projects I have available for sale, sign up for my newsletter and I'll be sure to keep you up to date.
I used to own my own retail store selling unique gifts and home interiors.  I'm not sure if I'll ever be up for the responsibility of running my own business again, but I do enjoy the creative side.  Hootshack is my way of being able to enjoy my projects at my own pace.  For now it is doing well at satisfying that creative side that I hunger for.