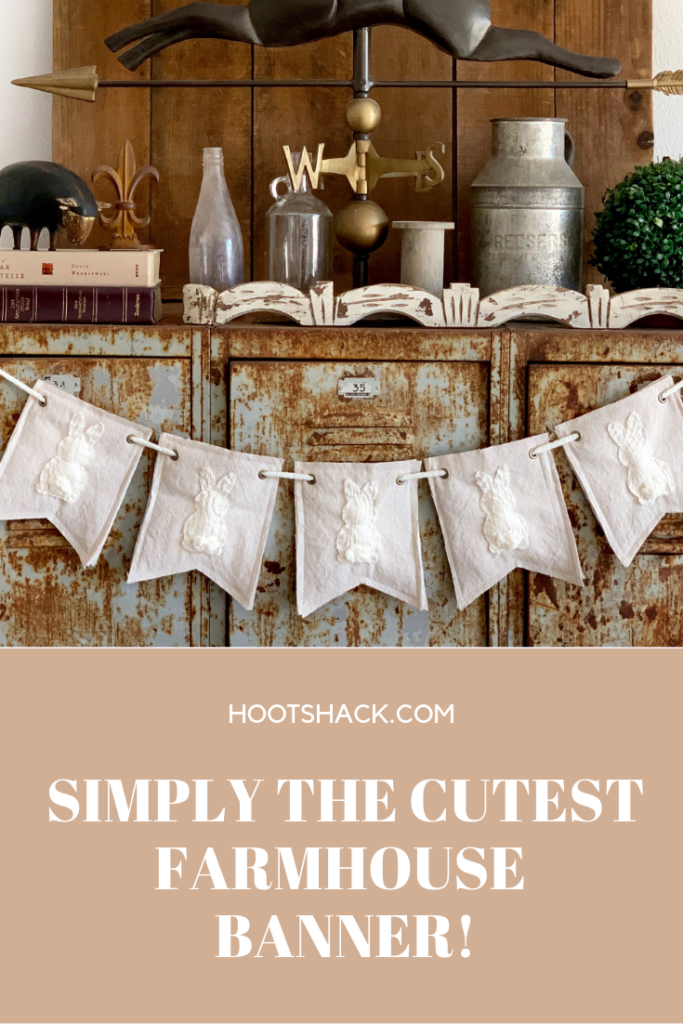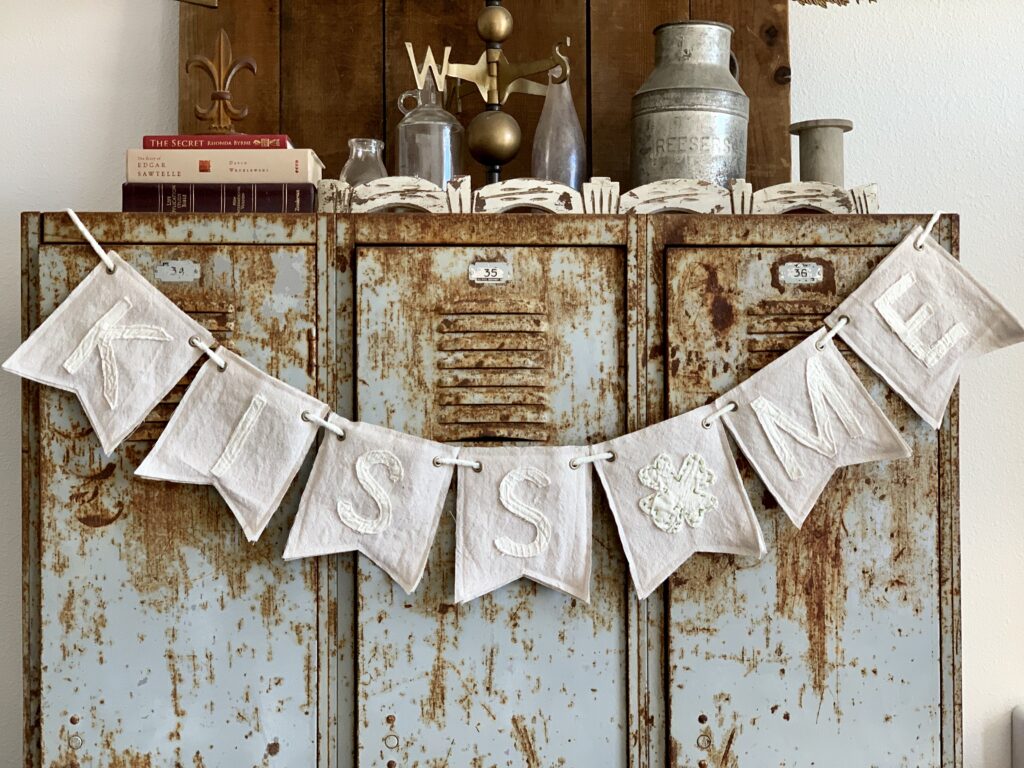 This is simply the cutest Farmhouse Banner DY and is one of my favorite DIY projects I've made so far. I want to start by saying that I would definitely not be deemed a seamstress by any stretch of the word. I had to have my mom stop by to reload the bobbin on the sewing machine! The best part about this project is you don't have to know how to use a sewing machine. You can sew them completely by hand if you'd like.
This post contains affiliate links. Please read my blog disclosures for full details.
When I first started making these, I had the intention of selling them on Etsy, but I decided that I'd share a DIY with you instead. After making two of these farmhouse banners, I realized that the sewing machine was really just optional. I'll share photos of both options. Take a look at the photos and you can decide which one is the right look for you! Some items I used made my life easier, but they are optional.
What you'll need to make the Farmhouse Banner DIY:
Fabric for each banner
Batting – I used this batting because I like the color
Contrasting fabric for the letters or shapes – I used an old Matelasse bed cover
Stencils – I'm lucky enough to have a Cricut Maker, but you can also print letters and shapes and cut out your own stencils
Embroidery Floss & Needle
Optional items – Blanket yarn (bunny tails), polyfill (to stuff bunny bodies if you'd like. I thought it made them stand out better.
Some sort of poky thing (we'll get to that in a minute)
Here's a link to my Amazon Storefront showing most of the products I used. In some cases, the products may be similar.
Let's get started!
Making The Banners
The banner shape I used was a leftover piece from a Valentine's Day project I made. It was made with thick felt and worked perfectly. I found it at Target in their famous Dollar Spot. I've seen a lot of templates online that you can download for free. You can also print the shape you want and cut your own stencil. This video showing how I cut the pieces is helpful.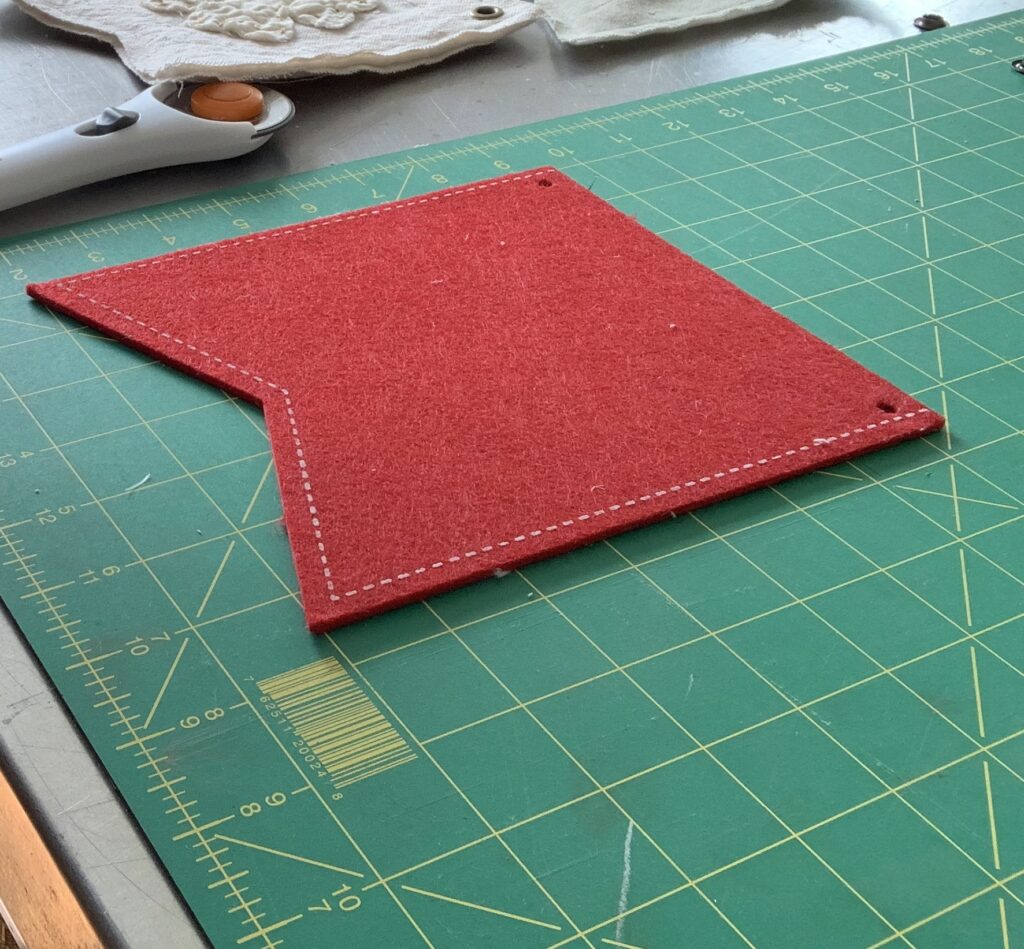 To make each banner piece you'll need to cut 2 pieces of the drop cloth and one piece of batting per banner piece, along with your letters or shapes. It's best to get all of the cutting out of the way first so the assembly goes quicker. Before you get all excited sewing your banner pieces together, remember that you have to sew your letters and/or shapes on the front pieces of drop cloth first (don't forget the bunny tales or whatever you choose to embellish with). After all of your letters and shapes are sewn onto the fronts, you'll need to layer the front banner pieces (with letters and shapes) the batting and the second piece of drop cloth. Pin all three layers together so they don't shift around while sewing.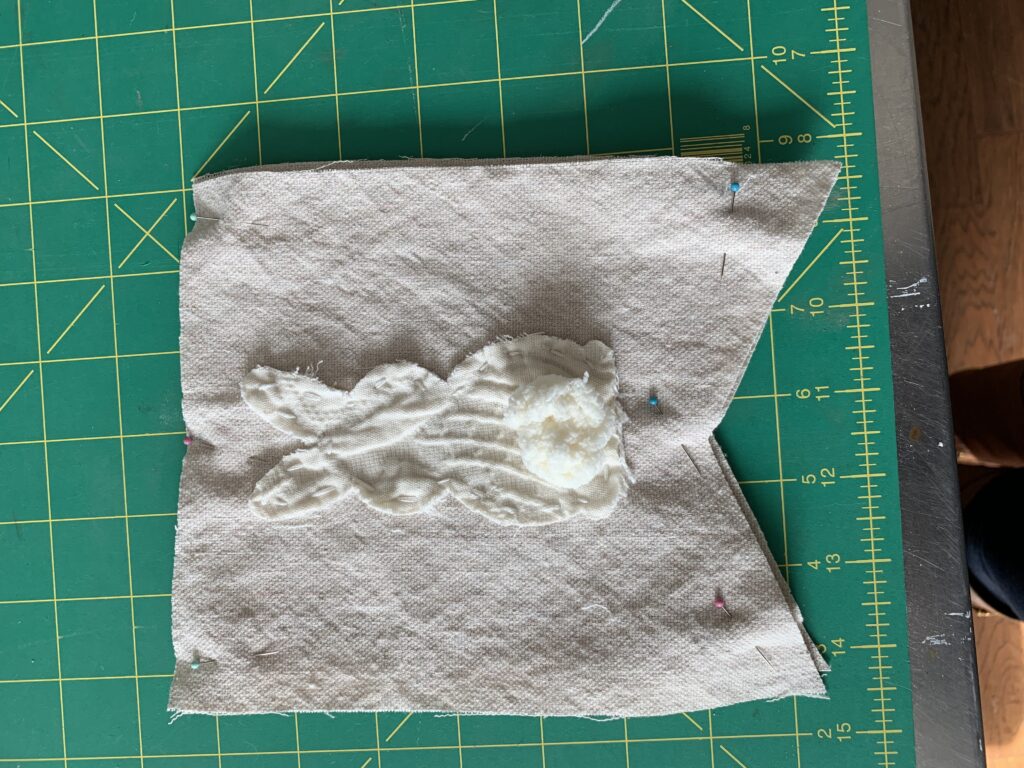 You can either machine sew them together or sew them by hand using the embroidery floss. I started out with the sewing machine but ended up liking the rustic feel of the hand-sewn pieces even more. You'll have to pick the look that works for you.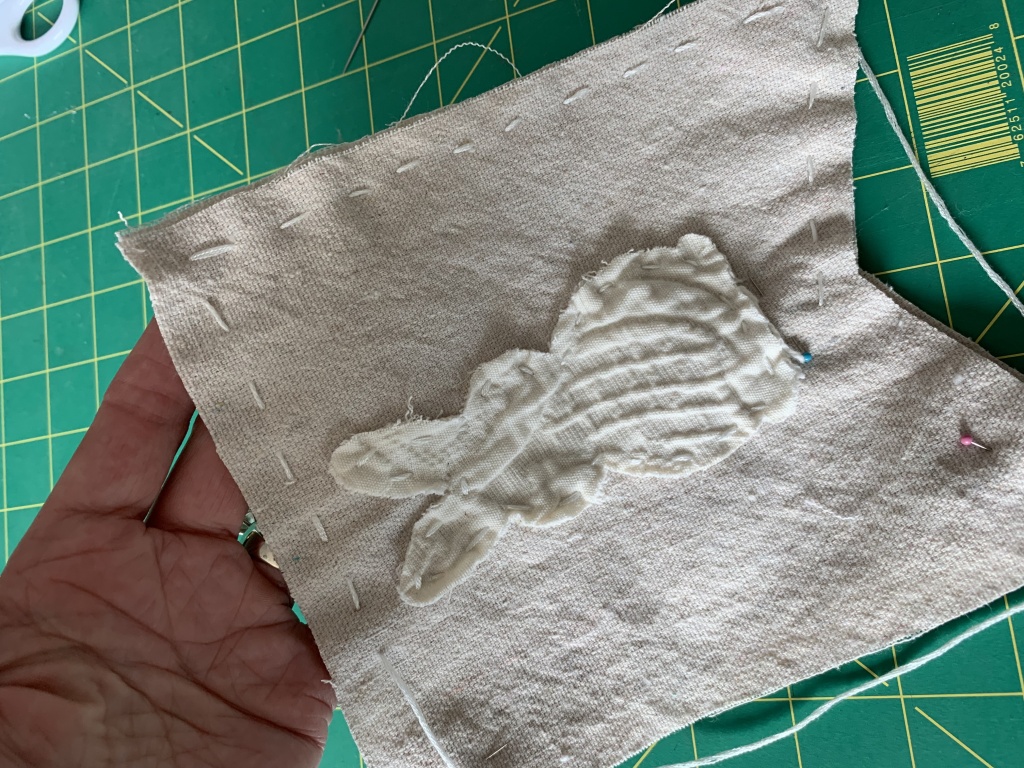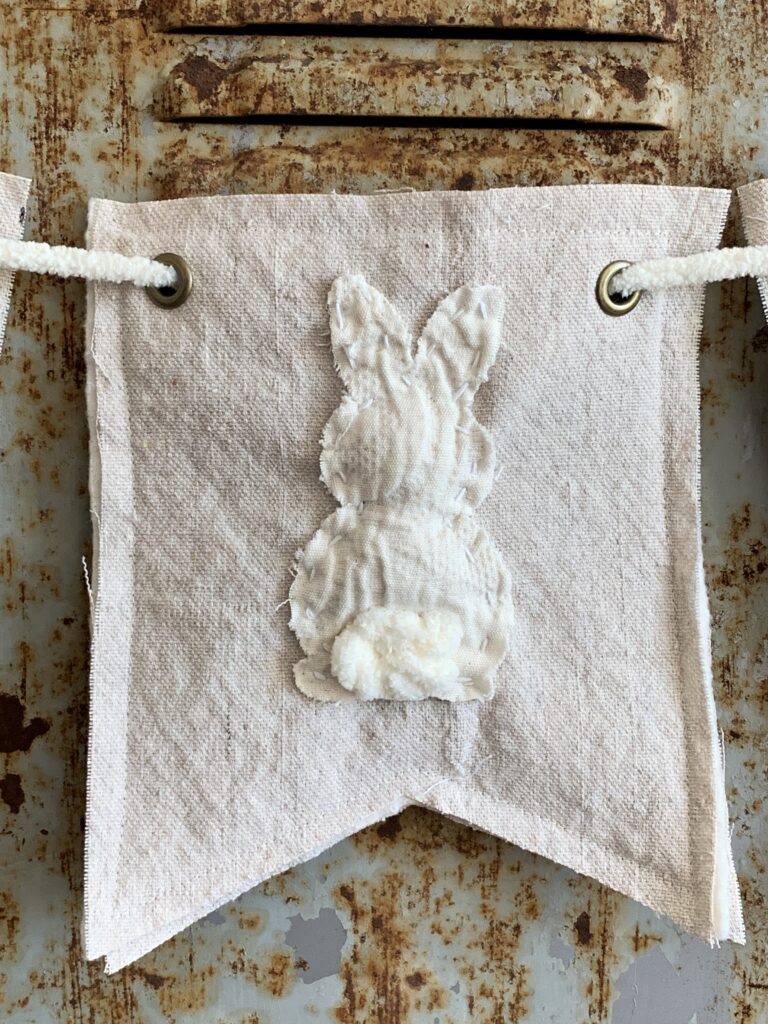 How to install the grommets:
The last part is the grommets. To install the grommets, you'll need grommets and a grommet kit. They aren't expensive so stay with me. I used the pointy end of my weeding tool from my Cricut to poke a hole through the finished banner piece where I wanted the grommet (you could also use an awl or an ice pick), then I forced the end of my scissors through the hole to make the hole larger and then had to create a small fold and cut the hole just a little bit larger. Don't cut too far! Sharp pointy scissors work better. If you try to cut through it with dull scissors, you're going to end up cutting the hole too large. This is a little confusing so I created another subpar video for your enjoyment. You can watch how to install grommets here. I'm the worst at making videos so please just give it a thumbs up and don't crush me! lol Once you get all of the grommets installed, you can string all of the banner pieces together using blanket yarn, ribbon or twine.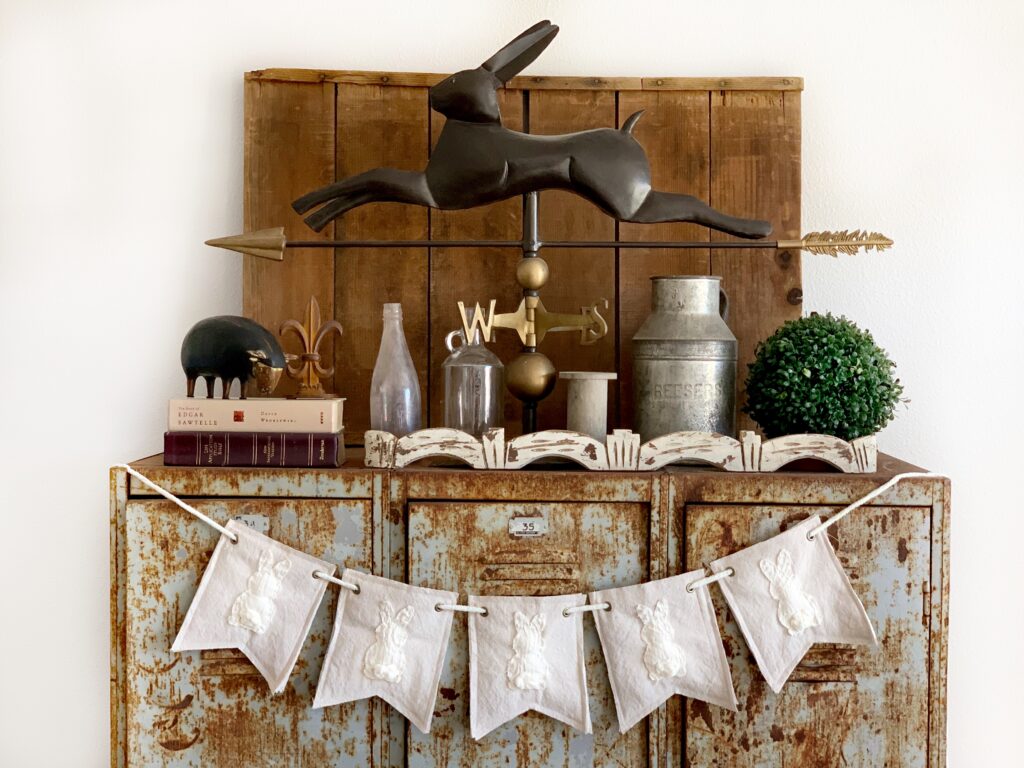 Here's another banner I made for St. Patrick's Day. I cut the letters with my Cricut.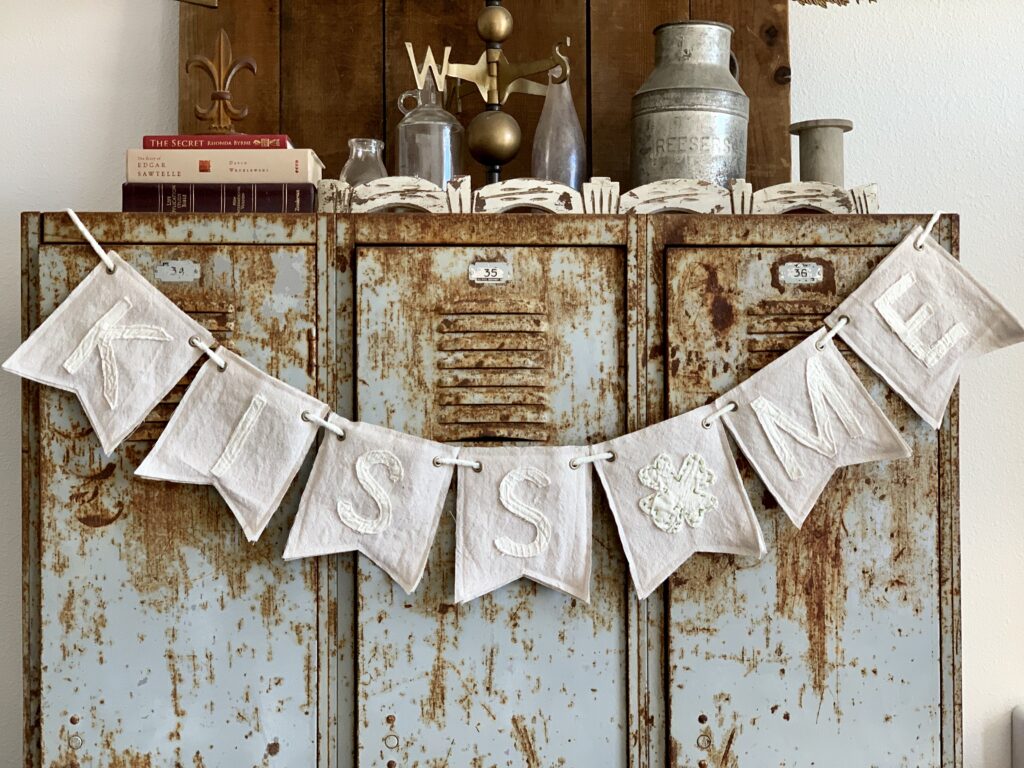 I tend to love neutrals but the possibilities are endless when it comes to color options, fabric choices, and embellishments. I would love to see what you come up with. Be sure to tag @hootshack in your social media posts and use #HootshackInspired so I can easily find you!
I hope you enjoyed my Farmhouse Banner DIY! Be sure also check out my Easy Garland, it's another one of my favorites.