I'm excited to share our Spring She Shed Decor 2020 and an update on our backyard. Jake and I are still busy in the yard. We've been in our house for seven years now and we're finally seeing the light at the end of the tunnel when it comes to the backyard landscaping. We're still the talk of the neighborhood with our front yard, not in a good way! That is going to have to wait though. You would think I'd care more about curb appeal, but we spend all of our time out back so that's our first priority. Sorry neighbors!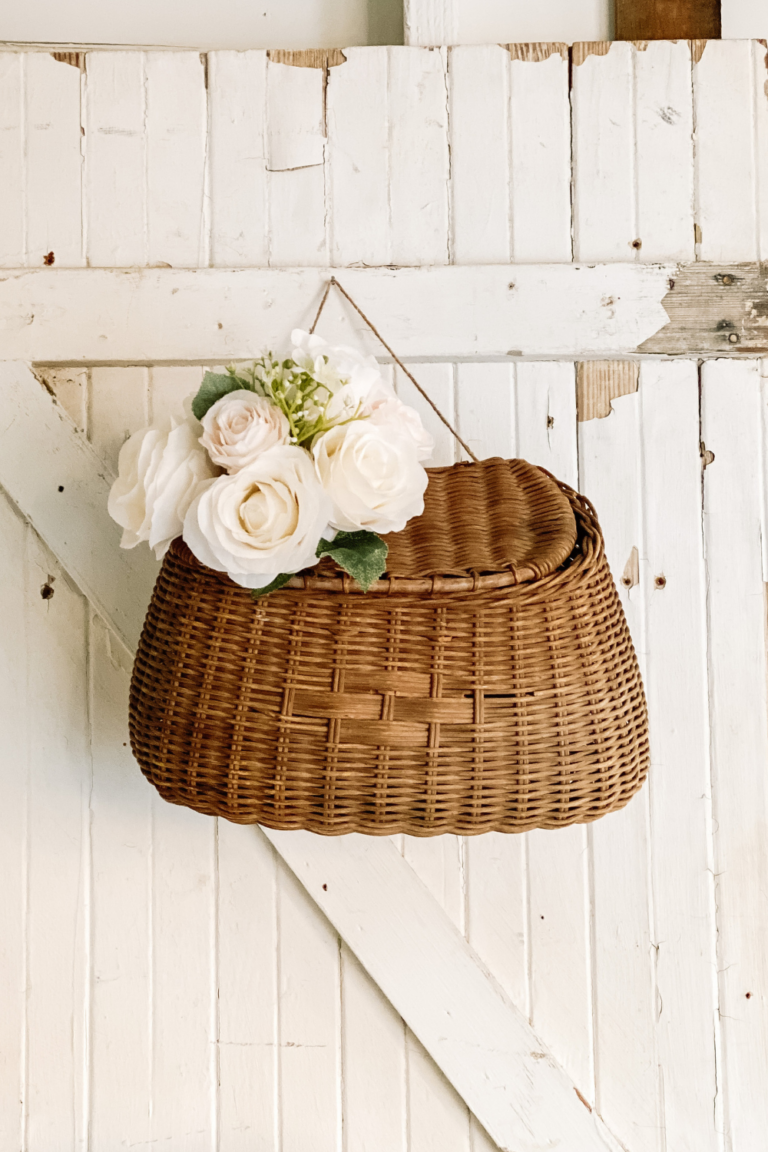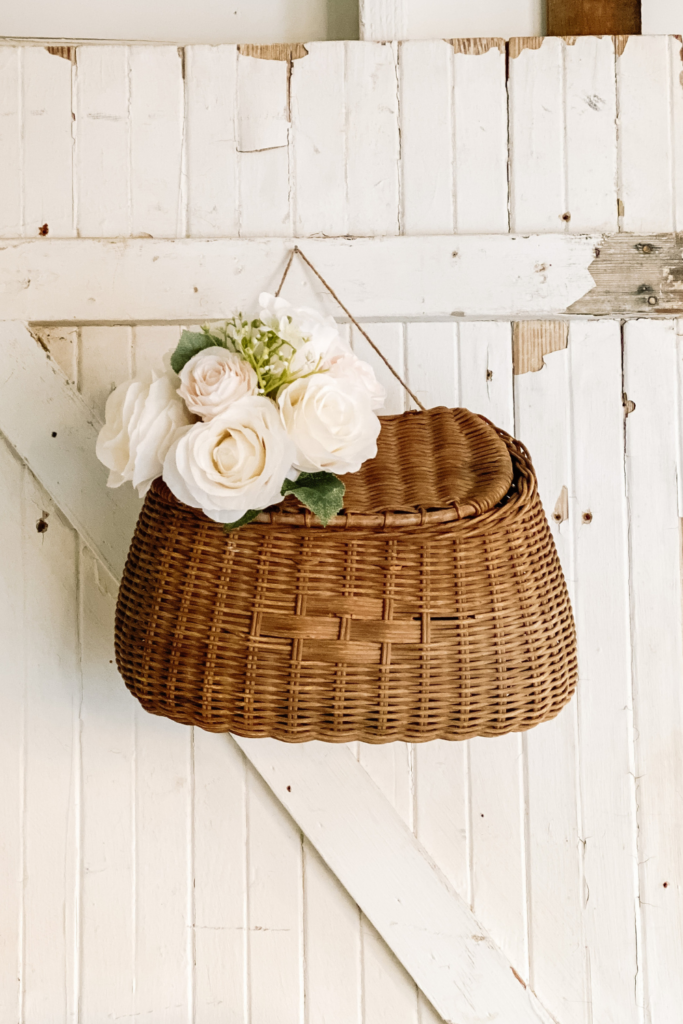 For those of you that have followed me for a while on Instagram, you know that last year I hurt my back and shoulder which has been a long healing process. I've put so many projects on hold including crafts and anything else I enjoy.
I got frozen shoulder from my injury which is extremely painful and I lost a lot of mobility. I don't want to bore you with this too much, but this is the main reason why the blog has suffered a bit over the last year.
I'm starting to feel a little bit better and am hoping for a full recovery. I've been told this could be 6 or more months down the road. Uggh! I was able to complete a DIY Drop Cloth Table Runner but that's about it.
Anyway, back to the Spring Shed Shed Decor 2020 edition. Here are a few pictures for you to enjoy.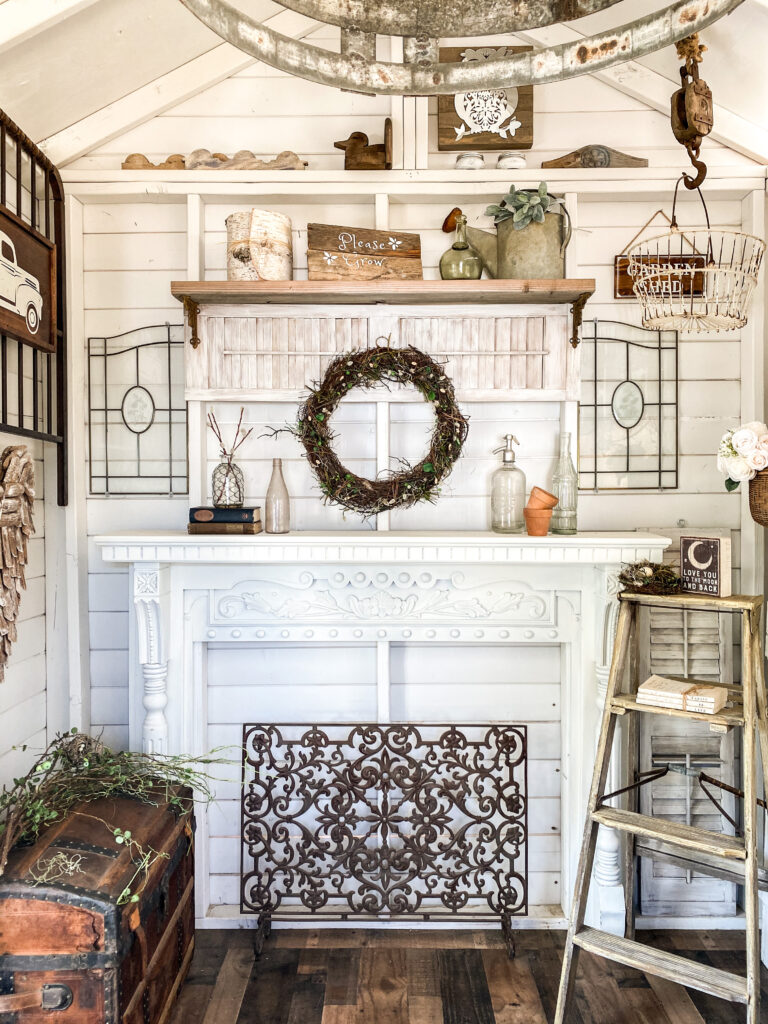 I kept the mantel simple using things I already had. The cute little stack of stamped books was made for me by my friend Ocean. You can check her out on Instagram. Her name is @lifeofasmalltownblonde. Be sure to tell her I sent you!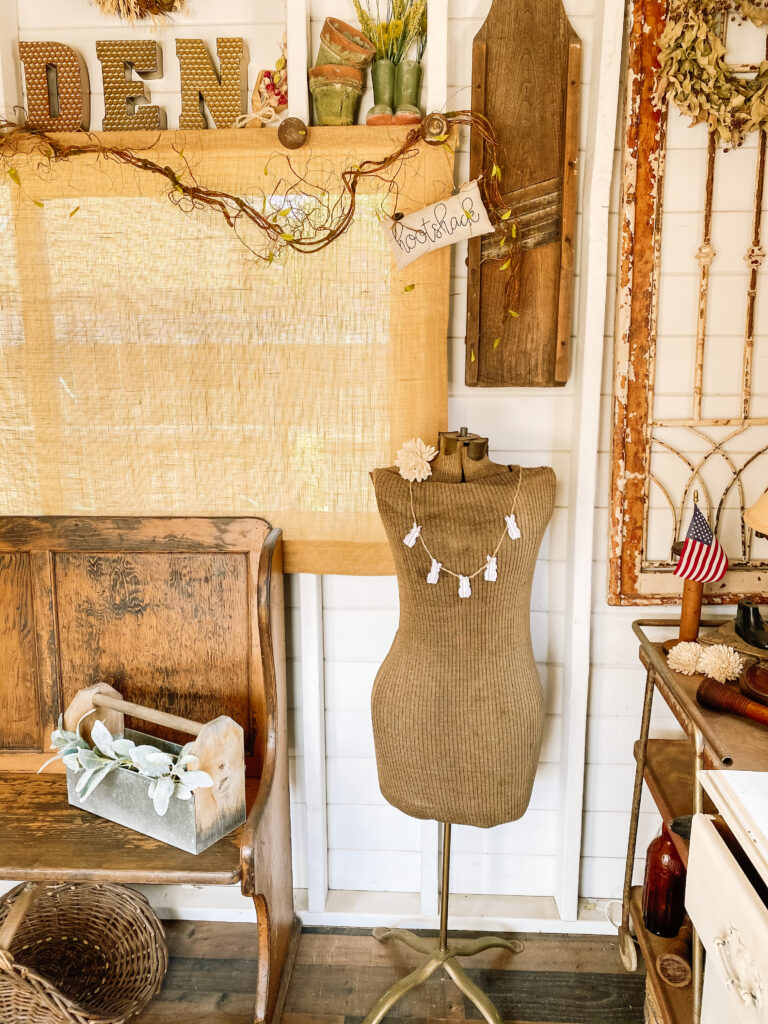 Miss Thang, as I like to call her, is wearing a bunny garland I made with my Cricut Maker. I like to accessorize her for each season.
In the above picture, you can also see a handmade pillow hanging from the window that says Hootshack. You should really go check out this talented maker as well. You can see her Etsy shop here. She makes handmade pillows and other adorable things. Her feed is so pretty, you'll be glad you stopped by.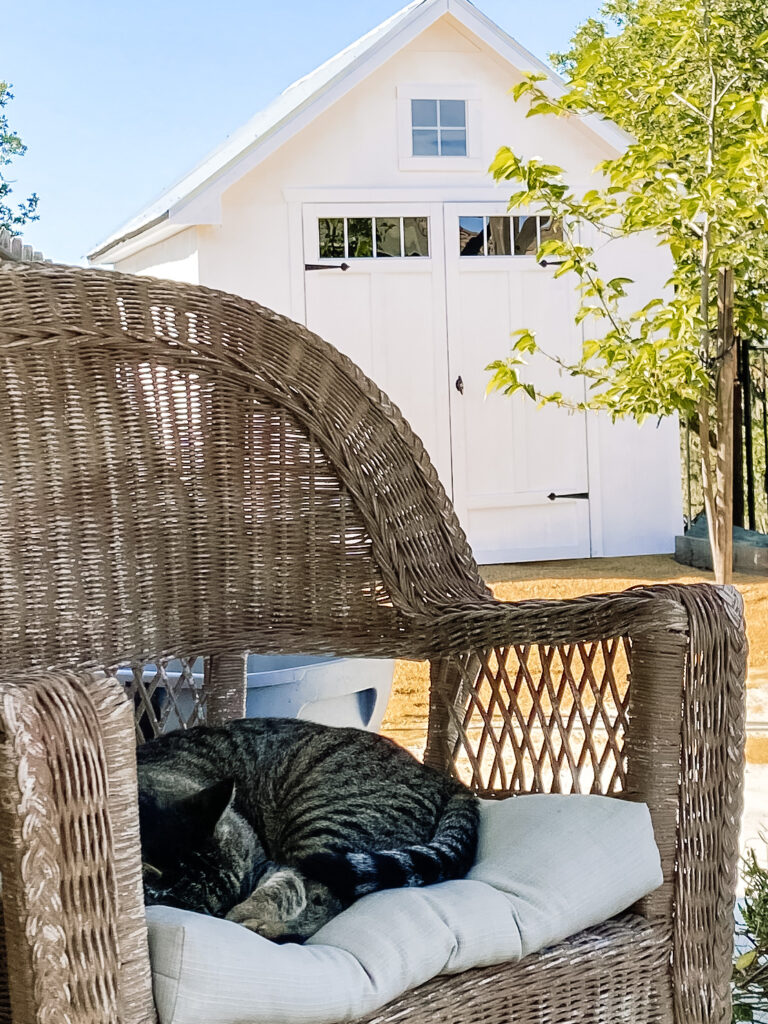 We also added a new shed that is actually used to store garden tools. Did you know they make sheds for storage? Me neither. 😉 I thought they were all used for decor. We're calling this shed the "He Shed". We're currently finishing the landscaping in front of it. When I say "we", I mean Jake.
Mooch enjoys the cute wicker chairs I picked up at Findings In Paso located at Reminisce. Jake and I sit here all of the time. The dirt you see in front of the shed is about to be a concrete walkway. I'll have to post a picture of that when it's complete.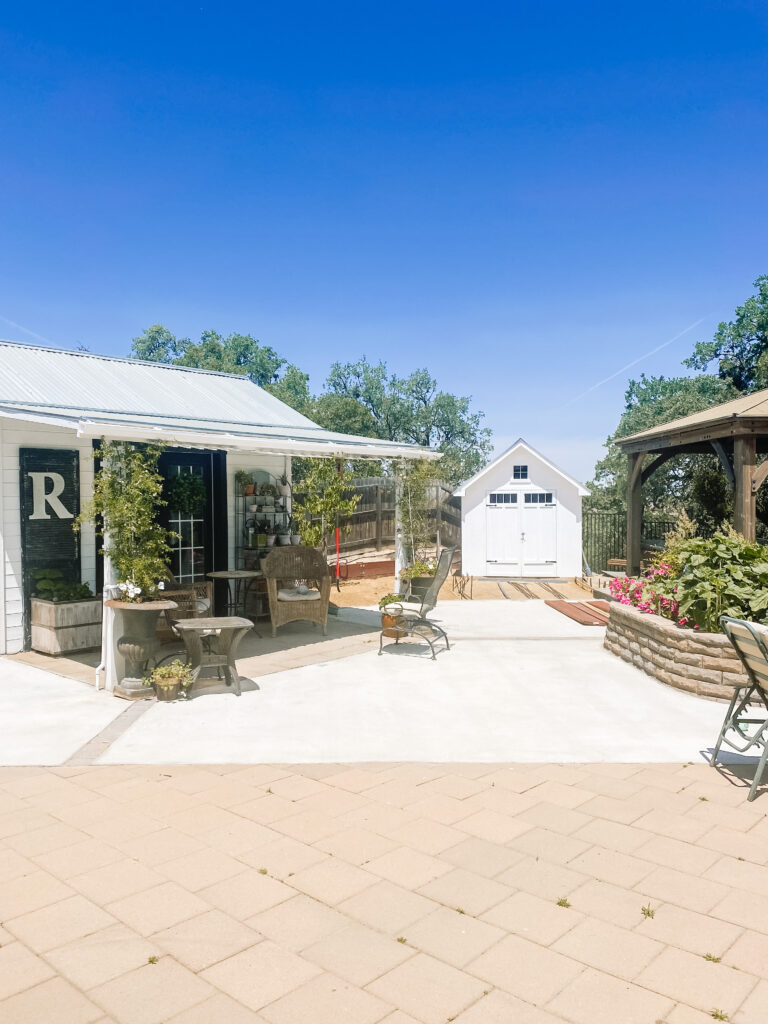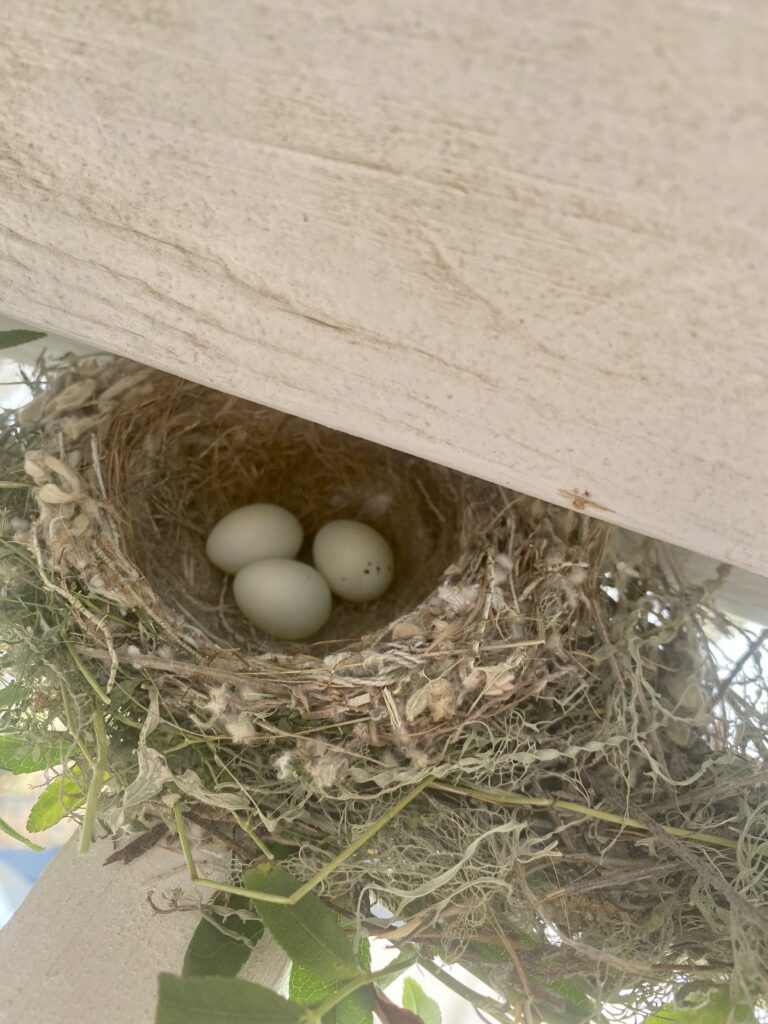 If you are wanted to build your own shed, you can read my tips for building a she shed.
That's all that's new for the Spring She Shed Decor 2020 Edition. I"ll post some progress pictures of the yard soon. We're hoping to get the area in front of the new shed done in the next couple of weeks. Bye, for now, my friends. Stay safe and healthy. That's what we say these days, right?!
Happy crafting,
Denise