Easy DIY Table Runner No Sew
Today I want to share an easy DIY table runner: a no-sew option. This will guide you through making a great DIY no-sew table runner that makes a statement and doesn't break the bank!
You can make this table runner DIY with fabric, burlap, or use a simple painter's drop cloth. You can also cut the table runner to any width or length that you'd like.
I'm a huge fan of drop cloths for home decor projects. I love neutrals, it's cheap, and it looks great! I like to use my runner on my dining room table but they would also be great for an outdoor tablescape, wedding tables, or even on a sofa or entry table.
Here's how to make a simple table runner.
DIY Table Runner Supplies
Drop Cloth or fabric – Pre-washed and dried
Scissors
Sewing Machine (optional)
Instructions
Making a table runner is easy. Here's how to make the DIY table runner: no-sew:
Cut the fabric to the width and length that you want using a rotary cutter for straight edges. I like mine about 14″ wide but you can adjust it according to the size of your table.
Pull threads out along the edges to create a fringe. If your fabric is too tightly woven, you can also snip in to the edges to create a fringe.
Repeat this process on the two ends to finish the runner.
Before picking a drop cloth or fabric, be sure to measure your table. I like to measure the flat surface of the table and add about 24″ for the two drops on either side. If you want the runner to hang longer, add additional length.
I like to choose a drop cloth that is large enough that I don't have to sew pieces together and create seems.
If you're using fabric, it can be more costly to do this, so you may have to piece the fabric together if it's out of budget to purchase one long piece.
My drop cloth is 4′ x 15′ so you could get 3 – 4 runners out of it. If you're planning to make other things with your drop cloth, you could choose a larger one so you have extra fabric. I make pillows, banners, curtains, etc.
582
Drop cloths aren't usually perfectly square so I fold mine in half, and in half again and again until I get it to the width I want. I then lay my rotary cutter along with the top set of seams and cut them off to give me a straight edge.
I then pin all the layers together to keep them from shifting around while I get things all straightened out. Then I cut the width of my runner then repin the leftover piece of drop cloth so it's ready to go for the next one and set it aside.
You should have a rectangle at this point that may still have a couple of seems left from the drop cloth. Use your ruler from your rotary set and cut those off straight.
You should just have one smooth, long table runner with no seems left from the drop cloth. I take my fingers and start picking out threads along the edges and pull them out along the length of the runner to give the fringed look.
If you don't like the fringe, you can use fabric glue on the edges to create a seem. I keep pulling until I get the fringe to the desired width. Sometimes I have to cut the threads along the way if they start to get tangled.
This process isn't hard, it just takes a while so put on your favorite show and start pulling strings. I do this on all four sides.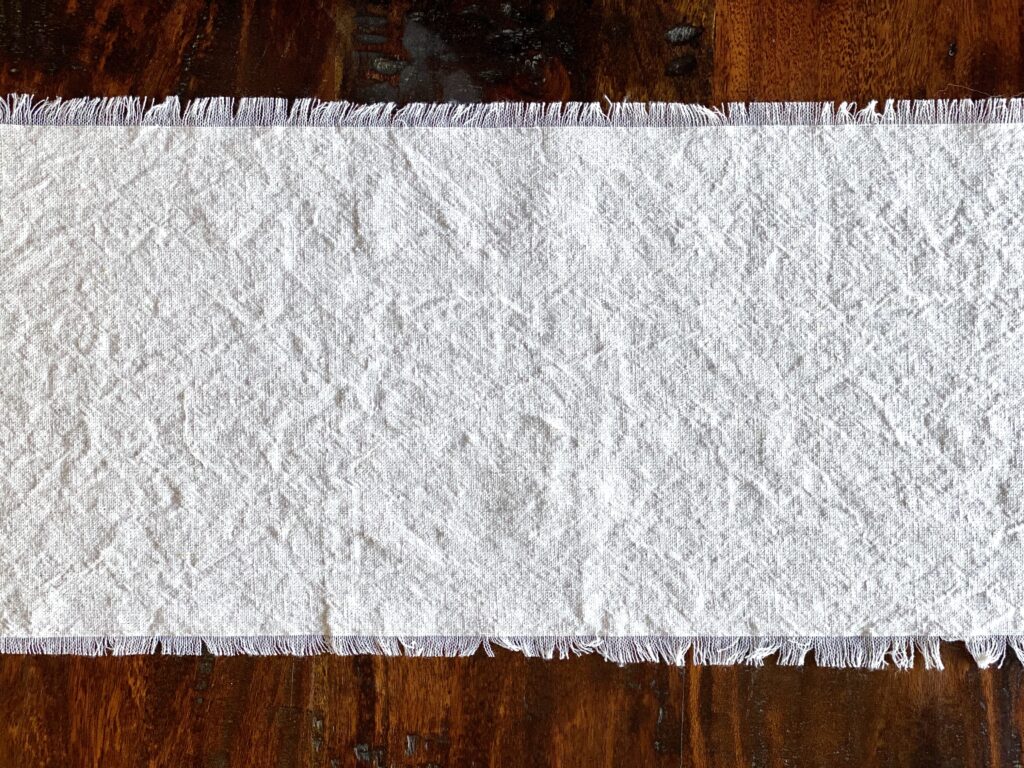 Optional tearing method
I've heard you can just cut a small slit and tear the drop cloth instead of cutting a smooth edge. I haven't tried that but if it's easier for you, you could give it a try.
Instead of using the rotary cutter as I did, you can just tear the edges instead. Again, I haven't tried that. I use my drop cloths for all kinds of projects so I prefer leaving a very finished edge for the next project.
Optional Sewn Edges
If you want your runner to be machine washable, you'll have to sew with a zig-zag seam or double seam along the edge of the runner. I just spot-treat and handwash mine when necessary.
Even if I were to sew the seams, I would probably only hand wash them and then hang them dry. I change things up too often so I'm not sewing mine. I'll take my chances!
Table Runner DIY Decor Ideas
If you'd like to add stripes to your runner, you can use painter's tape to tape off lines and then paint them in with fabric paint. I love black or gray stripes on my runners! You can also layer your runner over the top of a print or solid fabric for additional texture.
I hope you've enjoyed this Easy DIY table runner. If you'd like to take a look at how I make my Simply Cute Farmhouse Banners using a drop cloth, you can find those here.
Happy crafting,
Denise