This post contains affiliate links which means that at no cost to you, I may earn a commission if you purchase using one of my links. For more information view my full disclosures.
~
I love crafting DIY yarn ornaments for Christmas and other holidays throughout the year. Yarn adds a soft and cozy feel to holiday decorations and it's generally inexpensive to work with. Let me show you some of my favorite yarn ornaments I've made over the years.
I love budget-friendly Christmas decorations. Yarn is one of my favorite things to work with. I always end up with leftover pieces of yarn from various projects so I used a lot of them by making all of these cute DIY yarn ornaments for Christmas and other holidays.
DIY Yarn Christmas Trees
These adorable DIY yarn ornaments can be made using wooden Christmas tree shapes or even triangle pieces cut out of cardboard. The wood shapes will likely hold up better over the years, but either one will work. I used my Cricut to cut triangles out of chipboard.
I recommend gluing yarn all the way around the edges first and then starting to wrap the yarn. This was especially helpful along the bottom and the sharp corners.
You can leave them simple or add wooden beads or other decorations. Bulbs can be cut from these miniature Christmas lights for a festive look.
For trunks, I used a folded pipe cleaner, a broken stick and a square of cardboard glued to the back of the triangle shape and then wrapped with yarn. Notice one tree I wrapped a single strand of yarn leaving the chipboard showing and it turned out cute!
DIY Yarn Hats Ornaments
Yarn hats are so easy to make and they look adorable on the Christmas tree. I used the same technique to make the hats as I've done in my yarn gnomes ornaments. If you don't want gnomes, you can just make the hats and hang them from ornament hooks.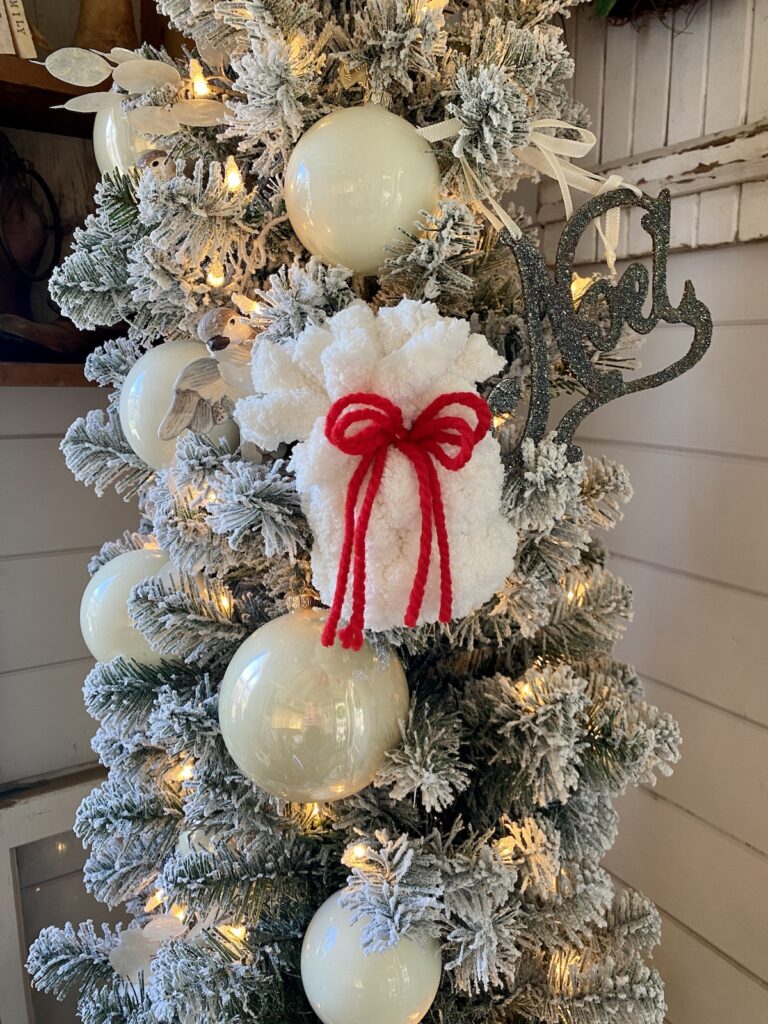 To make larger hats, use a mason jar ring instead of toilet paper rolls and try a chunky blanket yarn. I don't recommend the chenille blanket yarn. I made one once and it was beautiful, but it shed a lot! I used 18″ pieces of yarn and a mason jar lid that measured about 2 1/2″ across.
DIY Yarn Gnomes Ornaments
I like to make gnomes for every season. They aren't just for Christmas. You can find a complete tutorial for how to make yarn gnomes here on my blog. I made some cute ones for fall that went viral so be sure to check out the yarn gnomes post.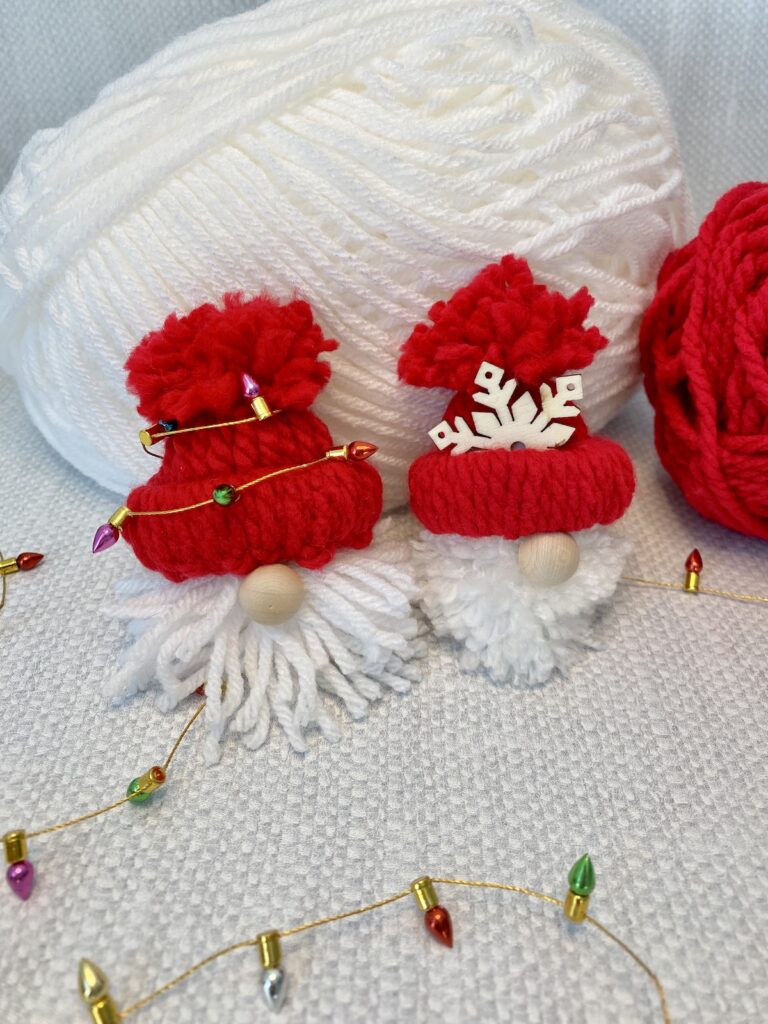 In the hat ornament listed above, if you make the larger hats with the mason jar ring, you can make an extra large pom pom to make a larger gnome ornament.
Ornaments With Tassels
Tassels can be used for many things and are incredibly easy to make. You can make these ornaments and also a cute DIY Tassel Garland With Yarn.
I glued a tassel to the bottom of a Hobby Lobby Christmas ornament for one and used wooden beads to decorate another.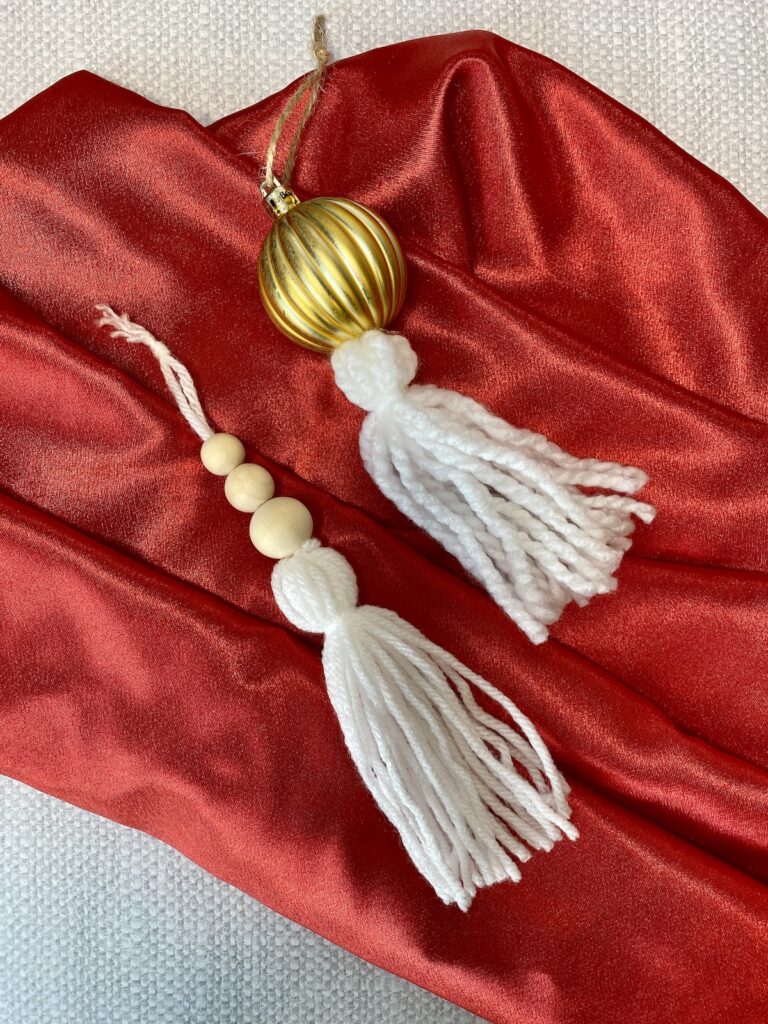 Fluffy Star Yarn Ornaments
These star ornaments can be made the same way as the yarn-wrapped trees but use star shapes instead. I also made an easy star garland with them.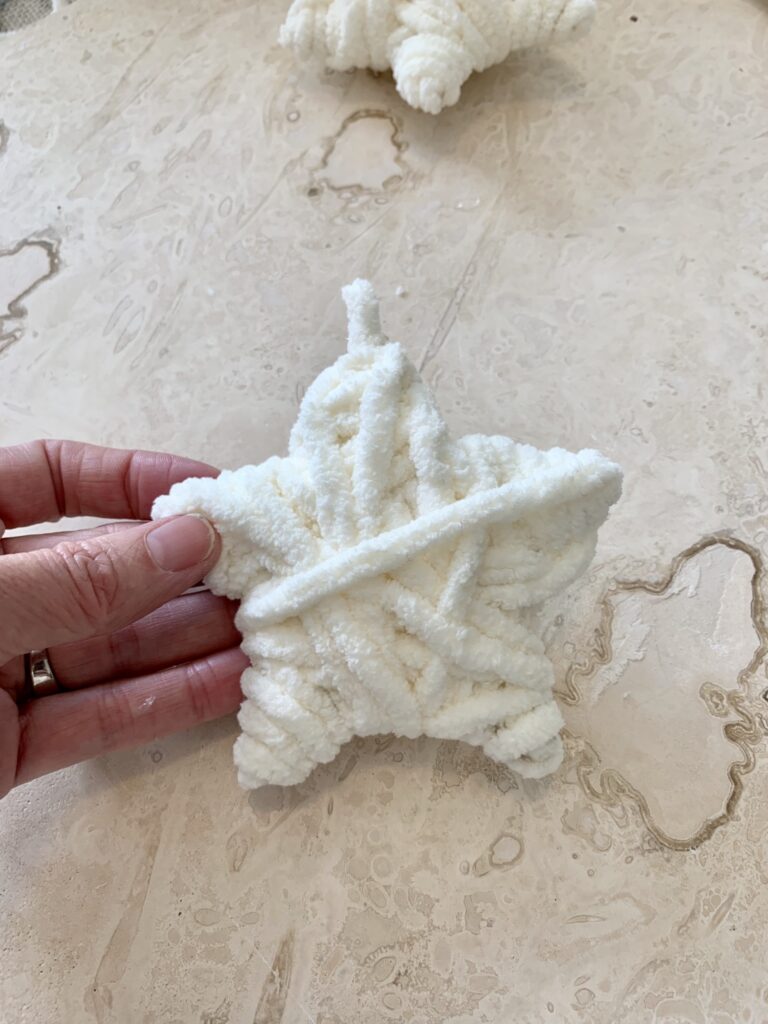 The only difference between making the two is that when you attach the yarn or twine as a hanger, with ornaments you glue both pieces of yarn to the same side of the star. For a garland, you glue one end to one side of the star and one end to the other so they hang the right direction.
Wreath Yarn Ornaments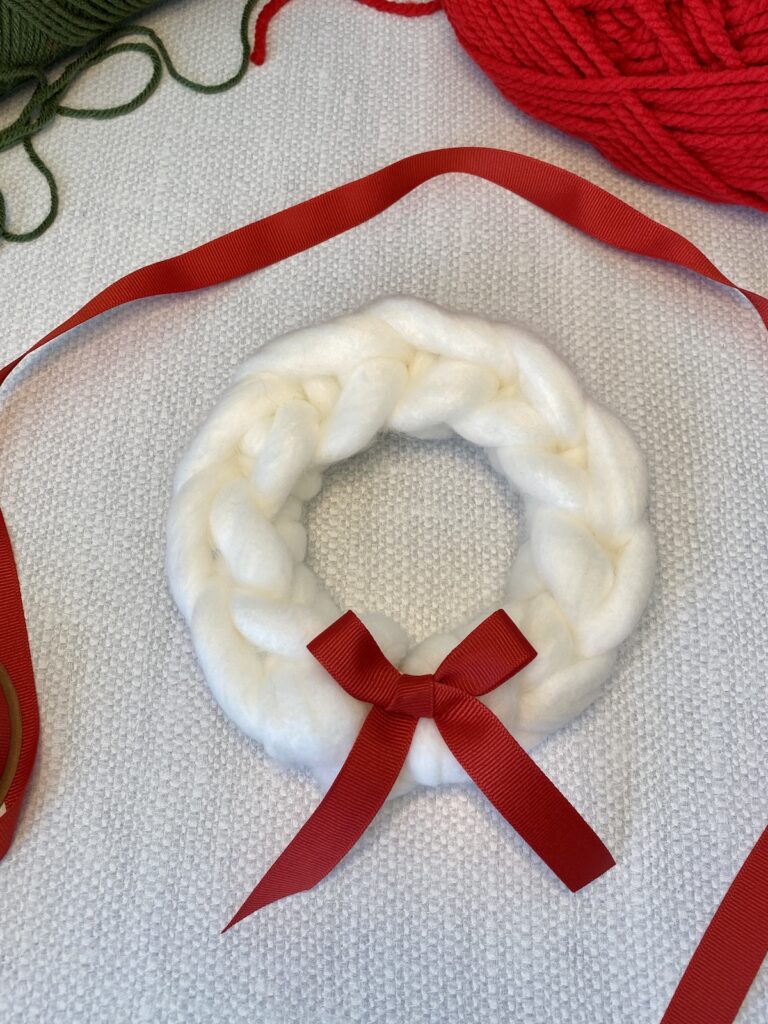 Follow the instructions in my Finger Crochet Wreath Tutorial to make miniature yarn wreaths with small embroidery hoops.
Yarn Pom Pom Ornaments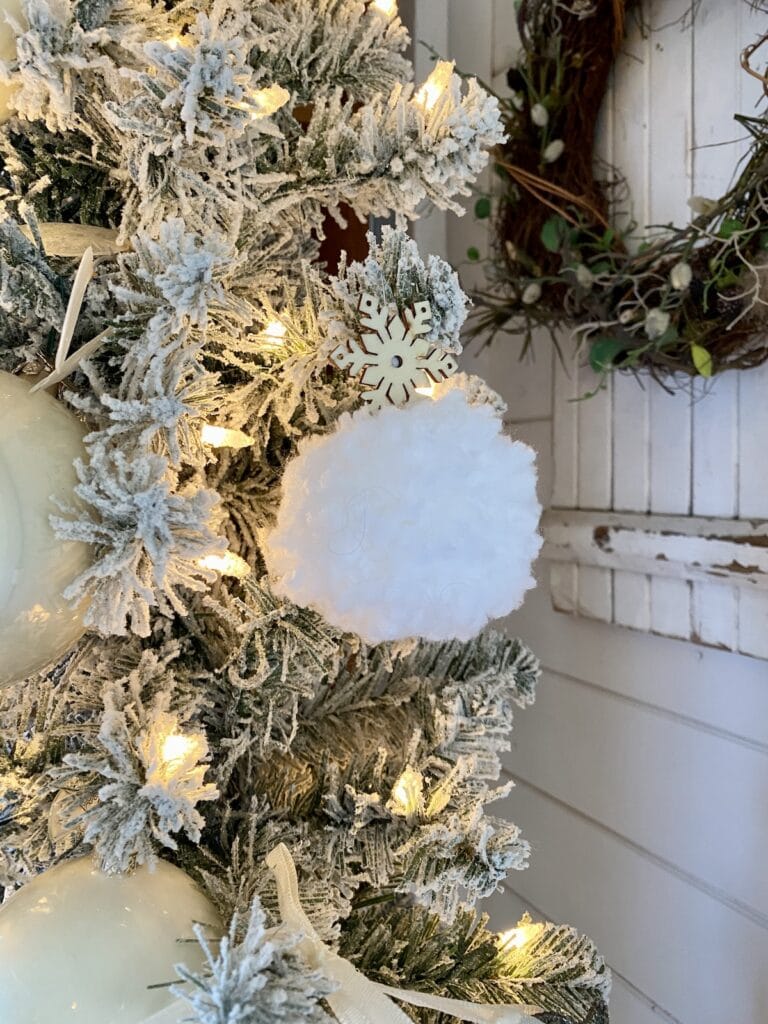 Yarn Ghost Ornaments
Using the same technique used to make tassel ornaments, add some felt eyes and a mouth to create cute yarn ghosts.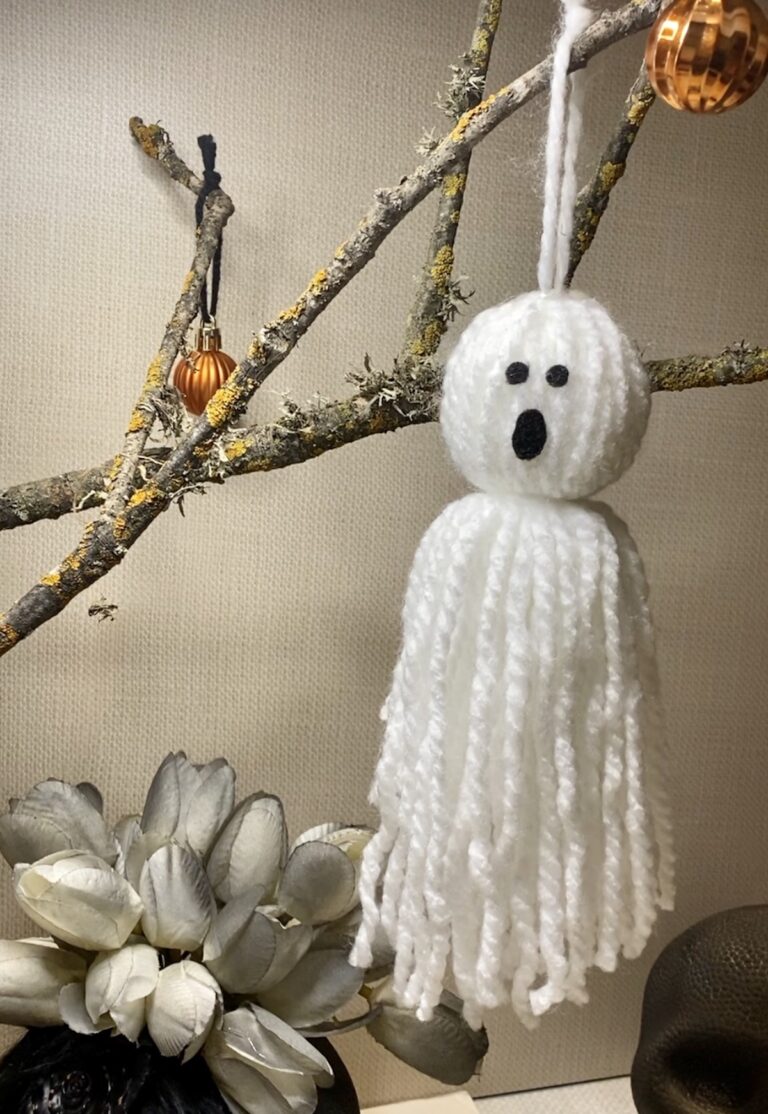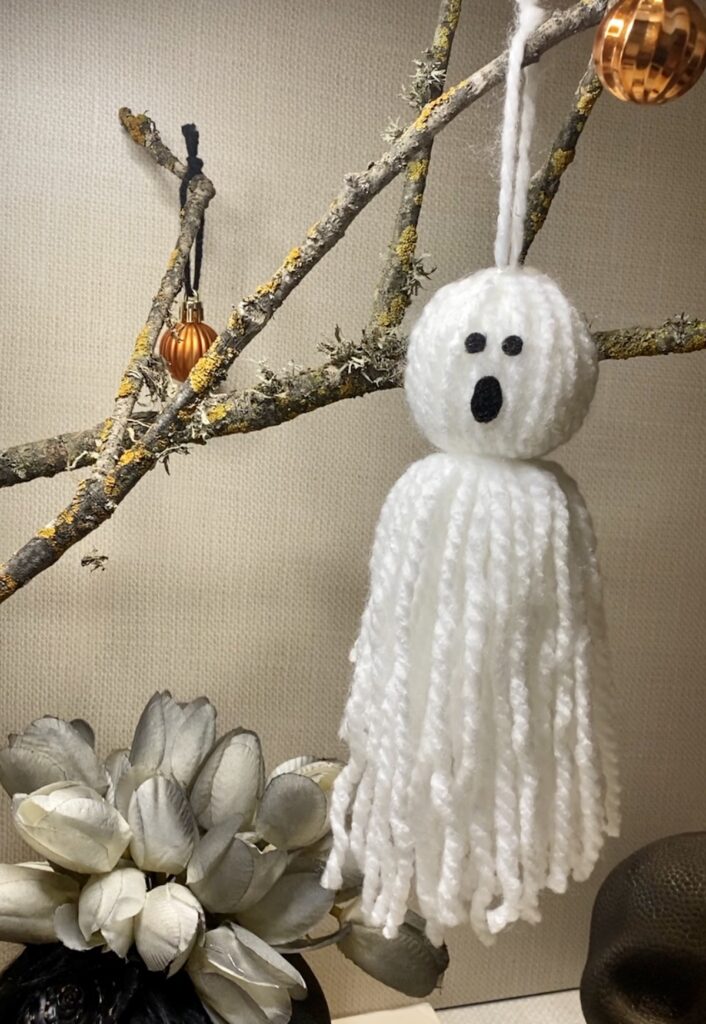 Easter Egg Ornaments
These were made by wrapping Dollar Tree easter eggs with yarn. Just add a loop for hanging.