How To Make Yarn Gnomes Ornaments Or Garlands
This post contains affiliate links which means that at no cost to you, I may earn a commission if you purchase using one of my links. For more information view my full disclosures.
~
If this is your first visit to Hootshack, you will quickly learn that I have a love of gnomes. Today I'll show you how to make yarn gnomes that are so cute, that you'll be addicted! You'll be making them for Christmas decorations, Fall, Easter, and every other holiday you can think of. Making yarn gnomes is so much fun!
So let's get to the instructions for how to make a gnome out of yarn. To make DIY yarn gnomes, you only need a few supplies and you can find them at any craft store including Michael's, Dollar Tree, Walmart, Amazon, or Hobby Lobby.
Yarn – More about this below
Toilet paper tube or paper towel tube (for sturdier gnomes you can also use cut pieces of PVC pipe)
Scissors
Decorations – seasonal items like flowers, leaves, etc.
A round bead or object for a nose
A fork or a pom pom maker (another option mentioned below in the instructions)
Polyfil or another ball of yarn for the inside of the hat
Miniature sunflowers (optional)

How To Make Yarn Gnomes Into Ornaments
You can use any ornament hook to easily turn a yarn gnome into an ornament. I love the decorative ornament hooks. You can also loop yarn through the top of the hat to make an ornament hanger out of the yarn.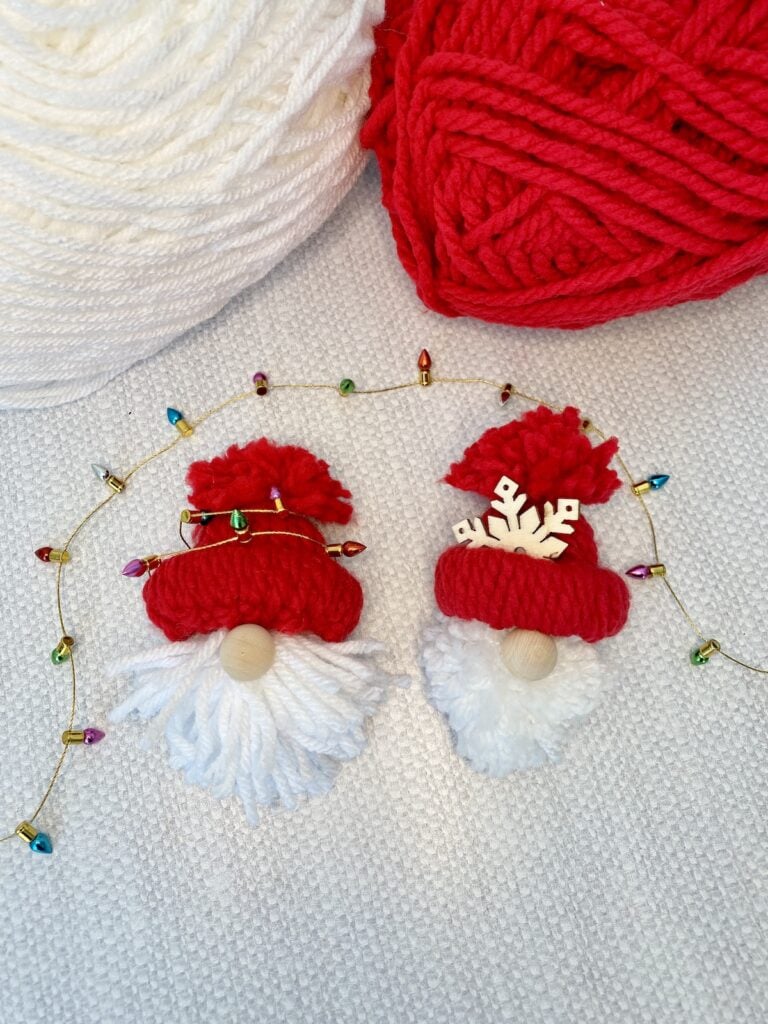 How To Make Yarn Gnomes Step-By-Step Instructions
Cut lengths of yarn into 10-12 inch pieces. (about 40 for basic yarn and less for thicker yarn)
Cut the paper tube into about 1/2-inch rounds.
Loop the yarn pieces through the paper round by folding the yarn in half, inserting the loop end through the center of the paper round, and then pulling the loose ends through the loop to tighten. Repeat until the paper round is entirely covered.
Push all of the loose ends back up through the center of the tube and straighten. This forms a brim for the hat.
Use another piece of yarn to tie off the top of the hat to create the top and trim it into a round shape.
Stuff the hat with a small piece of stuffing like Polyfil or another small ball of yarn so that hat keeps its shape.
Make a yarn pom pom for the beard or make a loose yarn beard (see below).
Glue the pom pom to the bottom of the hat.
Trim a little bit of the beard away from where the nose will go.
Glue on the nose.
Trim the beard to shape it.
Glue on embellishments if you'd like.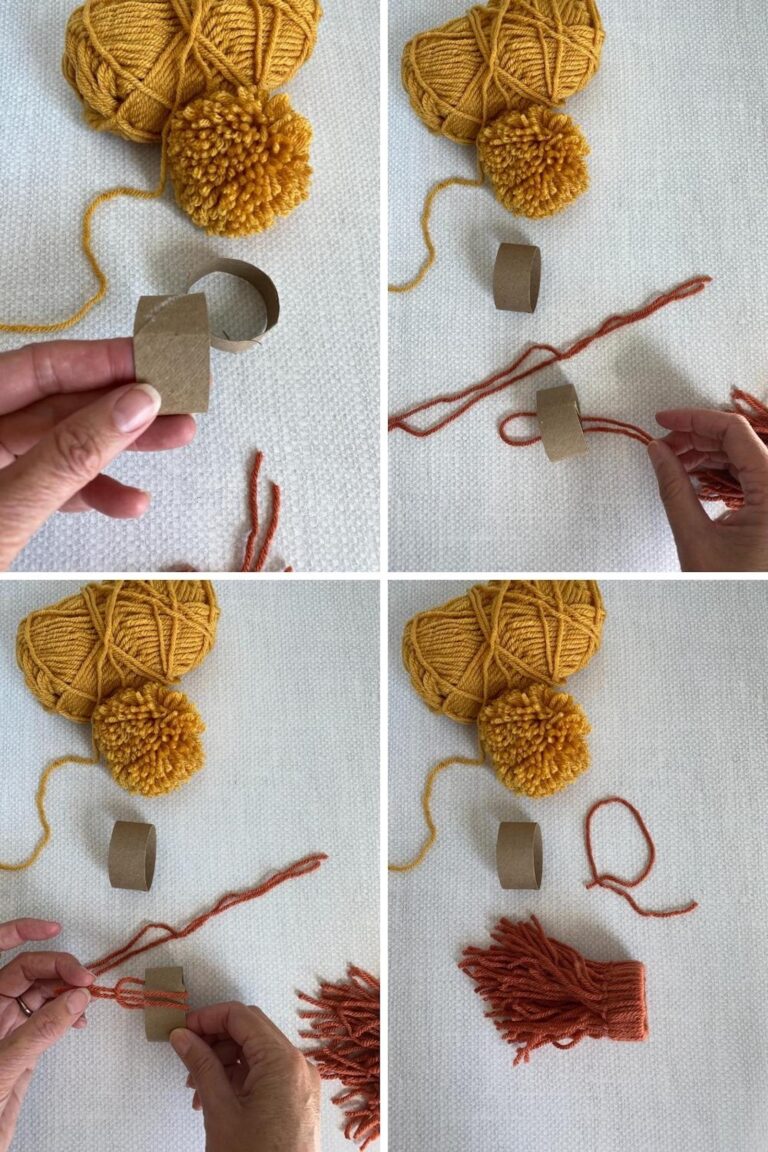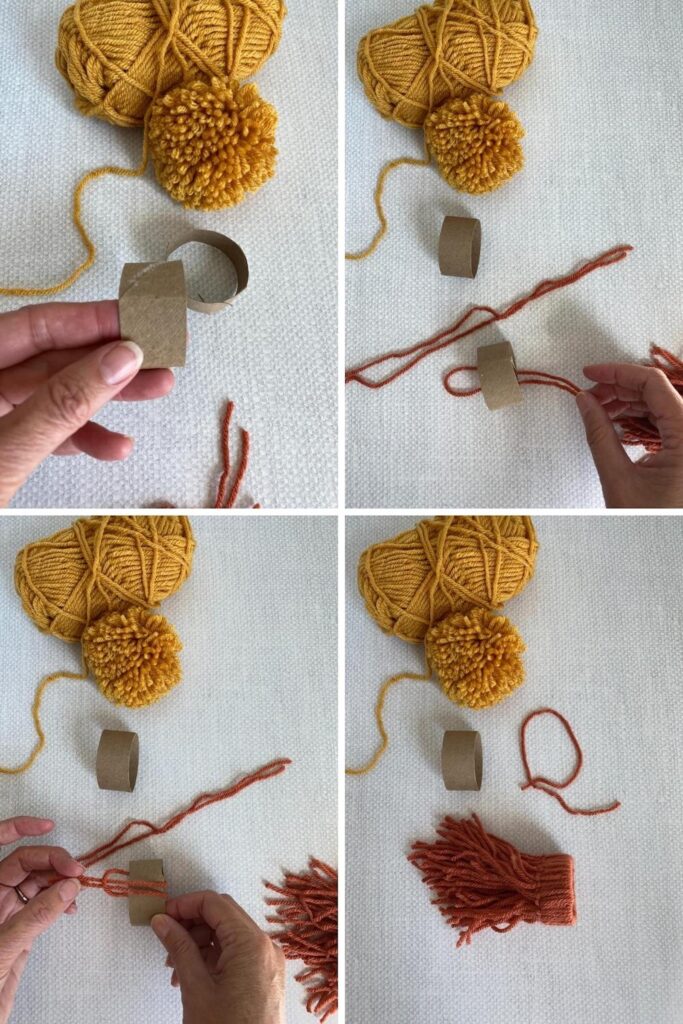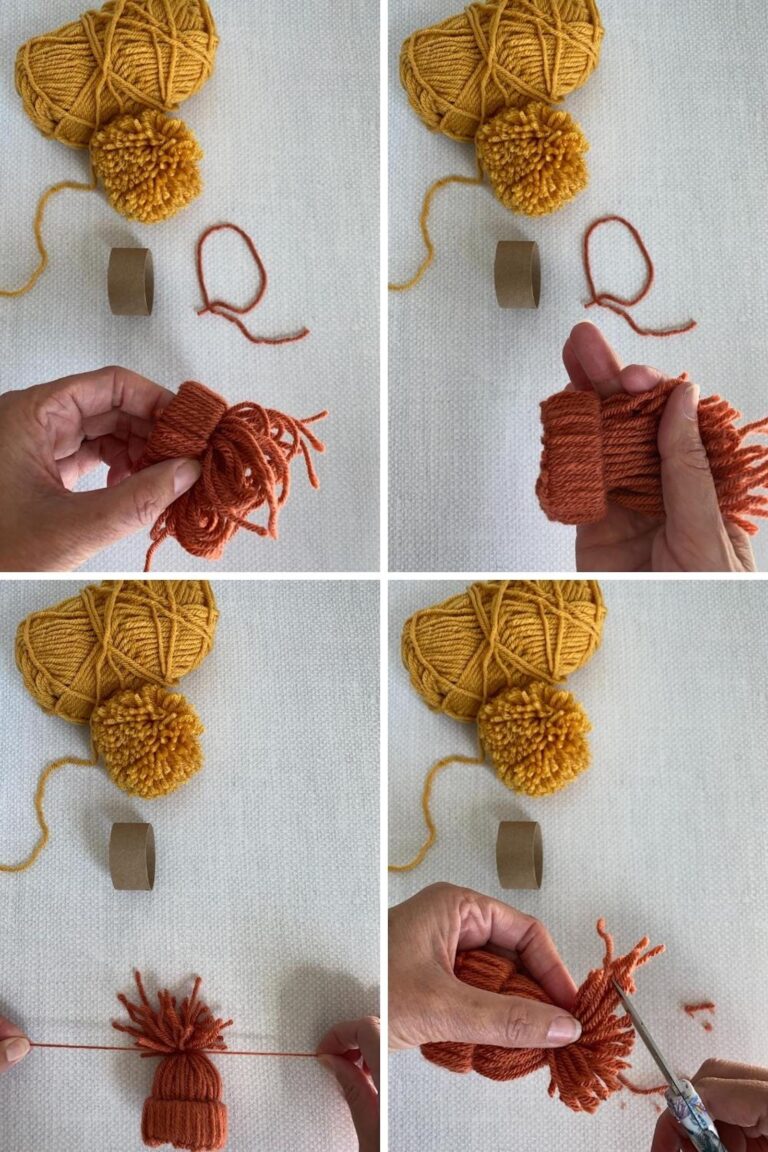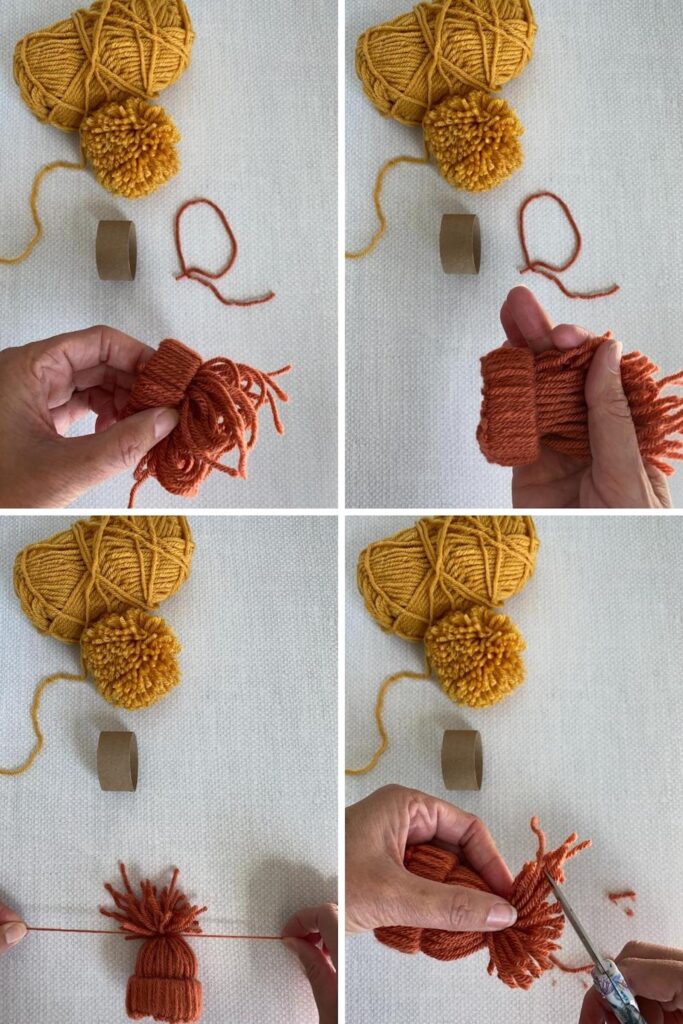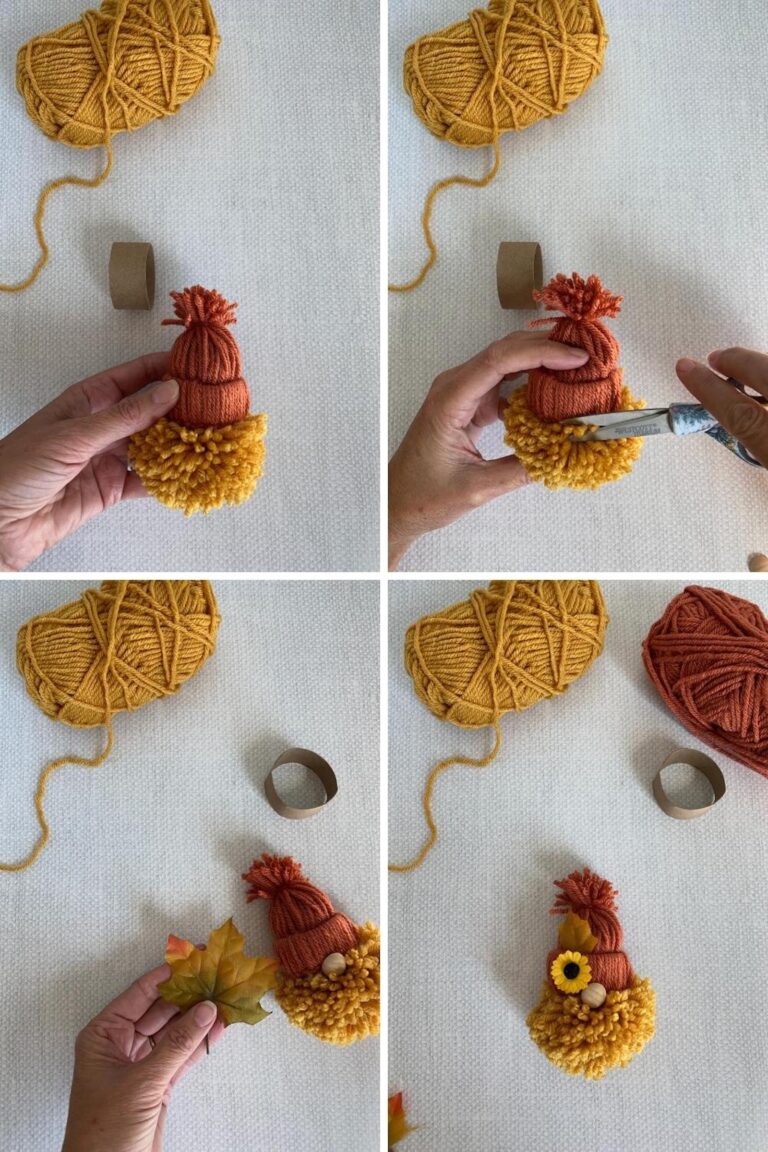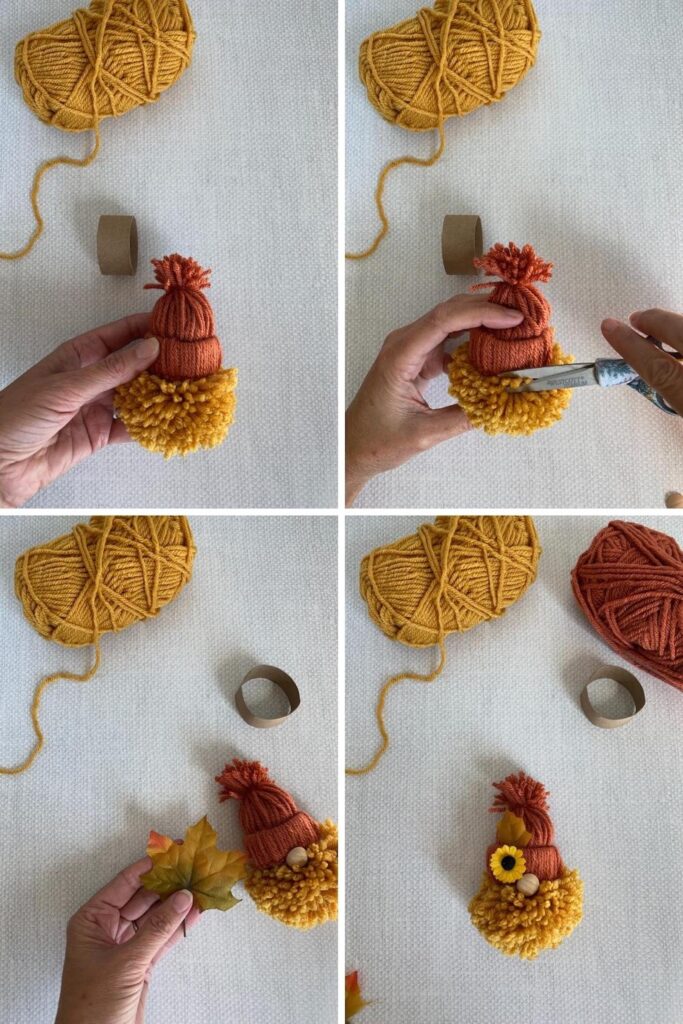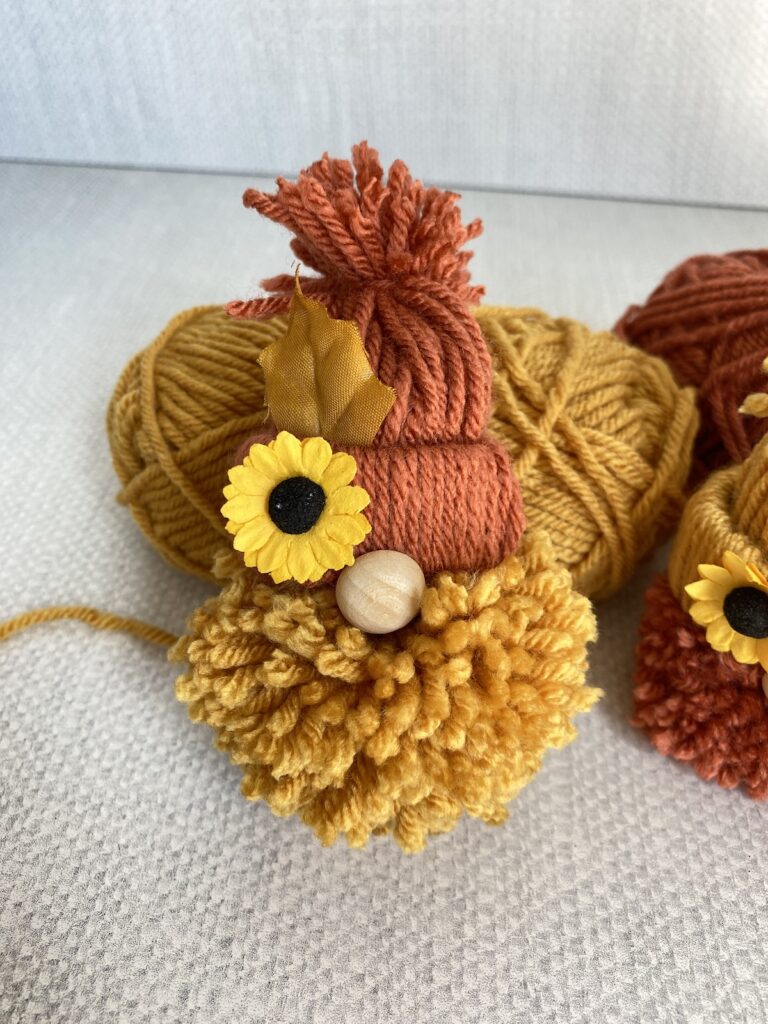 How To Make A Yarn Gnome Beard
There are several ways to make a gnome beard out of yarn. The first is to make a round pom pom. If you're not sure how to make one, I have two posts with complete instructions. This post will show you how to make pom poms with household items or even your fingers. For this project, a large salad serving fork or using your four fingers is a good size.
You can also read about how to make a gnome beard out of yarn. You'll find other ways to make a gnome beard from yarn.
I also have a post about how to use a pom pom maker which is my preferred method. I use mine all of the time for so many projects and it wastes a lot less yarn. I used the second largest size. This is the pom pom maker set I use.
The second option is to wrap your four fingers several times. Slide a piece of yarn in the middle of the wraps and tie the loops off at the top. Cut through all of the loops at the bottom but keep the top tied and secure. Trim the bottom into a beard shape and then glue the beard inside the hat. See the images below.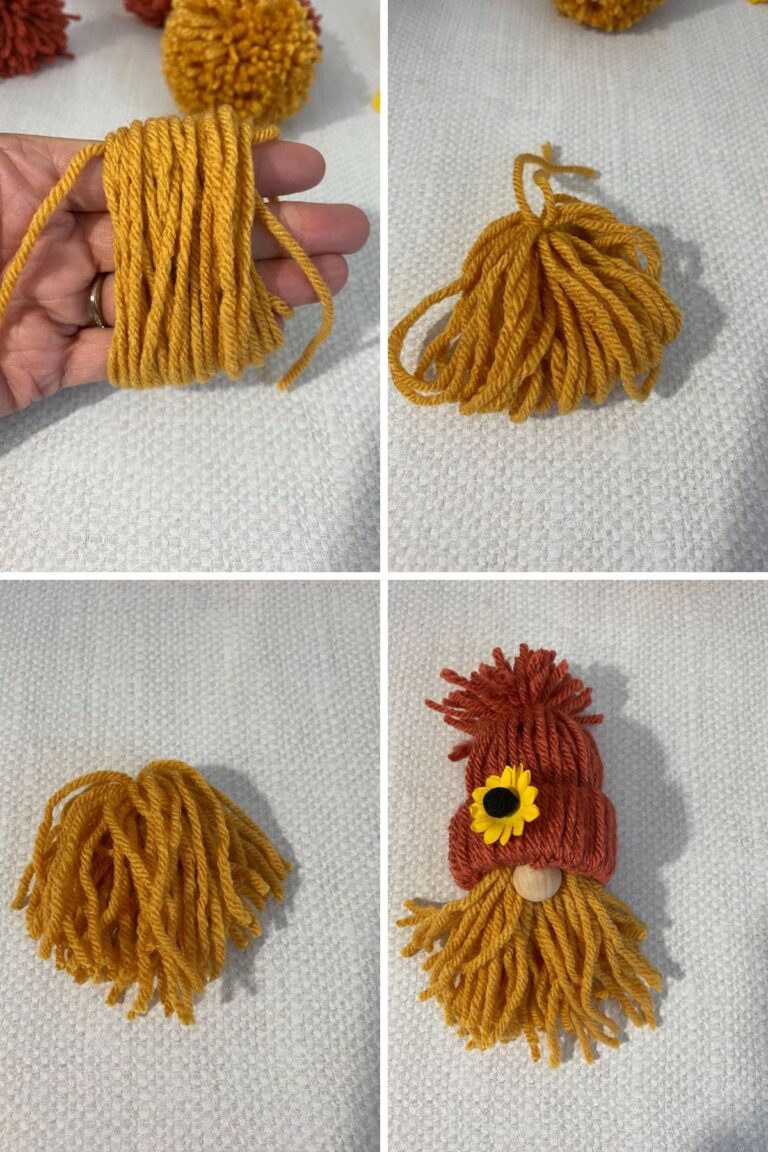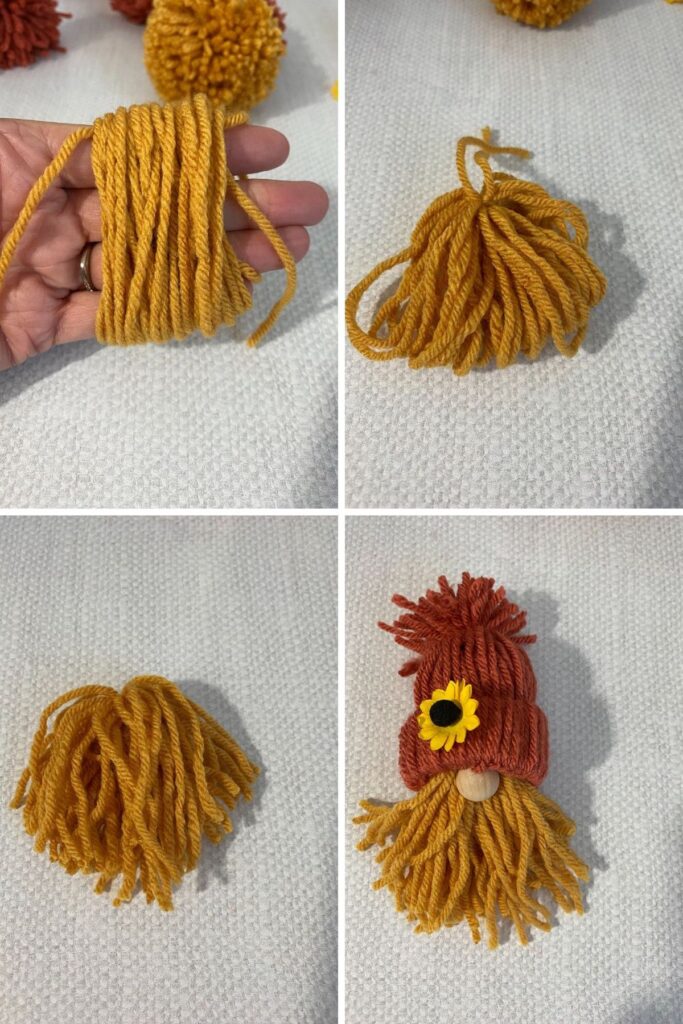 What Type Of Yarn Should You Use For A Yarn Pom Pom Gnome?
You can use several types of yarn. I've used basic yarn from Dollar Tree, Super Saver Yarn, and my very favorite yarn for making fluffy pom poms, Lion brand yarn in this style. The yarn used for the fall gnomes with pom pom beards is labeled Medium 4.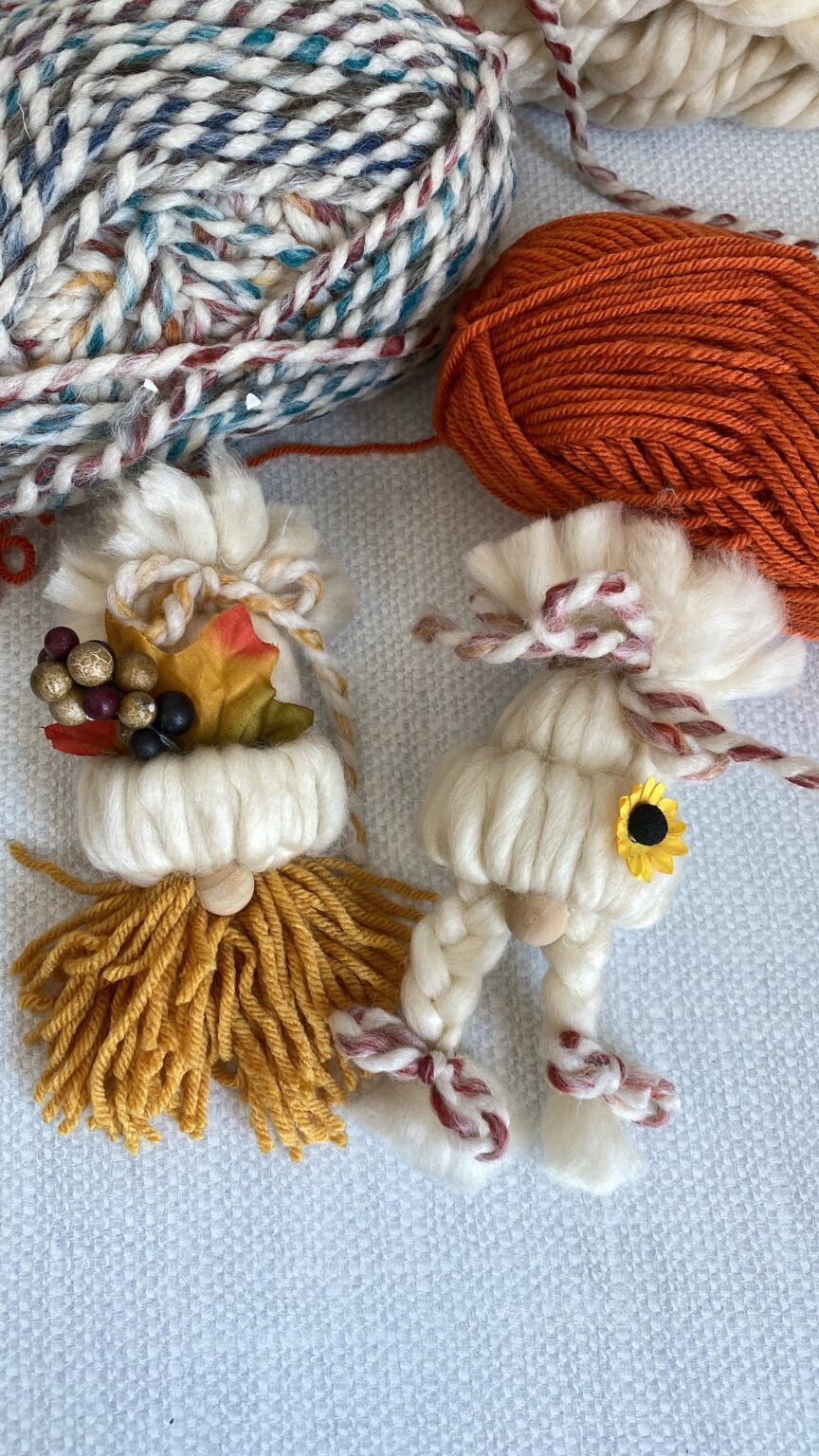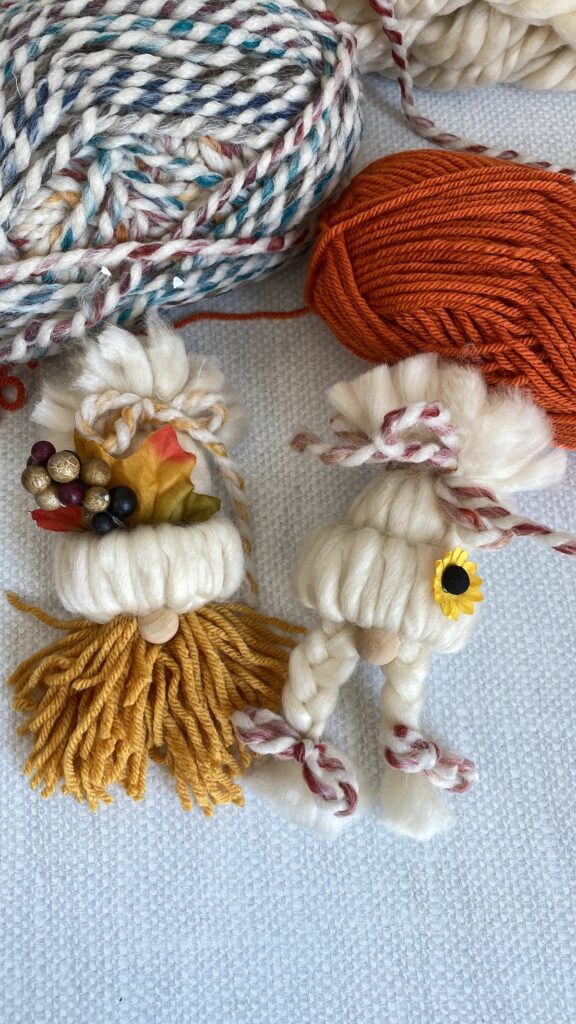 This yarn for gnomes is much larger and I was able to untwist the large strands.
How To Make Big Yarn Gnomes
To make large yarn gnomes, start with a lid to a mason jar instead of cardboard. The ring from the lid is a little more stable than cardboard. If you want the brim of the hat wider, cut a thicker hat band from cardboard and tape it to the outside of the ring.
For the beard, I made two large pom poms and then used a needle and thread to sew them together. It's easy to find the centers to sew them. Trim the pom poms into the shape of a beard after you glue the hat on.
For reference, this gnome is about 10″ tall and is the perfect-sized yarn gnome for a wreath. This is a cute yarn gnomes DIY for a wreath decoration.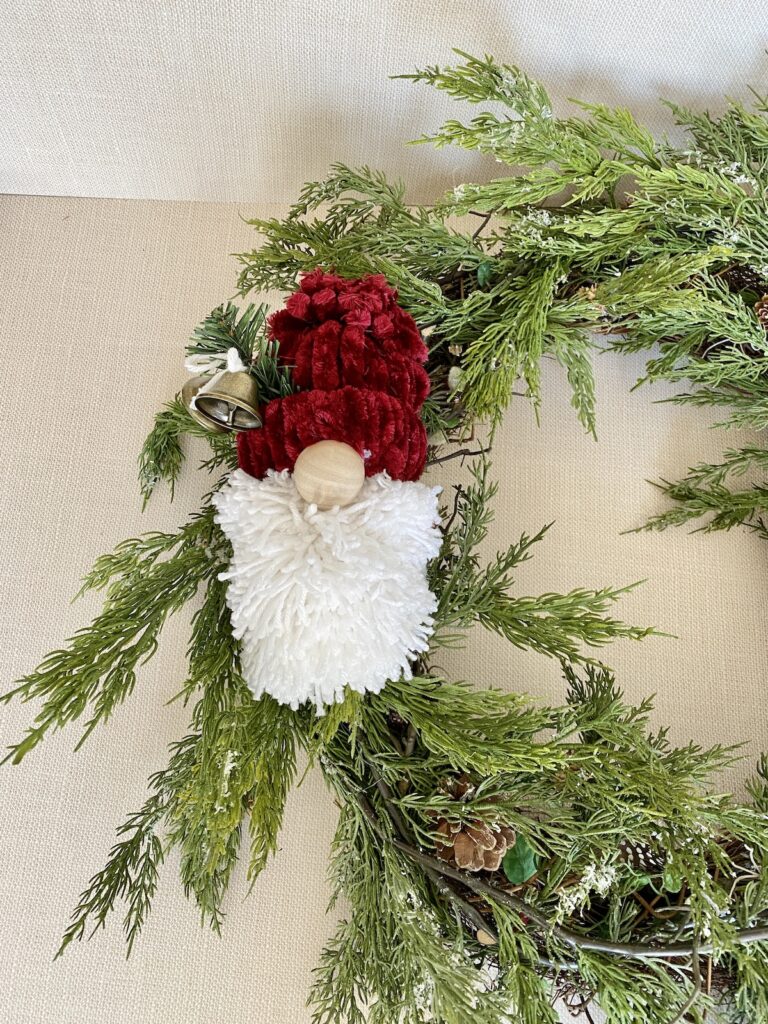 Yarn Gnome Decorations
The possibilities are endless when it comes to decorating your gnomes. Here's a list of ideas to get you started.
DIY Yarn Gnomes Fall – cut pieces from silk leaves to tuck in the hat brim, tiny sunflowers, tiny pumpkins
DIY Christmas Yarn Gnomes – miniature ornaments, wooden stars, pieces of faux pine, miniature poinsettias
Valentine Yarn Gnomes – Cut hearts out of fabric or felt
Easter Yarn Gnomes – Cut bunny ears out of fabric or felt, silk flowers, or tiny faux eggs
I hope you've enjoyed learning to make these easy yarn gnomes with me. You'll be making DIY gnomes with yarn for every season!
I made a cute DIY tassel garland with the same fall yarn colors. Be sure to check that out before you go. If you like these yarn gnomes, you may also love the yarn gnome witches I made.
xoxo,
Denise