Unique Vintage Wood Window Frame
This Vintage Wood Window Frame is my favorite new thing in the Hootshack She Shed. Next week there may be another new favorite, but for now, this is the one! I had an antique dresser that belonged to my grandmother, but over the years, it became dry and brittle. We were moving it awhile back and it literally fell apart! I couldn't bear to part with the beautiful wood, so I had my husband dismantle what was still holding together and save what he could.
(My posts contain affiliate links and I may make a small commission if you purchase anything using the links in my posts.  This is at not cost to you.  Thank you for your support!)
A few weeks later, my mom found a vintage bed on a local selling website. We drove an hour to pick it up. It had a cute style and I'd planned to paint it and use it in the guest room, but guess what? As we were mounting it together, it started falling apart. Uggghh! More vintage wood pieces to add to the wood pile. That brings us to my Vintage Wood Window Frame.
My husband and I built my she shed ourselves. I love every part of it, but if you look closely, we made a few little mistakes along the way. We laugh at them all of the time. Some of the 2 x 4's don't line up correctly near the tresses and some of the boards warped so bad, it makes it difficult to hang things. Sometimes we have to purposefully hang things crooked in order for them to appear straight. It's even more challenging with all of the lines in the shiplap. I'm definitely not complaining, I love my little space. Back to the subject…
In this before picture, you can see that the window and the frame are all a little out of whack. I had originally hung a shade over the window, but it was blocking too much light. I decided to use the pieces from the woodpile to make a Vintage Wood Window Frame.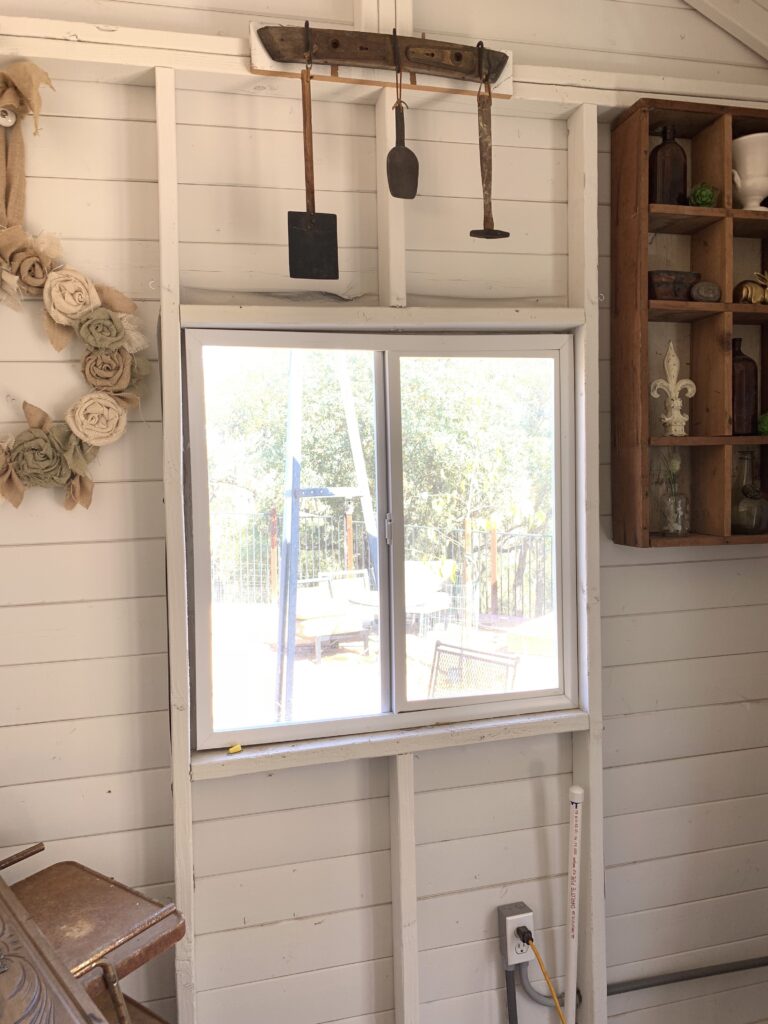 I scrounged through the wood pile and selected all of the pieces to make my new window frame. If I'd had it my way, the drawer fronts I used would have gone all the way across the width, but they weren't quite wide enough. Luckily, the bedrails were long enough to finish off the sides. We did have to do some cutting to make things fit, but overall, I'm in love!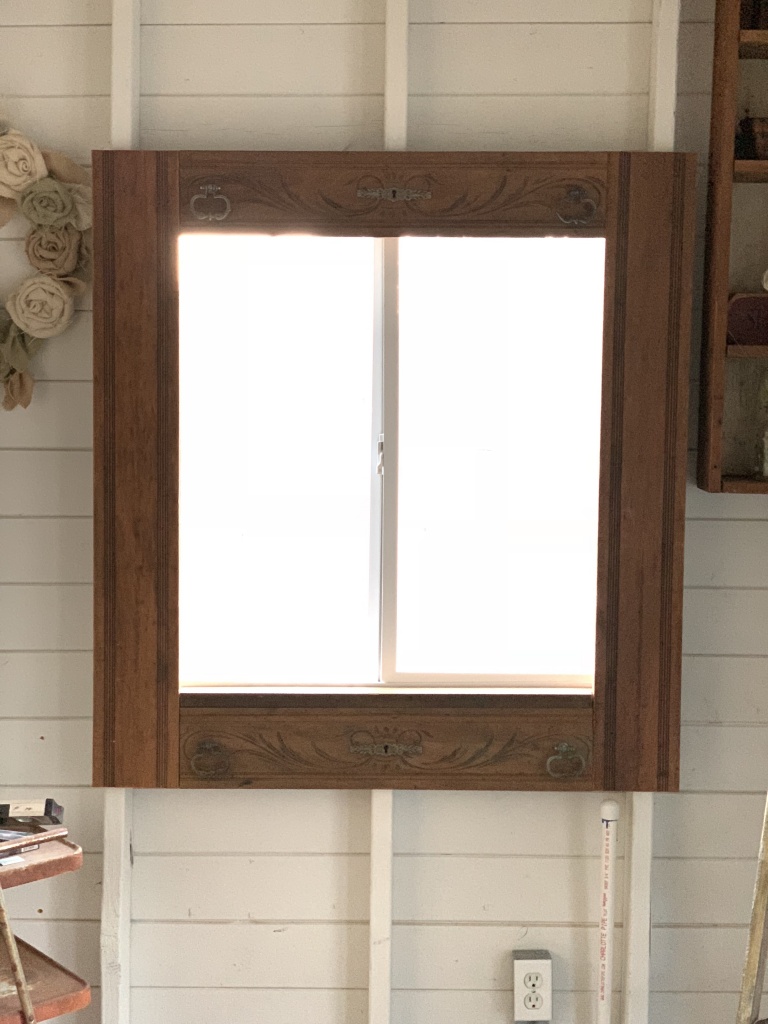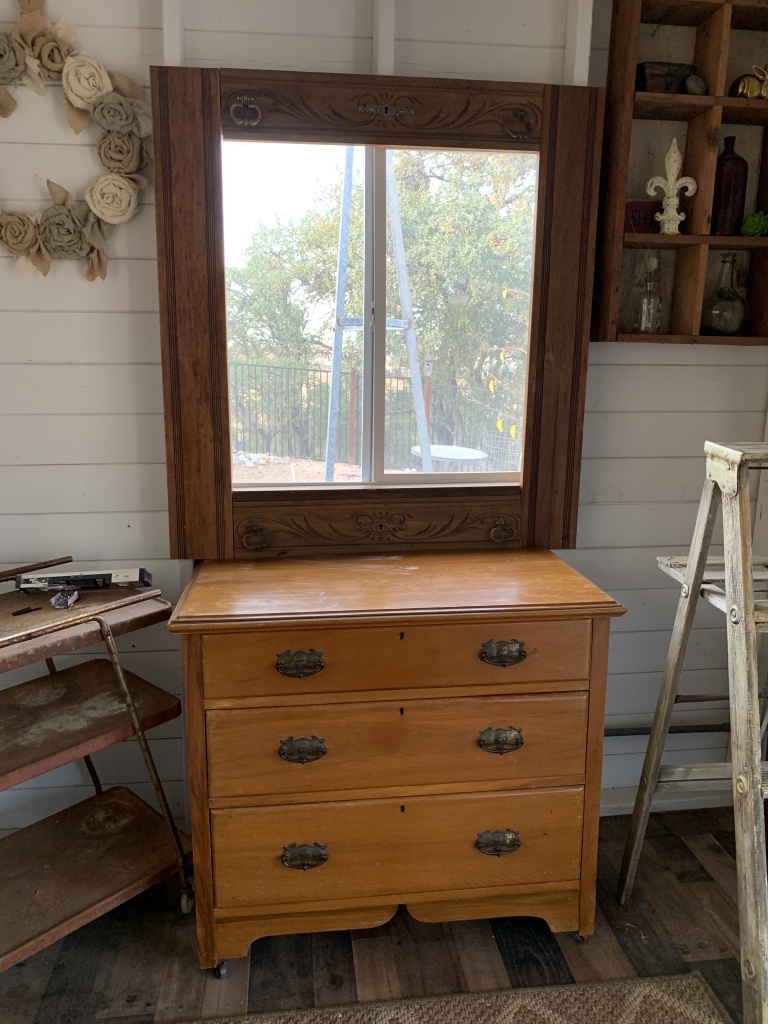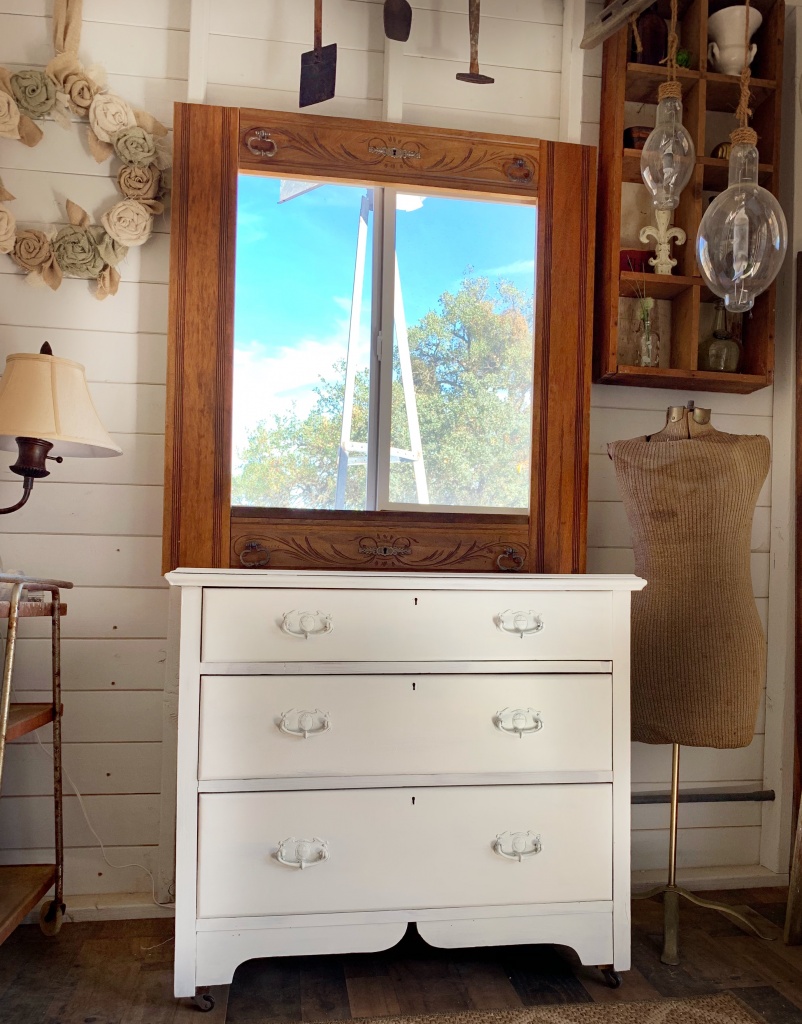 So, if you have some vintage furniture pieces that are not quite worth refinishing, consider dismantling and saving every little intricate piece. If you love DIY like me, you'll find a special project for them sooner or later. I realize this wasn't a true tutorial, but most of my DIY friends get the idea.
Thanks so much for stopping by. Before you leave, be sure to check out some more things going on in the she shed.  You can see the she shed decorated for Spring and also my Christmas shed decor.
Happy crafting,
Denise