I've already finished up my Christmas She Shed Decor and I'm loving the colors this year. I scrolled through Instagram and Pinterest for inspiration and the neutrals have definitely caught my eye. Mom came over with bins full of decor she doesn't use so I got lucky this year and we decorated the entire thing and (so far), I haven't spent a dime! I still have a few things I want for the outside, so the jury is still out on whether this project will go down in the books at no dollars spent! Stay tuned for the update on that 😉
This post contains affiliate links. Please read my blog disclosures for full details.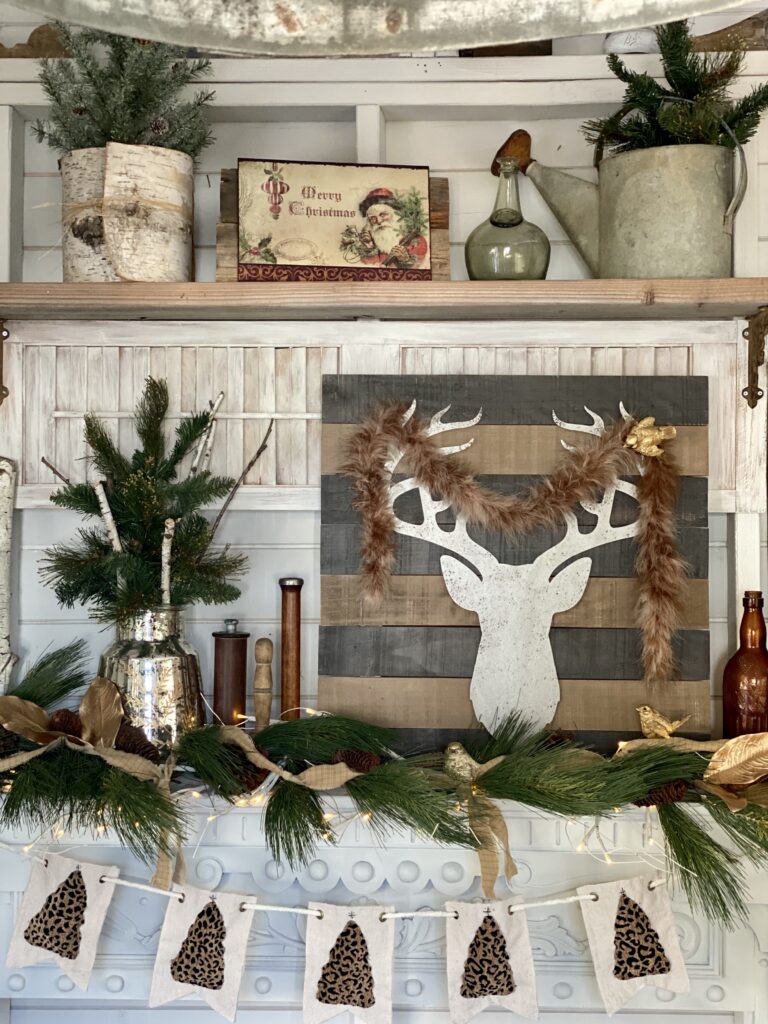 My Christmas She Shed Decor is a mixture of items I already had, items mom gave me and some DIYs of course! (You can find some similar items on my Amazon Storefront. ) . Starting from the top shelf, I added some simple pine picks to containers I always have on this shelf and added a small metal sign. I couldn't find that exact sign for you but here are some great options!
That beautiful green antique demijohn bottle is from a 100-year-old barn sale my aunt took me to. I wish I could find one of these for you! I made the shutter shelf myself with an old shutter and scrap wood. That was a fun project. I love it when I make something myself.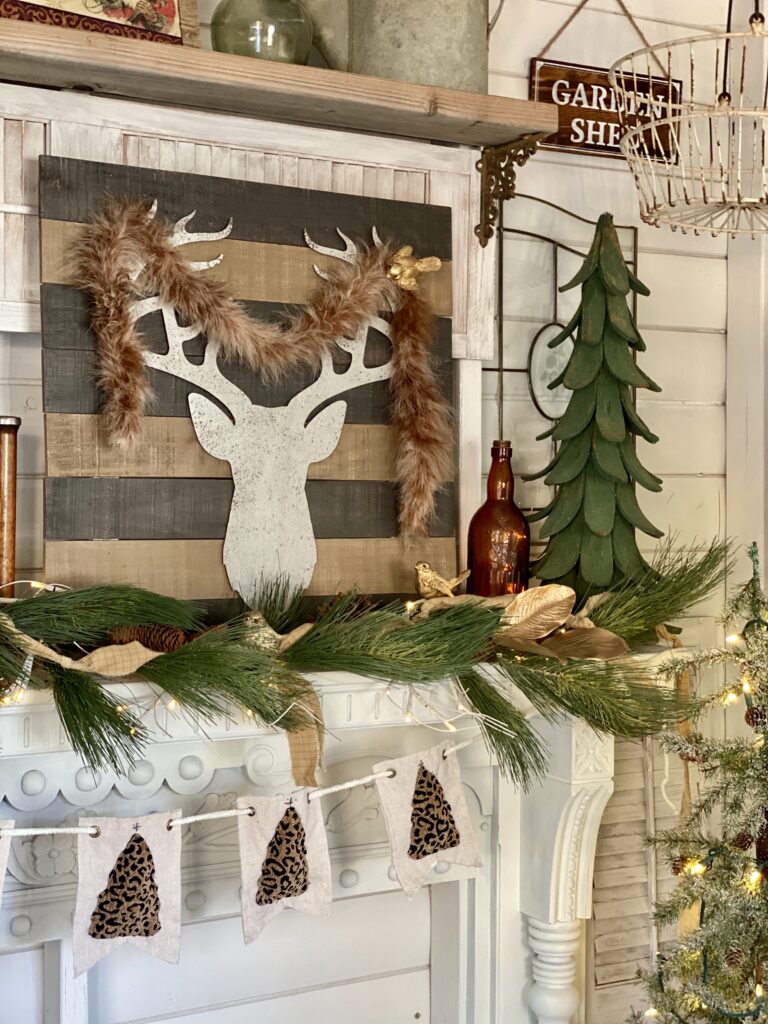 For the mantle, I used pieces of the birch trees that were cut down at my parents' house. The trees were so beautiful but, for some reason, they began to die. They salvaged as much of the beautiful, white wood as possible and we've been using it in decor projects. The mercury glass vase was a find from Pier 1 a couple of years back. I love mercury glass because you get a little bit of glam and rustic mixed together. I added some greenery for a simple arrangement. The greens are faux.
The wood spool, smasher and some other do-dad that I can't identify have been found during vintage picking trips. I love mixing old things in my decor for a nostalgiac look. If you look closely in the long pine garland, you'll see a lit birch branch garland intertwined. It really looks great at night for just the right amount of twinkle. You'll also see a piece of gold fabric garland twisted through. I made this by ripping and tying pieces of gold flannel together. I made random knots and left long pieces hanging where I tied strips together to add some additional texture.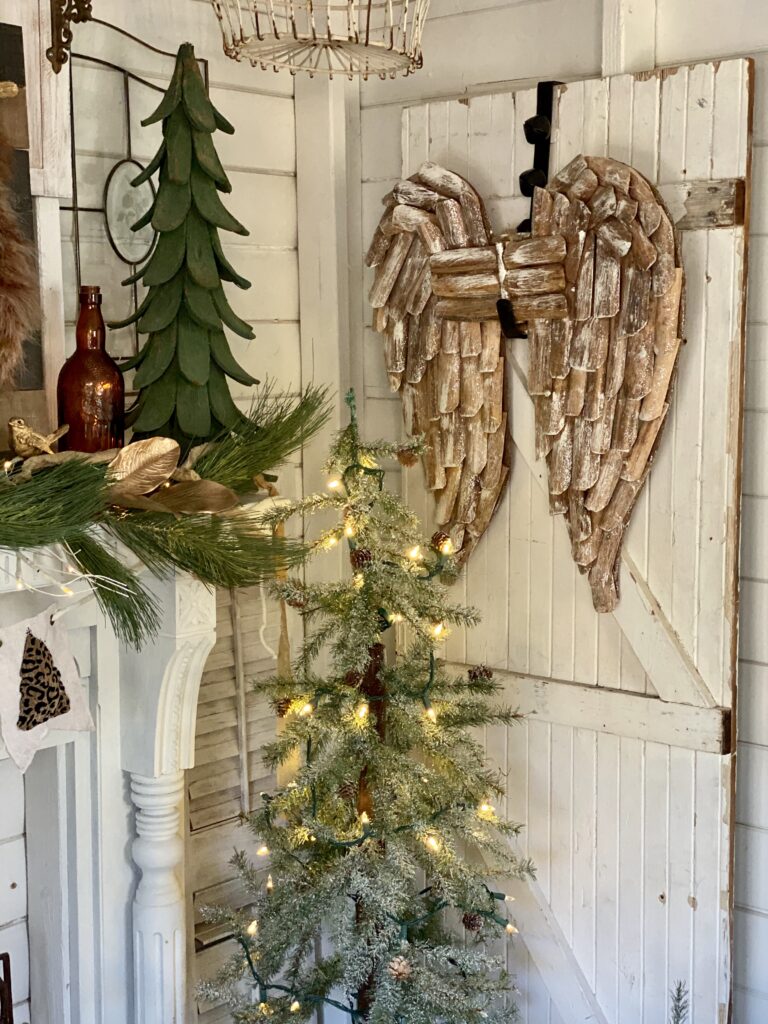 The deer sign was a gift from my daughter, Alex. I'll share a couple of similar ones below. You can also click here for quick links. I had the piece of feather boa in my craft supplies and decided to add it at the last minute. I also added some sparkly, gold clip-on birds and a couple of gold magnolia pics. Layers, upon layers…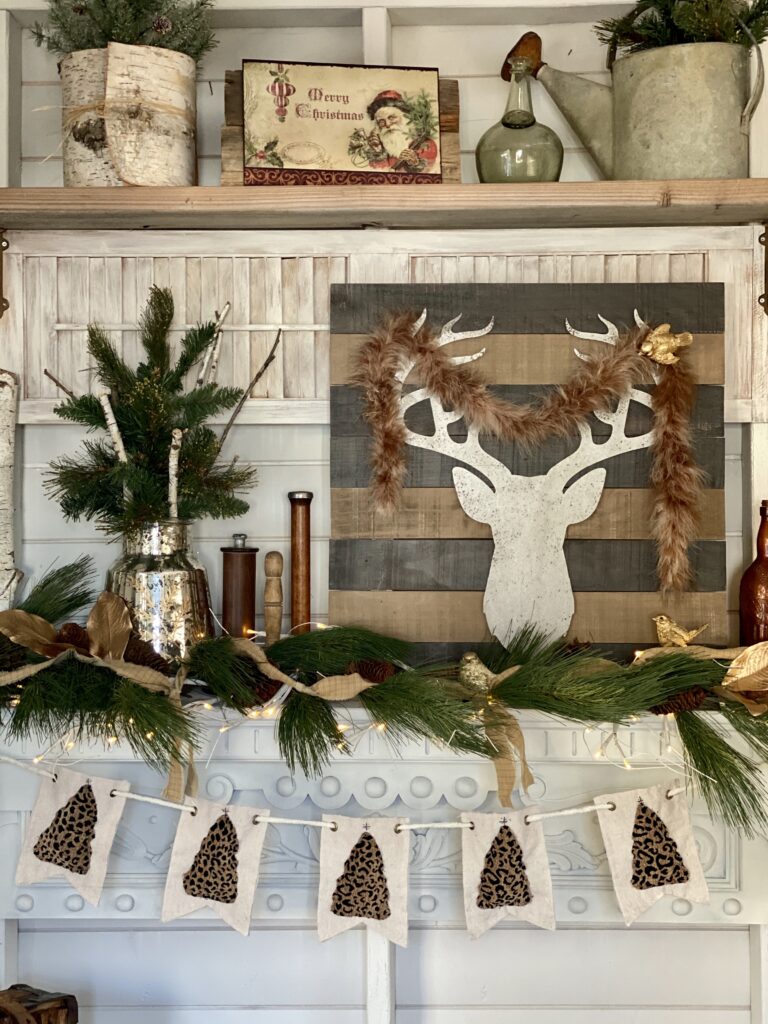 You can find the Simply Cute Farmhouse Banner DIY here. The one shown in my picture above is using a scrap piece of leopard upholstery fabric for the trees but all of the basic principles are the same. I'm in love with this fabric and it's one of my favorite banners so far!
To the church pew, I just added my Tall Burlap Tree and an additional piece of pine garland. I think I'm going to leave it at that unless I get a wild hair and make the Christmas pillow that's stuck in my brain behind a long list of other DIY projects I want to complete. I added more greens to the window and a few neutral pieces to my metal tray. I'm not quite done but I think I'm loving the look this year so far!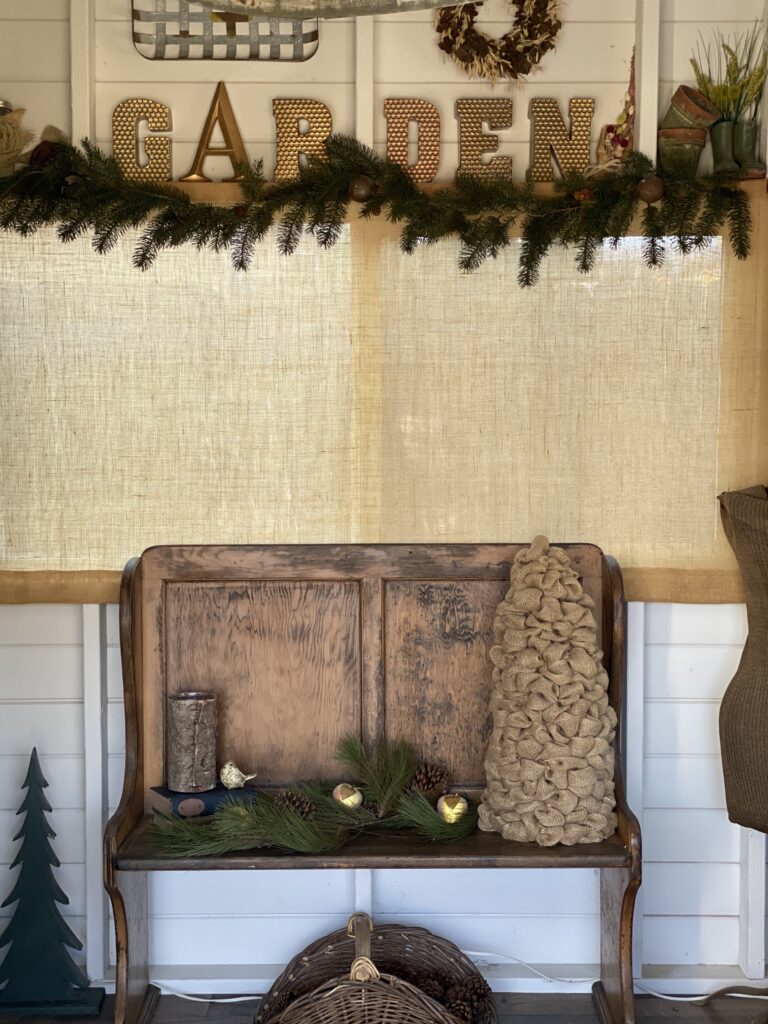 In 2020 I'm going to start showing more of the inside of my house. I have a bunch of projects going on in there and I think it's time I focus on where we live instead of in the shed. Well, maybe sometimes anyway. I've started by ordering two new recliners for the living room. You can take a sneak peek here.
Thanks again for stopping by to hang out with me. I hope you've found some new inspiration to add to your holiday decor. Be sure to leave a comment below letting me know you've stopped by. I love hearing from you! Also, be sure to go give me a follow on Instagram and Pinterest. My name on all social media accounts is Hootshack so I'm easy to find. Merry Christmas friend!