One Room Challenge Fall 2020 – Week 6 Final Reveal
It's time for the One Room Challenge Fall 2020 Week 6 Final Reveal! I am the worst at completing a room entirely so this challenge has been so fun for me. It kept me on track and super focused on my mission. Let's take a look!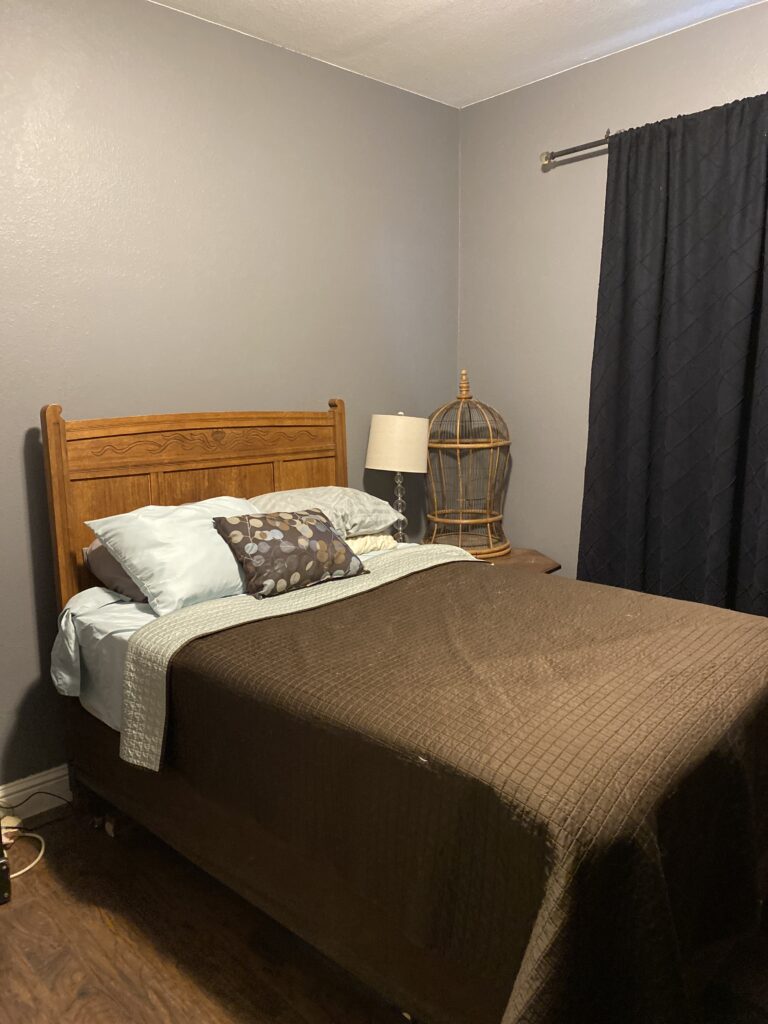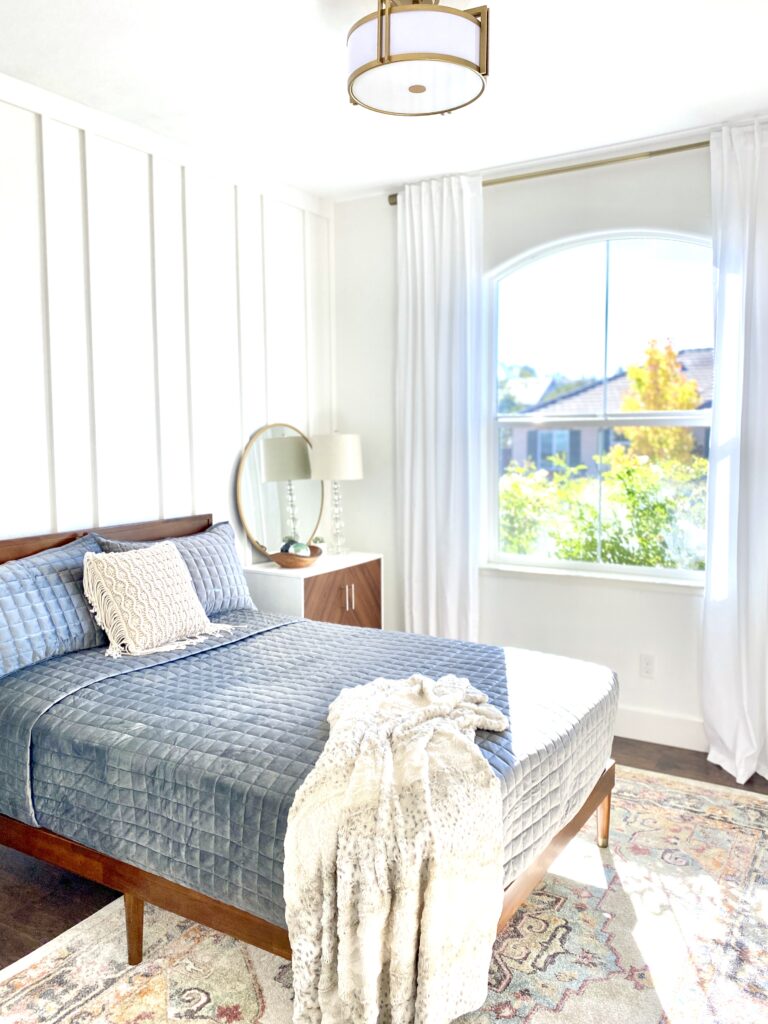 I've recently fallen for a more modern decor style so this is the second room in our home that I've started to incorporate modern pieces. I can't really put a label on it. I like Boho style mixed with traditional, vintage, and modern farmhouse. I guess it's just Denise's style, right? There really is no right or wrong in decorating. If you love it, just do it!
One Room Challenge Fall 2020 – The Paint & Accent Wall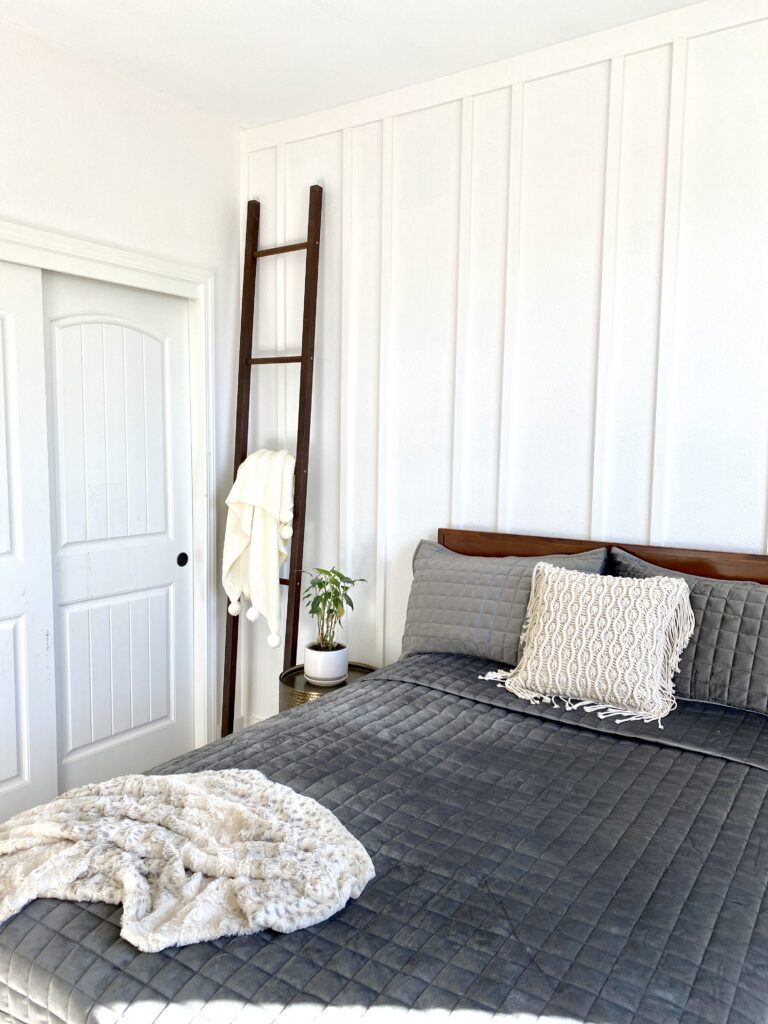 We made major changes to this room. Basically, nothing from the old room stayed. We started with a fresh coat of white paint. Our house is so dark so I'm in love with the white. This has become my favorite room in the house just due to the lighting alone. I chose Valspar Bistro White because it was the most neutral white I could find without feeling like it had yellow or gray tones.
The addition of the vertical board and batten was a very inexpensive way to add a modern element to the room with little effort. I alternated 6″ and 12″ between battens. It took longer to paint them than it did to install them. I didn't glue them to the wall but instead used a brad nailer. If I ever want to change this, it will be easy to do.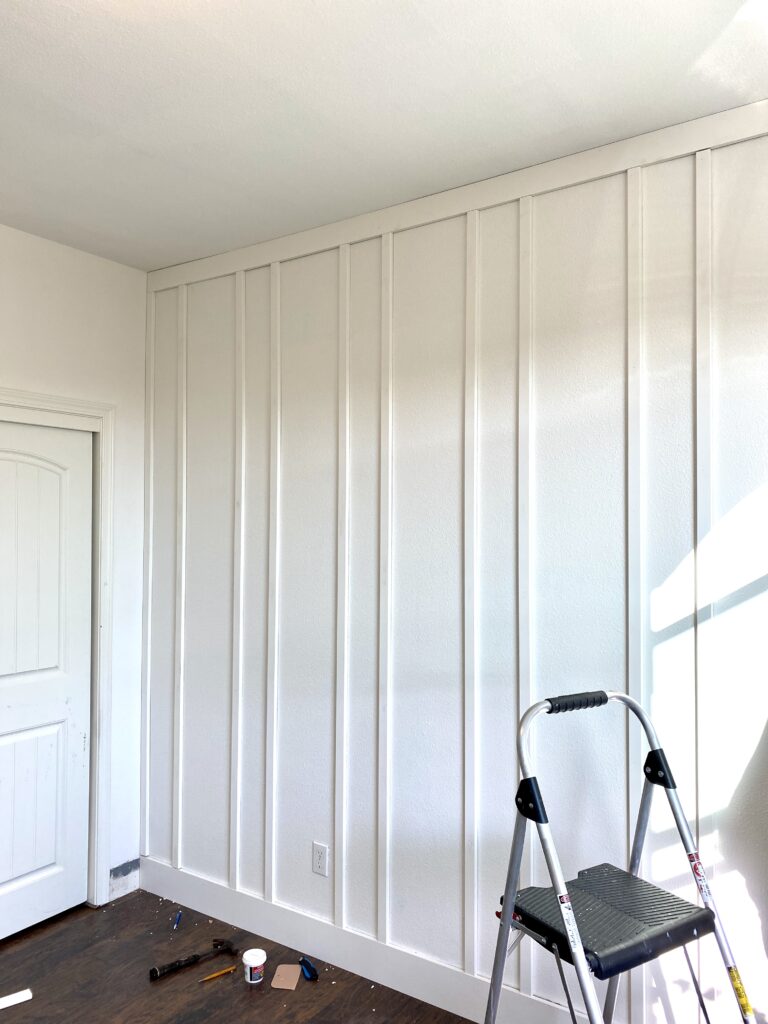 One Room Challenge Fall 2020 – The Window Coverings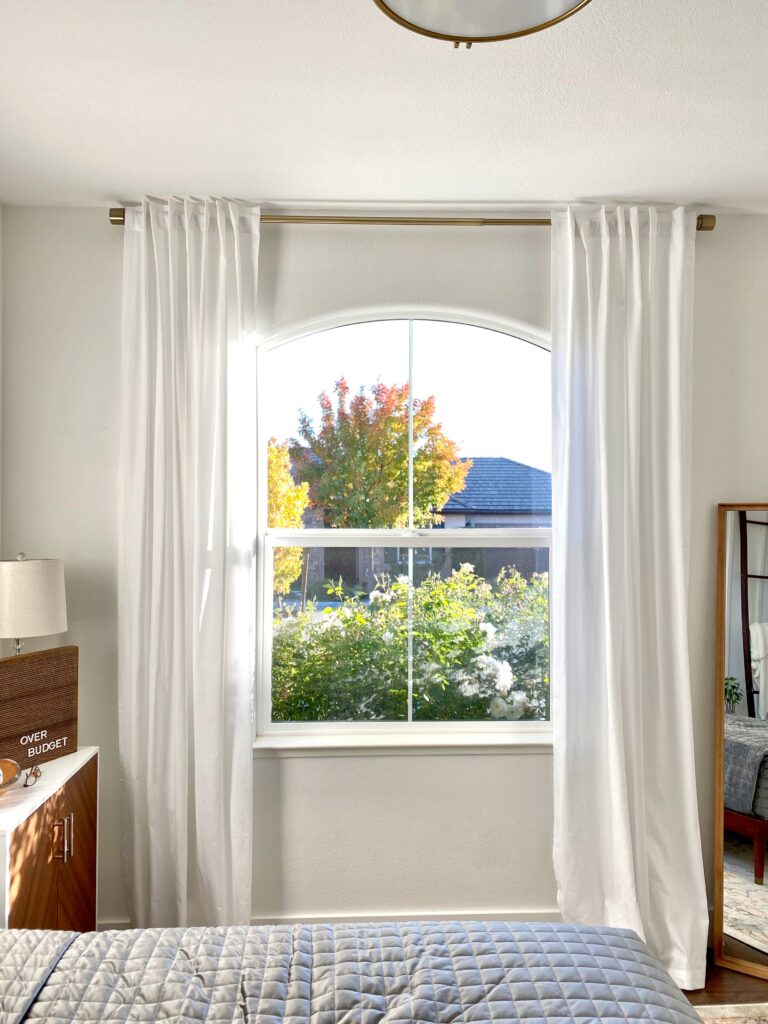 I had planned to do an outside mount shade over the window and mount it above the arch, but once I took the black curtains down (remember this was originally our son's room) and realized how much I loved that bright light, I decided to go with white curtains.
We have 9′ ceilings and I originally ordered 96″ drapery panels. They barely went above the window arch. I wasn't in love with the look so I returned them and ordered 108″ curtains and installed them all the way to the ceiling. This was a much more dramatic look and I'm so glad I made this choice. It changed the room so much and really pulled everything together. To savor every little bit of light, I installed the rod brackets so I could push the curtain panels to where they would barely cover the edge of the window.
The Bed & Bedding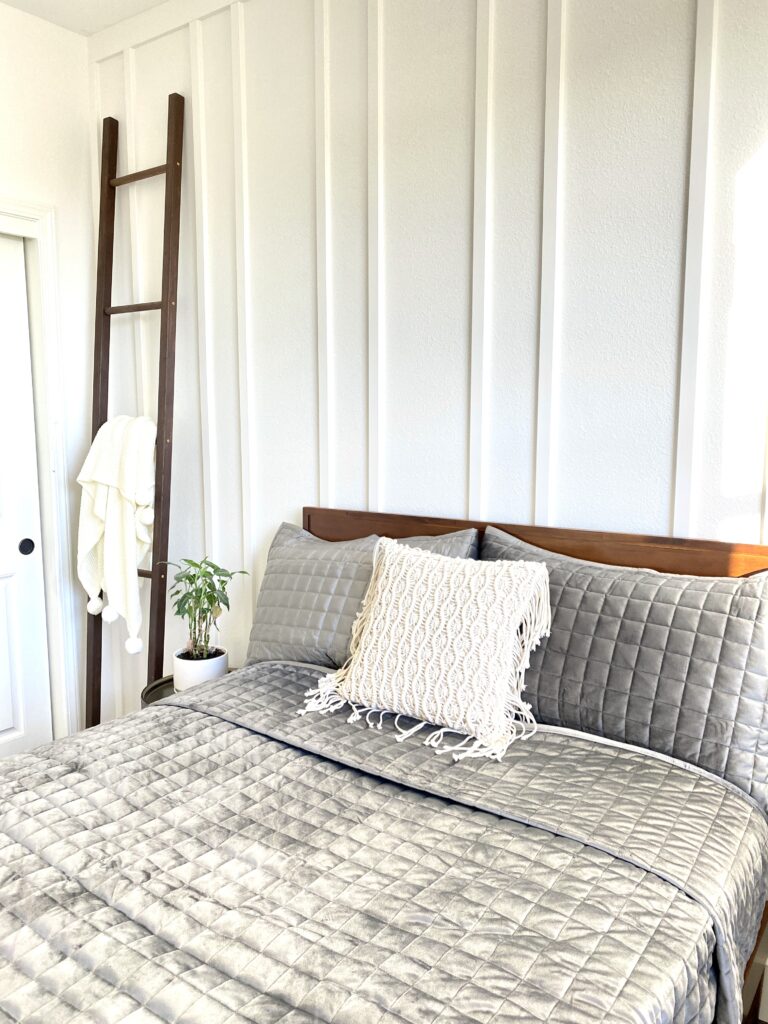 This bed is simple and more modern but not so much that I can't change the style of the room later. This is the smallest room in the house so I like that the bed has exposed legs that give a more airy look. The bedding is soft and cozy. I love the neutral gray color. It goes great with the rug. Did you take a look at that cozy little throw my mom and I found at the last minute? It's so cute and we couldn't have found a better color!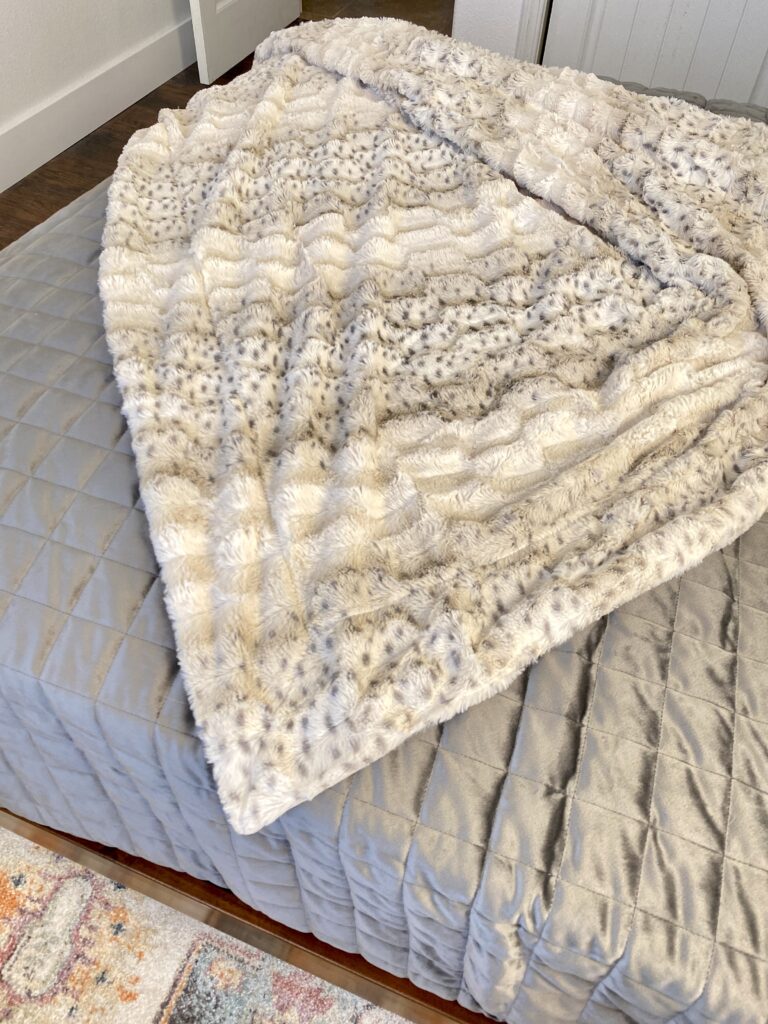 The original plan was to add a lot of pillows to the bed, but the lines on the wall, seams in the bedding, and texture in the macrame pillow told me that less would be more here so I'm keeping it simple with just the shams that match the bedding and one macrame pillow cover.
The Accents & Accessories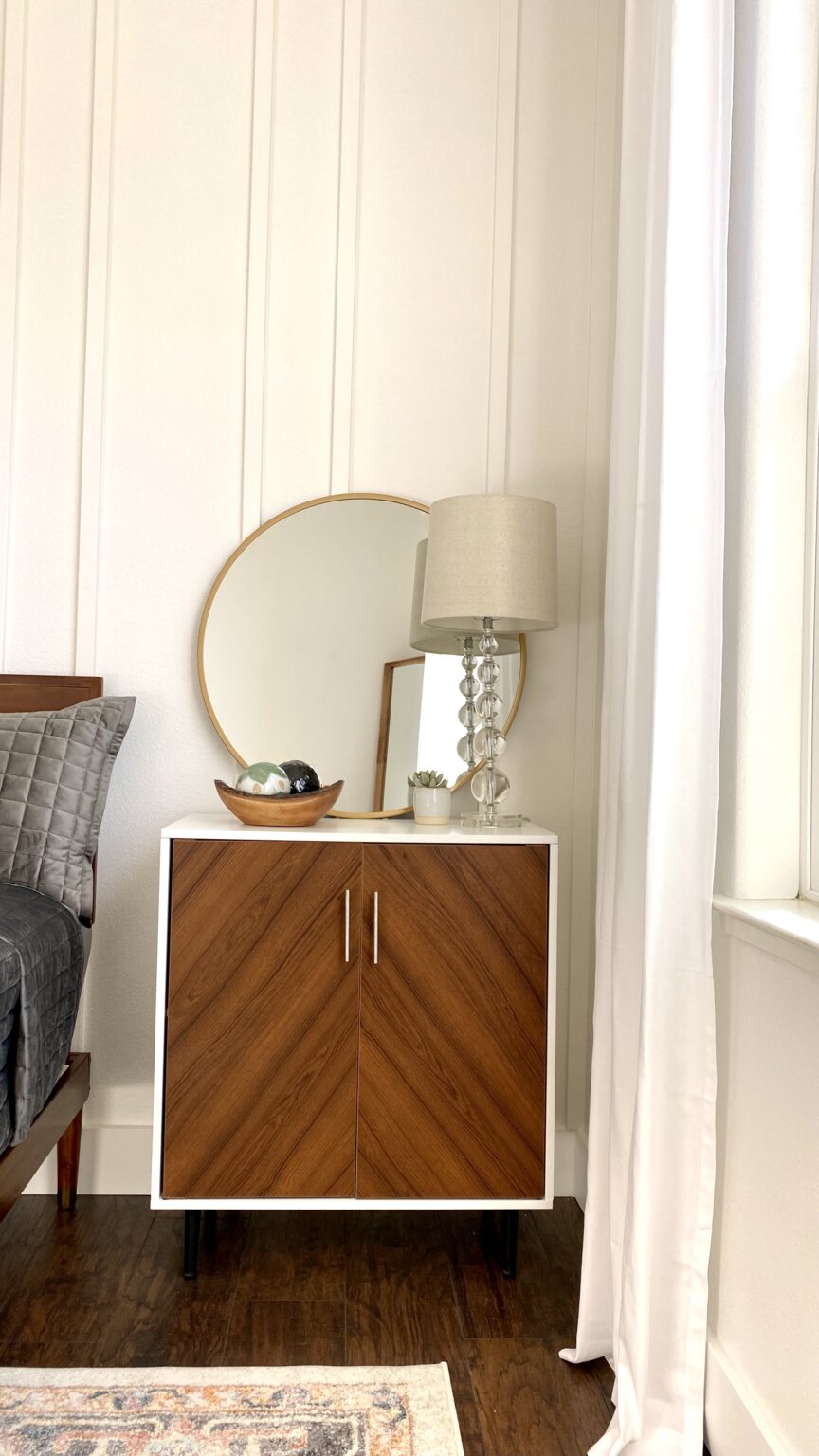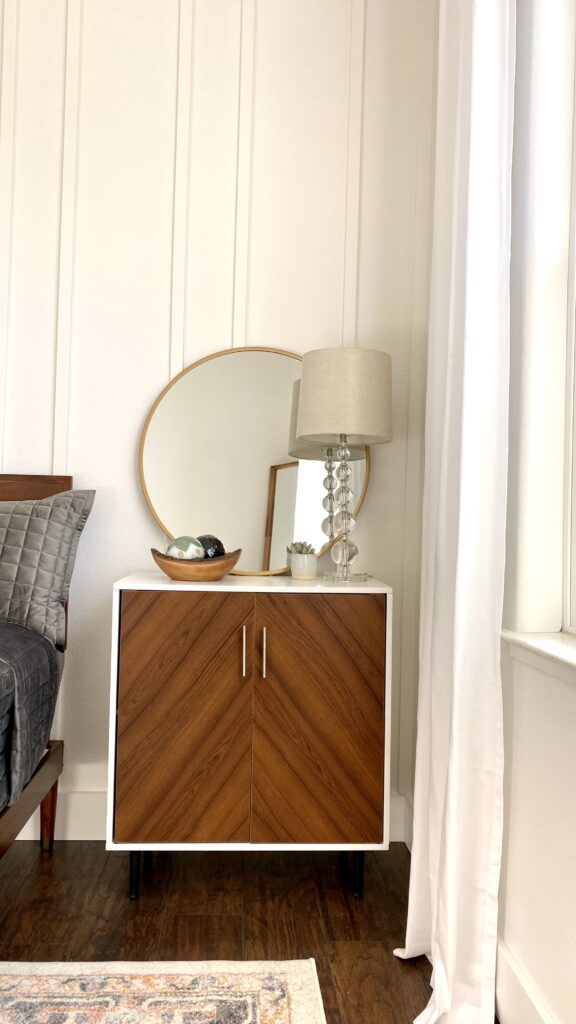 I chose this cabinet because I loved how different it looked! It's definitely the most "edgy" piece in the room. I got it from the same company as the bed. I already had the lamp so I decided to use it. I had a more squatty look in mind but every time I went to buy lamps, the shelves were empty. I was able to shop the house for the wood bowl and ceramic pieces inside.
The round gold mirror and potted succulent were both fun editions keeping things classic but modern. Hanging things on the wall with the batten proved challenging so I just set the mirror on the cabinet. I had to add a couple of sticky dots so the mirror doesn't roll off.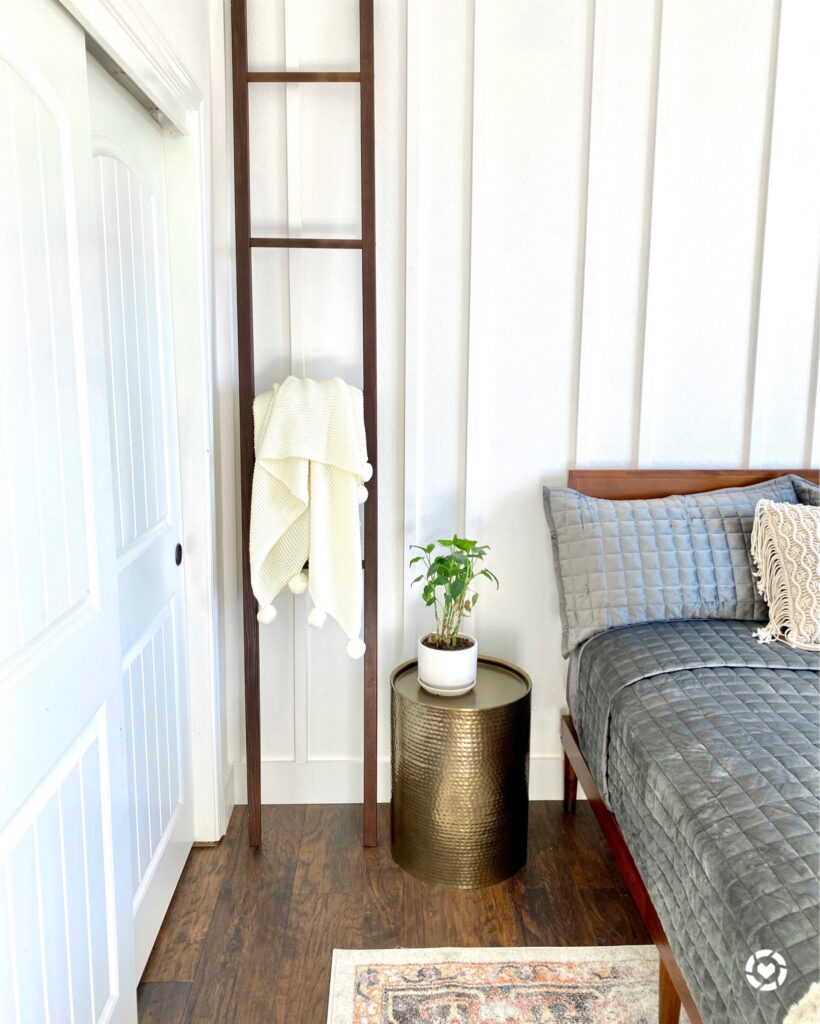 Choosing an end table was one of the hardest things for me. I had three different tables and I put them to a vote on Instagram. Guess what? They all got the same amount of votes. That was no help at all other than to say that any of them look fine I guess.
Over the bed was another area I struggled with. I didn't want the room overdone but I also didn't want it underdone. I bought a floating shelf and pictured plants and prints layered on it but decided that might be too much so I opted to leave the wall in all its glory for now. Would you have added the floating shelf?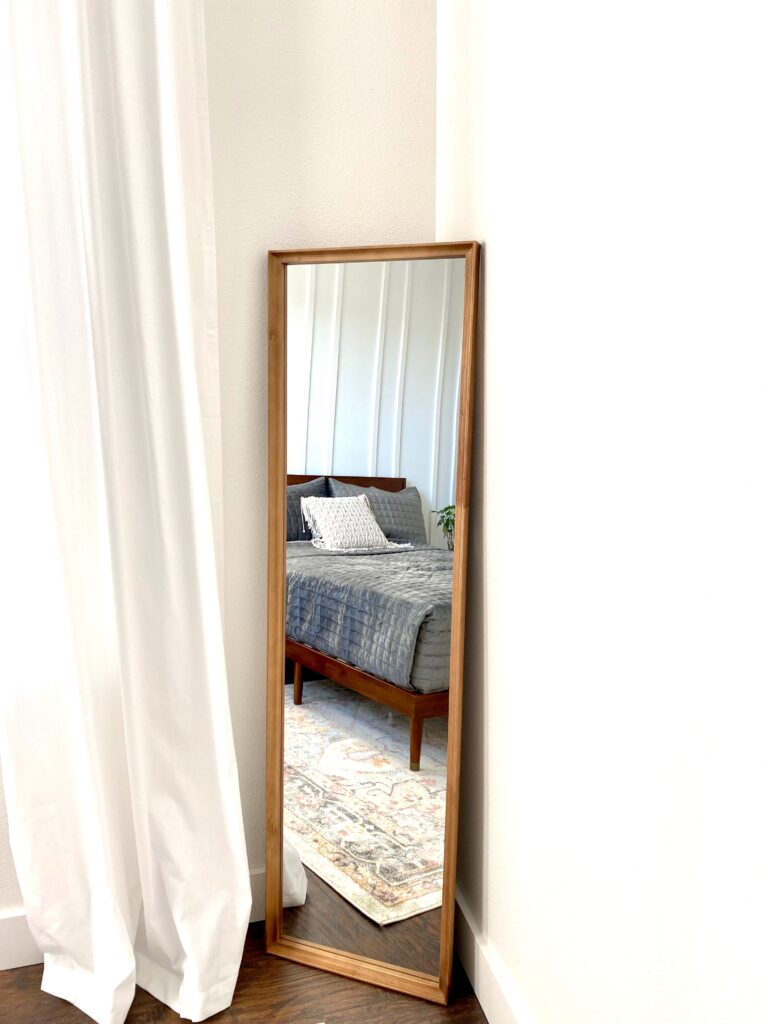 This last little corner is pretty simple but I love the standing mirror. It's made with an easel on the back so you don't have to hang it. I like that because I can move it around when I want.
The light on the ceiling is one of my favorite things and I almost forgot to mention it! This detail made a big difference in the room.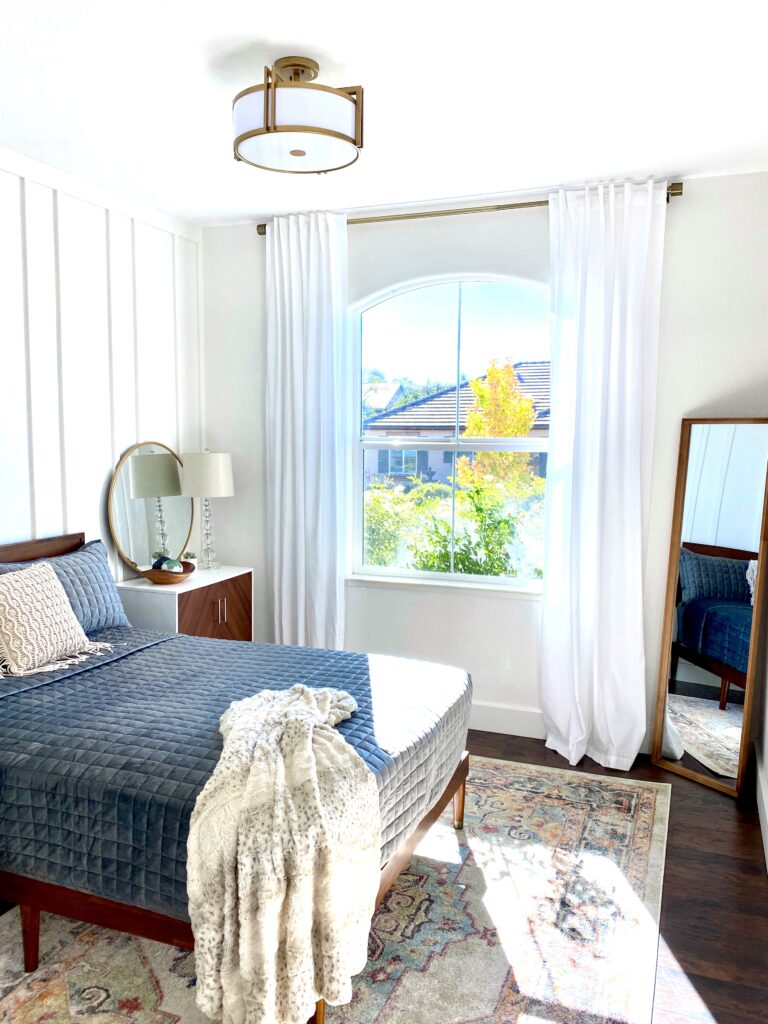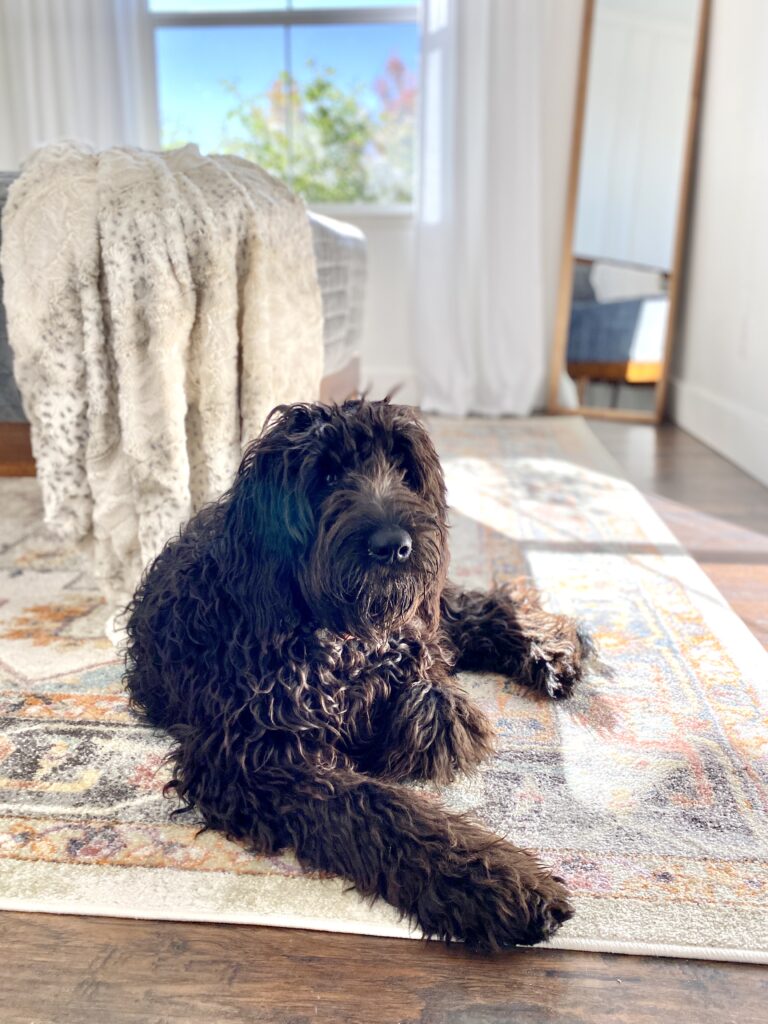 I love the way this room turned out. It makes me smile when I walk down the hall and look inside. I didn't really start with a budget, but let's just say I spent a little more than I planned. I'll have to recuperate from this room and be ready for the One Room Challenge Spring 2021 edition. I'd love to tackle our kitchen or the bathroom in our main bedroom.
Don't forget to check out my other posts from this challenge to see how it all progressed:
Thank you for following along on my first One Room Challenge. Tell me in the comments what your favorite thing in this room is!