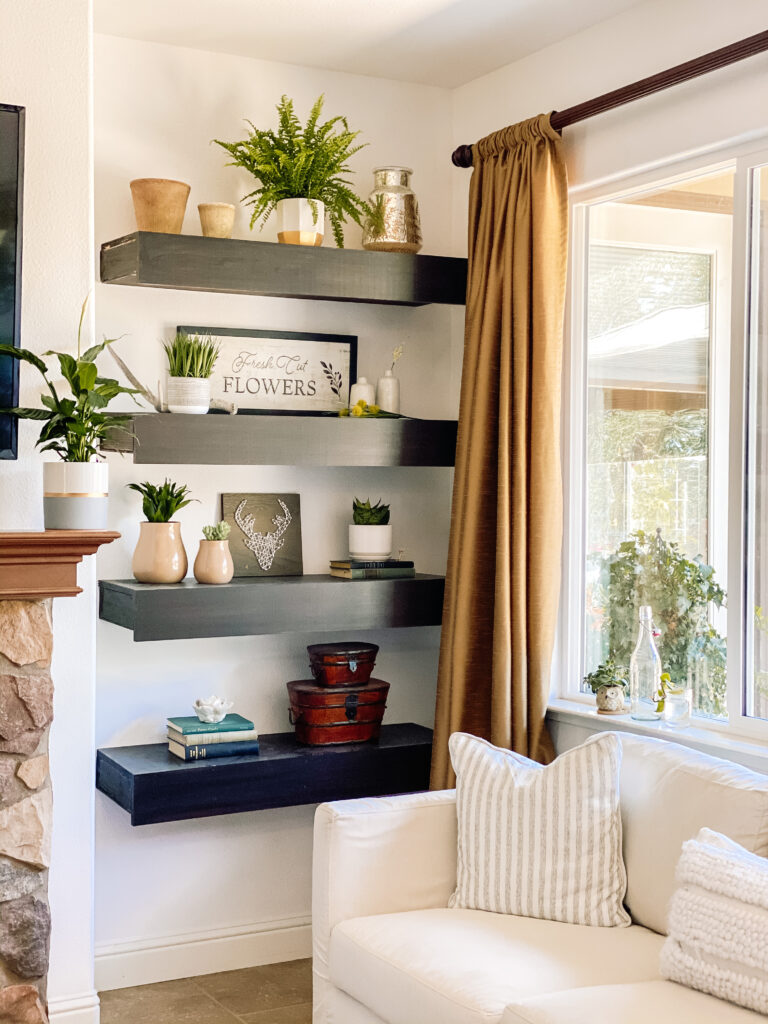 This Floating Shelves Next to Fireplace update has been put off for way too long. I'm going to be super transparent here (cuz that's the way I am), I only have one side done! I've been dancing around with putting a label on my decor design and I don't know about you, but I just can't put my finger on it. I guess it's just #denisedecor and that's all there is to it! I've been transitioning out a lot of decor and working in some more modern decor pieces. I still have some things to update, but all-in-all, I'm loving a less cluttered look and feel! I still have changes to make but I think it's fun to share the process with you.
You may have come here for floating shelf decorating ideas. I have some good tips for you and also some new things in our home. One new thing you're seeing here is my white couch. I've ALWAYS wanted a white couch and it is finally here! It's a super sleek and simple design with slipcovers and a very attractive sheet that is covering it almost 24/7! Yep, right after getting a white couch, we got a puppy! Great timing right? It's okay… it's really okayyy…..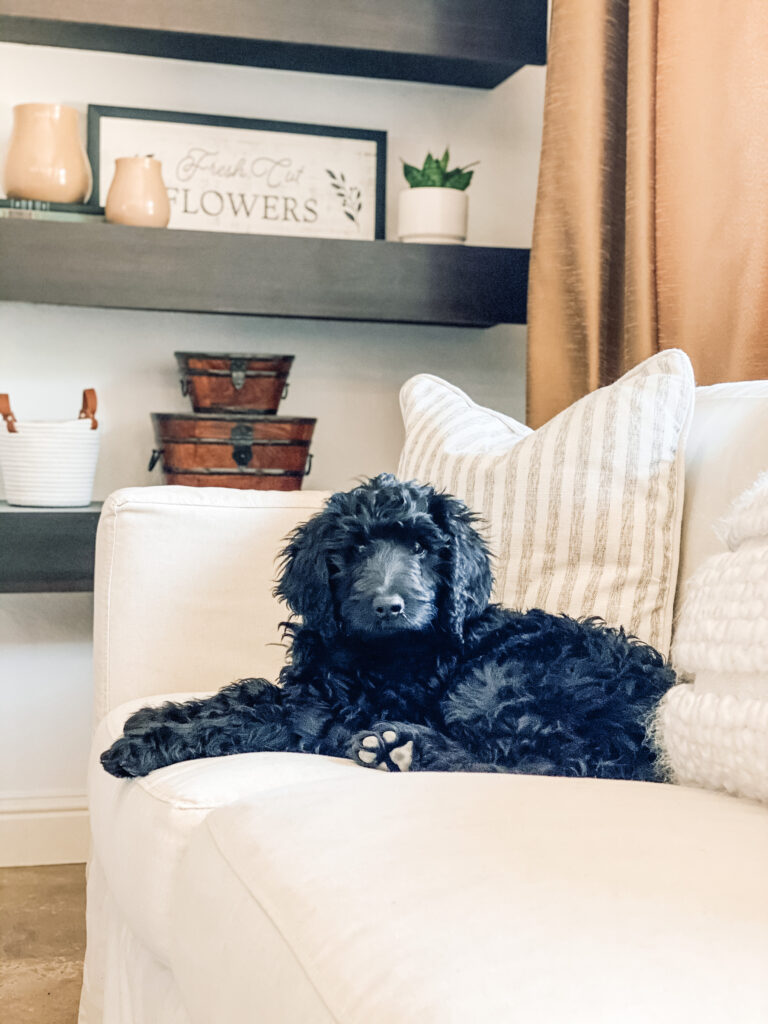 This post contains affiliate links. Please read my blog disclosures for full details.
Let's get back to the Floating Shelves Next To Fireplace Update, shall we?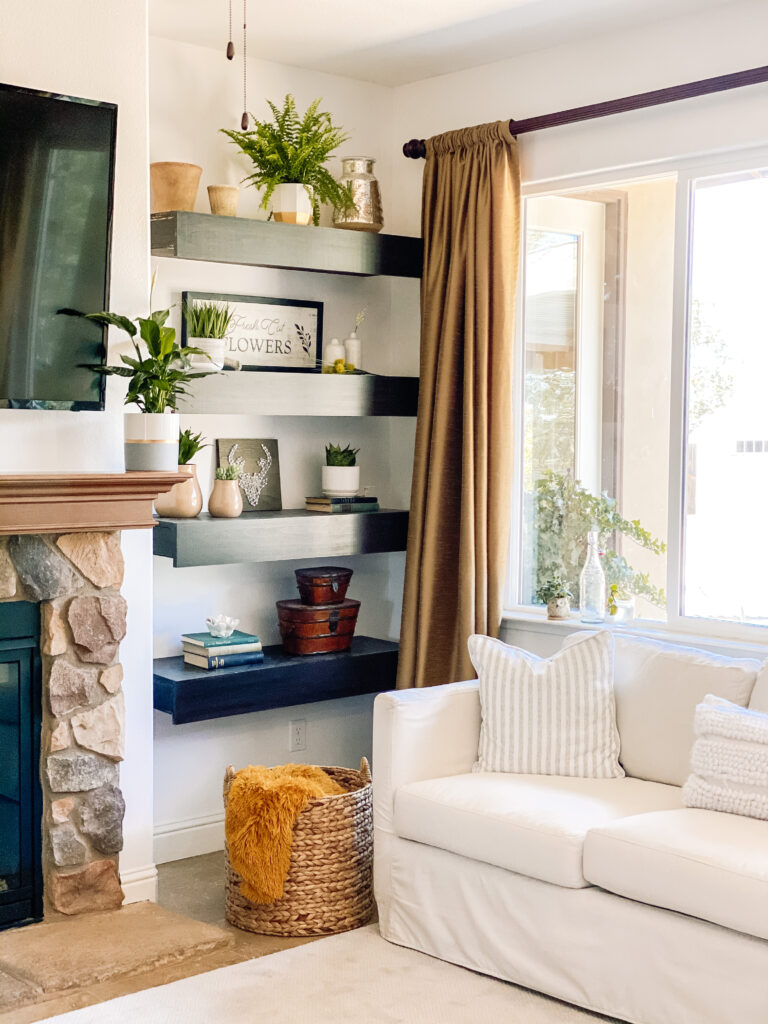 I want to share a few of my new finds with you. I've linked them all so you can shop for them easily. Also, if you haven't downloaded the LikeToKnowIt shopping app, you really should. There are so many looks to shop including fashion, home, family and well…dogs! We're pretty new to it and we would love it if you would follow us there.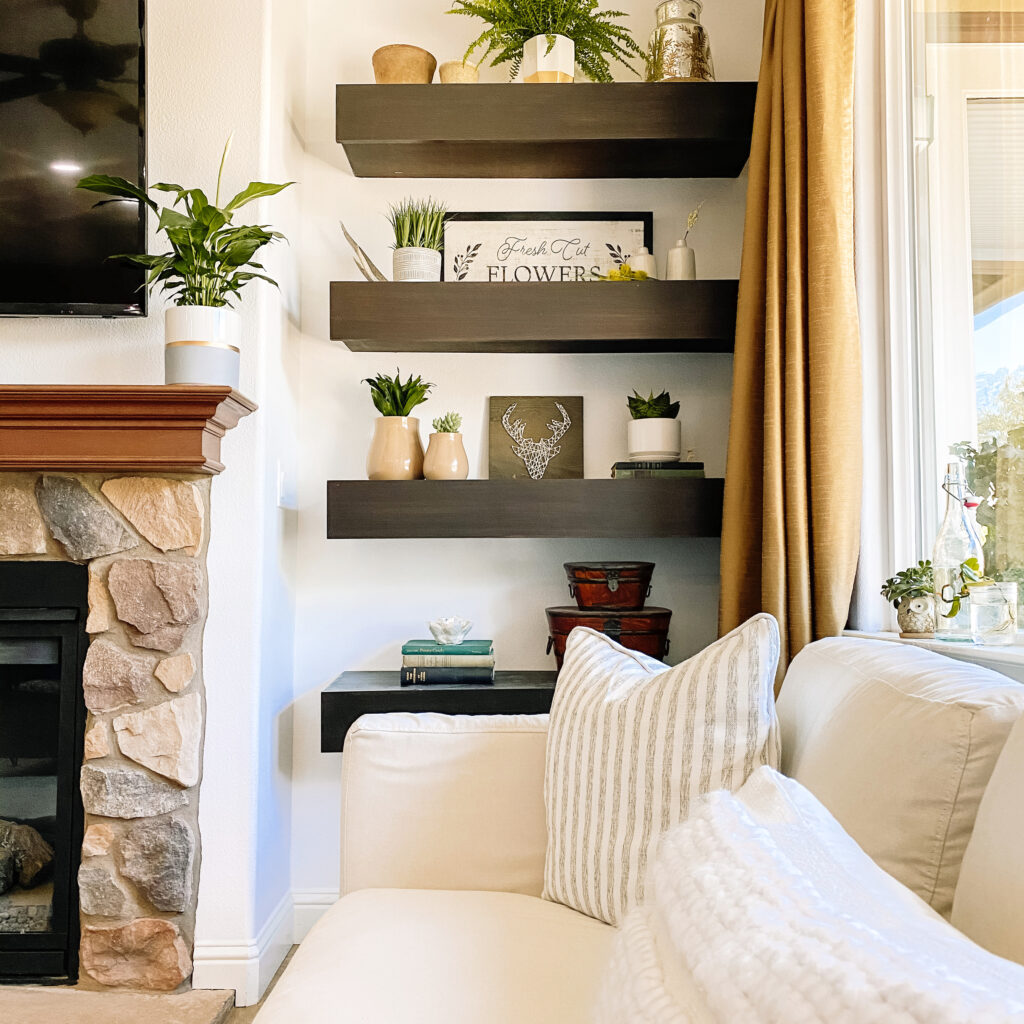 Figuring out how to decorate floating shelves is a bit of a struggle for so many people and they really shouldn't be. I have a couple of great tips for how to style floating shelves. Mixing in photos or pictures towards the back and using some live or faux plants for different textures really helps fill the space by adding some dimension. Less is more. Don't clutter them. Decorate your floating shelves with simple decor and stand back and enjoy! I've used a completely neutral color palette here by using wood, gold, black and green. I'm carrying those colors throughout the house right now and it makes the house feel calm and collected. Not like me…
I'm going to update you later with the Floating Shelves Next To Fireplace Part 2 as soon as I get the other side done! If you haven't seen my DIY Board and Batten Bedroom Wall yet, please go take a look before you go! This project was so fun and we love the way it turned out. See you next time!