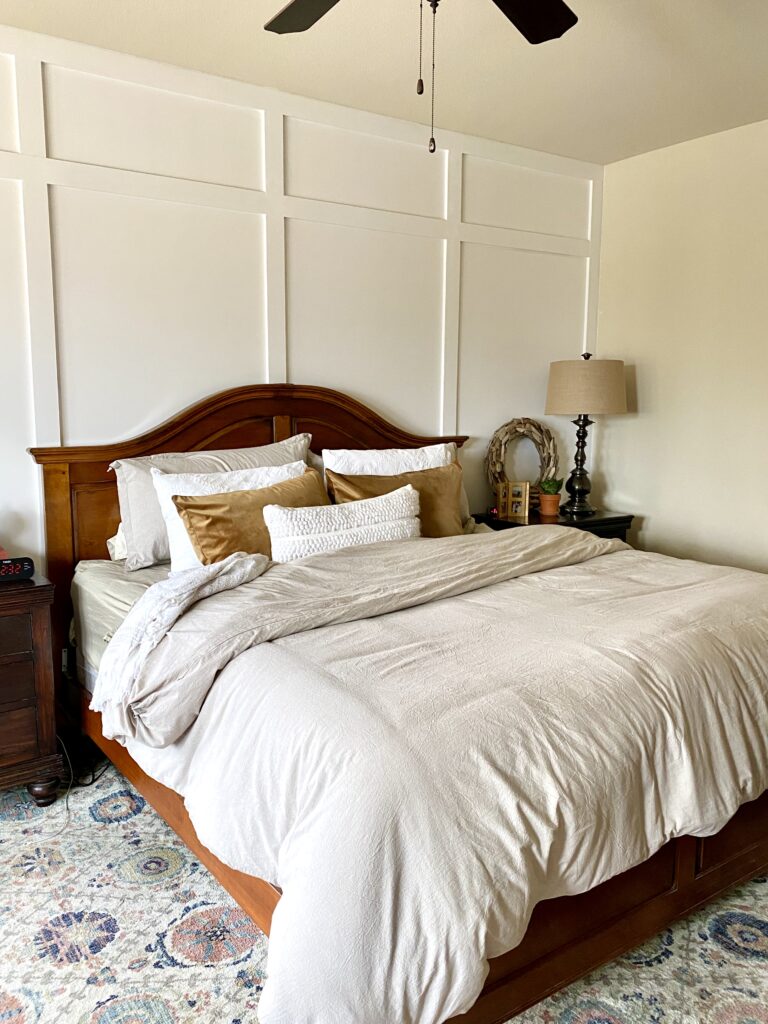 I'm excited to share our DIY board and batten bedroom wall that we just completed! This project is something I've been eyeing on Pinterest for a couple of years now. I can tend to have a hard time making decor decisions for my own house, so I spend a great deal of time decorating in the Sheshed. Ha! It's so easy to play in there and not have to live with anything longer than I want. The problem is…. We have been in our house for almost seven years and I still have not decorated much at all. This year I made a pact with myself to get things done and this DIY Board and Batten Bedroom Wall is the first of many projects on my list.

This post contains affiliate links.
Our house is very cookie-cutter in regards to the design. It's a basic tract house with nothing really special or custom going on inside. Don't get me wrong! We live in a beautiful neighborhood and although our house is on the smaller side, it's still a pretty home and I'm super grateful. I'd love to build a custom farmhouse style home someday, but that's not in the cards right now. Instead, we're working on changing a few things to give the house a little more pizzazz on our DIY budget!

Now let's get to the DIY board and batten bedroom wall. I would consider myself a DIYer for DIYers if that makes sense. We move forward without a real plan so giving you an exact tutorial is hard for me. If things like "brad nailer" and "miter saw" scare you, you're probably in the wrong place! I'll tell you what we used including the general measurements and supplies and you'll have to adjust for your own wall size.
As I mentioned, I looked at a lot of other pages for inspiration and there was one key element that was important to me when designing our wall. You can save money and time by skipping this step, but for me it was important. I wanted a very smooth wall in the background where the wall texture would not show. For that reason, we put up hardboard panels first. Larger home improvement stores will cut them for you so be sure to write down all of your measurements before you go. Even with the hardboard, this entire project (not including paint) was about $150.

DIY Board and Batten Bedroom Wall Supplies
Putting Up The Hardboard
Since we have 9' ceilings, we decided to do the long panels towards the bottom of the DIY board and batten bedroom wall with the rectangular shapes at the top. Our wall is about 22' wide and we have a single door on the left which made things just a bit "more fun". It only took five 4′ x 8′ panels to get all of the pieces we needed.
We put them up with a brad nailer. I saw where people used Liquid Nails on the back of the panels and I hope we don't regret skipping this step. I was worried that if we wanted to change the wall later, the glue would rip the sheetrock off. We also had to cut holes in some of our panels for outlets and the light switch. We used a jigsaw for this part. Don't cut those holes too big. It's better to have to cut them larger later than to cut too large and have to fill around the gaps.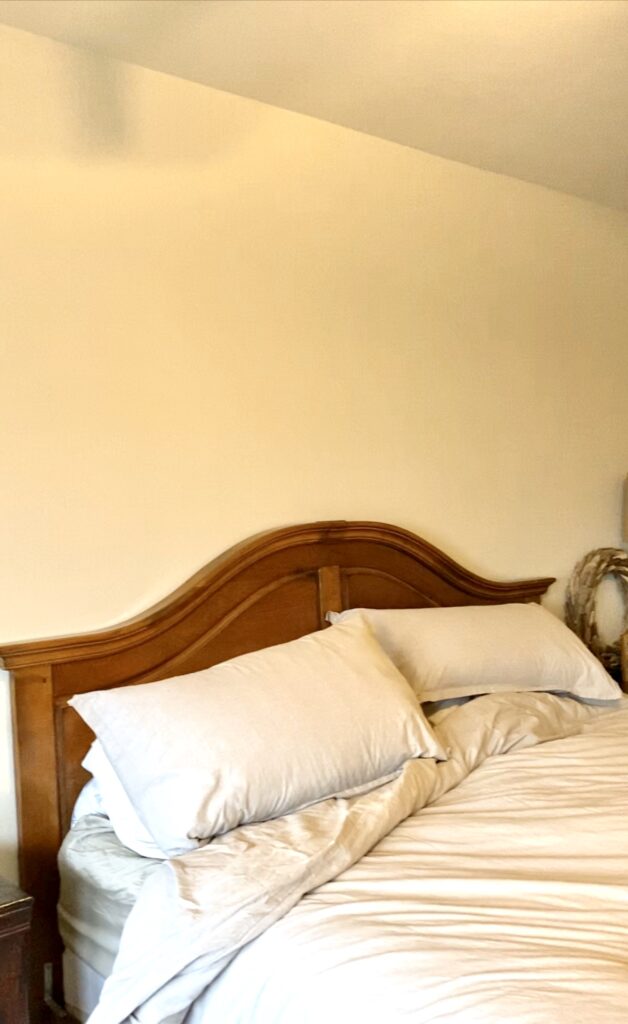 Because the trim pieces will cover some of the gaps, we deducted about a 1/2 inch from the actual width of the wall when cutting our hardboard. We knew that nothing about our house was actually square and we didn't want to get home with our cut pieces only to find we had to trim in some areas. We had the home improvement store cut the larger pieces and the smaller rectangles that go on top. Jake pieced in the one over the door and down the left side of the door himself. We kept all the scraps that were cut at the store and had plenty to cover it all.
Things To Consider When Measuring
Make sure when you measure your hardboards for cutting that you cut them so that the trim pieces will cover the gaps. Our four pieces in the center were narrower than the four outside pieces. This is because the trim boards can be centered over the gaps in the middle, but they can't be centered over the gaps at the outer sides because the wall is there. I hope that makes sense. Maybe you're not as picky as me but I wanted all of my "squares" to be the exact same size in the end.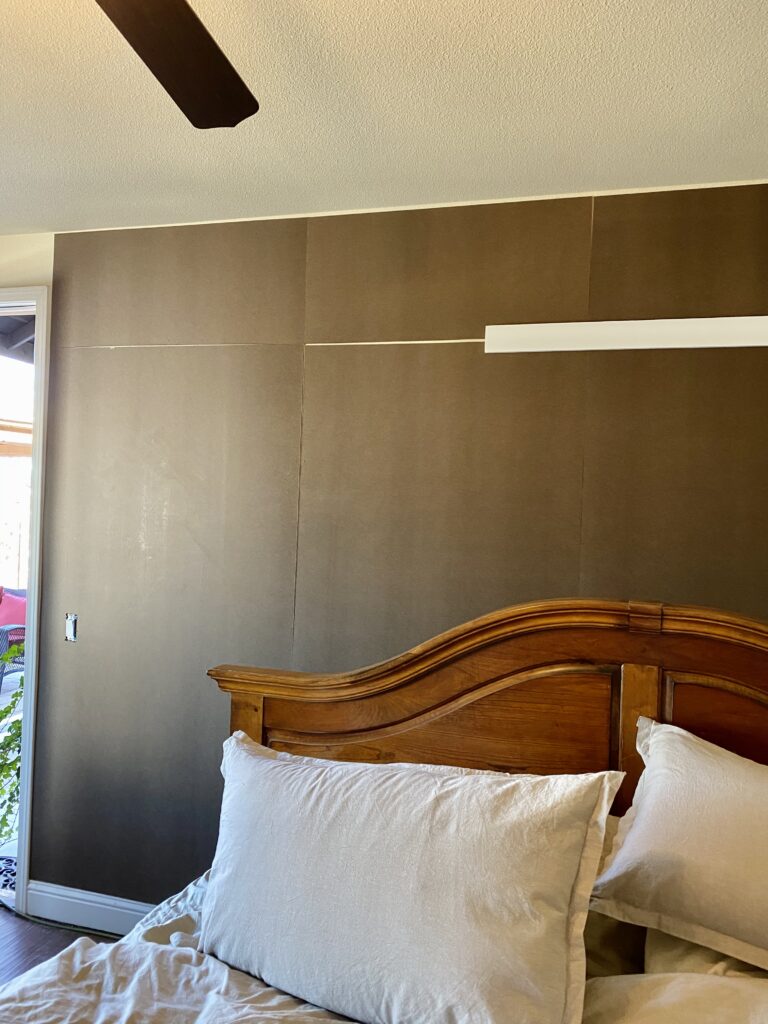 Adding The Trim Pieces
Once we got all of the hardboard up, we added the 1 x 4 strips along the ceiling. Next, we used the 12′ pieces (cut to size) to go along the two outer edges and along the right side of the door. After that, we added the second horizontal line and then we added all of the other pieces, cutting them as we went. Don't try to cut them all at once. One side of our house is a full inch different than the other. Yep! A full inch! I've seen people using string line and spacer boards, but we found using a level for both vertical and horizontal hanging worked perfectly.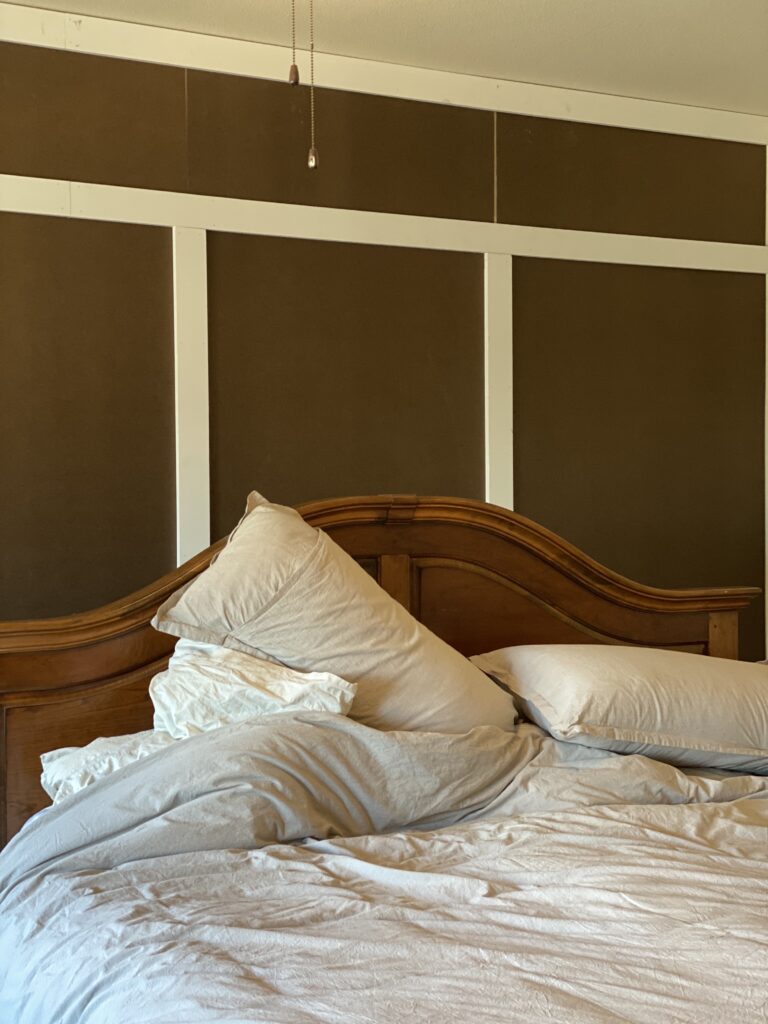 The last step before painting took the longest and, for us, it was the hardest. We filled all the nail holes and seams on the trim facing with Durham's Water Putty. It's a powder that you mix with water. You leave it a little on the high side when filling the holes. Once it dries, you sand it smooth. We kind of made a mess out of this and clearly don't use it often. Ha! We also used caulking to caulk between the panels and the trim boards so you couldn't see any gaps. We also caulked at the ceiling, in the corners of the walls, and around the door frame.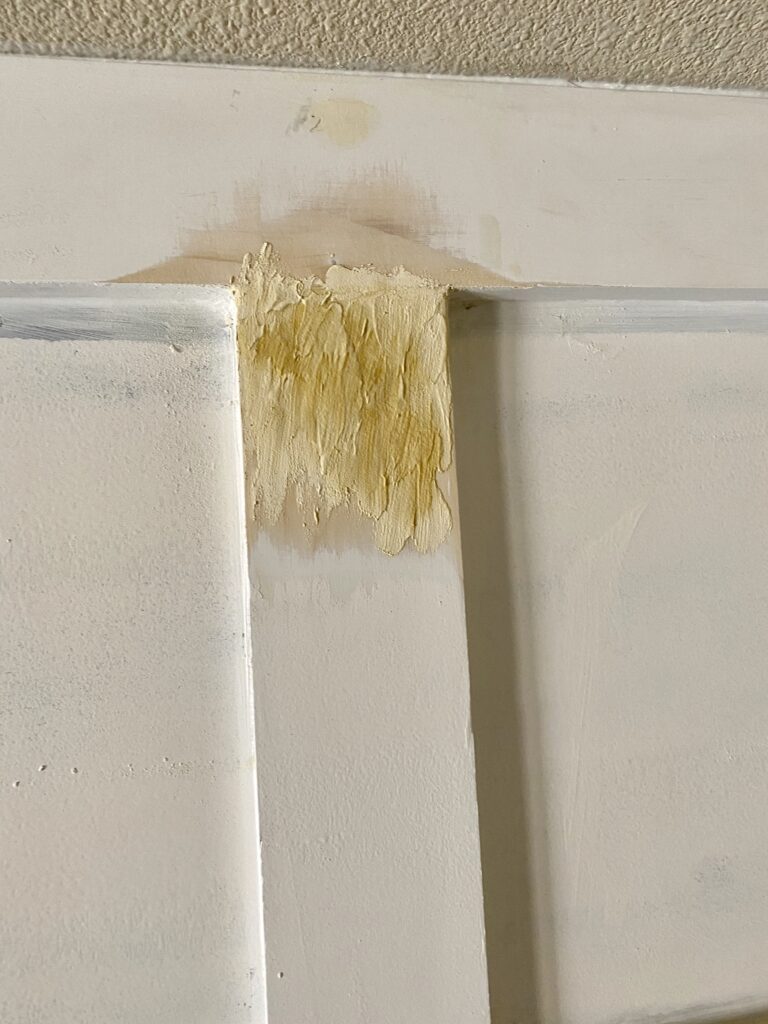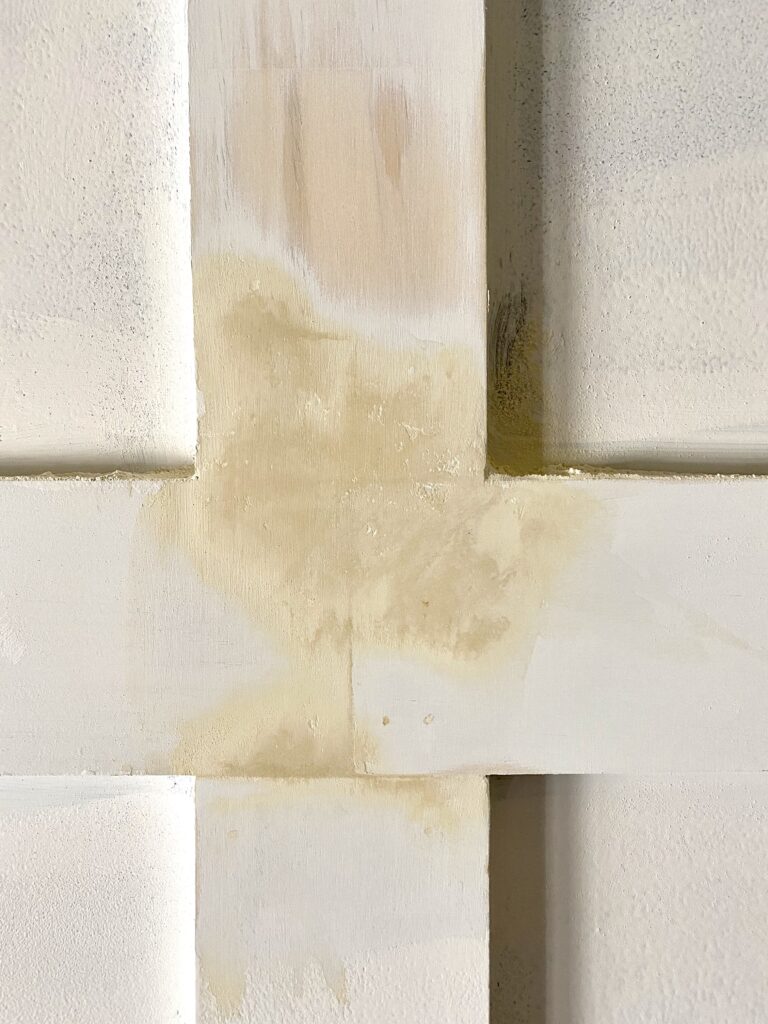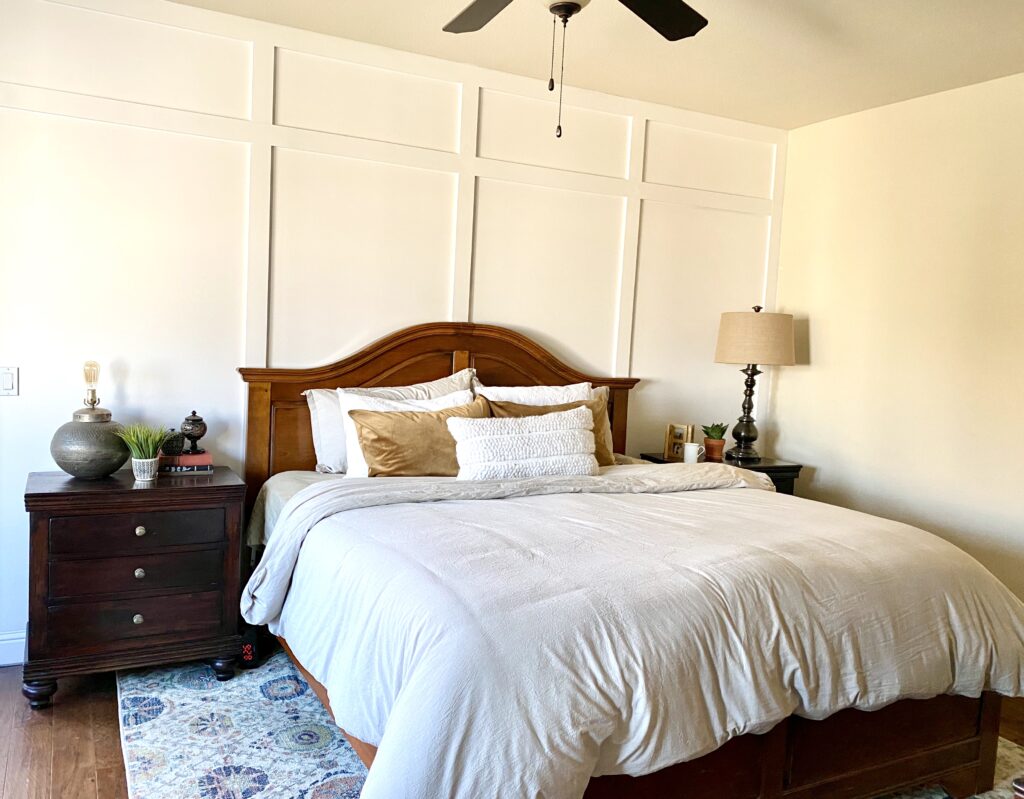 Last, we added a couple of layers of paint using Valspar Bistro White. I think the DIY board and batten bedroom wall really added a nice touch to our room. I'm excited to say that I almost have this room finished and can move on to the next!
A living room upgrade is next on the list! I've already ordered some new leather chairs. You can take a sneak peek of them here if you'd like! I hope you'll subscribe to my newsletter or follow me on Instagram or Facebook. The link to the newsletter sign-up is on the right sidebar on my home page. I'd love for you to leave a comment below. Have you done a board and batten wall before? Do you think you would try one or did I scare you away? 😉