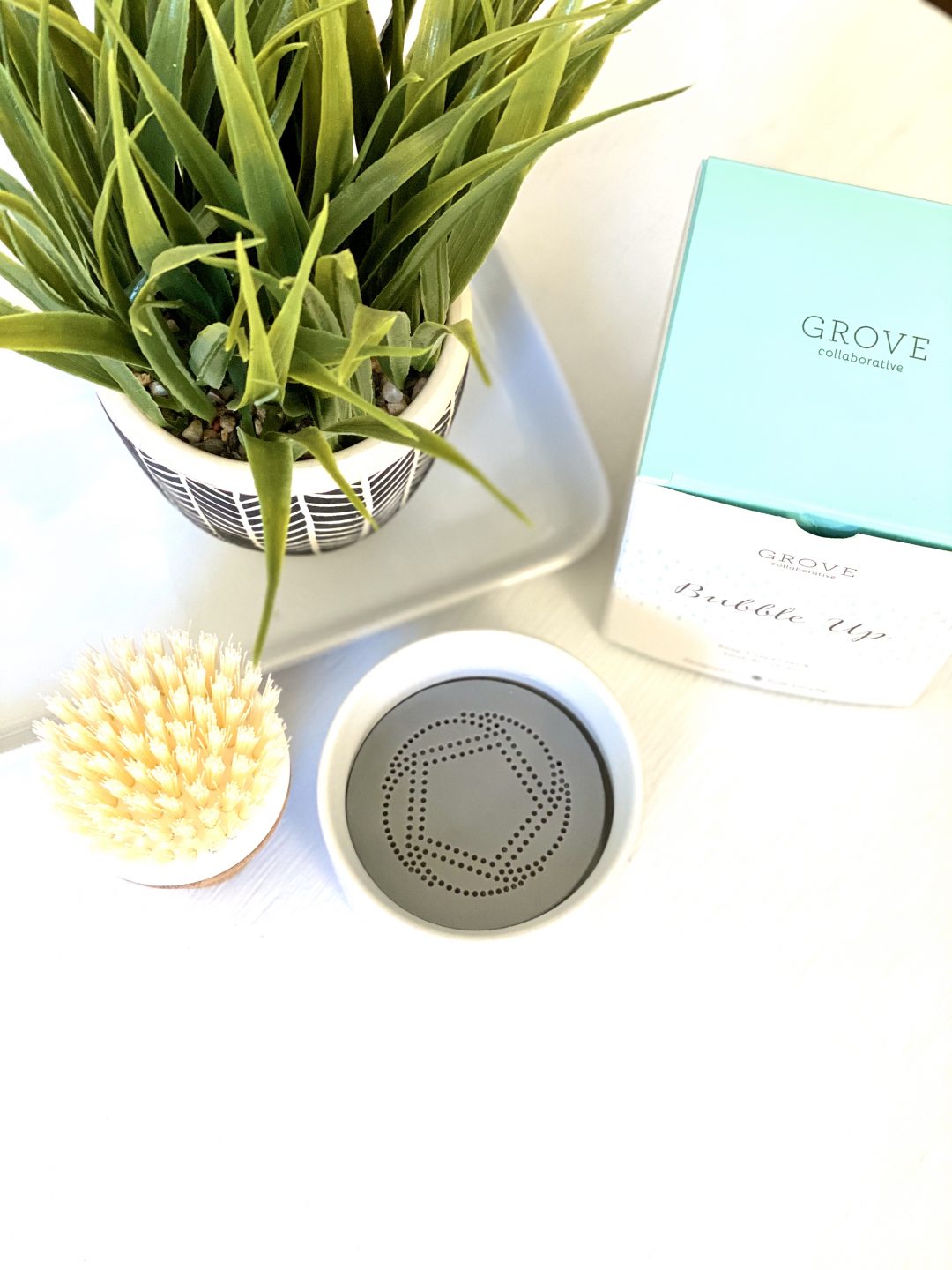 The best things from Grove Collaborative, in my opinion, are listed below with as many notes as I could think to add. I found Grove when a friend shared a link with me to get 5 free products with a minimum purchase. If you'd like to try this out, you can click here to get their current offer! If you order, the cool thing is that you get your own link to share with friends and family, and you can earn FREE products! Before you go, let's take a look at what I believe to be the best things from Grove Collaborative.
My posts contain links that may lead you to a product that I could earn a small commission if purchased. This costs you nothing and helps me keep this blog afloat. In some cases, similar items may be linked if the items I use are no longer available or if I see different variations or prices for you. Thank you for your support. Please see my full disclosures for more details.
Let's Start With the Details
Before you check out these items, be sure to Click Here to claim your free gifts with purchase! A second window will open and you can go back and forth from your cart to my page. There is a minimum purchase amount. I believe it's $20 but this may vary. Once you claim your free items, be sure to check your shopping cart. Grove will add all of the FREE items as well as other items they suggest for your first purchase. You can delete all of the suggested products and add your own choices. Don't delete the FREE ones though! Everybody wants free stuff, right?!
Automatic Reorder Important Notes
The products you order are placed on an automatic reorder schedule but you can edit or remove anything (or everything) from this so that you only get what you want when you need it. I like to leave certain items on automatic reorder so I don't forget to order and other items I just remove. After you place your order, go to your account and click on Product Subscriptions. You can edit frequency or delete items entirely and leave it empty. If it's empty, you won't get anything automatically. You have to do this after each order.
I also joined their VIP program which is $20/year but I get free shipping on all of my orders so it's worth it to me!
Now Let's Get to the Good Stuff!
#1 – My number one favorite product that I use daily is Mrs. Meyer's Multi-Surface Cleaner. I use it all around the house and it makes everything smell so fresh and clean. My favorite scent is Lemon Verbena.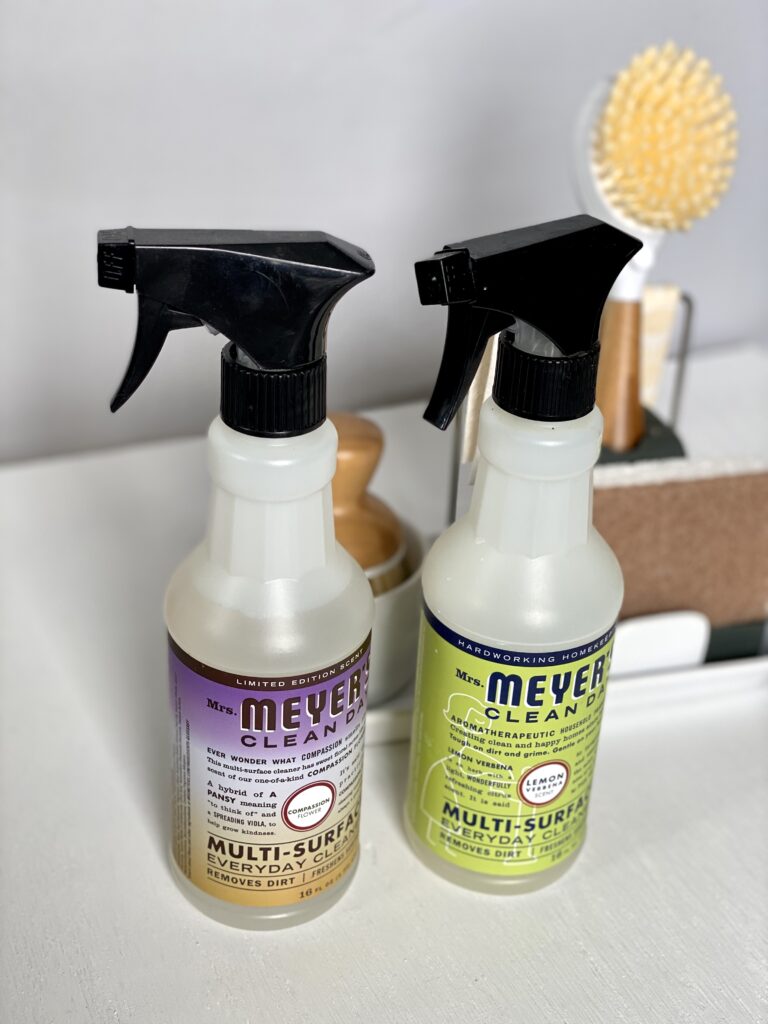 #2 – Mrs. Meyer's Hand Soap is another item that I use in both bathrooms and the kitchen. I change up the scents and take advantage of the seasonal or limited time offer scents. Recently, I ordered the Grove Collaborative brand of foaming handsoap with the reusable glass pump bottle (pictured below). You mix part of the Foaming Hand Soap Concentrate with water. The amounts you use are marked on the pump bottle and I'm loving the idea of the reusable bottle and the soap packaging that is better for the environment. I've just started using this so I'll have to update you on whether I'll be making a permanent switch. I forgot to add the silicone gripper for the bottom of this bottle. Don't forget to add yours!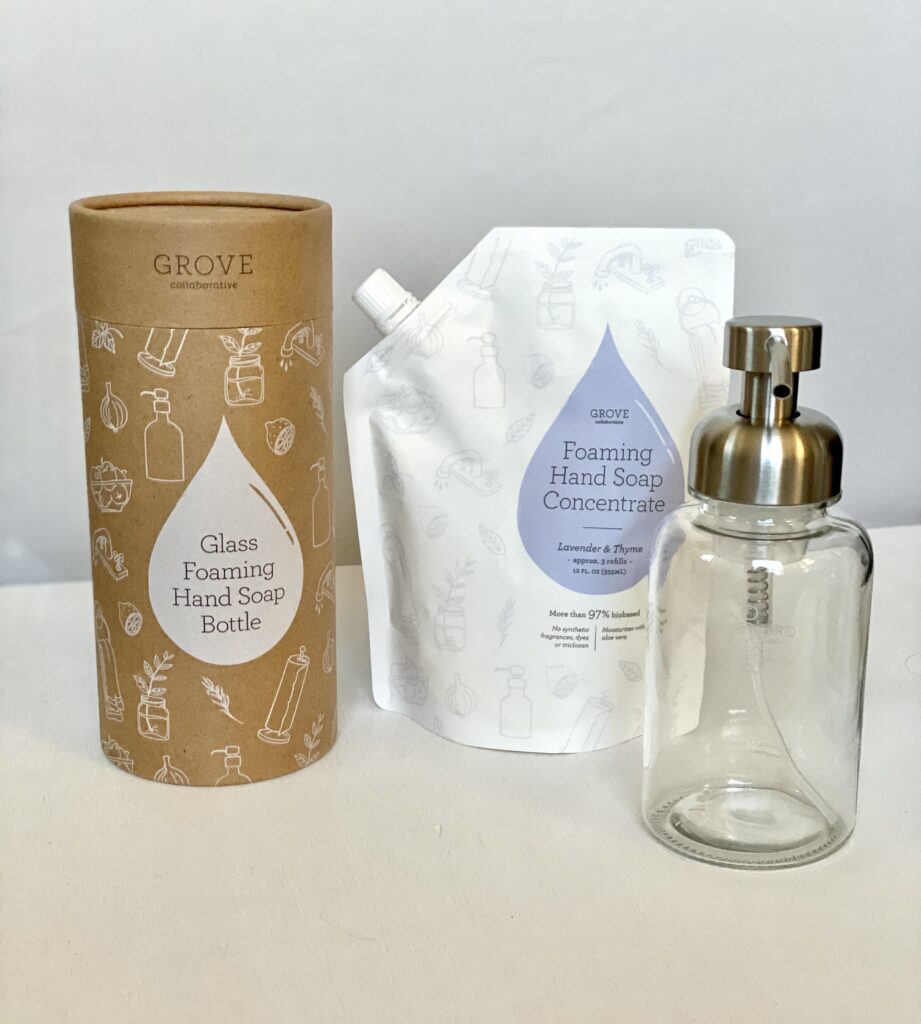 #3 – Replaceable Head Dish Brush – I like this brush for the kitchen and they have replaceable brush heads available when needed. You can see my brush in the picture below.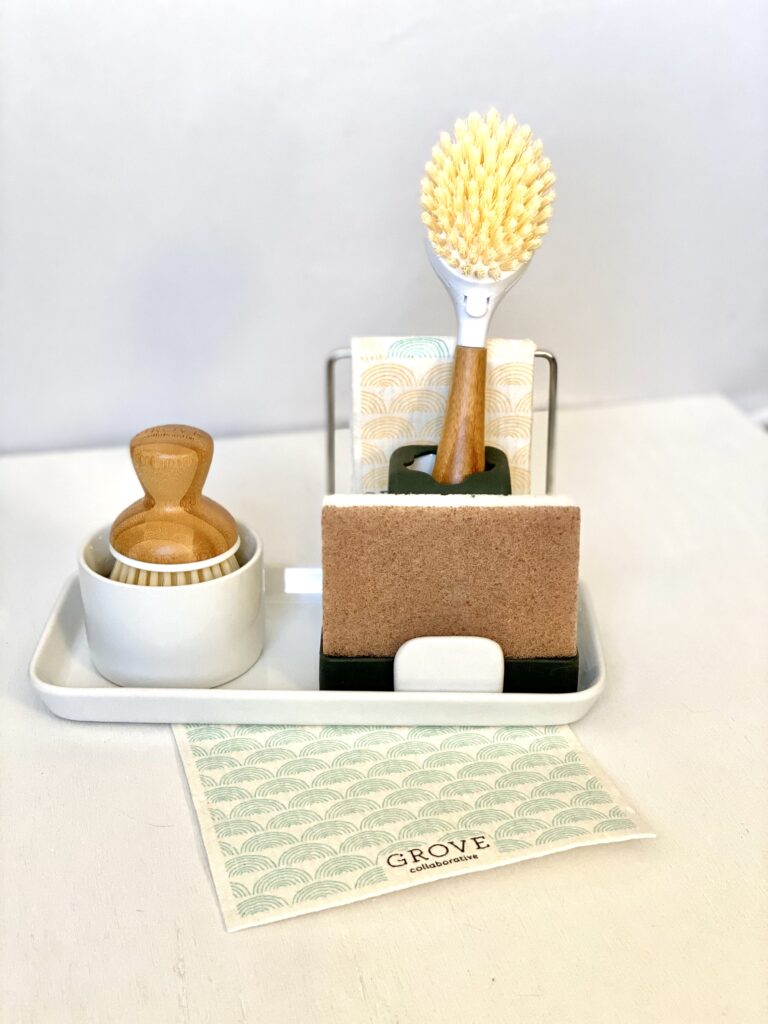 #4 – Grove Collaborative Dish Soap with Grove Glass Dishsoap Dispenser – Again I like the packaging and they also sell replaceable silicone pieces for the bottom of the glass bottle. I haven't had to replace mine yet but it's nice to know I can. I've also seen some seasonal colors that they offer for the silicone piece if you'd like to change up the colors for the season.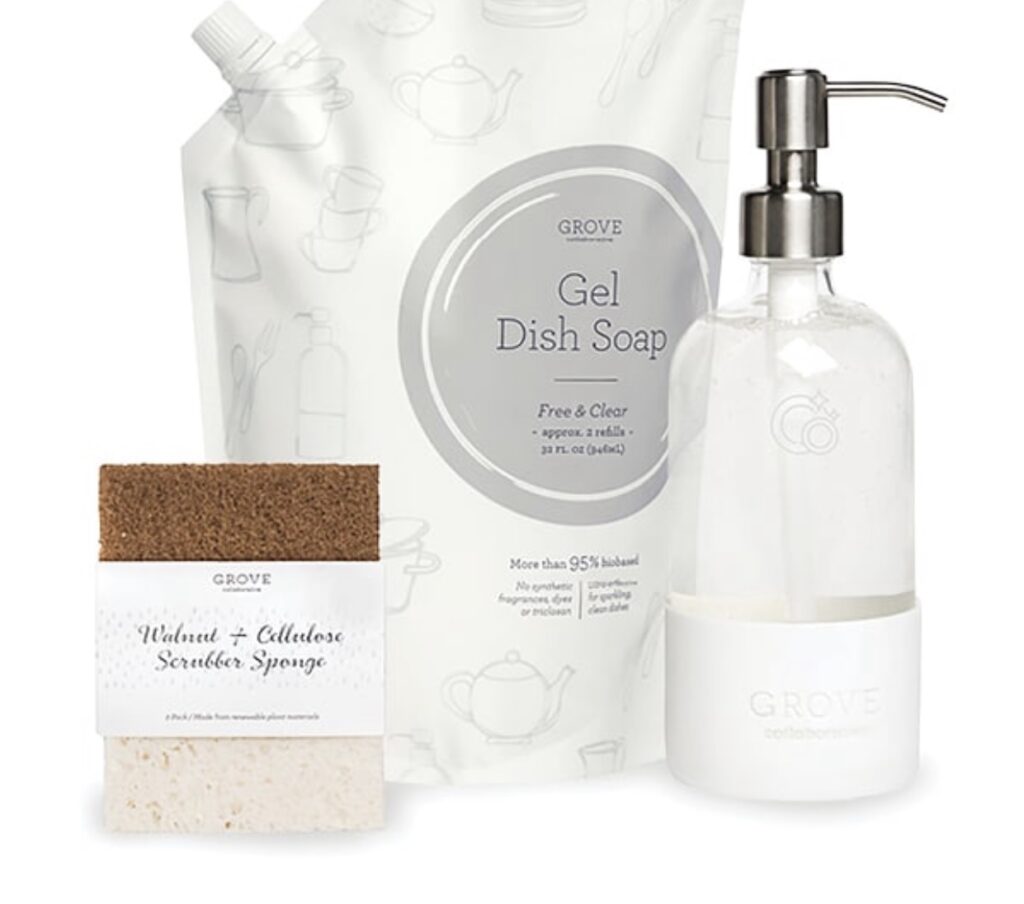 #5 – Bubble Up Dish Soap Dispenser & Brush Set – This is something new that I've purchased. You add a little of the dish soap and water and the dispenser is spring-loaded so it bubbles up onto the brush!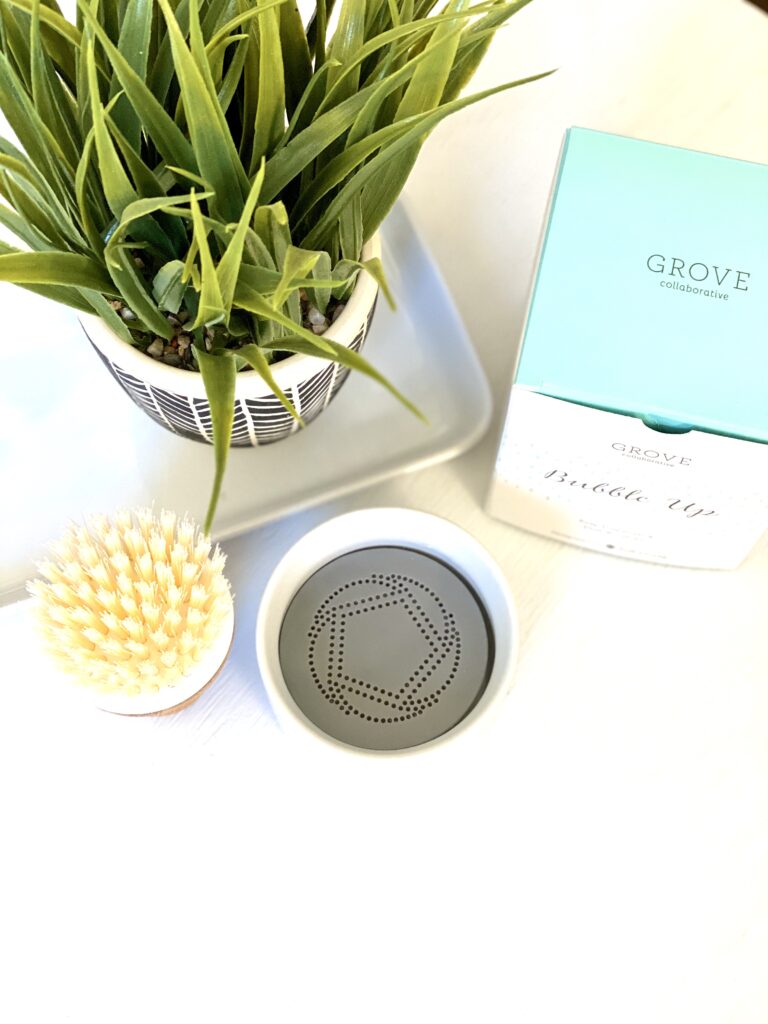 #6 – Walnut Scrubber Sponge, Set of 2 – I use these all of the time. Do yourself a favor and leave them on reorder. Y'all know you're not throwing out your sponges enough! 😉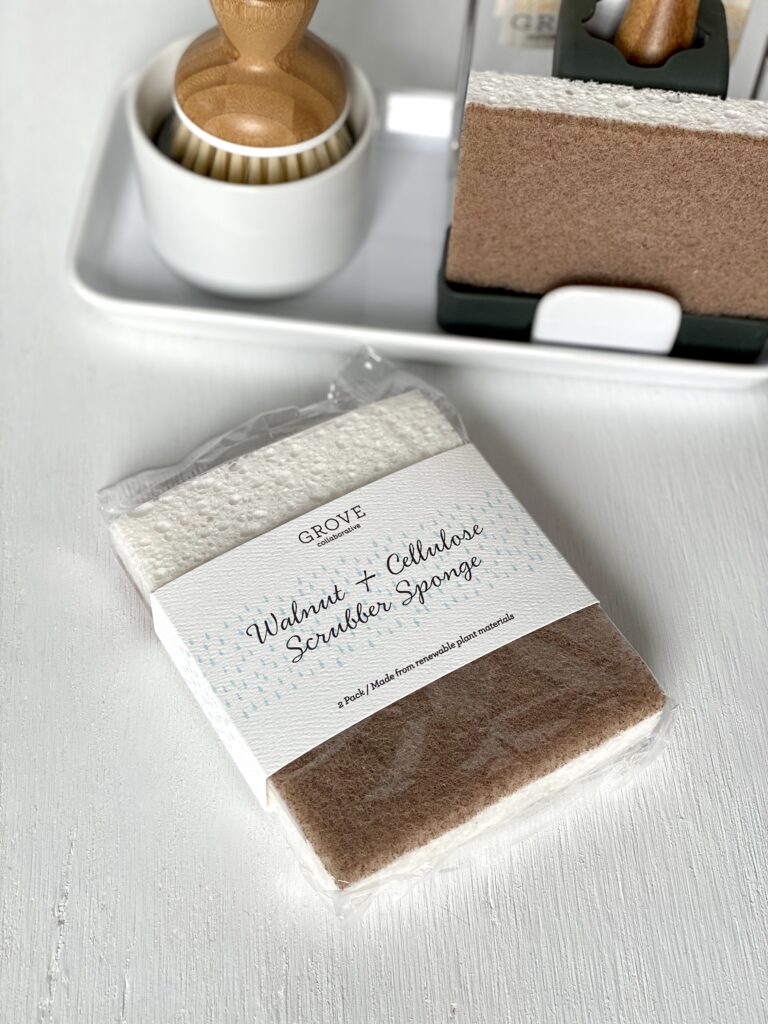 Other items pictured in this post are the Sink Caddy & Modern Stoneware Tray Set. I love this so far. It holds the sponge, the scrubber brush, the Bubble Up and the wire bar in the back holds a dish rag or the European Dish Cloths that they offer. They are little dishcloths that are dishwasher safe. I just got those, too, but haven't used them enough to give you a review.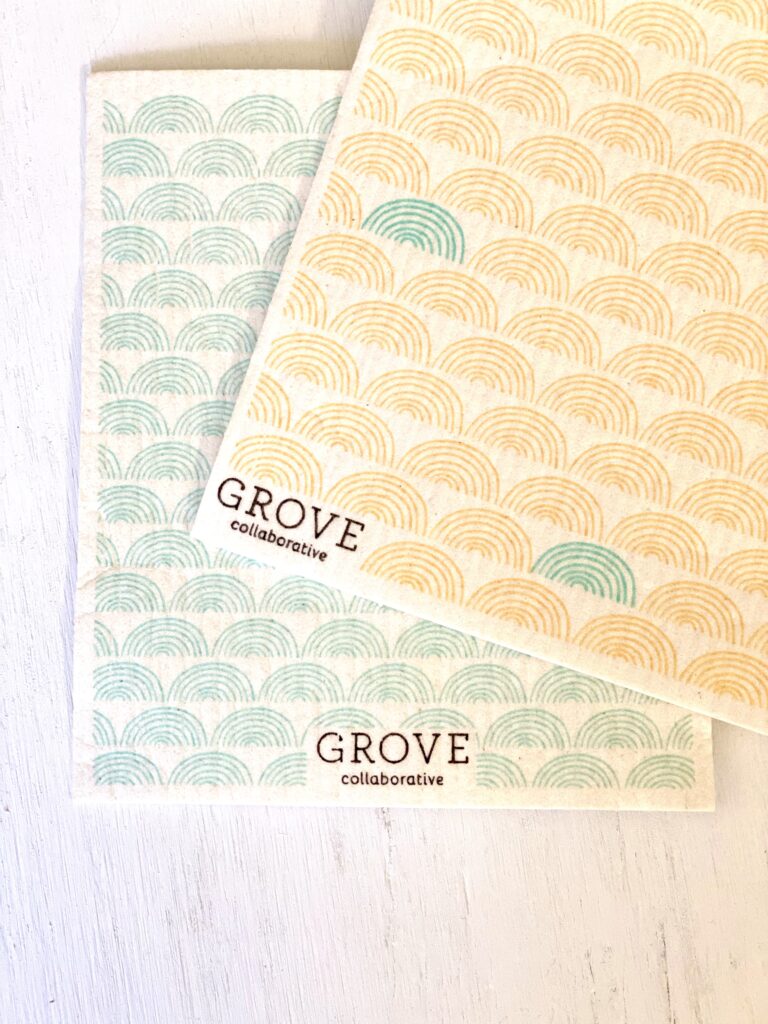 I could go on and on about Grove Collaborative. I have candles, toothpaste, dishwasher powder, napkins…. I love getting their boxes. It feels like a present when it arrives on my doorstep. I also love the random gifts with purchase that they offer regularly. If you decide to order, be sure to let me know what you got and what your favorite products are! I hope you've enjoyed my round-up of the best things from Grove Collaborative.