How To Make Coffee Filter Flowers (Easy)
This post contains affiliate links which means that at no cost to you, I may earn a commission if you purchase using one of my links. For more information view my full disclosures.
~
I'm so excited to show you how to make coffee filter flowers. They are super easy paper flowers to make and they look so real, you won't believe they're made out of coffee filters!
When learning how to make flowers out of coffee filters, I tried several different methods. I couldn't believe how fast they are to make and even my husband is quite surprised at how real they look!
I love making paper flowers and paper wreaths. To make life even easier, I have a quick video for you to watch as well! It's a bit further down in this post!
Supplies
Round coffee filters – I used 8 per flower for the largest flower including the leaves
Hot glue gun or regular glue
Scissors
Food coloring and water
Paint brushes
Instructions
Ball up one coffee filter by rolling it into a ball. Roll a second one around the first to make the ball larger. This is the center of the flower, set aside.
Fold a coffee filter in half, fold that in half, and repeat until it's folded 4 times and looks like a cone.
Starting one inch down from the top cut a petal shape out of the top of the filter ending one inch down on the opposite side. Cut and fold 5 of these and then unfold them and lay them flat. Use less for smaller flowers.
Carefully glue the first flat filter around the ball making sure the top of the ball is barely covered. You will need to fold the filter around the ball a couple of times, securing the filter in place with glue.
Lay the next coffee filter down and make a circle with glue about 2 inches away from the petal edges. Also, add a bit of glue to the center of the filter.
Hold the first ball and petal layer inside this next one and pull the edges of the petals up around the top and tap together to secure until the glue is cool or dry. Repeat until all layers are added.
Easy peasy, right? Don't worry there are photos and a video! I also have another coffee filter wreath DIY you may like!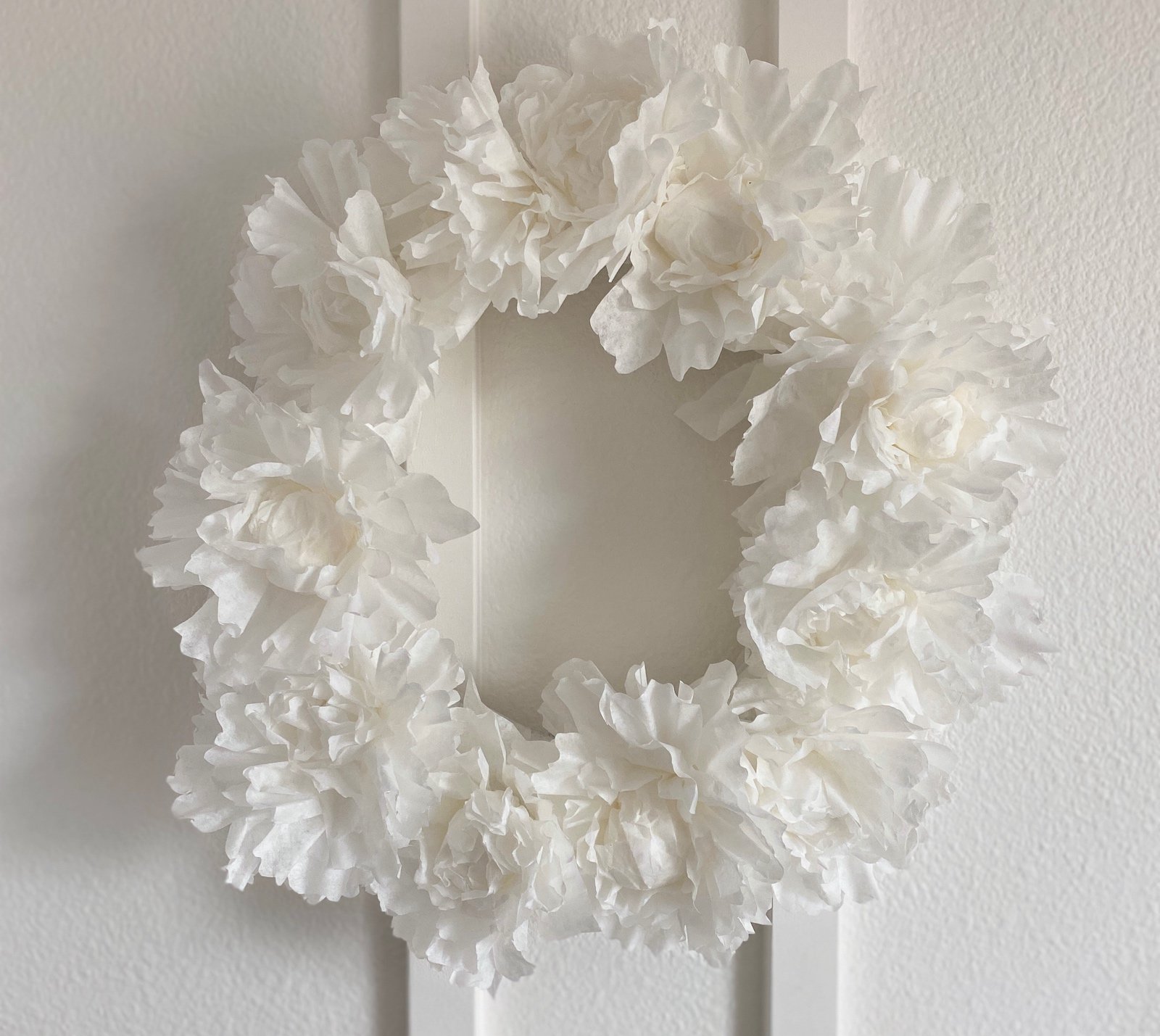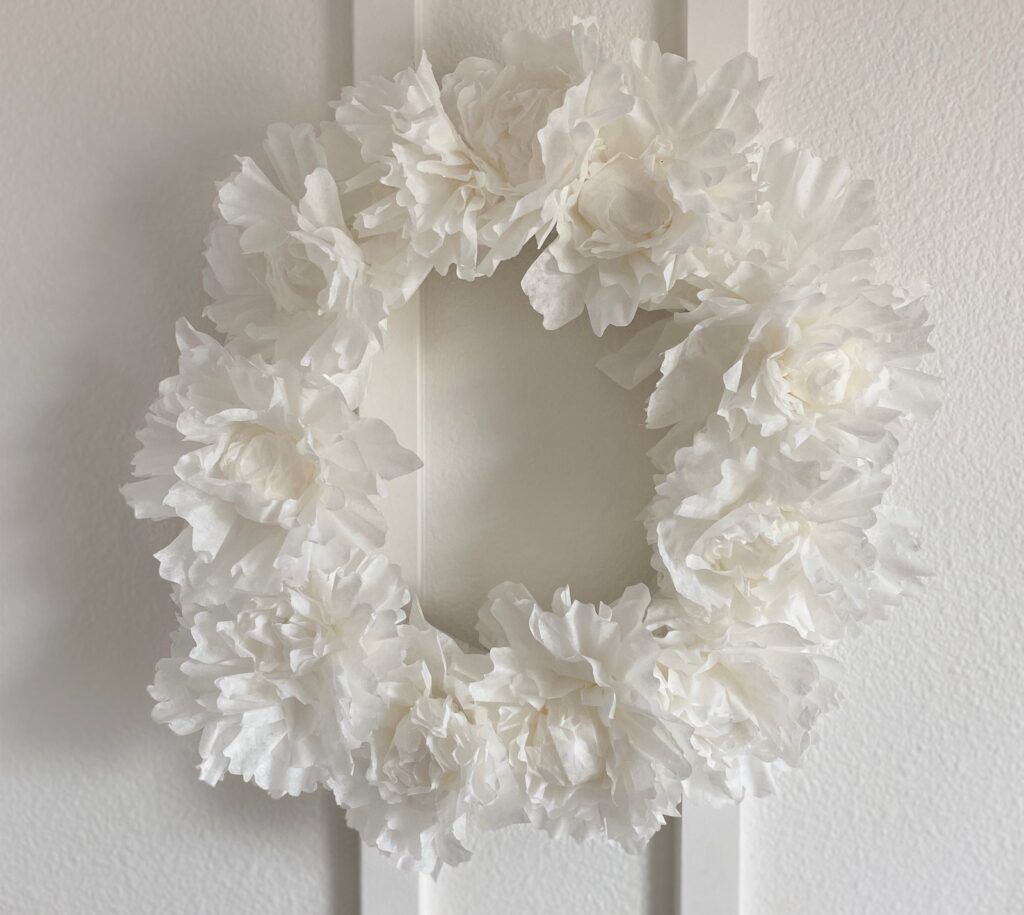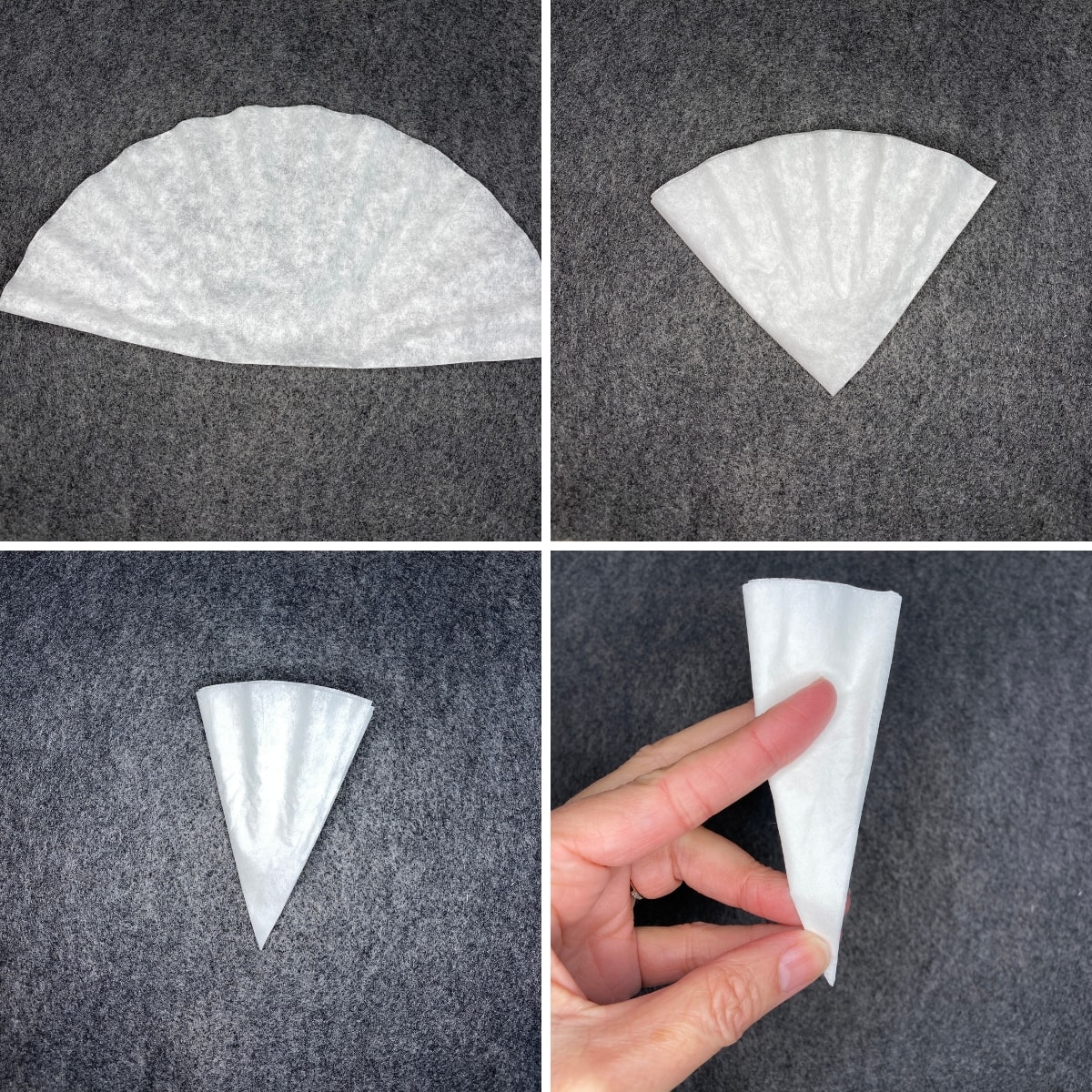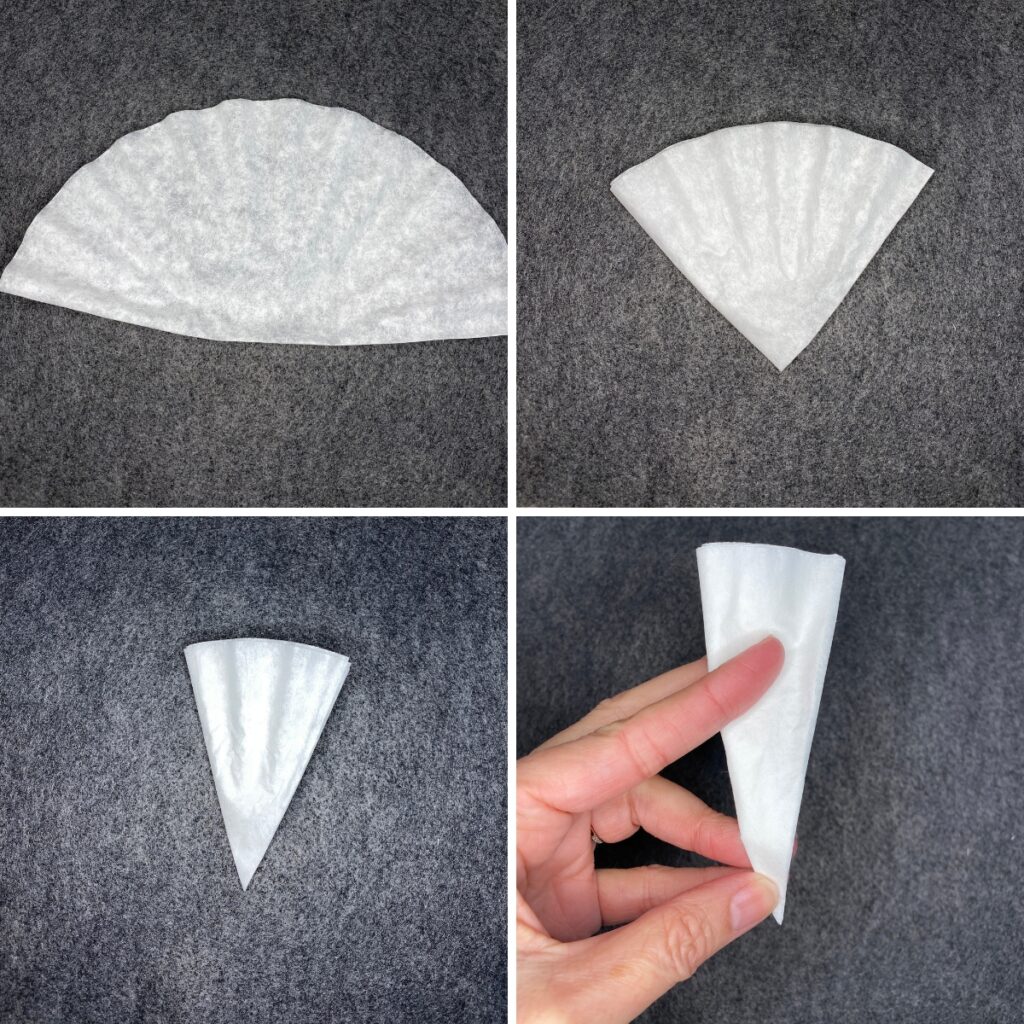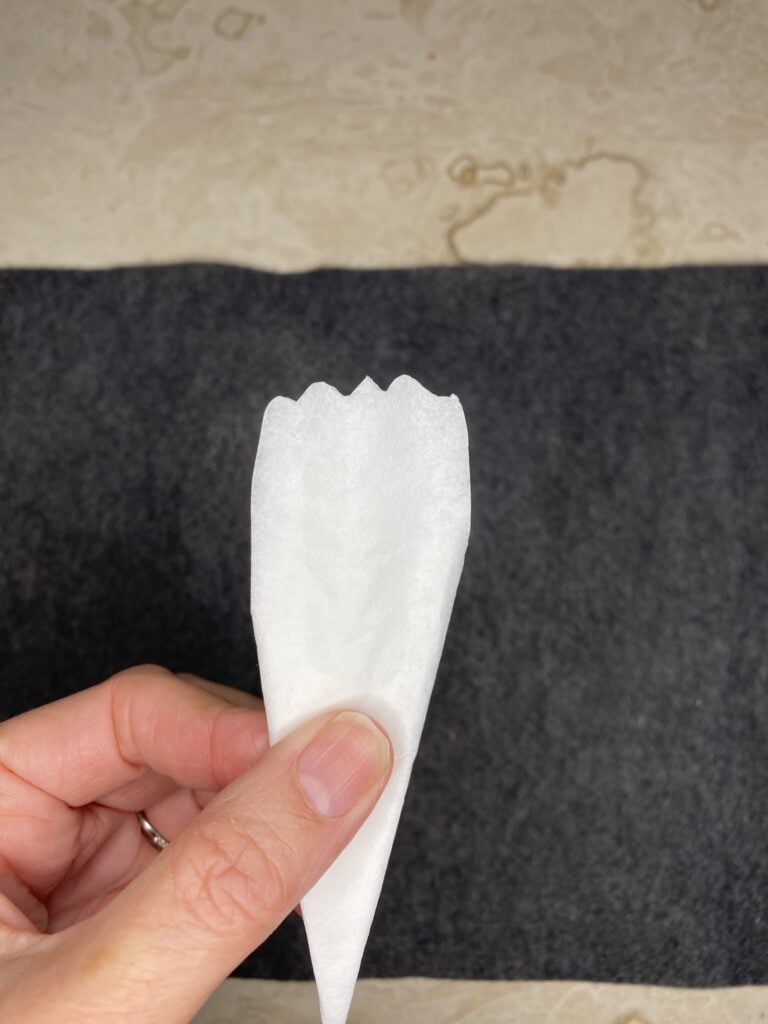 This next photo shows the first filter rolled around the center and then I drew the pattern of the glue on the next layer so you could see how I apply the glue.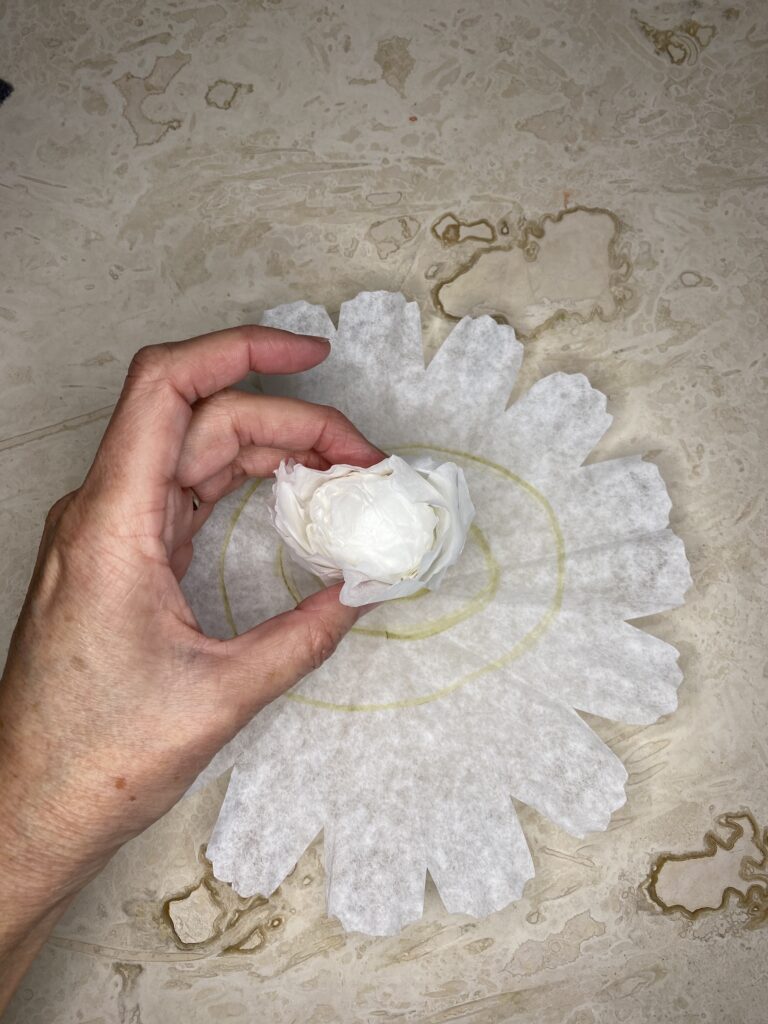 Once all of the layers are glued it will look like this.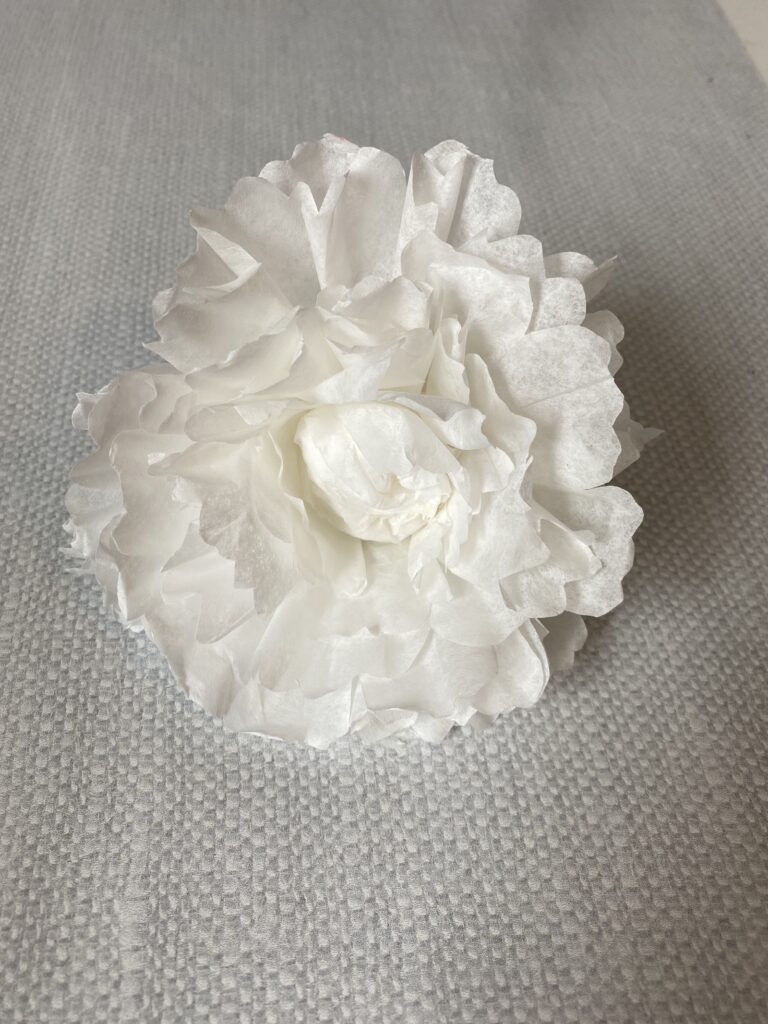 How To Make Coffee Filter Flowers With Food Coloring
I used food coloring and water to paint the flowers. For lighter colors add 1/4 cup of water and 4 drops of food coloring. For more intense colors, add less water and more food coloring.
Dip your paintbrush in the food coloring mixture and gently dab the colors onto the flower. Start with a dot at a time until you see how much the mixture spreads. The filter will draw the paint away from the brush so you don't need much pressure.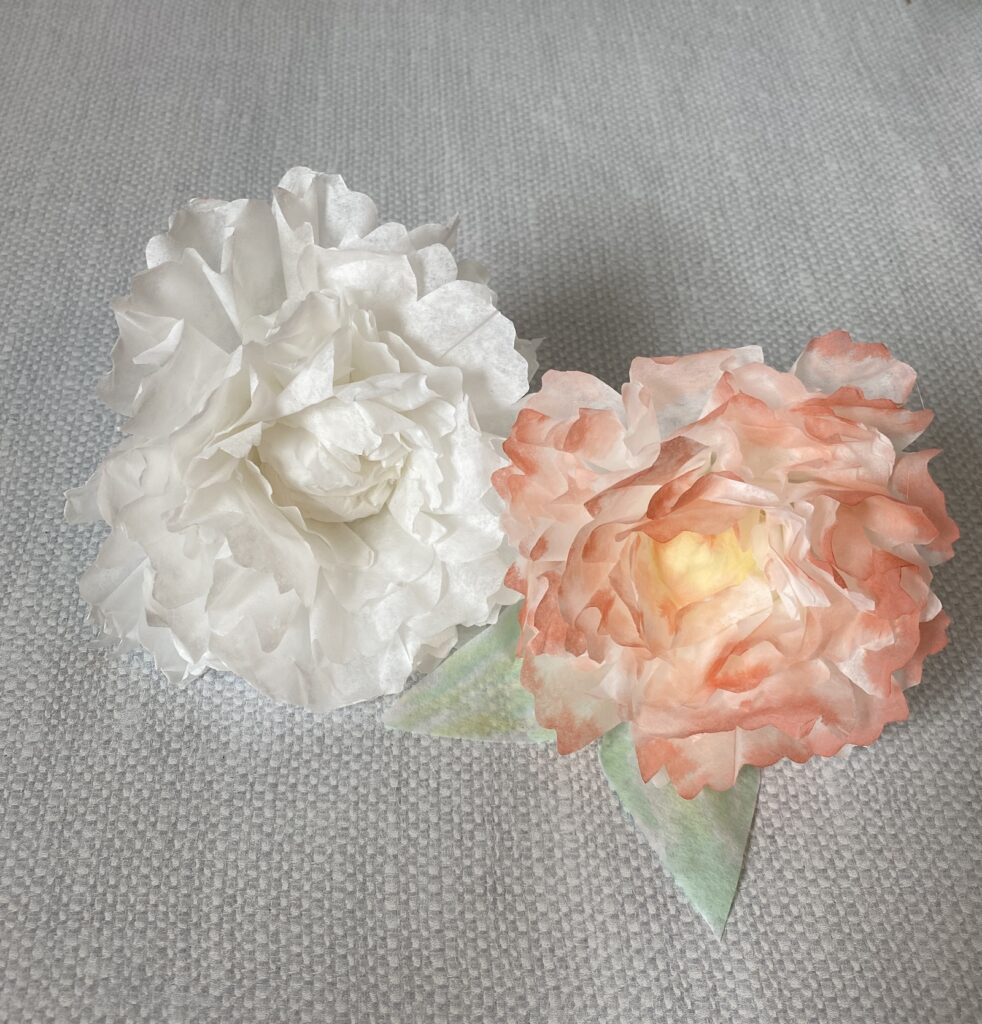 You don't want the flowers to be sopping wet, so it's best to add a little bit working all the way around the flower, and then when you're done painting all of your flowers, you can go back and add more detail or color if you'd like.
I found the best way to paint a realistic flower is to use a less intense color first and then at the very end, use a more intense mixture and tap it onto the petal edges and a bit near the center of the flower.
Making Leaves Out Of Coffee Filters
Fold a coffee filter in half and then in half again so it's now in quarters. Cut a leaf shape out and then unfold the coffee filter and you'll have four connected leaves.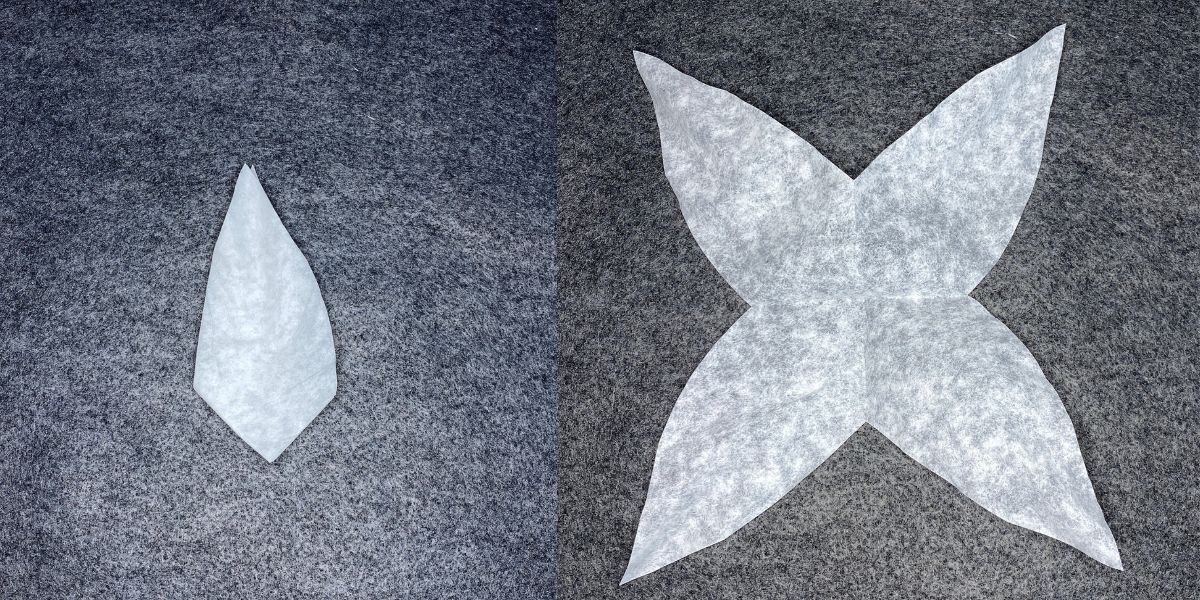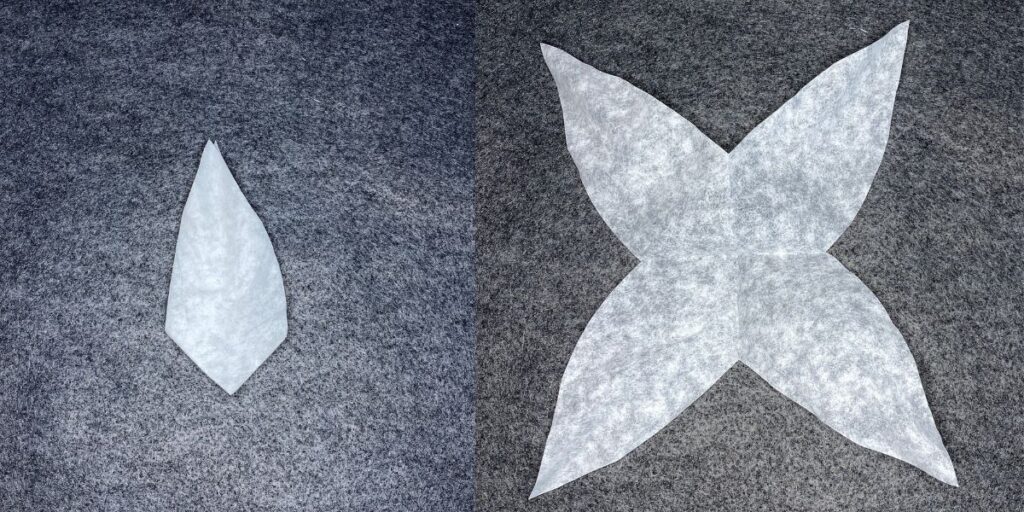 You can paint these and let them dry and then glue them to the bottom of your flowers. Alternatively, you can cut separate leaves and glue them individually.
I made a wreath out of my coffee filter flowers. I used extra filters to wrap around the wreath frame which makes it easier for the flowers to stick when glued on.
What will you use your flowers for?
I have some other talented friends I'd love for you to visit. They've also been working on some fun DIY projects for Spring:
Bunny Egg Floral Ribbon Centerpiece: Purple Hues & Me, Spring Decor Sign: Patina and Paint, Bunny Salt & Pepper Shakers: Sweet Southern Grace, Faux Cherry Blossom Branch: Decorate and More With Tip, Spring Wreath : Baggott Farmhouse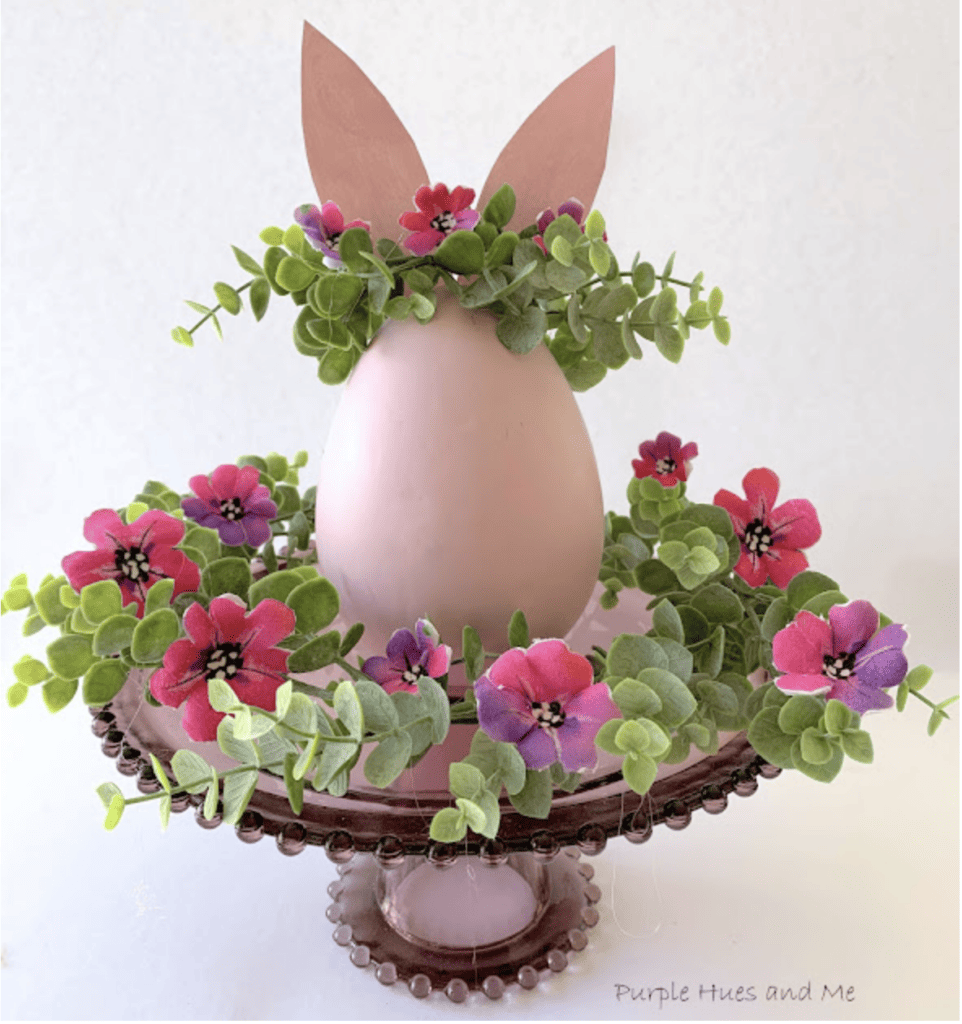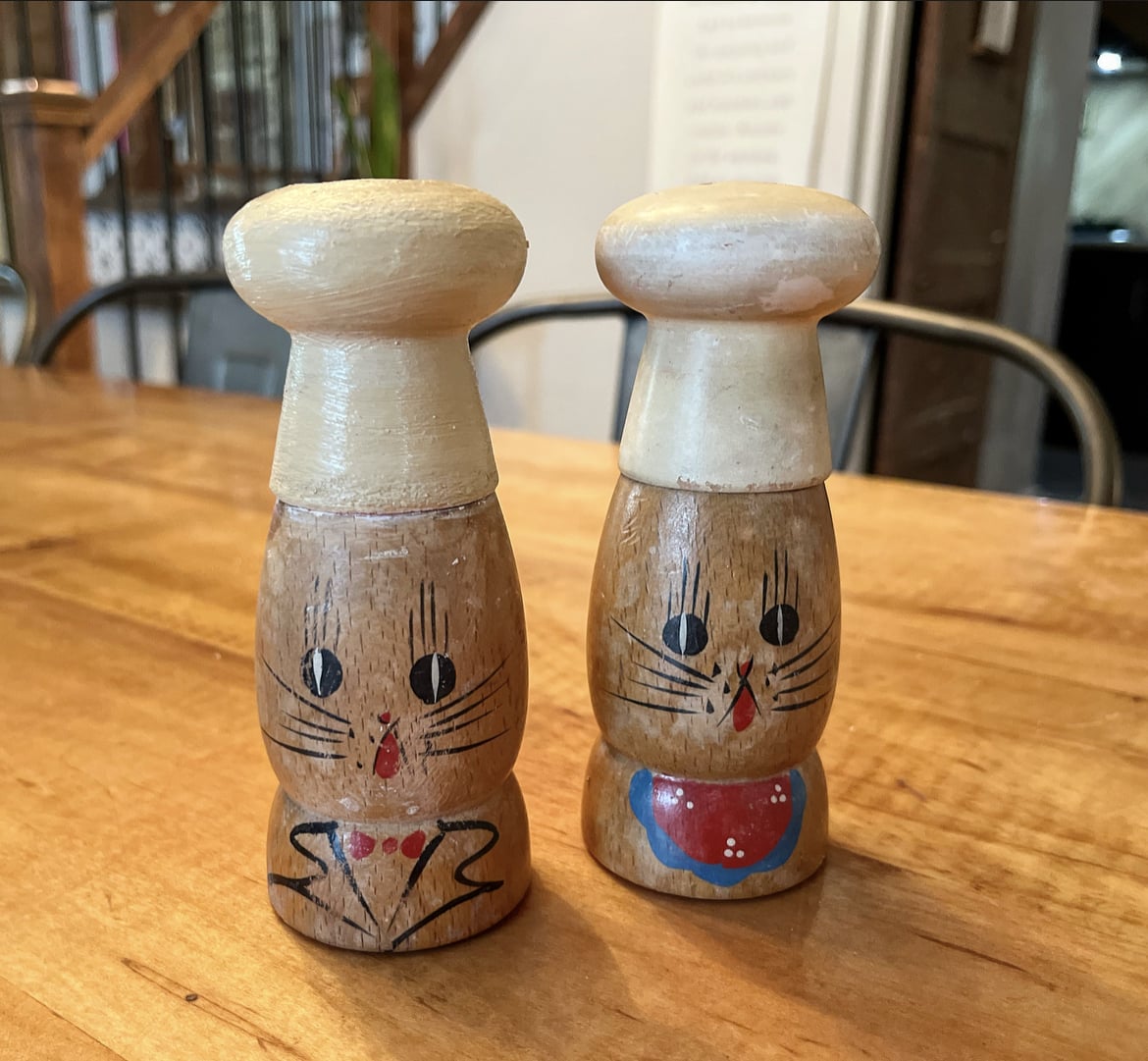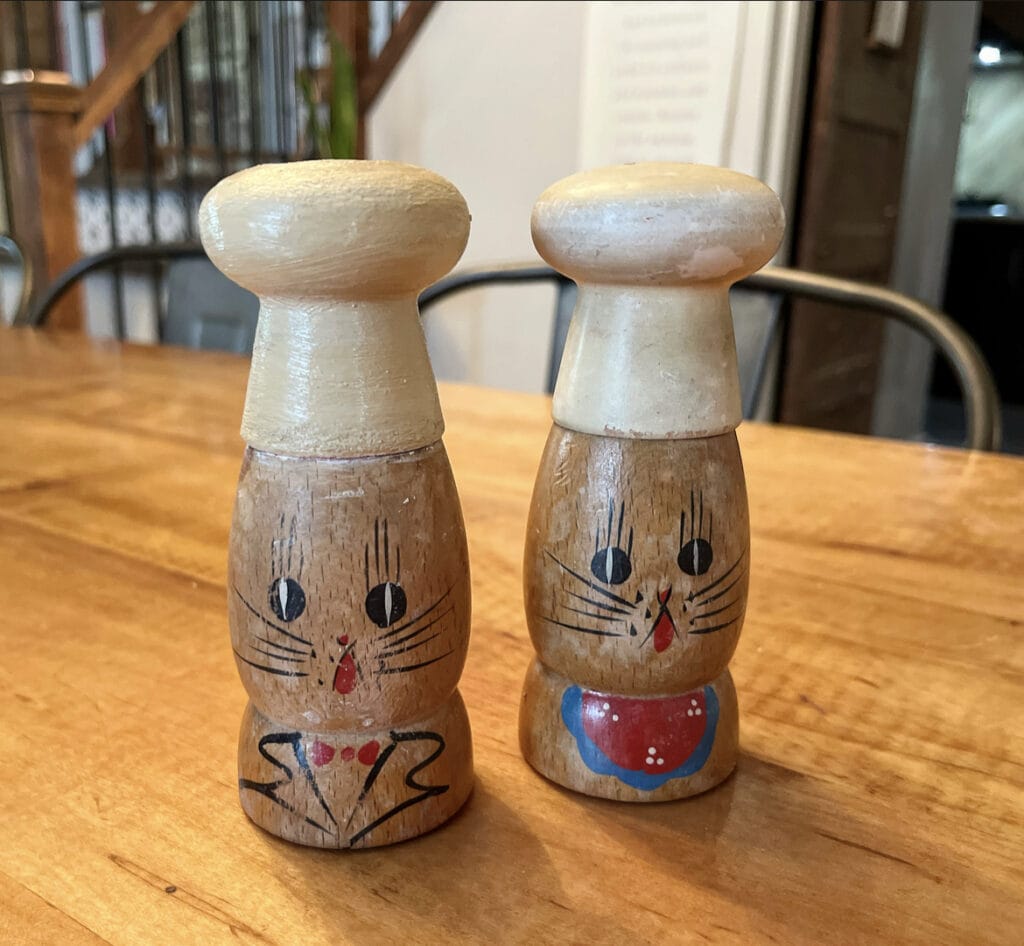 Happy crafting,
Denise