How To Make A Coffee Filter Wreath DIY
This post contains affiliate links which means that at no cost to you, I may earn a commission if you purchase using one of my links. For more information view my full disclosures.
~
Today I'll show you how to make a coffee filter wreath two ways! These easy DIY coffee filter wreaths are sure to impress and people will be shocked to learn they are made with coffee filters!
I love the texture of coffee filters and they can be painted or dyed to suit your home decor colors. These DIY paper wreaths are inexpensive to make and are great for room decor, a covered front door, inexpensive wedding decorations, and so much more.
You can find coffee filters at Dollar Tree, grocery stores, or other big box stores. Just be sure to buy the round coffee filters and not the cone style.
You'll love this easy craft project. You may also like learning how to make flowers out of book pages.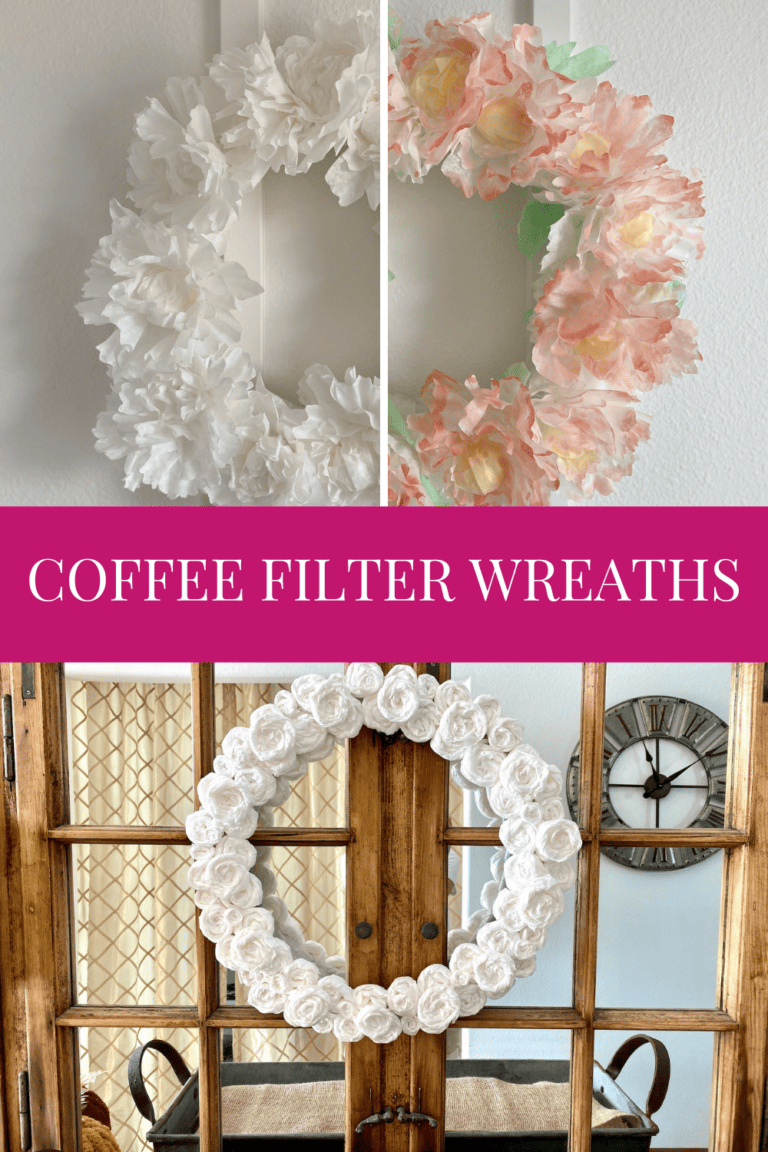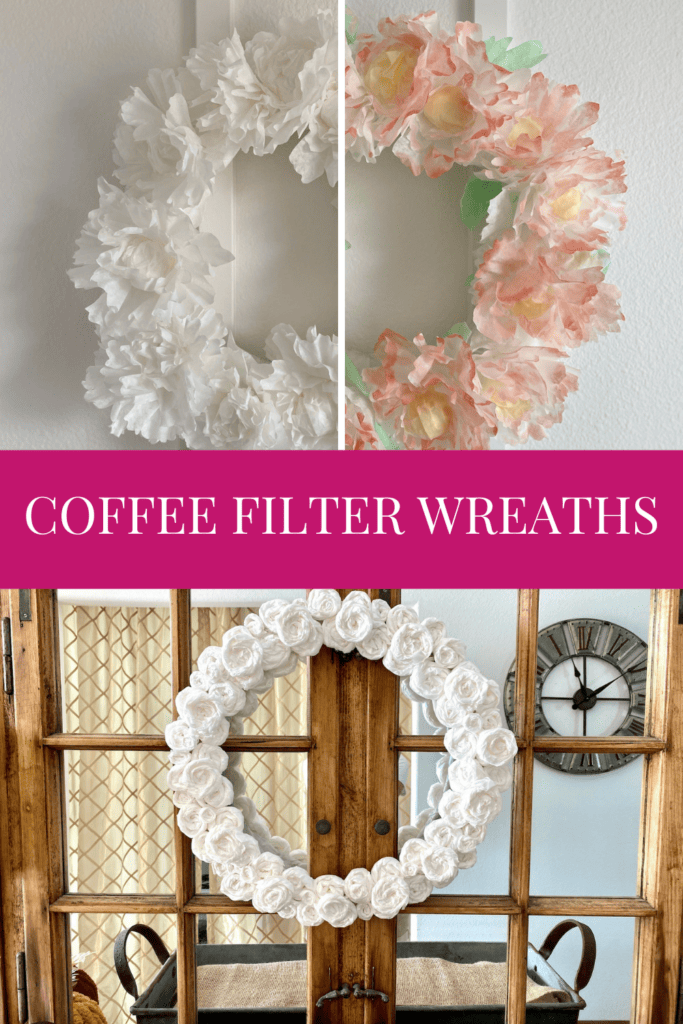 How To Make A Coffee Filter Wreath
Here is the step-by-step wreath tutorial for making an easy coffee filter wreath with rosettes:
Wrap your wreath frame in coffee filters securing them with tape or hot glue.
Dye or paint your coffee filters and allow them to dry. (optional)
Make all of your coffee filter flowers using one of the methods below.
Secure your flowers to the wreath frame using a hot glue gun.
Hang your wreath from a ribbon or directly on a nail or command hook.
Supplies
Coffee filters – the round basket style (8-10 or 8-12 cups)
A wreath form
Craft paint, food coloring or dye, and paint brushes (optional)
Scissors
Ribbon for hanging (optional)
How To Make Flowers With Coffee Filters
I have two methods for making coffee filter flowers. Browse through the photos and decide which method you like best.
How to Make Coffee Filter Roses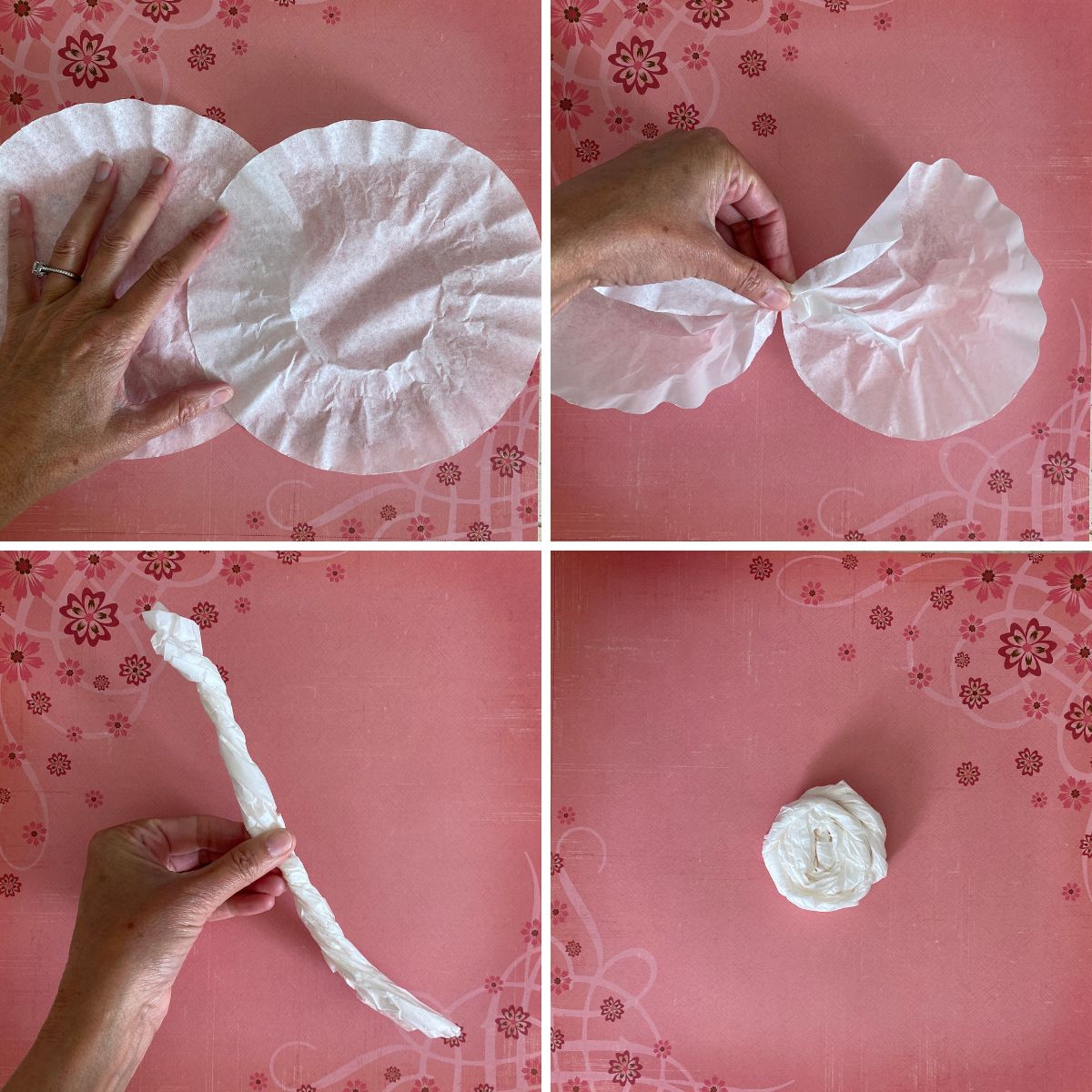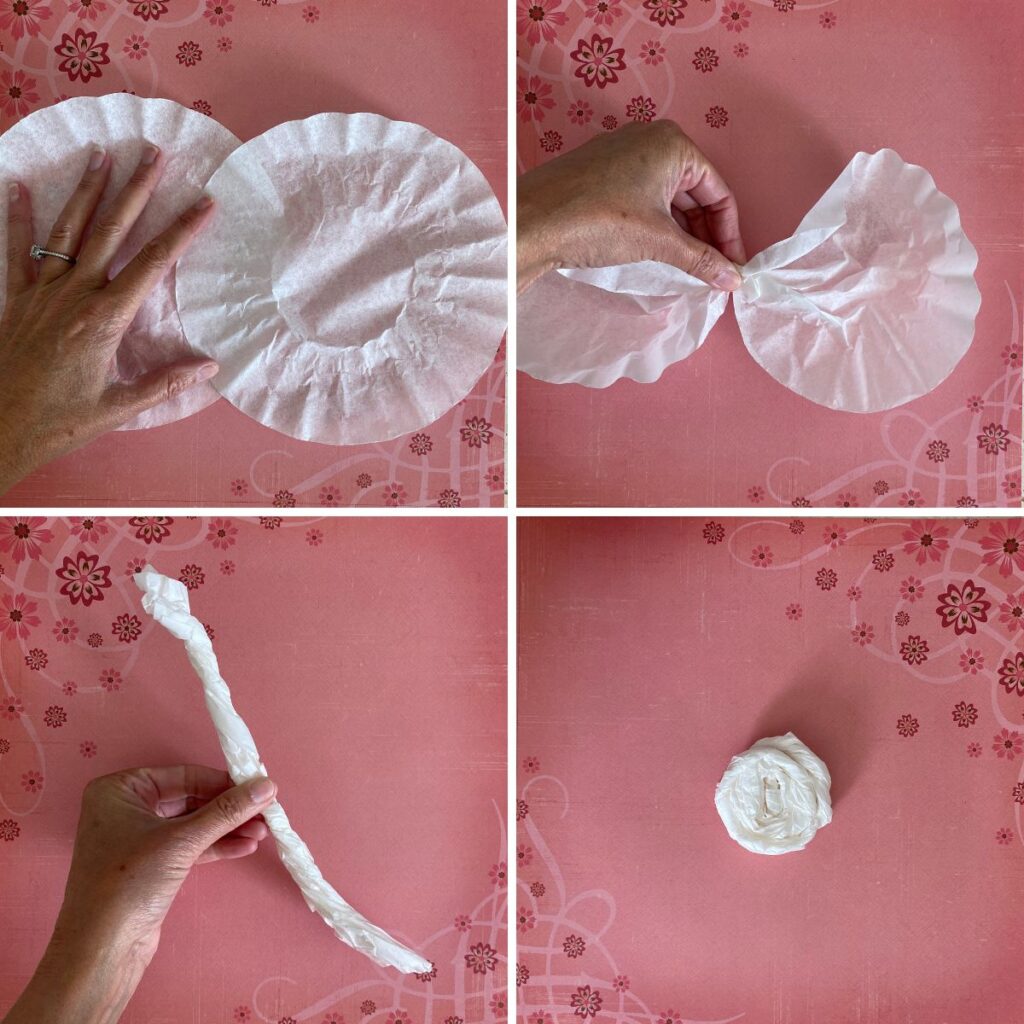 To make larger or smaller coffee filter rosettes, adjust the number of filters used. For the largest roses, I used 3 filters, for the very tiny rosettes, I cut a filter in half.
Lay two coffee filters side by side, overlapping by a couple of inches.
Scrunch the filters together in the middle and hold the center tightly.
Twist one end in one direction holding the middle so it doesn't pull apart.
Twist the other end in the opposite direction and you've made a rope shape.
Start rolling from one end tightly and continue to twist and roll the rope into a rose shape using hot glue to secure it as you go.
Secure it with hot glue again at the end and hold it tightly until the glue dries.
If you're making the largest flower with three filters, scrunch two filters together and twist one end, add another filter to the opposite end, and continue twisting. Be careful not to pull too hard or you'll pull the filters apart.
You can add as many filters as you want to make flowers even larger if you'd like. It takes a bit of time but they are quite easy.
Assembling The Rosette Wreath
I glued all of the inner roses first going all the way around the inside. The flowers are only glued on the top half of the flower. The bottom half overhangs.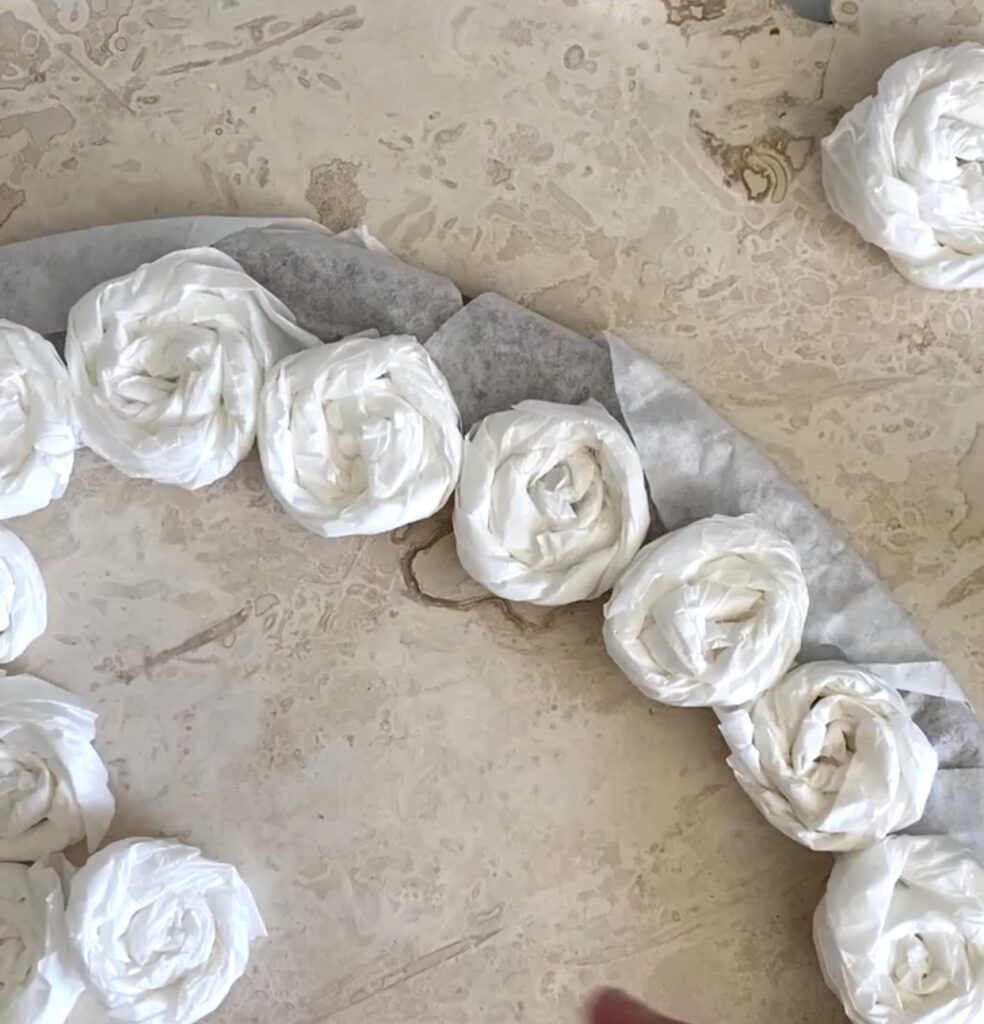 Once the inner ring is complete, glue more flowers all the way around the outside getting them as close together as possible, but you will have some gaps.
Make tiny rosettes in appropriate sizes to fill in all of the gaps.
Now that your wreath frame is entirely covered, make the largest roses using three filters and glue them on top of the first layer of flowers to give the wreath more dimension.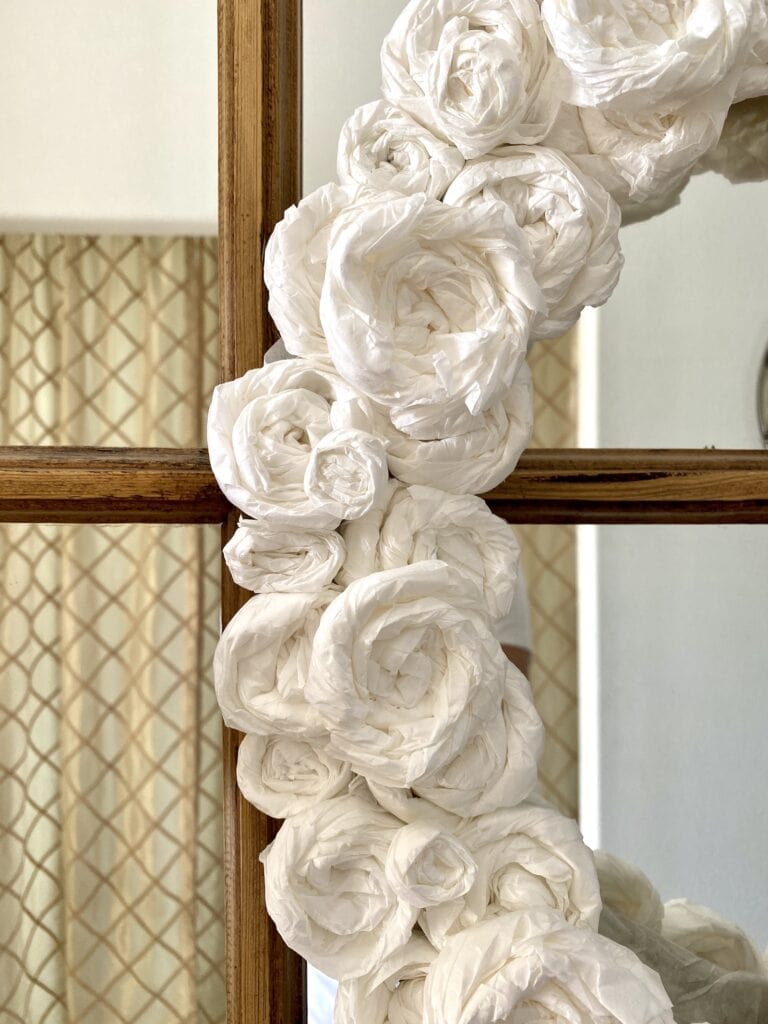 Once I did this, I went back in and added tiny roses made with 1/2 of a coffee filter.
How To Make A Coffee Filter Flower Wreaths With Larger Flowers
To make this wreath, you should start by reading How To Make Coffee Filter Flowers. I go over the instructions for how to make the flowers and show how I painted them right on the wreath.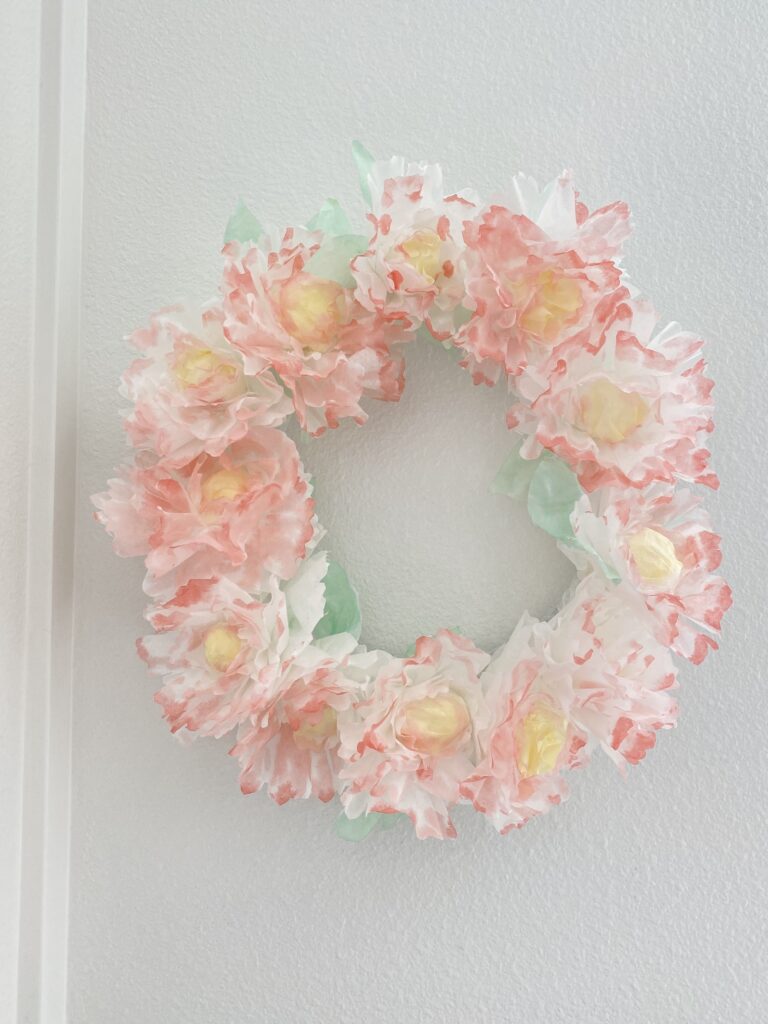 Once you've made all of the flowers, glue them to the wreath frame and then paint them if you'd like.
A white wreath is gorgeous, but you can make them any color you'd like.
How Many Cofee Filters Does It Take to Make A Wreath?
I used around 170 filters to make a rosette wreath and about 100 to make the larger flower wreath.
How Do You Attach Ribbon To A Coffee Filter Wreath?
It is best to attach a loop to the wreath frame before beginning but you can also glue one onto the back of the wreath frame after the wreath is complete.
How Do You Dye Coffee Filters?
Soak coffee filters in a mixture of food coloring and water and then spread them out and allow them to dry. Rit dye or craft paint and water can also be used.
Happy crafting,
Denise