3 Simple Mason Jar DIY Projects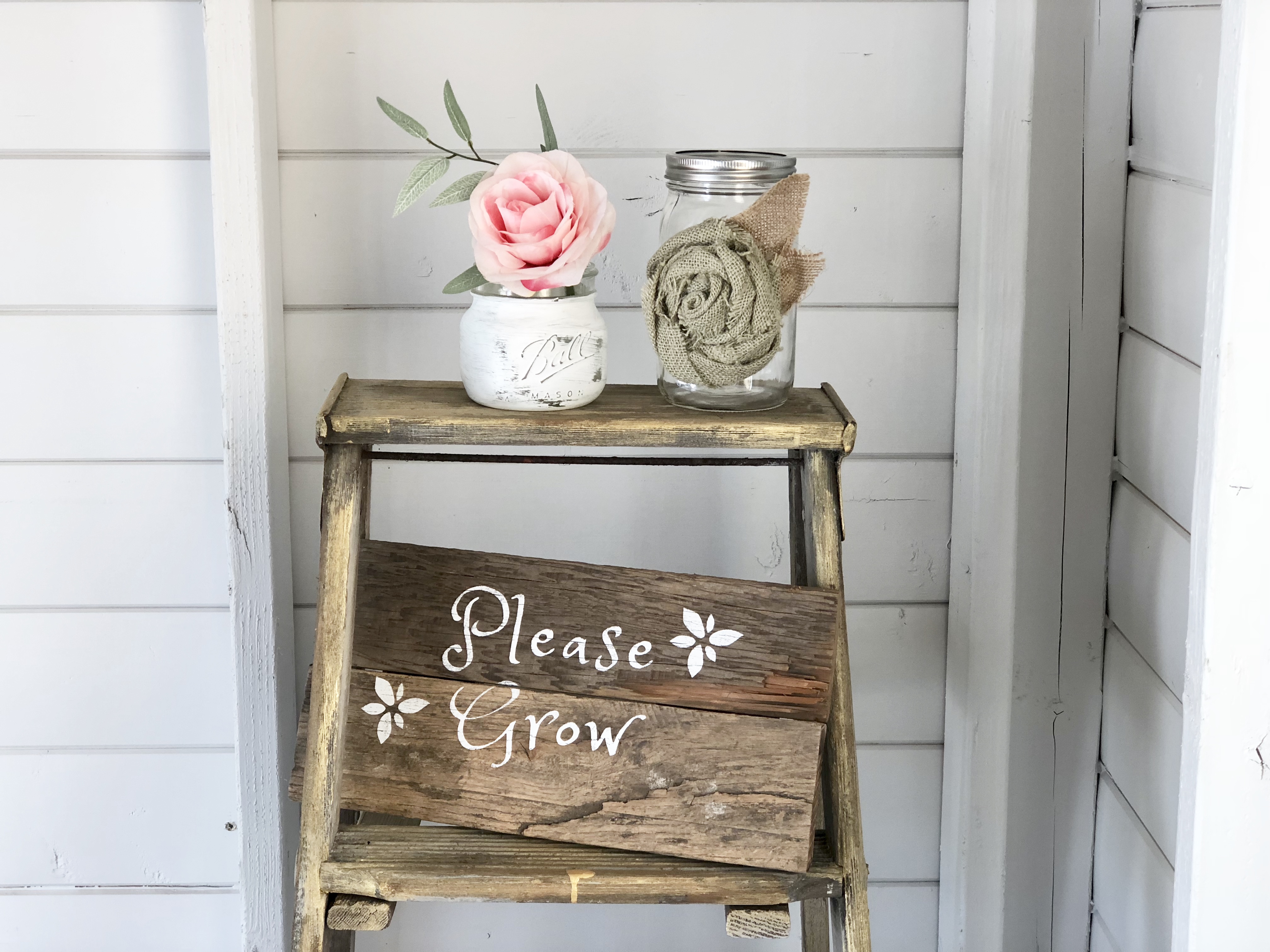 3 Simple Mason Jar DIY Projects
I love working with mason jars. Regardless of our age, these timeless treasures seem to have a memorable story for all of us. Whether they were the peaches preserved by grandma or the button collection of your moms, mason jars have stood the test of time. One of my childhood memories was visiting my aunt and uncle's farm in Oakdale, California. My uncle had an old room with a dirt floor that was attached to the garage. We called it "The Pop Shop" because there was always a supply of "pop" (aka soda) in there. Along the top shelves of The Pop Shop were jars of preserved fruits, jams, and vegetables that my aunt had made.
I honestly thought the veggies looked pretty gross and my eyes were always on the prize, the soda! All that soda…. I can still smell the musty room when I close my eyes. I can also remember the sharp pinch from the geese that bit us when we were strolling through the gardens! Man those geese were mean!
Crafts are one of my favorite past-times and I'm always needing little trinkets, screws, nails, paintbrushes, and many other things. Most of these items live in mason jars in my craft room. This month I participated in a DIY blog challenge where the theme is mason jars, and I had no shortage of ideas! Other than using them for storage, here are three of my favorite mason jar DIY projects:
Painted Mason Jar Vases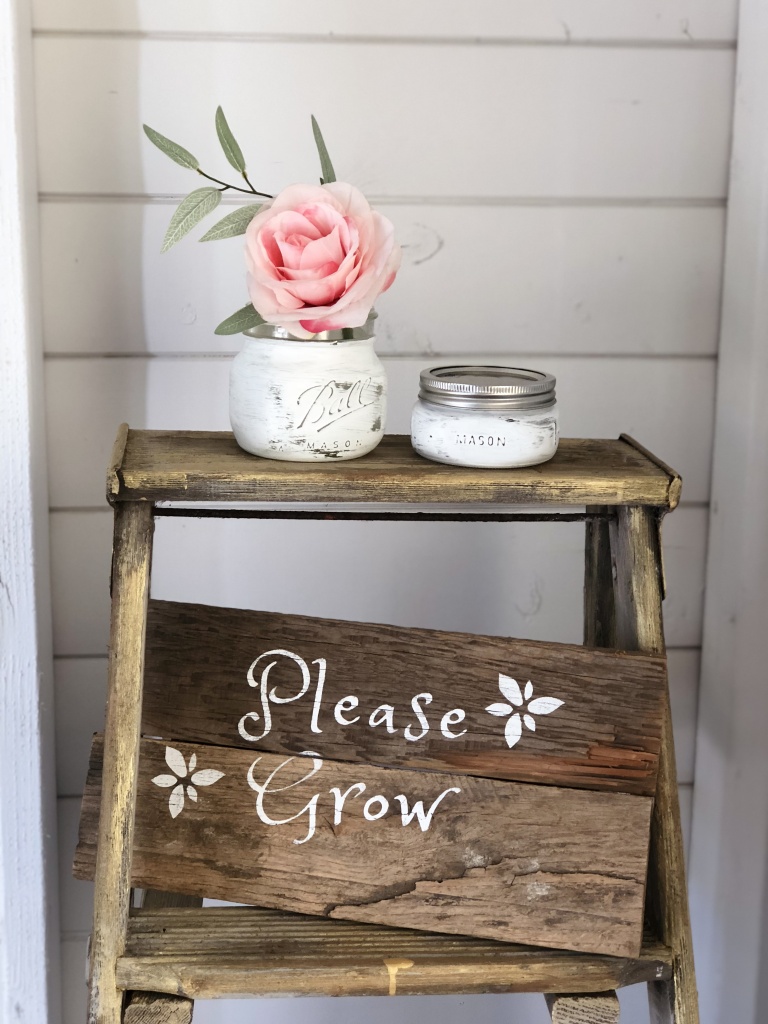 Things you need t0 paint mason jars
Paintbrush
Rubbing alcohol
Cloth or cotton ball
Not every craft needs a full DIY with pictures and tutorials, but there are a few things that are important to note when learning how to paint mason jars:
wear gloves and clean the surface of the glass with a lint-free cloth and rubbing alcohol prior to painting. This removes oil from your hands and other debris (a cotton ball will work but watch for fuzzies)
allow the paint to dry completely between coats – two coats are recommended
to get the distressed look, on the mason jar, sand the raised edges with a small piece of sandpaper
if you're using chalk paint, be sure to also use a sealer
Burlap Flower Vases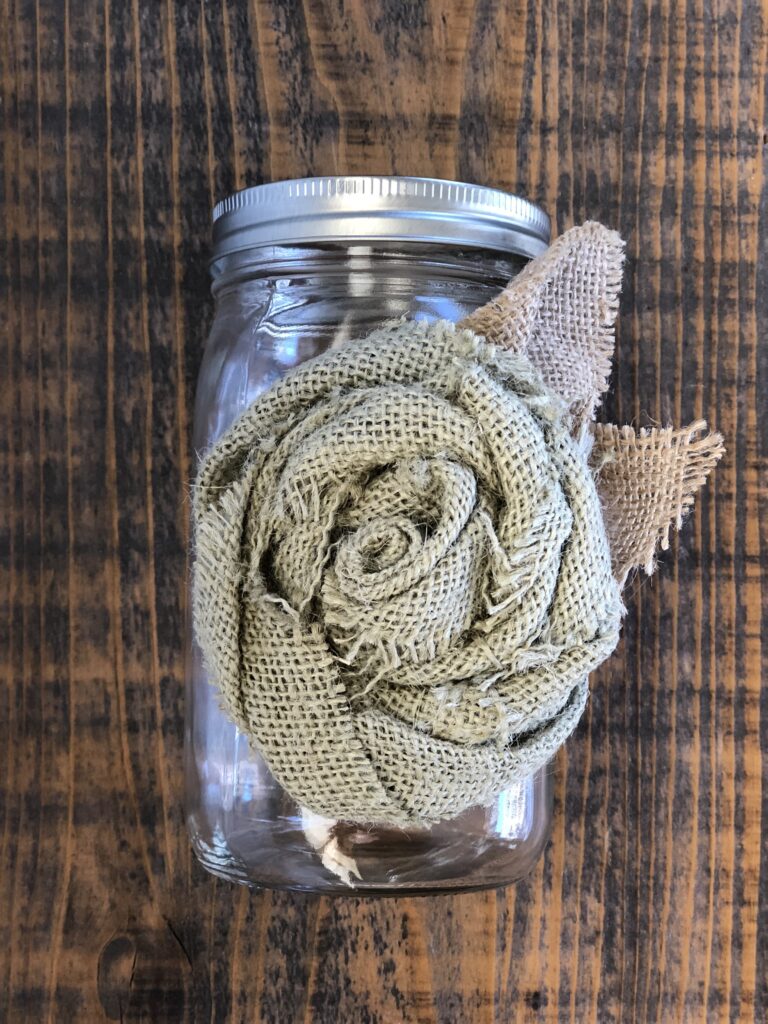 Burlap flower vases are easy to make. You can read my Rustic Burlap Flower Wreath post to learn how to make burlap flowers. I attach my burlap flowers with a hot glue gun using glue that dries more clear. I think these would make a beautiful wedding centerpiece with your favorite floral arrangements inside.
Hanging Mason Jar Lights
These hanging mason jar lights are one of my favorites and are really quite easy to make. I bought these light cords for this project and they worked great. Because this one might need a little more explaining, I created a quick DIY tutorial for you!
On your light cord towards the socket, there is a larger ring that unscrews from the socket. Remove that ring and set it aside (see next photo)
Remove the center of the lid from the mason jar and set the ring and jar aside
Using the end of the socket, trace around the end that holds the light bulb onto the back of the mason jar lid like in the next photo – you can see the socket end I traced with the ring that we removed laying to the left and the circle. I traced the socket end, not the outer ring.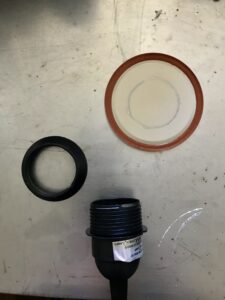 Place the mason jar lid on a block of wood and use a small drill bit to drill holes close together. You can keep going all the way around or just get started with the drill bit and then use tin snips or old scissors to cut out the rest of the hole. Please wear gloves. The edges are sharp!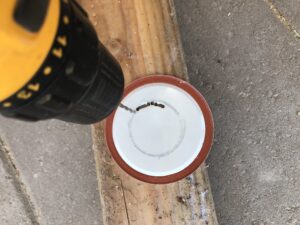 Fit the socket into the hole and then attach the outer ring from the socket onto the inside of the lid – I should still have my gloves on! Please keep them on. 😉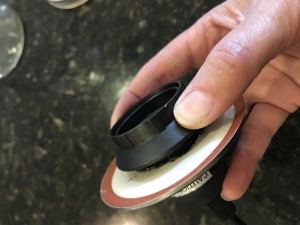 Now screw in your light bulb then feed the plug end through the mason jar ring and screw the mason jar lid onto the jar. The plug will be facing towards the sky out the top of the mason jar ring and the rest of the lighting attachments will be hanging out the bottom. This is not a pretty light bulb but I plan on using it in a painted jar. If you're using a clear jar, buy a pretty light bulb.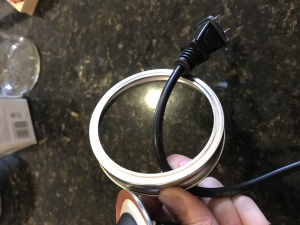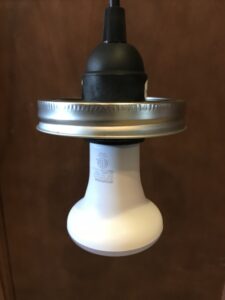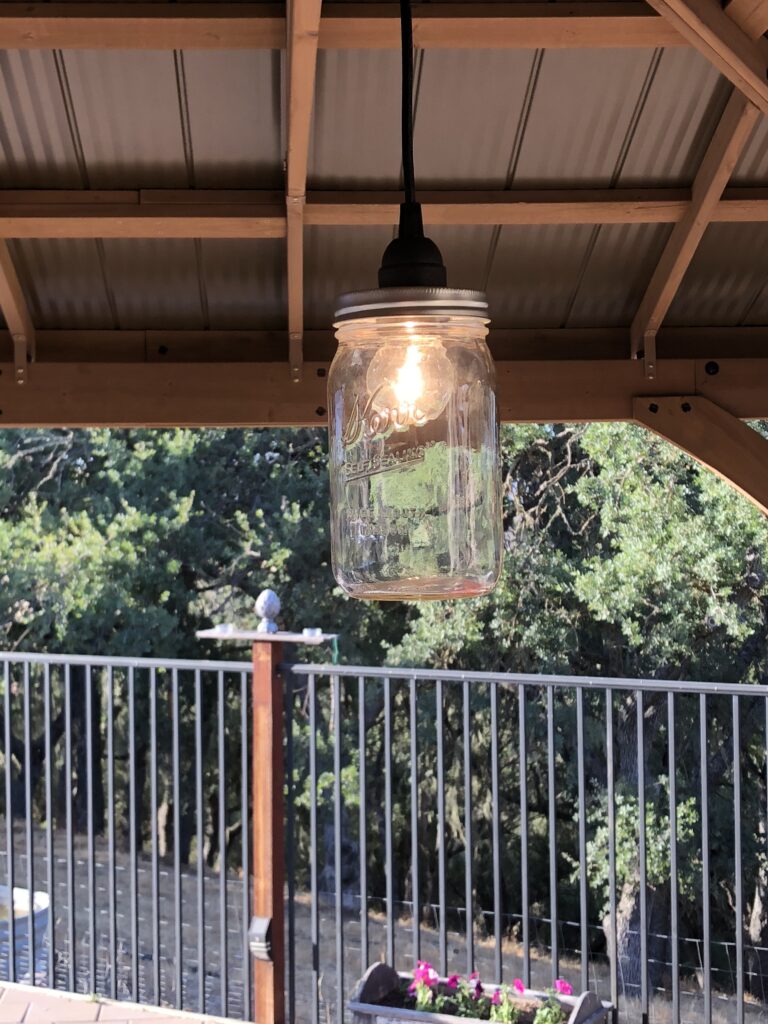 I'm going to hang three of these mason jar hanging lights from my outdoor gazebo. I love the way they turned out. This photo does not do it justice but have you ever tried to take a picture of a light hanging at night with an iPhone?
I would love to hear what your favorite use is for mason jars. If you have extra ones, be sure to check out my Mason Jar Bird Feeder. Also, be sure to comment below and let me know what your favorite use is for mason jars or what your favorite memory of them is. I would love to hear.
Please take a minute and visit some other creative ladies from this month's DIY Blog Challenge! Makes, Bakes and Decor and Cassie Smallwood.
xoxo,
Denise