This post contains affiliate links which means that at no cost to you, I may earn a commission if you purchase using one of my links. For more information view my full disclosures.
~
There are so many adorable Easter Cricut ideas to make and I want to share a few of my absolute favorites with you. I know you have a creative mind and enjoy the process of making things yourself. If you didn't, you wouldn't have bought a Cricut. We were meant to be friends!
I've got some cute (and easy!) budget-friendly DIY Easter projects with your Cricut. We all love a beautiful home but saving money is a plus in my book!
When I'm shopping in a store, I frequently see a basic design that I love, but the colors or embellishments don't always fit my style.
What I love about my Cricut Maker is that I can recreate something just the way I want it. I've made several Cricut Easter projects that I use in my home decor each year and I wanted to share a few of them with you. Let's take a look!
Cricut Maker Easter Pillows – No Sew
You don't need to know how to make a pillow cover, Cricut has ready-made pillow covers for Cricut projects that I love to work with. I've also found pillow covers at Walmart, Michael's Crafts, and Hobby Lobby. You can find free SVG files online, but I like to create my own using Canva.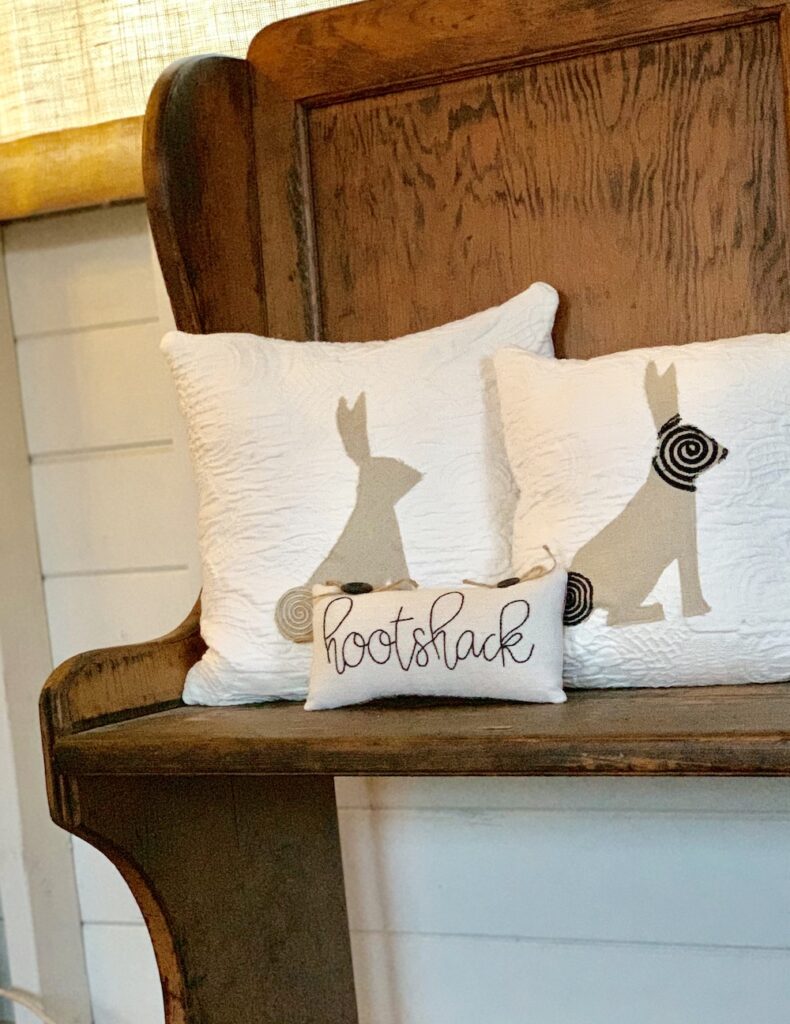 You can make pillows with a Cricut in a few different ways but the most popular is to use iron-on vinyl or to make a stencil and fill in the design with fabric paint or craft paint. I like to use my Cricut Maker to cut shapes out of fabric and applique them on or sometimes just glue them on.
If you have a Cricut Maker, you can cut bunny or other Easter shapes out of fabric and either sew them or use fabric glue to attach them.
If you've never used Canva before, it's a great little program to design all sorts of things. I ended up subscribing for a pro account because I like it that much! More about that another day!
You could easily design a pillow like this with Canva!
Cricut Easter Banners or Buntings
You don't have to have a fireplace to display a DIY banner (or bunting… what do you call it? lol). They can be draped across a mirror, hung on a window, or even sized down to drape across the center of a wreath.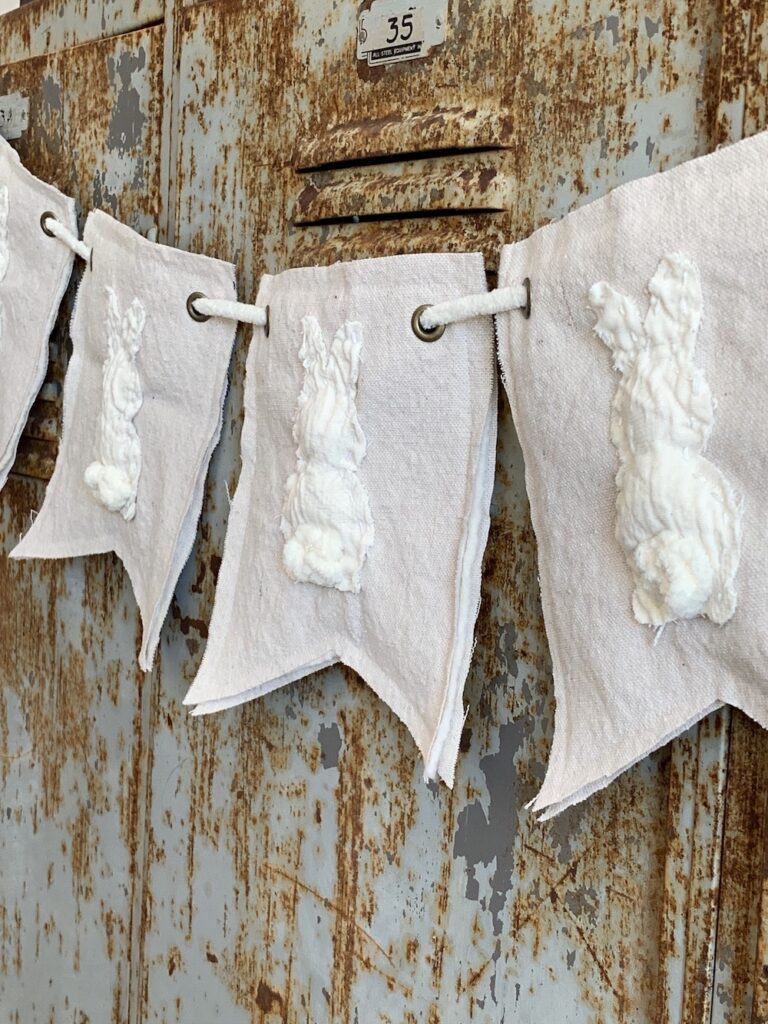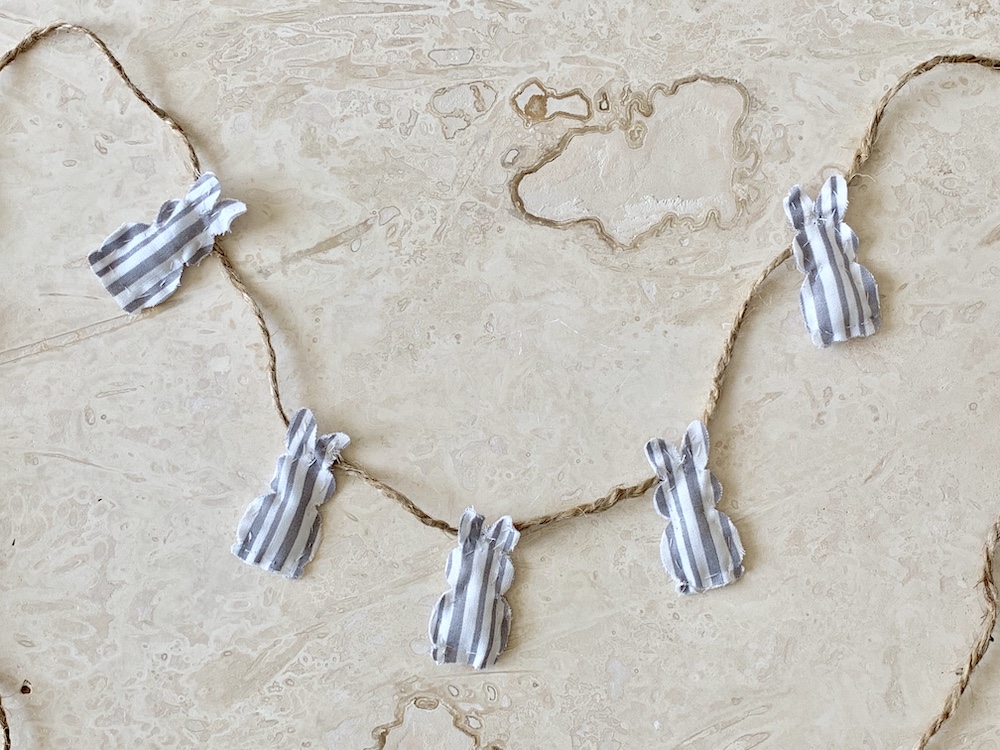 I used my Cricut Maker to cut bunny shapes out of fabric to create this simple Easter bunny garland. If you don't have a Cricut Maker, you can make this with paper instead. Have you ever sewn paper? It turns out pretty cute!
Cricut Easter Signs
Signs are one of the first Cricut projects I ever made. There are so many cute Cricut ideas for Easter when it comes to signs.
You don't have to make a wood sign, this reverse canvas by My Family Thyme is adorbale and she has a great tutorial for you.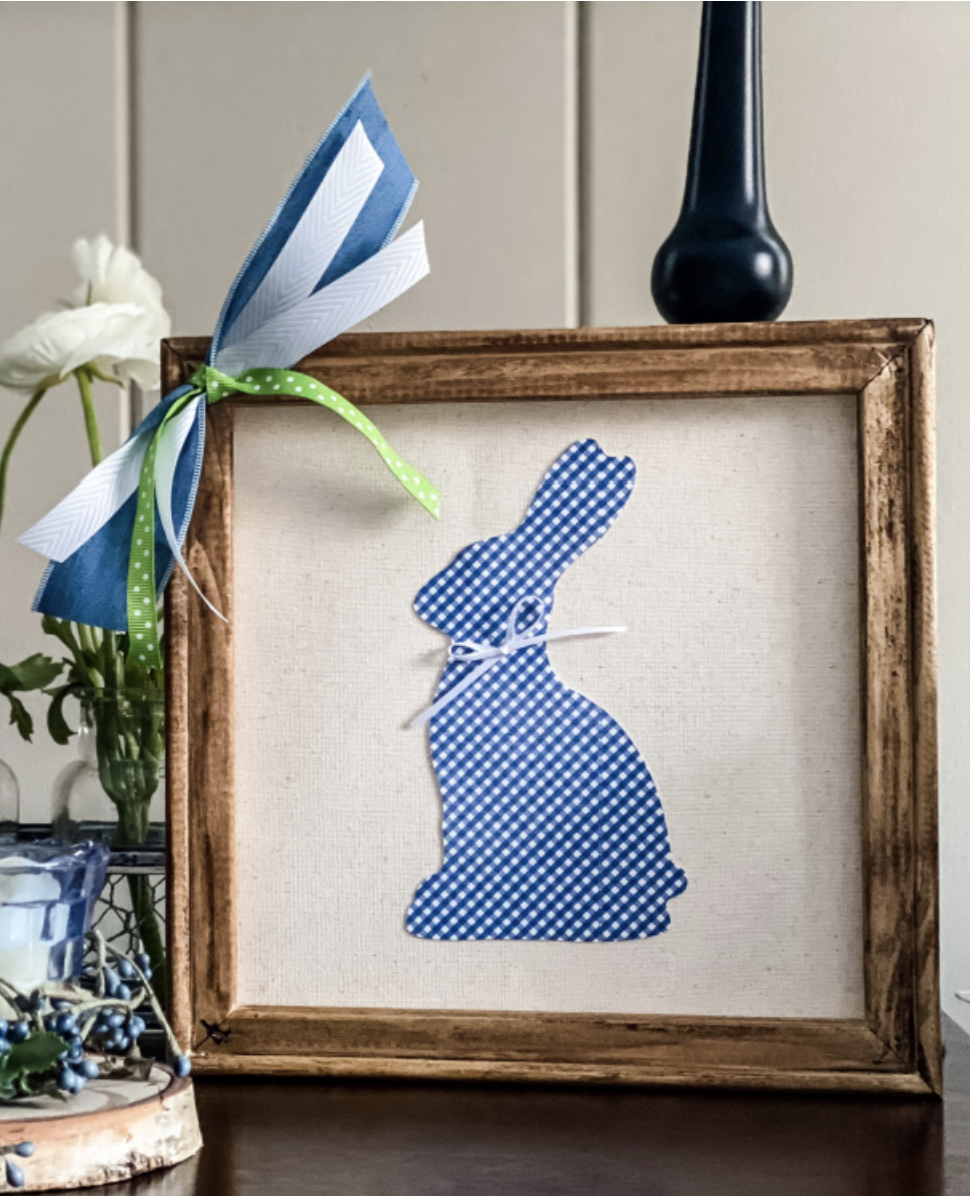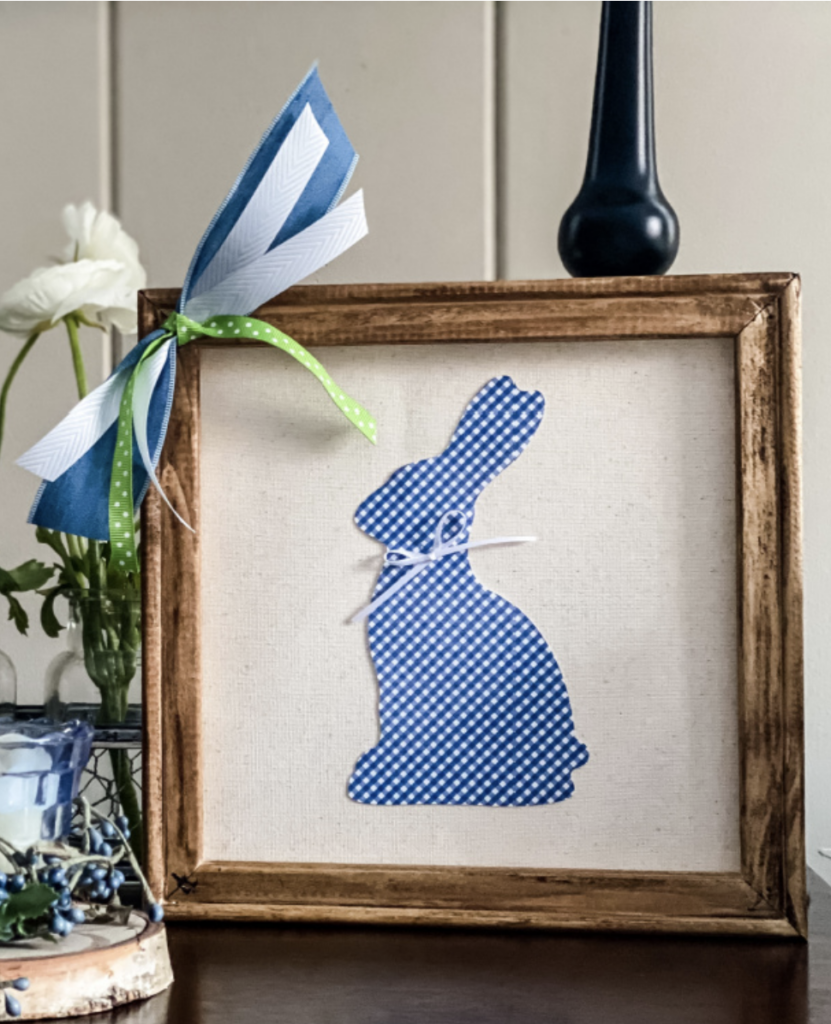 DIY Easter Table Runner
I love to use painter's drop cloth to make table runners. I made a simple table runner that would make a great base for any Cricut table runner project. Roll out some wide burlap underneath to create another cute look.
Simple easter patterns on the ends or even all the way around will make your Easter table pretty and unique.
Cricut Easter Eggs
You can cut out cute sayings and adhere them directly to your eggs, or put the sayings on and color your eggs then remove the sayings to leave white space.
Rae Dunn-inspired Easter eggs are popular every season.
Easter Shirts With Cricut
Matching Easter shirts for the family would be a fun way to celebrate the season. You can make personalized Easter shirts or find bunny patterns or styles that fit the age of each person in the family. Be sure to mirror image your design before cutting them out with heat transfer vinyl. I just got the large heat press and it's perfect for these Cricut shirts!
Cricut Easter Egg Tree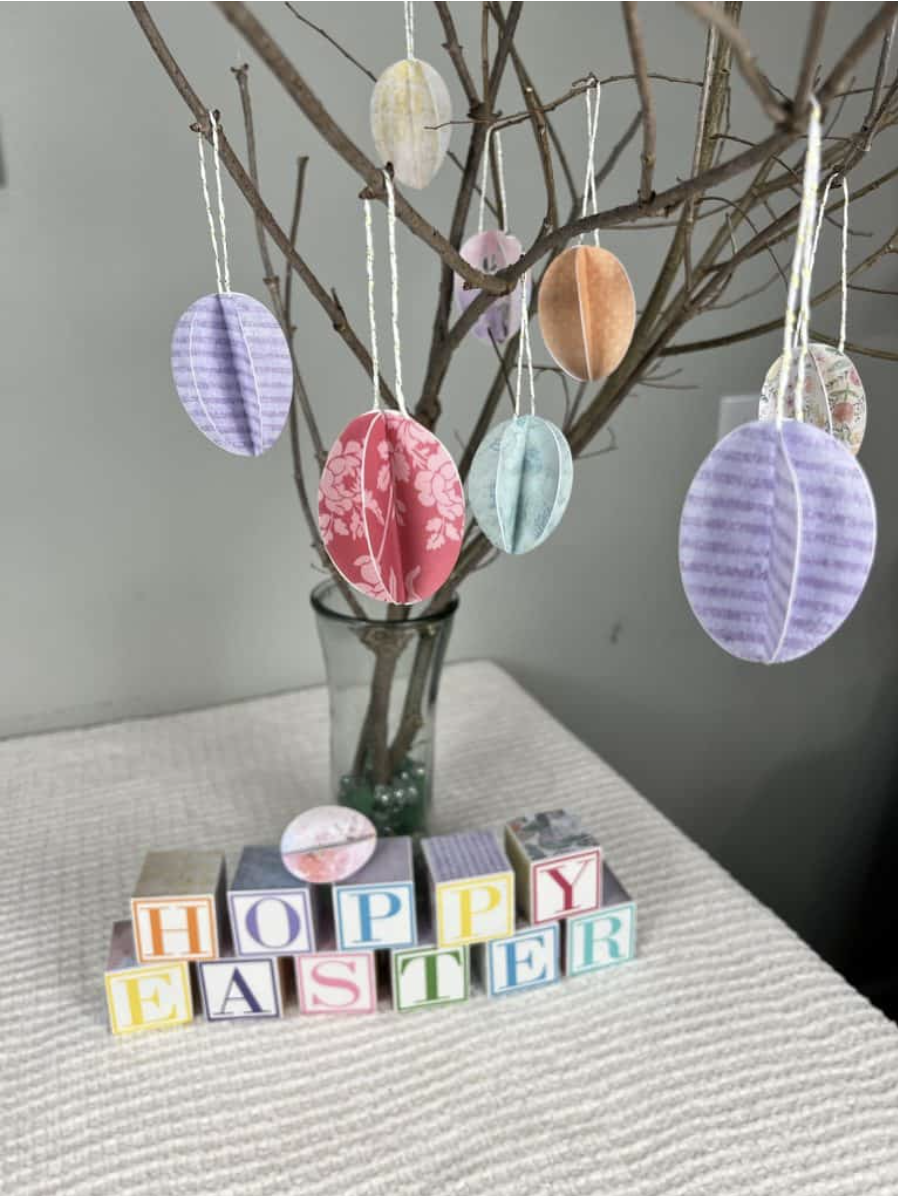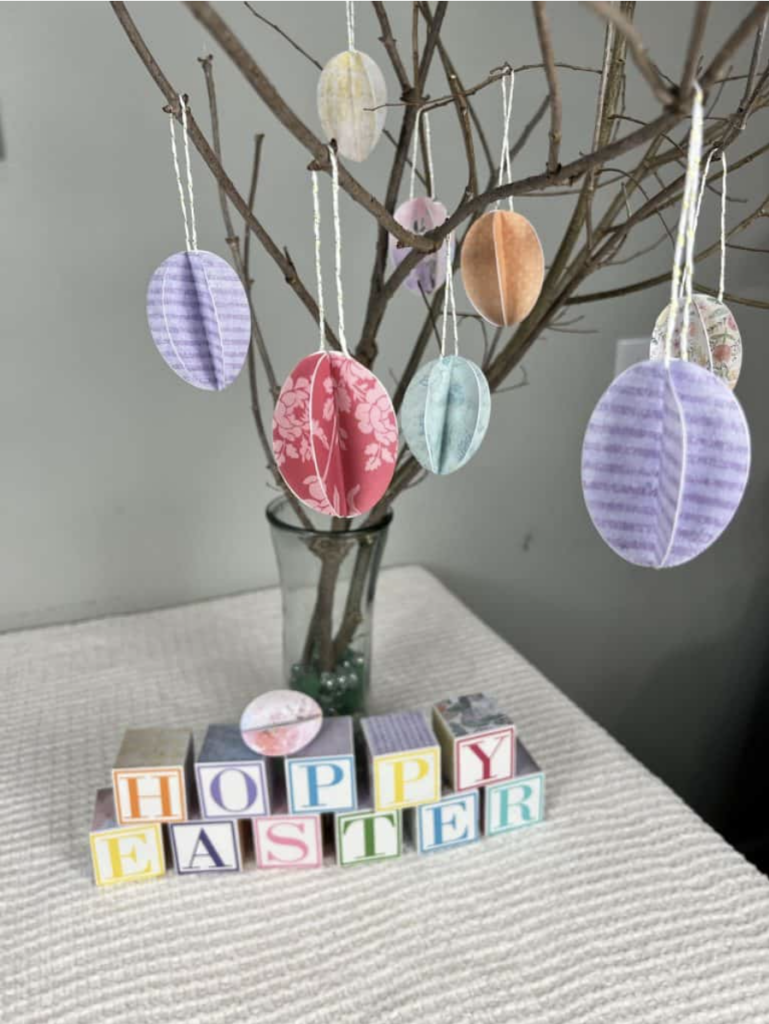 This beautiful tree is so simple to make using colorful paper or cardstock. Cut egg shapes and fold to create paper egg ornaments to dress up a branch you may already have in your yard. For the complete tutorial, visit A Life Of Balance.
DIY Easter Treat Bags
Treat bags are great for kids and adults. Make up a few for your co-workers, family, and friends to brighten their day. The full tutorial to these Cricut Easter treat bags can be found at Our Crafty Mom.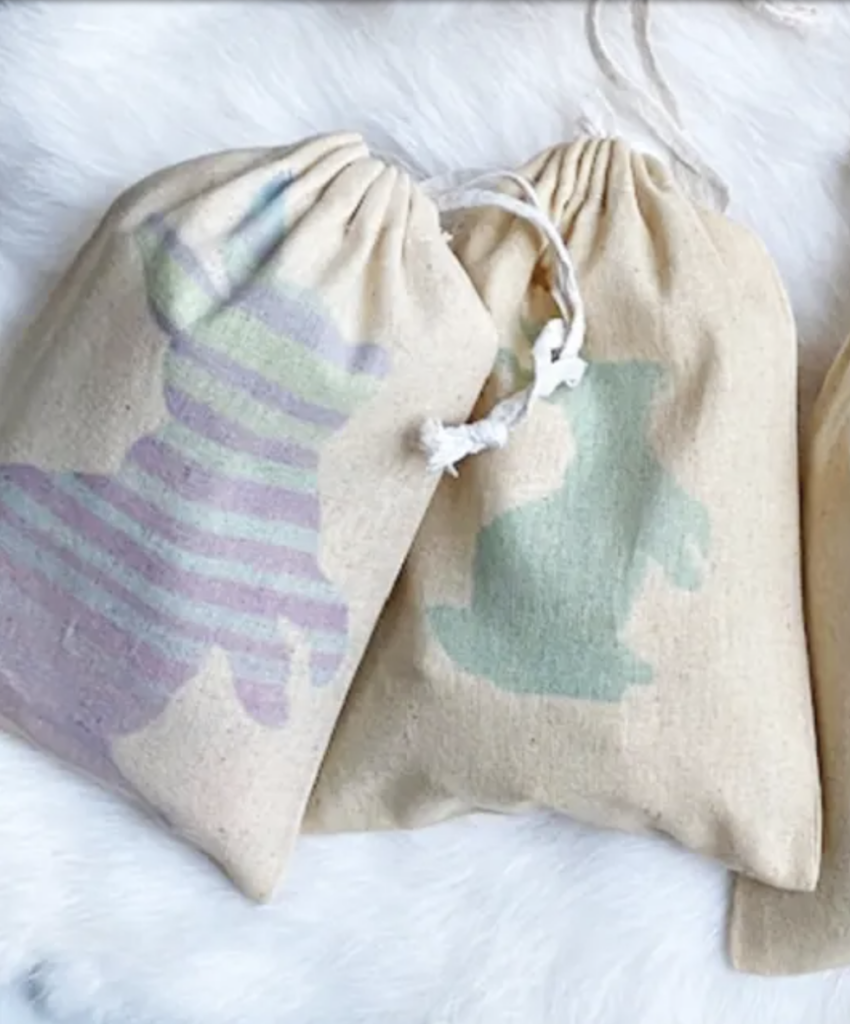 Easter Bunny Wreath
Banners are one of my favorite Easter Cricut ideas. I've always loved making banners or buntings and the possibilities are endless. You can make a Happy Easter banner, a bunny banner, or even just cut simple leaves with your Cricut and add some easter eggs as I did in this Felt Leaf Banner.
Paper Easter Bunnies
These simple paper flower bunnies can be hung from ribbon to decorate your kitchen cabinets or even from a suction cup to create Easter window decor.