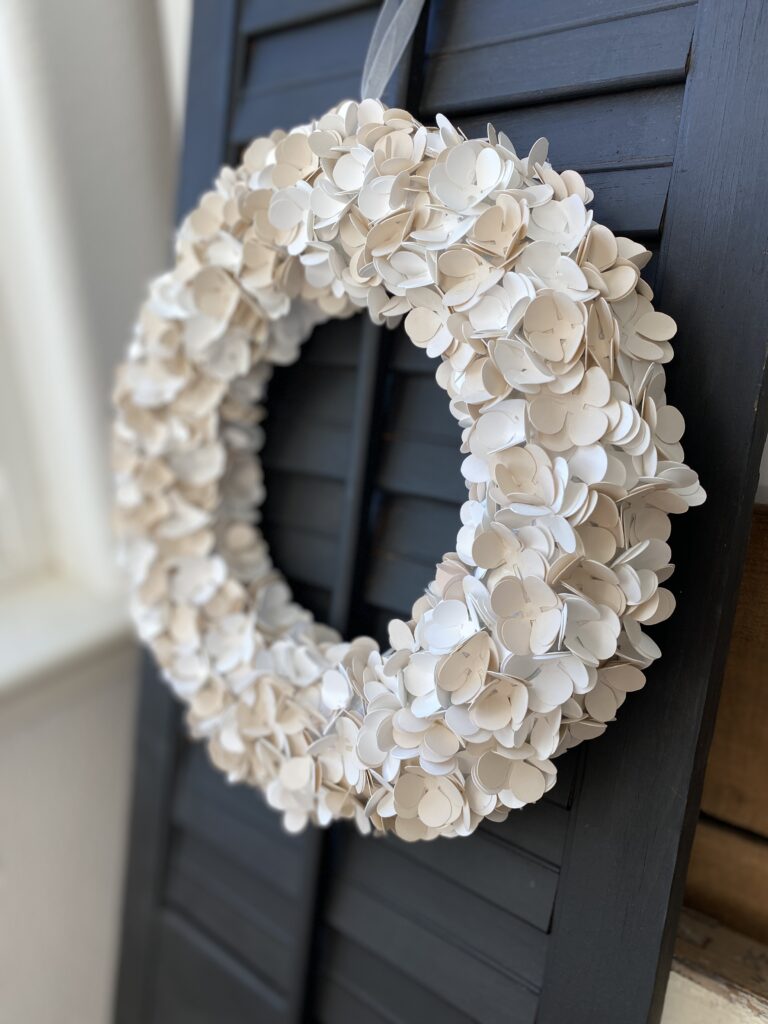 This Paper Flower Wreath With Cricut was easy…. but a labor of love! Are you in it to win it? This one is not hard at all, but it will take a bit of time! If you have the time, I have the DIY paper flower wreath for ya!
This post contains affiliate links. Please read my blog disclosures for full details.
Paper Flower Wreath With Cricut Supplies List
Cricut or other cutting machine – I have the Maker and I love it!
6 – 8 sheets of cardstock
8″ wreath frame – I found white ones after this post!
tissue paper
glue that dries clear or hot glue gun
ribbon or twine for hanging
I wanted to mention that I highly recommend the Cricut Maker. I have so much fun with my Cricut machine. If you're trying to decide which Cricut machine to buy, don't hesitate to spend a little extra and get the Cricut Maker. You'll regret it if you don't! You may have noticed that I linked a Cricut Maker Bundle for you. When I first bought my Cricut, I didn't get a bundle. I was super disappointed when I got home and I couldn't make a single thing. The bundles are great savings and they get you started with a few products so you can get practicing.
This wreath was super cheap to make. I'm sure you can use any time of wreath form. I like to use wire wreaths, straw wreaths, or, in this case, a foam wreath. Make sure to attach your ribbon or twine first. It's so much easier than trying to do it later. To make the paper flowers stick easier, I wrapped my foam wreath with strips of tissue paper. I cut strips about 2 – 3 inches wide and wrapped them around the wreath frame. I used white tissue since my flowers are light colors. If you're using darker colors, use something that closely matches. You can even use fabric strips.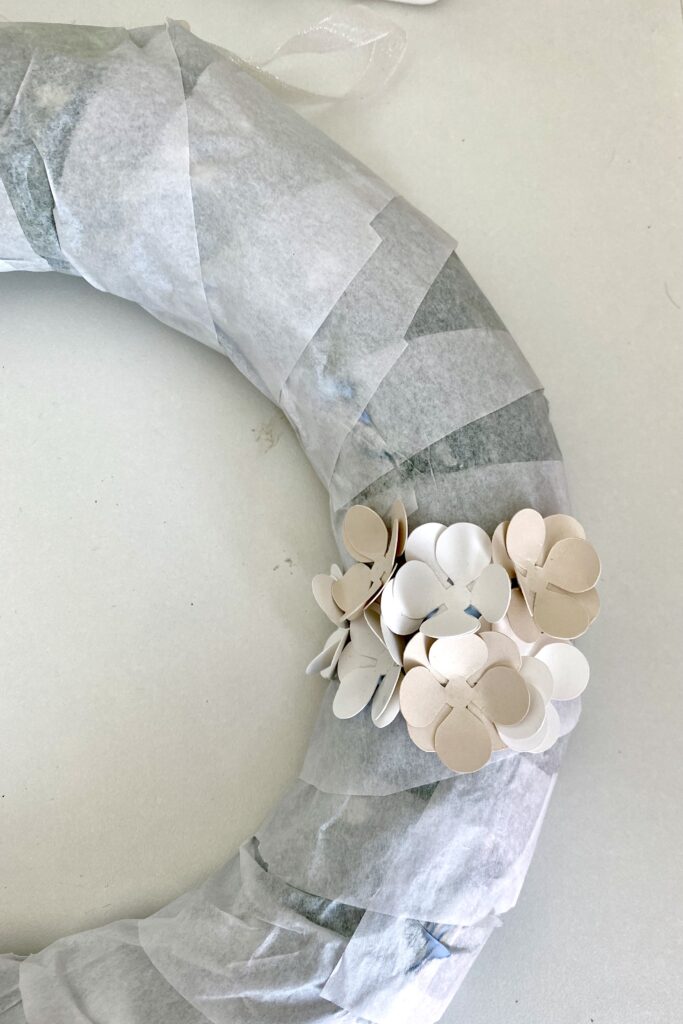 I cut my flowers just barely over one inch each. Do you want to know how many flowers I ended up cutting? Ok, don't run! It was about 350! I layered two flowers on top of each other, gluing each flower with one tiny dot in the center. Then I bent them up a bit and started gluing. I tried regular glue that dries clear and also tried a glue gun. I really didn't find one any easier than the other. Just use what you have. Half of my layered flowers were blush and half were white.

I continued gluing flowers until the entire wreath was covered and then went back and tucked more into places that were a little sparse. I warned you that this was time-consuming! I think it turned out pretty though and I'm happy with the results. I'm glad I used an 8″ wreath!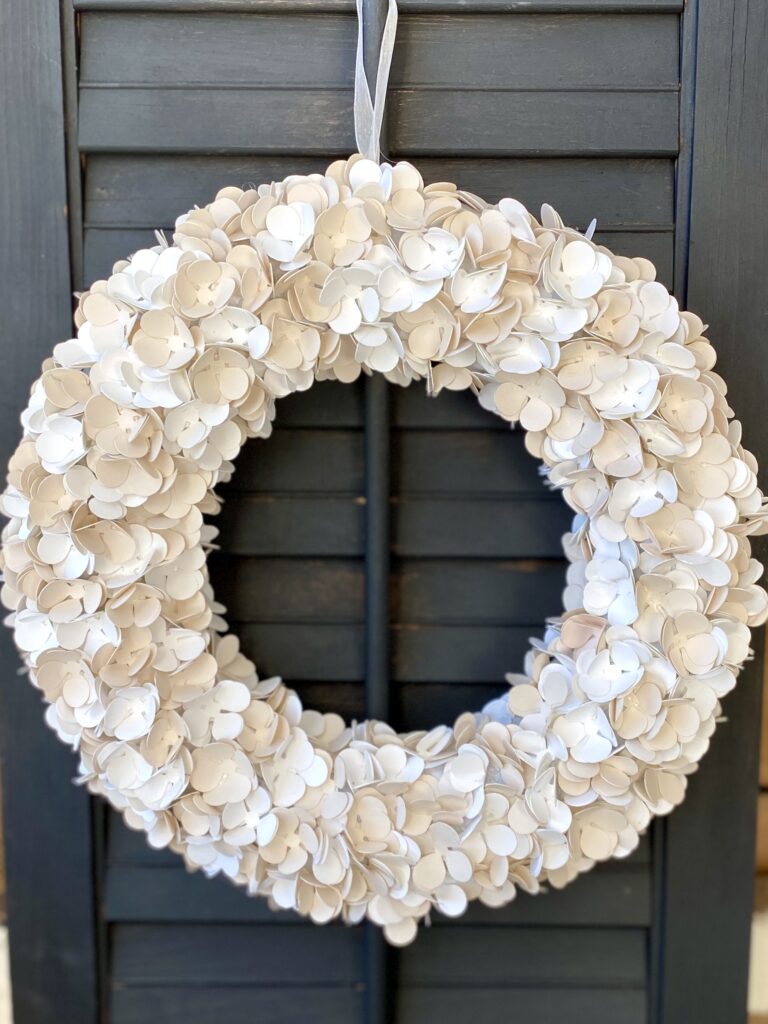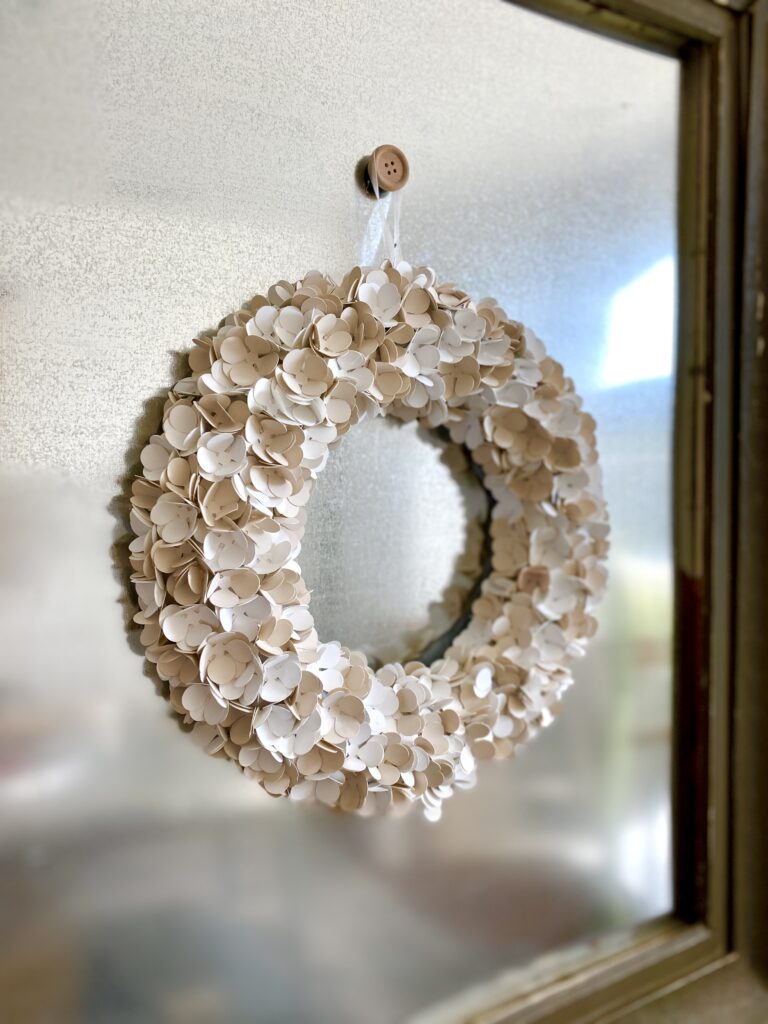 https://www.pinterest.com/hootshack/best-crafts-and-diy-projects-to-make/
I hope you enjoyed this DIY. I'd love for you to follow me on Pinterest before you go. Saving any images is also appreciated. Thank you, friend!