Clothespin Sunflower Wreath DIY
This post contains affiliate links which means that at no cost to you, I may earn a commission if you purchase using one of my links. For more information view my full disclosures.
~
This clothespin sunflower wreath DIY is a perfect Summer wreath for your home decor. Clothespin wreaths are an easy craft to make and are also very inexpensive. The vibrant colors are so bright and cheery. Let's learn how to make a clothespin Sunflower wreath!
There is a full DIY sunflower clothespin wreath tutorial and video further down in this post, but I recommend reading each step and then also watching the video for additional tips.
In the video, I talk about other options that you could try, and in the post, I cover a few tips not covered in the video. It's best to use both.
Let's learn how to make a sunflower wreath with clothespins!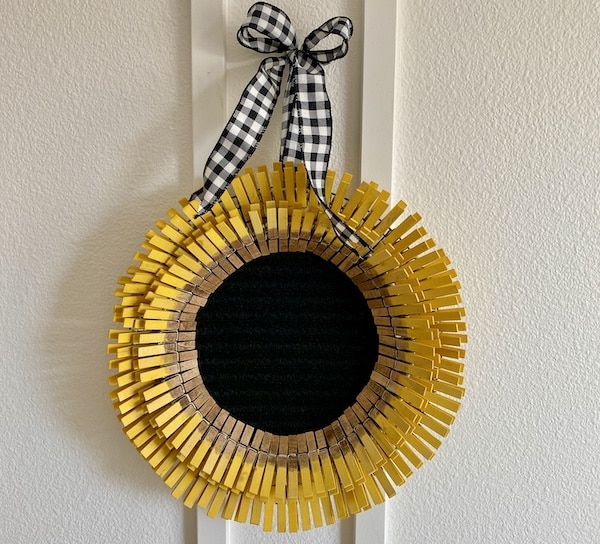 What I love about this easy clothespin wreath is that you can choose to keep adding to it to create something that fits your style or just leave it simple with no additional fuss.
It's the perfect Summer wreath for traditional or farmhouse decor for any of my fellow sunflower lovers!
This sounds like a lot of steps, but I promise it's an easy project to make.
Clothespin Sunflower Wreath DIY Supplies
Here are the supplies and materials you'll need to make a clothespin wreath. It sounds like a lot but you really don't need much:
Wooden clothespins – Dollar Tree didn't have them but I found wooden clothespins at Walmart for a great price. (more about the amount you need below)
Yellow acrylic paint – I used this yellow paint from Michael's but they have similar colors at Hobby Lobby
Brown paint or wood stain – I used Minwax Gel Stain in Coffee. It's pricey but this gel stain may work.
Plastic containers or a plate for painting
Hot glue gun – This may not be necessary and I'll explain why below
14″ Wire wreath frame – I found mine at Dollar Tree
Small paint brush
Black doormat – This is thin with no backing and can be cut with scissors – I found mine at Dollar Tree
Ribbon for hanging (optional)
Disposable gloves – I needed two pairs – one pair for yellow and one for brown
Rags
Chalk or a chalk pen
Faux flowers (optional)
Zip ties, pipe cleaner, or wire and wire cutters (optional if you add flowers)
How To Make a Clothespin Sunflower Wreath DIY Tutorial: Step-By-Step Instructions
Yellow paint colors can be tricky. I didn't want the yellow to be too bright so that's why I chose the paint I found at Michael's.
I had intended to use brown paint on the bottom of the clothespins but forgot to buy some so I ended up using the gel stain that I had on hand. This ended up being a great way to add the brown and I love how it turned out.
Please choose whichever method you like and always follow the manufacturer's instructions.
Paint or stain the bottom portion of approximately 66 clothespins brown. Start at the bottom and paint halfway up the clothespins. When using the gel, I put gloves on and dipped a rag in the stain. I wiped it on and then used a clean rag to rub off any excess. Try to only get the stain on one hand so you don't transfer the stain to the clean side or the next clothespin. Paint all four sides of the bottom half and also the tips where it pinches together.
Let the brown dry. I set mine on a piece of cardboard to dry and because I wiped the excess stain off, they didn't stick and it only took about 20 minutes to dry.
Paint the top of the clothespins yellow with a paintbrush. I found putting paint on a plate and mixing in a few drops of water worked great. Adding a little water to the paint made it spread more easily. It shouldn't be super runny. Paint everywhere you see bare wood. Set aside to dry.
Paint approximately 80 more clothespins all yellow using the same method. Set aside to dry.
Lay the wire wreath form on the BACK of the doormat and trace the outside of the inner circle with the chalk or chalk pen. The video explains this better and I recommend watching it before you complete this step but don't go yet, there are more details covered here.
Cut out the circle from the doormat.
Turn the circle face-up and lay the wreath frame on top with the curve facing up.
Using the brown and yellow clothespins, clip the circle to the frame catching only the inner circle of the wreath frame. Continue all the way around.
Using the all-yellow clothespins, attach them to the wreath frame catching only the third ring. They will dip down under the ring that your brown and yellow clothespins are attached to but won't clip to that ring. Continue all the way around. There will be no clothespins attached to the outer circle.
Once all of the clothespins are attached you can make minor adjustments.
Attach your ribbon by sliding the ribbon through the outer ring and tie the ribbon in a bow. This step is optional. You can also hang the wreath directly on a nail or hook with no bow.
Add additional decorations if you'd like.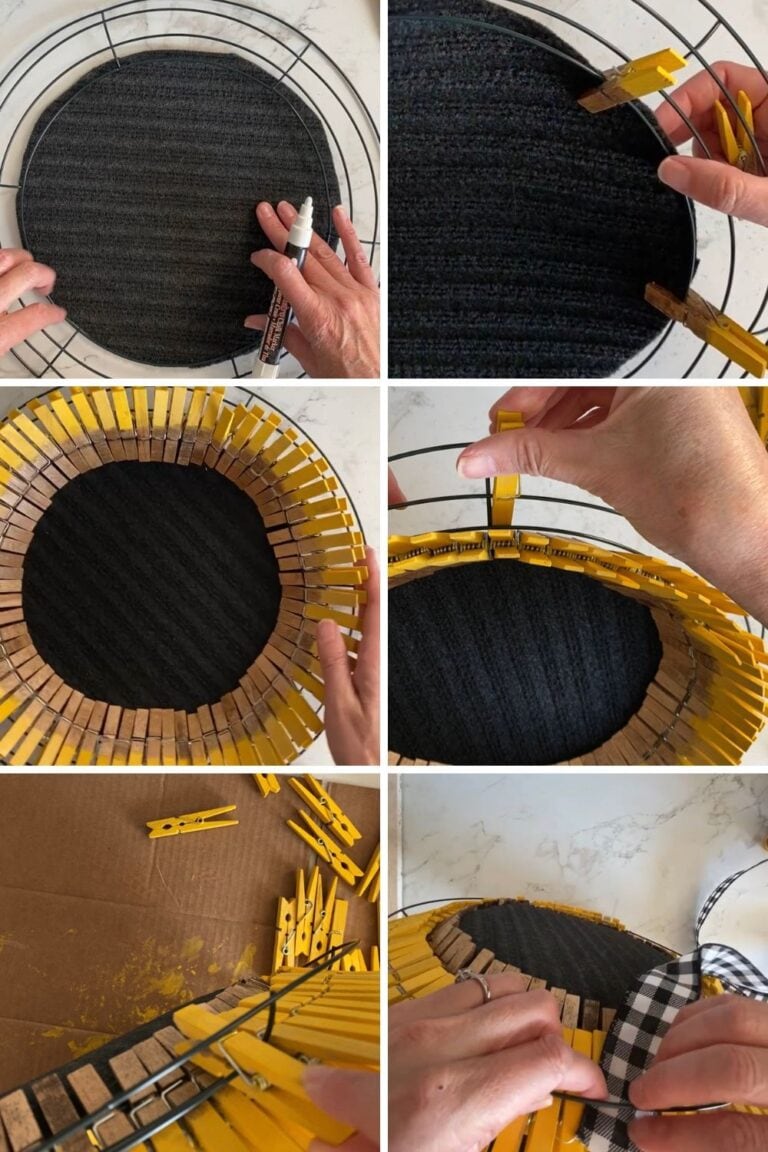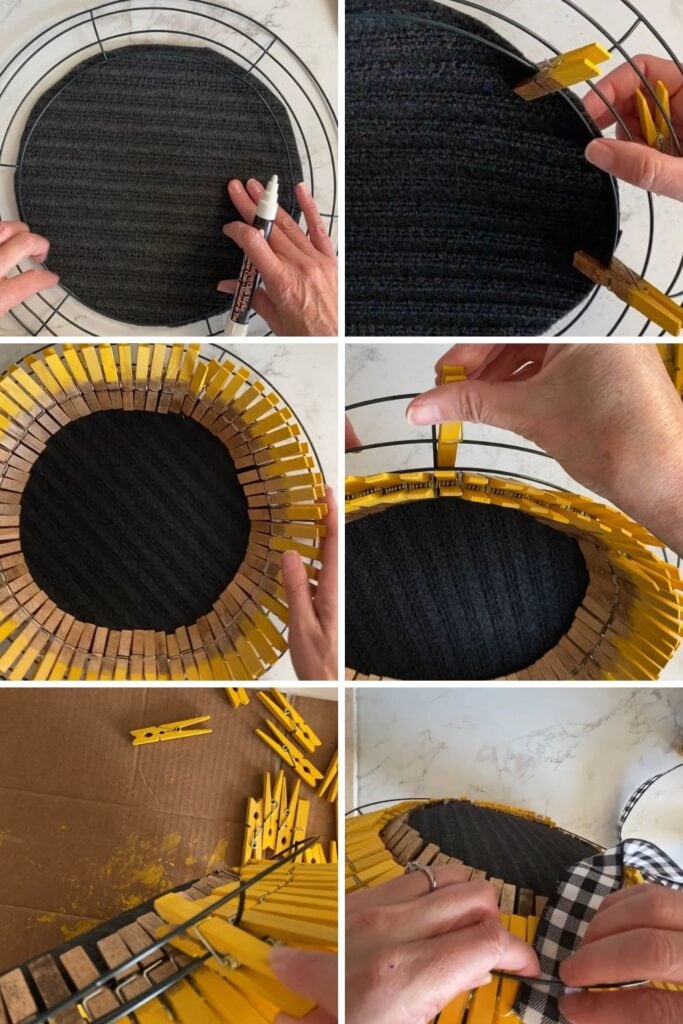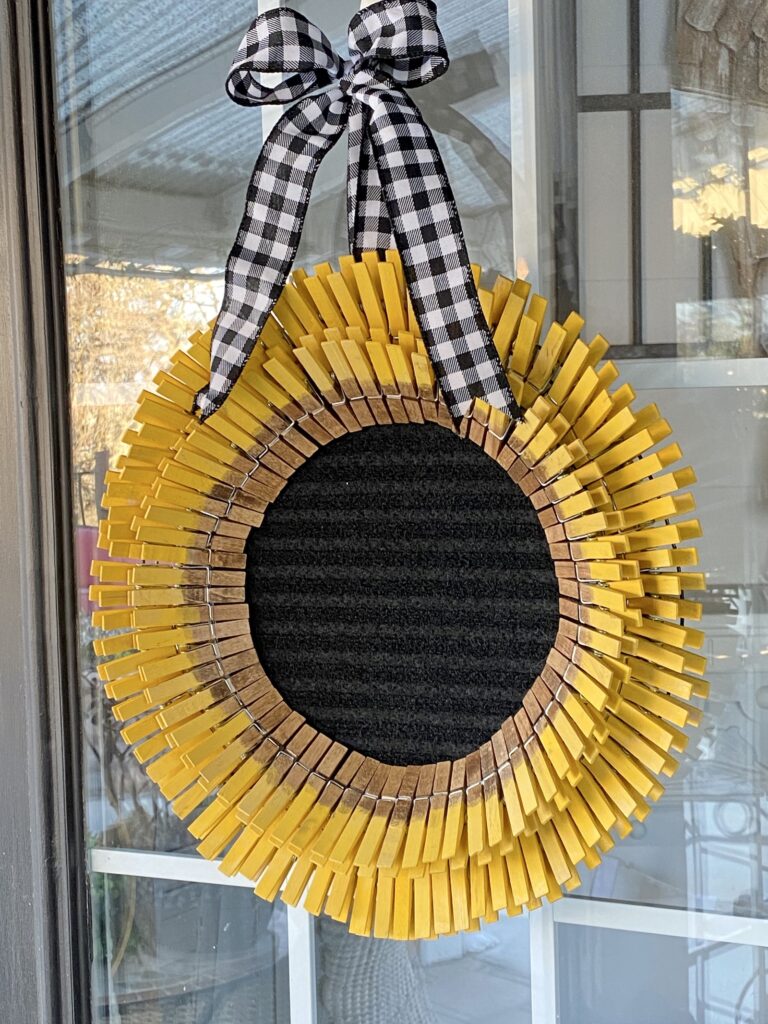 As promised, here is the instructional video.
How Many Clothespins Does It Take To Make A Sunflower Wreath?
This is probably the most asked question I get about this clothespin sunflower wreath DIY and I can only answer in regards to the 14″ wreath I bought from Dollar Tree.
I used 146 clothespins to make this wreath. 66 of them are painted half brown and half yellow. The other 80 are painted all yellow.
You may be wondering, "How do I make a clothespin wreath that looks like a sunflower?". It may sound hard, but I promise you, it's one of the easiest DIY wreaths to make.
This big sunflower makes a beautiful wreath for your front door or anywhere in your home. I recommend only hanging it on a covered porch or patio where the wreath is not exposed directly to rain or sunlight.
You can hang it with a bow at the top as I did, or add a bow to the bottom corner and add some faux flowers for another great idea. Let your imagination run wild!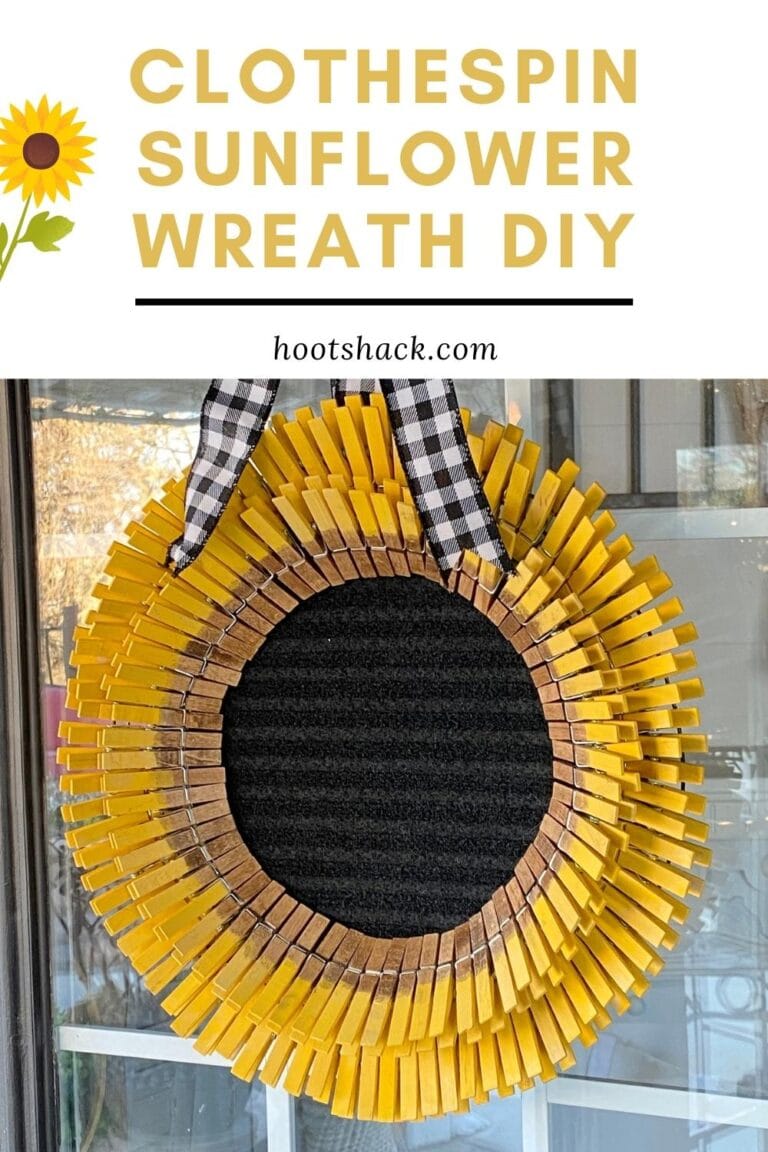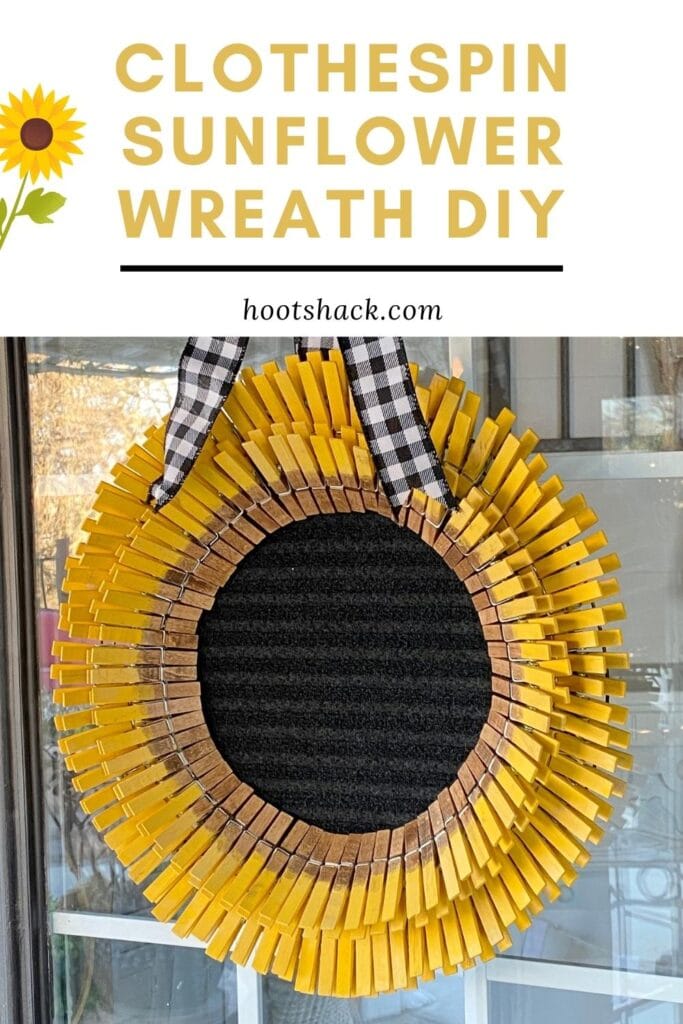 How To Paint Clothespins
I find the best way to paint clothespins is to paint them by hand with acrylic paints or stain. It's a little tedious but not hard at all.
There are different ways to paint clothespins. An optional method is to spray-paint them entirely yellow then go back in and paint the ends brown.
I try to avoid spray paint when possible because it can't be done indoors, in the wind, or anywhere you don't want spray paint to end up. One time I sprayed black spray paint outside in the wind and I found little specks on the outside of my house and windows. Oops!
I've also seen methods that include adding Rit dye to water and soaking all of the clothespins. I haven't tried this method yet.
You could also try soaking them in water mixed with food coloring.
I love to give you different ideas to use, so after making this wreath, I added small white dots as another option. I used a tiny paintbrush and white paint to create the dots.
How to Attach Decorations
You can use zip ties, wire, or pipe cleaners to attach decorations if you'd like.
I hope you enjoyed making this sunflower clothespin wreath with me. If you have any questions, please ask in the comments below. Your questions help me update my posts to make them more clear, so ask away!
I have another DIY sunflower wreath that you may also enjoy, so be sure to check that out before you go. I also made a cute wagon wheel wreath last summer.
Happy crafting,
Denise