How To Make An Easy Braided Chunky Yarn Wreath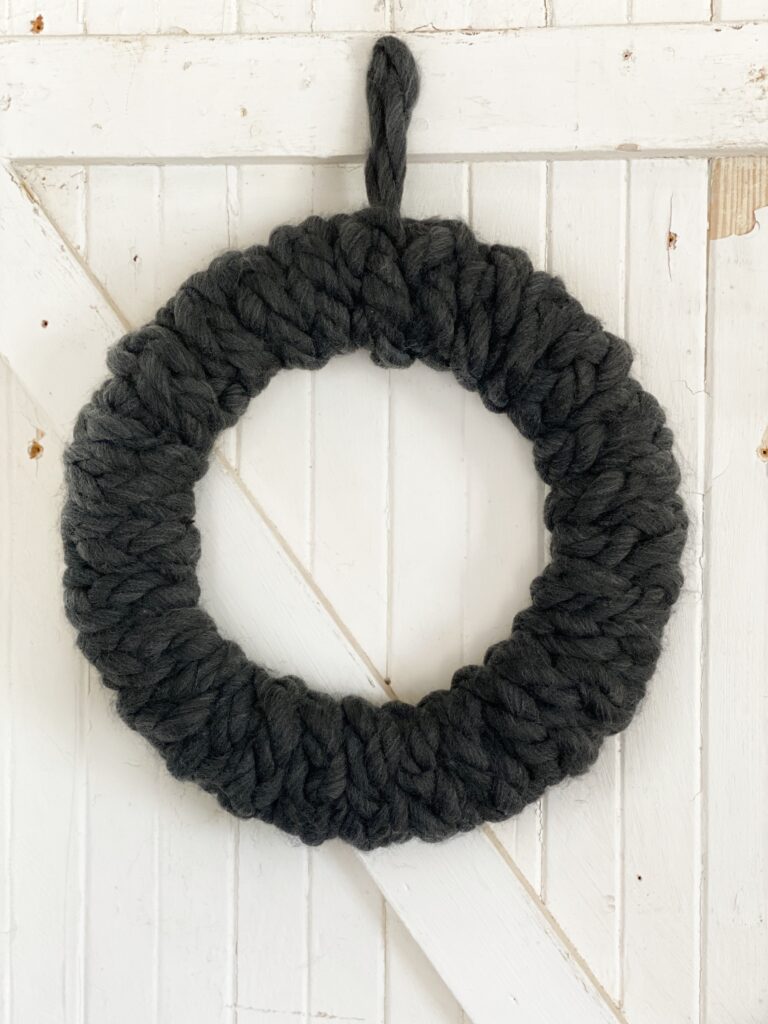 Today we're going to learn how to make an easy braided chunky yarn wreath. This is one of the easiest and quickest chunky yarn wreath projects I've ever made and it's so warm and cozy looking. Let's see how it's made!
*This post contains affiliate links which means I may make a small commission if you purchase something using one of the links. This is at no cost to you.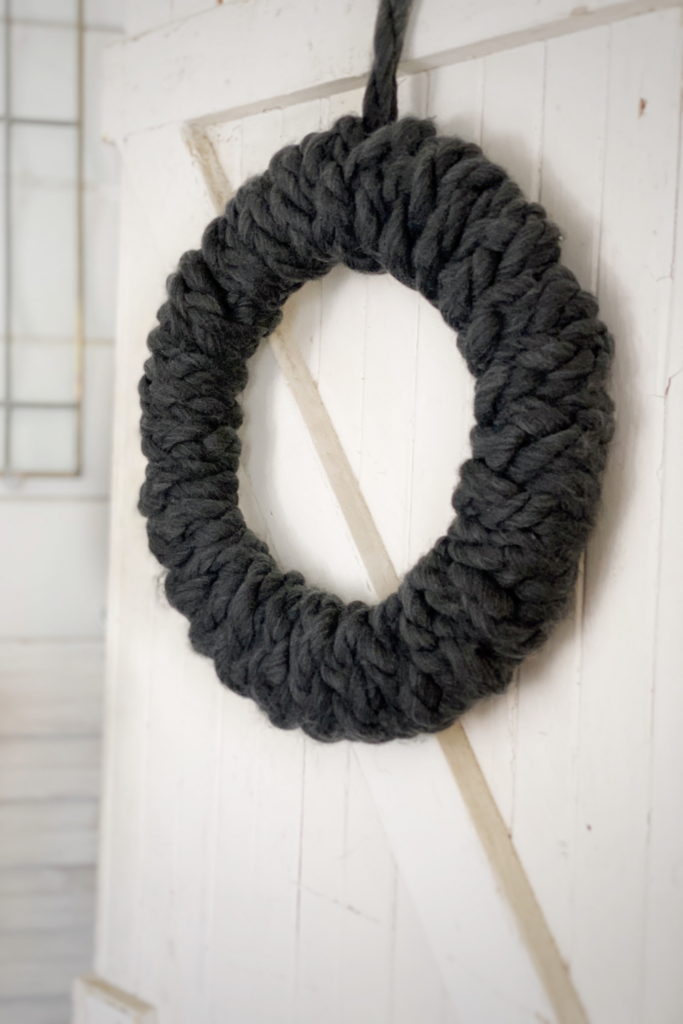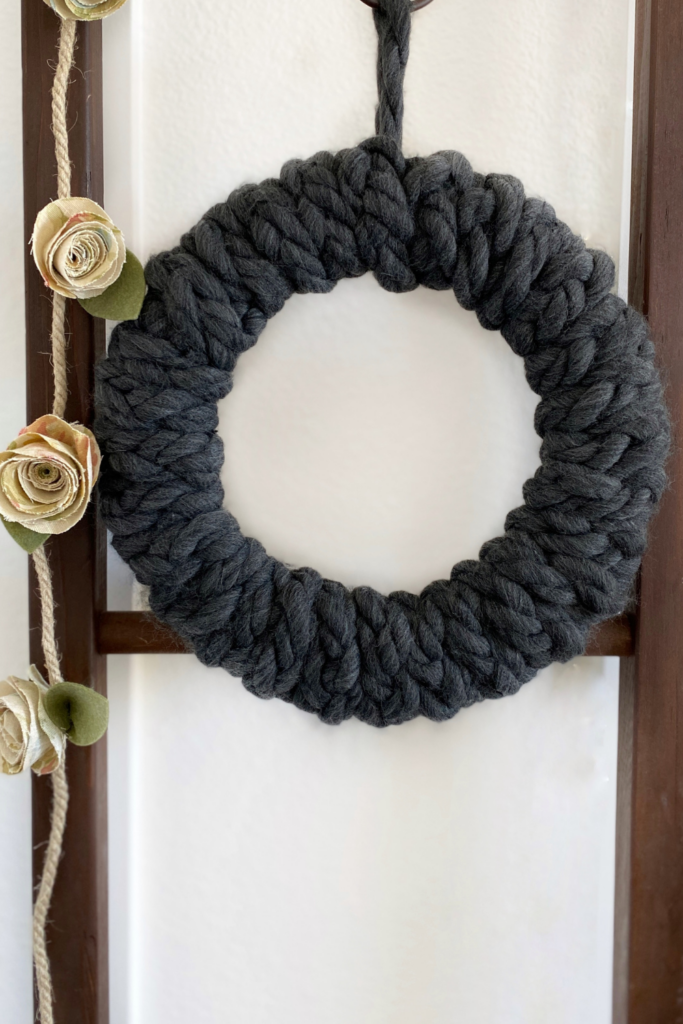 When I was shopping for yarn to do my Clover Pom Pom Maker Tutorial, I came across this super soft and chunky yarn that I just couldn't pass up! I had no idea what I was going to make with it but I bought it anyway. I was just about to put it away in my craft room for another day and I started wondering what if I could learn how to make a chunky yarn wreath. I also made a cute DIY Christmas tree with the same chunky yarn so be sure to check out that post.
To get started, I grabbed some of my dog's hair elastics and a chip clip. Umm what? Ha ha. You can meet June here if you'd like, but let's make this easy chunky yarn wreath first and I'll explain the hair ties and chip clip. Here's what I used to make the wreath:
Supplies – How To Make A Chunky Yarn Wreath DIY
A wreath frame – I used this style
Chunky Yarn – I used this chunky yarn. Amazon also has a best selling yarn page!
Rubberbands or even a thinner piece of yarn for tying the ends – I used these
A chip clip is optional – more about that in a bit
Making The Braid For The Easy Yarn Wreath DIY
I cut three lengths of the chunky yarn and secured the ends with a small clear hair elastic. I attached the long chip clip so I could hang the yarn from a cabinet door to do the braiding. This just keeps the braid from twisting around in circles while I braid. Keep your braid kind of loose. Don't pull things too tight. When I was done braiding, I secured the ends with a rubber band again. I used a simple three-strand braid.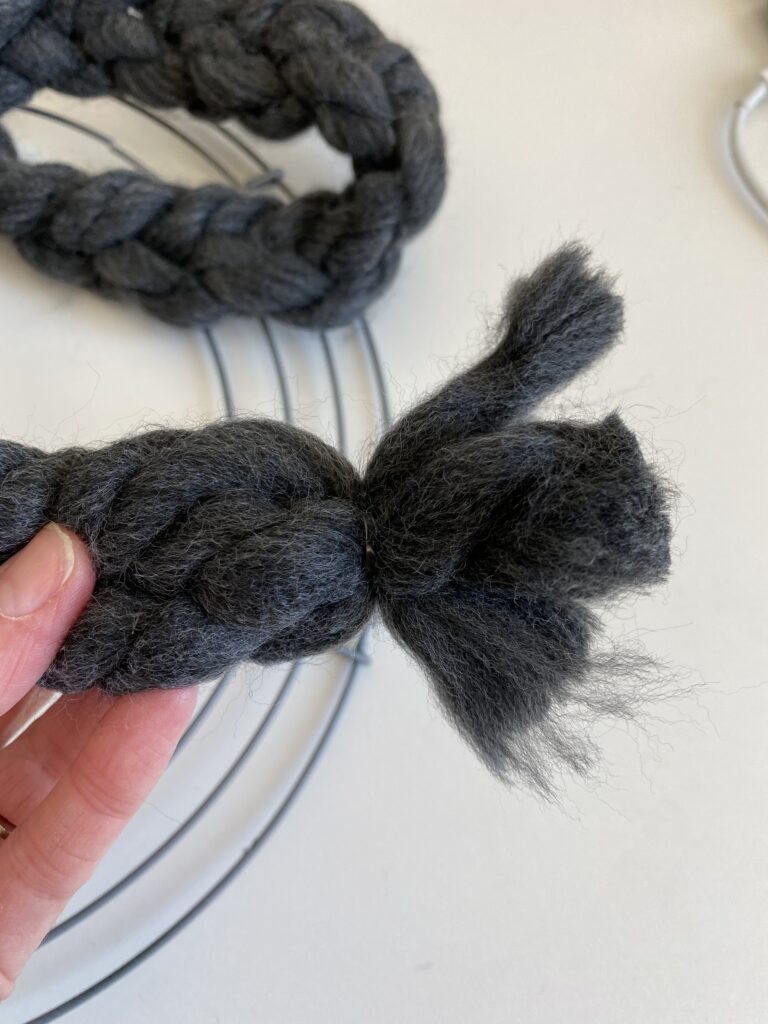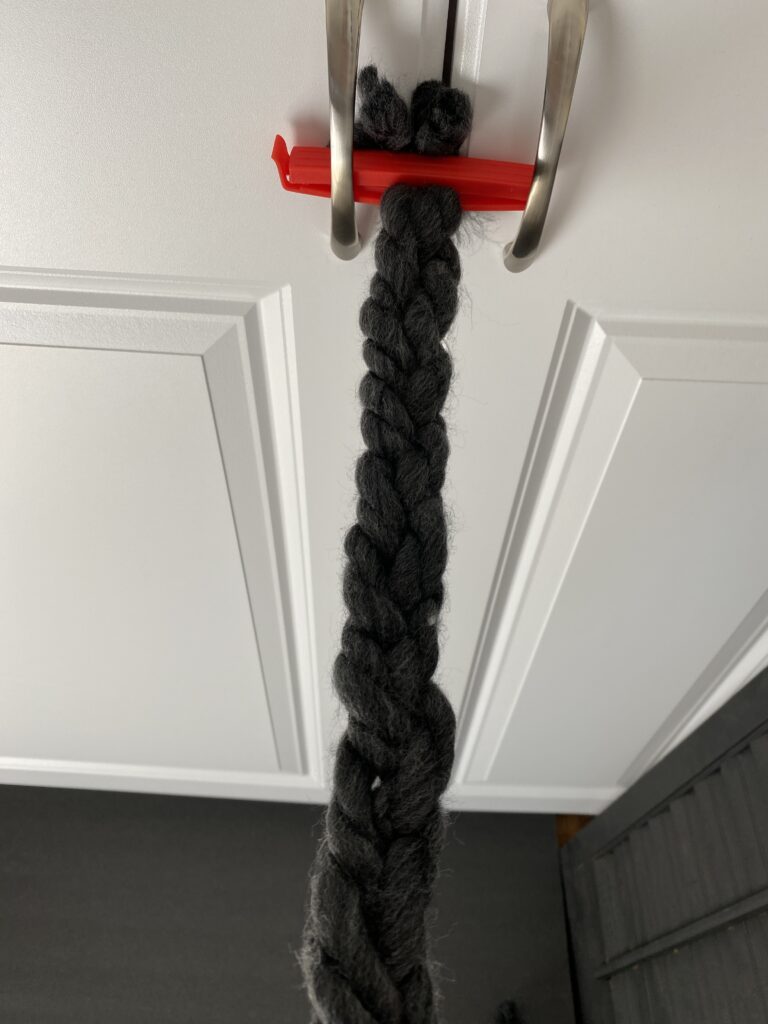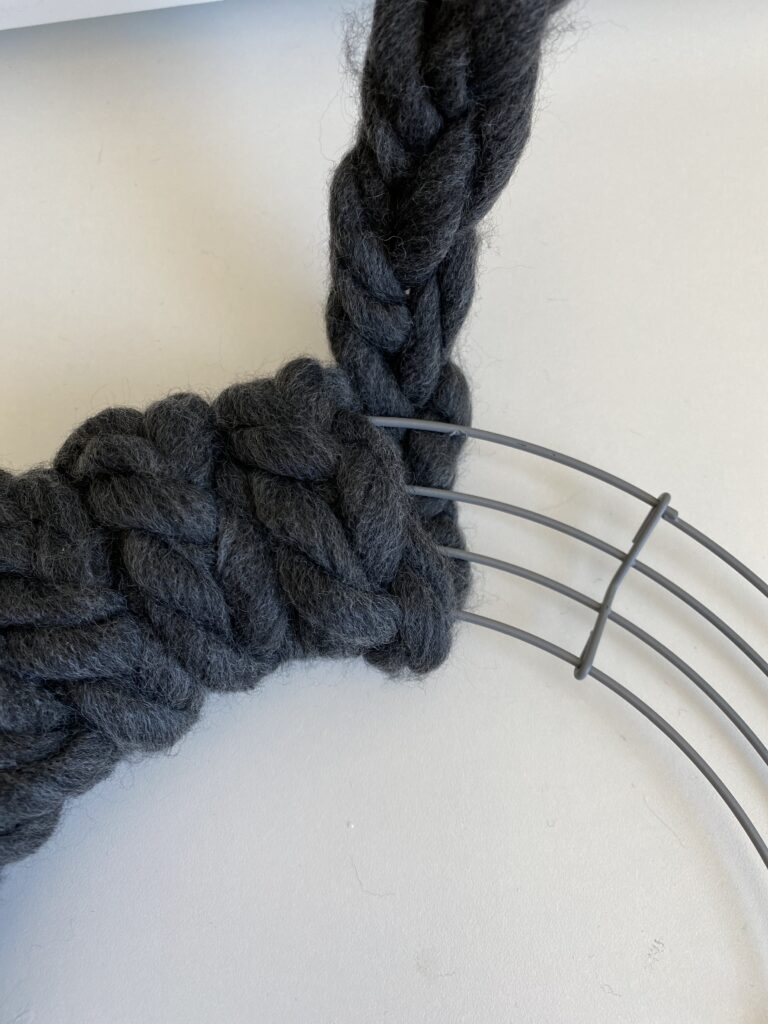 Adding More Yarn
Once I got about a quarter of the way around. I went back and tucked the end I started with behind the wraps of yarn in the back. Then I continued wrapping. I ran out of braided yarn a couple of times and I just tucked the new ends behind again like when I started and you can't even tell. Don't sweat the length, it's really forgiving to add more. Before you tuck the last end in, attach a piece of ribbon or yarn for hanging if you want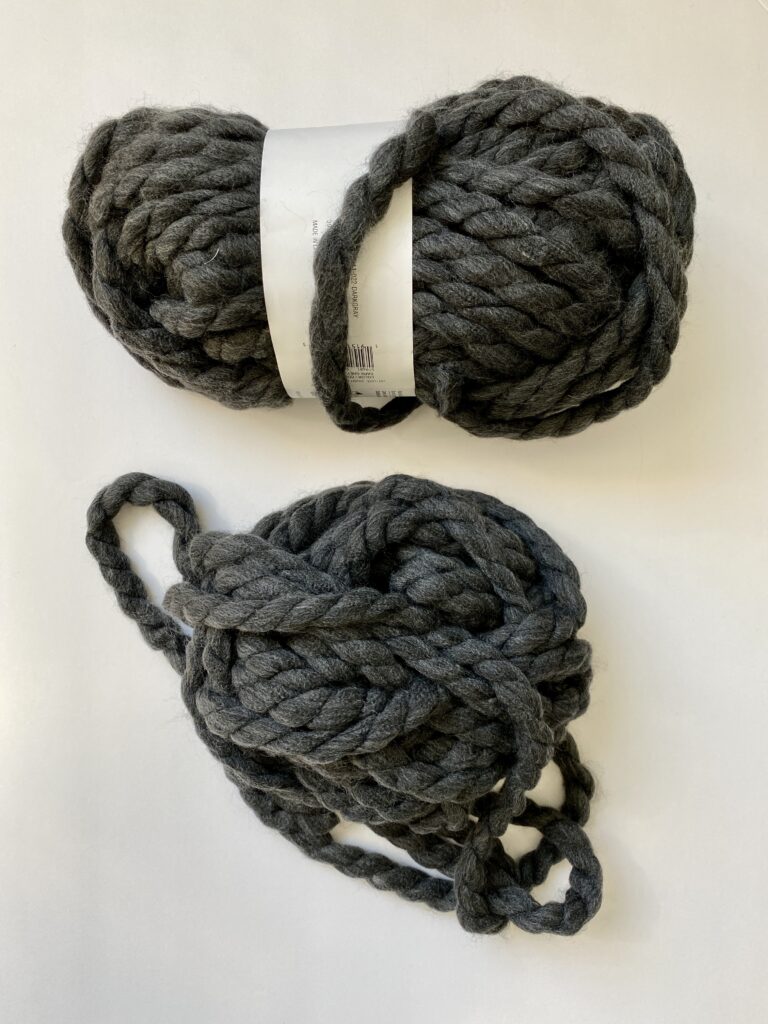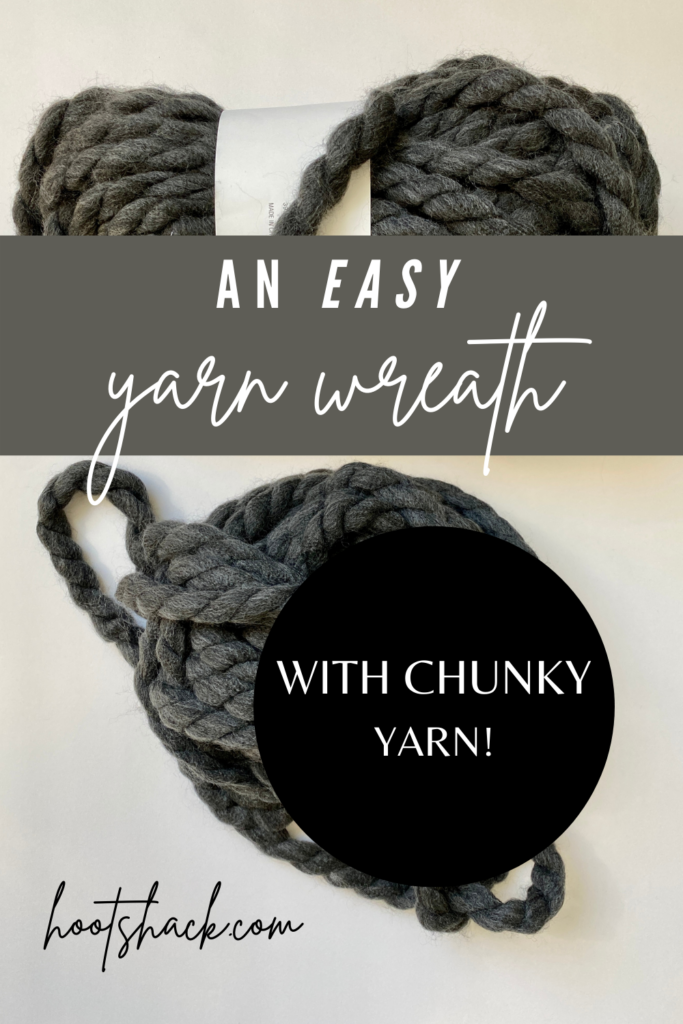 It's seriously so easy! I love the texture of this easy chunky yarn wreath. Before you go, don't forget to subscribe to my blog or give me a follow on Pinterest. I'd love to show you more of my easy DIY projects!
I love wreaths with yarn. I used my pom pom maker tutorial to make this cute pom pom wreath as well.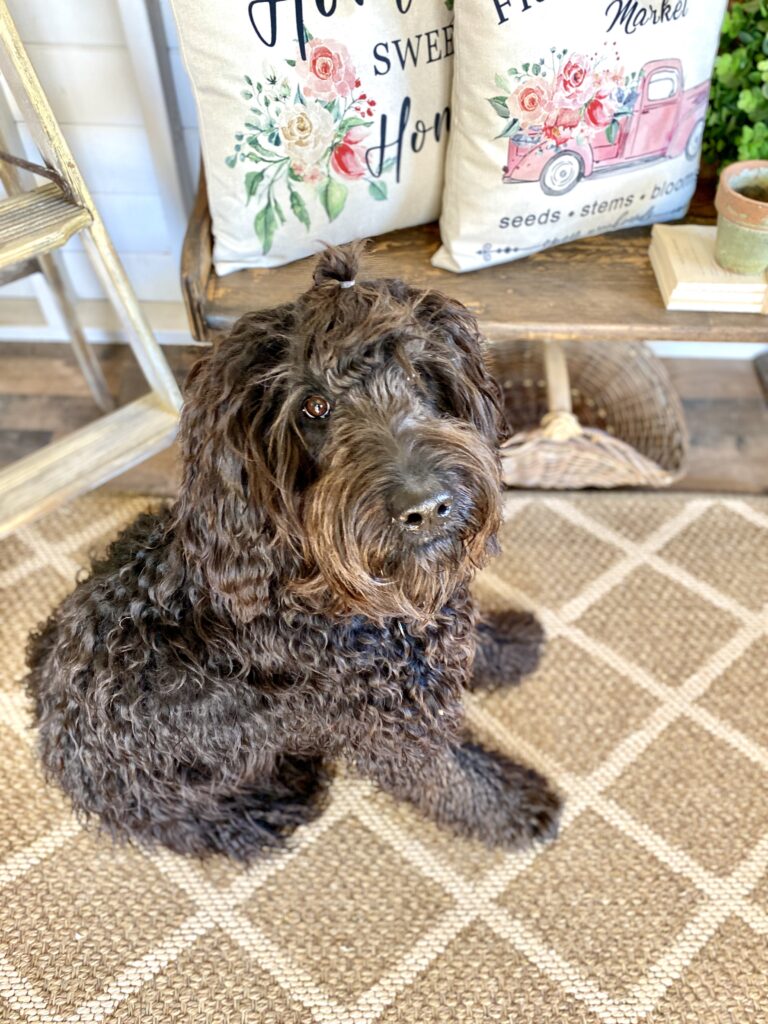 xoxo,
Denise