Burlap Christmas Wreath DIY
This post contains affiliate links which means that at no cost to you, I may earn a commission if you purchase using one of my links. For more information view my full disclosures.
~
This burlap Christmas wreath DIY is perfect for your front door this holiday season. Burlap wreaths are very easy to make and are one of my favorite seasonal decorations.
I love to use burlap for all sorts of crafts. The natural brown burlap is my favorite, but you can also make this burlap Christmas wreath DIY with any other color of burlap ribbon.
You can find burlap ribbon at Hobby Lobby, Michael's, Amazon, or any other craft store.
Let's learn how to make this beautiful wreath for your Christmas decor.
Burlap Christmas Wreath DIY Supplies
Burlap ribbon – 3 – 5″ wide works best
Wire wreath form
Scissors
Wire, Pipe cleaner, twist ties, or zip ties
Decorations
Ribbon for a bow or for hanging

This wreath can be made by cutting strips from a yard of burlap, but because the edges fray easily, I recommend using burlap ribbon. If you like a very rustic wreath, the fabric will work.
Burlap Christmas Wreath DIY Step-By-Step Tutorial
Here is the burlap Christmas wreath tutorial and I've also included a video that may be easier to understand. This wreath will only take about 10 minutes to make!
Tie the end of the ribbon to a crossbar on the wire frame on the inner ring or secure it with wire or a zip tie.
Pull up a loop through the inner wreath ring from behind.
Pull up a second burlap ribbon loop in the middle ring.
Pull up the last loop through the outer ring.
Use your fingers to ensure all the loops are pulled up evenly.
Bunch the three loops tightly together and twist the burlap ribbon a couple of times in the back of your wire wreath frame.
Repeat this process in the same section you started with but this time start with the outer ring and work your way towards the center.
Repeat until the first section in the wreath is complete, usually about 2 times. The number of times per section will depend on your wreath size.
Cross over into the next section and continue until the wreath is full. Remember to twist each time you end a row of loops.
Trim any excess ribbon and secure the end of your burlap ribbon to the wreath frame with a zip tie or whatever you're using.
Turn your wreath over so you're looking at the back and use additional ties to secure the wreath in more areas. I don't do this, but a word of caution, if you catch a loop on something they can pull out. I'm careful with mine and have had no issues. If it makes you feel better, add the ties. You can also use a hot glue gun or pieces of wire.
You can give the wreath a whole new look by adjusting how tall the loops are that you pull through. If you'd like, you can also twist after every loop you pull up, rather than waiting until you have all three pulled through. This will make the wreath more bubbly instead of wavy.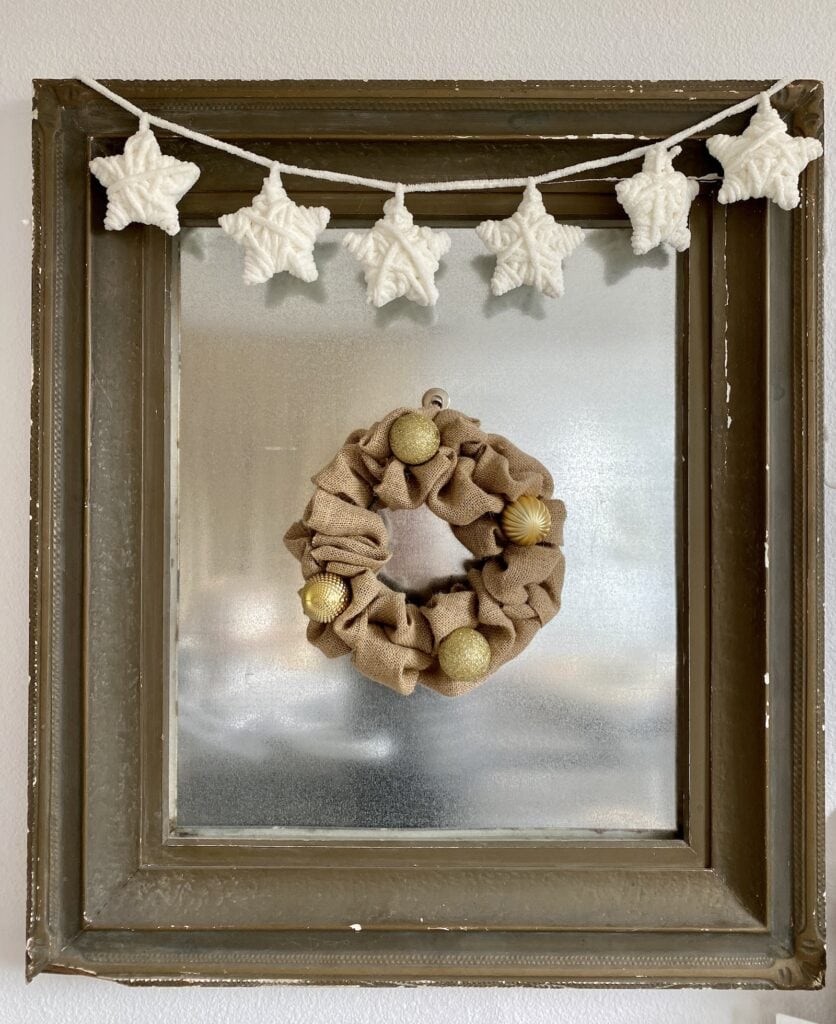 If you need help making a bow for your wreath, be sure to read my post about how to make easy bows. I also have a tutorial for making a DIY Magnetic Memo Board using a vintage frame. There is also a quick tutorial for how to make the DIY Yarn Garland.
If you run out of burlap ribbon when making your wreath, just tie a new piece on and continue, it's very forgiving.
A DIY burlap wreath isn't just for the Christmas season, they can be used any time of year. I like to use zip ties or pipe cleaner to add decorations so I can change my wreath for other holidays. S
easonal wreaths can be expensive so it's nice when a base can be reused. A basic burlap wreath can get you through many holidays if kept away from direct sunlight and displayed under a covered porch.
If you're not going to reuse your wreath for another season, you can attach your decorations with a bit of hot glue.
How Much Burlap Do I Need For A Burlap Wreath?
One of the most frequently asked questions is how many feet of burlap do you need for a burlap wreath? This will depend on the size wreath you're making. I frequently use 14″ wreath frames and it takes about 30 feet of ribbon (15 yards).
Another factor that will determine the amount of burlap you need is the number of twists you use or how full you want your wreath.
How To Decorate A Burlap Wreath
This is the fun part and there is no right or wrong way to decorate your wreath. Use whatever suits your particular style.
A simple bow using a holiday ribbon may be all you need or you can grab a bunch of Christmas picks and pinecones to decorate your wreath. Christmas tree ornaments are another great idea to use as decoration.
Happy crafting,
Denise