How To Make DIY Chunky Yarn Pumpkins
This post contains affiliate links which means that at no cost to you, I may earn a commission if you purchase using one of my links. For more information view my full disclosures.
~
Make these pretty and easy DIY chunky yarn pumpkins to add cozy fall decor to your home. A chunky yarn pumpkin can be made in many different colors and decorated with any fall theme that suits your style.
This fall craft is so simple and the finished projects look beautiful. Yarn pumpkins look great on a mantel, in a centerpiece, on a wreath, or as pretty fall shelf decor. They're effortless to make and affordable enough to add several to your fall decor this season.
Yarn decorations look so cozy and they are a nice way to add another texture to your home decor. My chunky yarn wreath and finger crochet wreath are another way to accomplish a cozy feel.
Supplies For Pumpkins With Chunky Yarn
To make chunky yarn pumpkins, you'll need the following craft supplies. These supplies can be found at Dollar Tree and your local craft stores like Hobby Lobby or Michael's.
Scissors
Fall decorations like faux florals, fall leaves, or sunflowers
A twig from outside (Optional)
A serrated knife or the knife from a pumpkin carving kit
How Do You Make A Pumpkin With Chunky Yarn?
You may think that wrapping the yarn continuously through the top and bottom is easiest, but for best results, use the steps below. Trust me, I tried the first continuous wrapping method and it was harder and it took a lot more yarn.
If you don't like my method, you can also tape your yarn to a pencil and use the pencil as a needle to do a continuous wrap.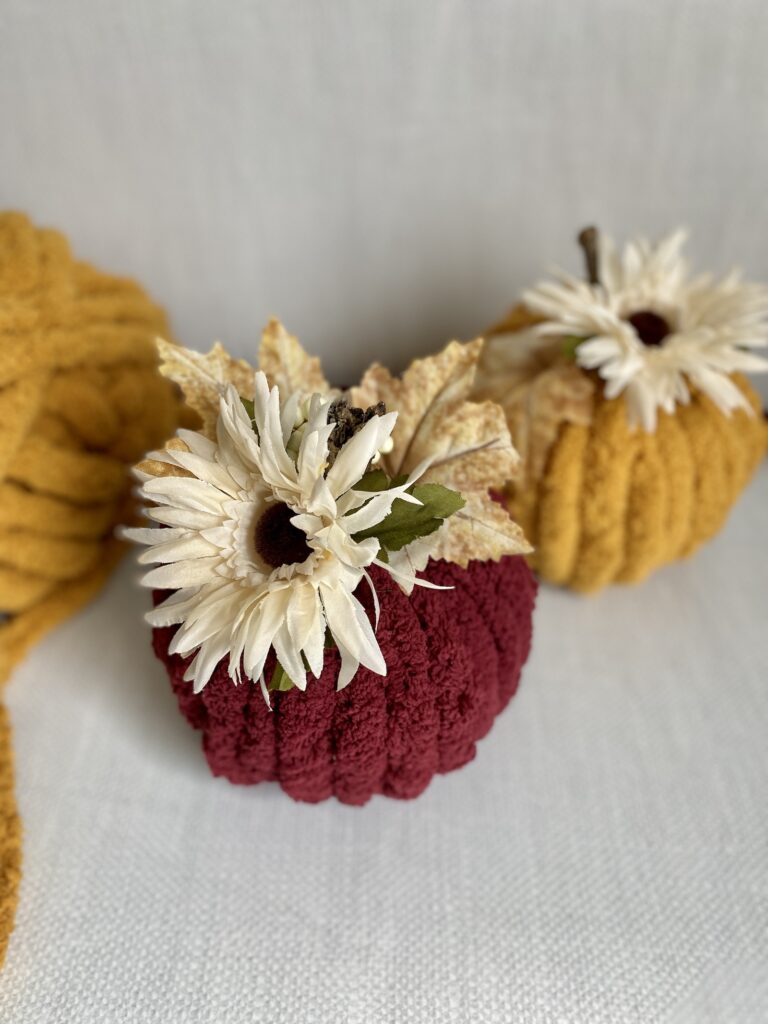 How Do You Attach Yarn To A Pumpkin?
Cut a hole in the top and bottom of a styrofoam pumpkin. They can be found at Dollar Tree, Michael's, Hobby Lobby, or Amazon. The hole needs to be fairly large to accommodate the chunky yarn. (about 2″ wide).

If your yarn isn't as chunky as mine, you will most likely need to start with a smaller hole.

If your pumpkin isn't hollow, you can just glue the yarn directly to the pumpkin itself by adding a line of glue and then gently pressing the yarn into the glue.

Clean out the excess styrofoam and discard everything except the stem if you want to cover it with yarn or twine later. I just used a twig from outside as a pumpkin stem.

Cut lengths of yarn that will stretch from just inside the top hole, down the side of the pumpkin, and then glued just inside the bottom hole. The length will depend on how big your pumpkin is.

Glue the lengths of yarn at the top hole and stretch and glue again to the bottom hole in the pumpkin. The first layer won't completely cover the pumpkin, tucking in loose ends inside the hole.

Go back around and glue more to fill in bare areas and complete this process until the pumpkin is covered. Use an old pencil or a craft stick to press the yarn to the glue so you don't burn your fingers.

Tuck a twig or stick inside the top to create a stem. Alternatively, you can wrap the original styrofoam stem with burlap, twine, or a contrasting yarn color and glue it on top.

Add faux florals, fall leaves, sunflowers, or any other fall decoration to the top.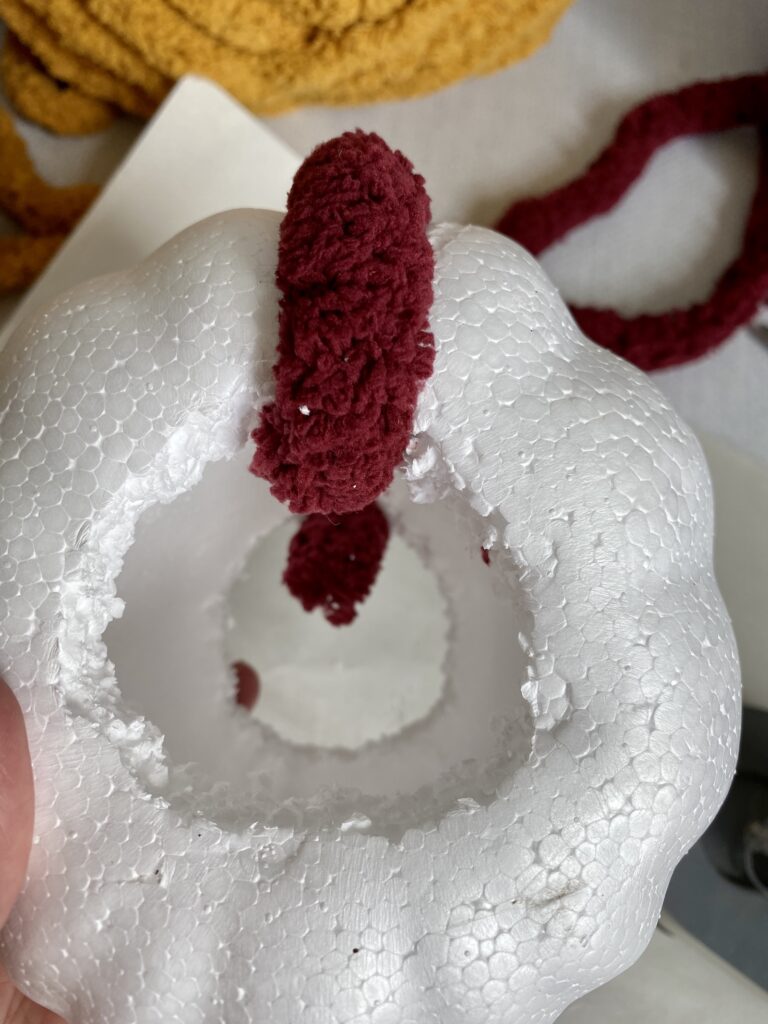 As the pumpkin fills in, you'll start adding a dot of glue directly to the yarn and then tucking the end into the hole with the pencil. See below.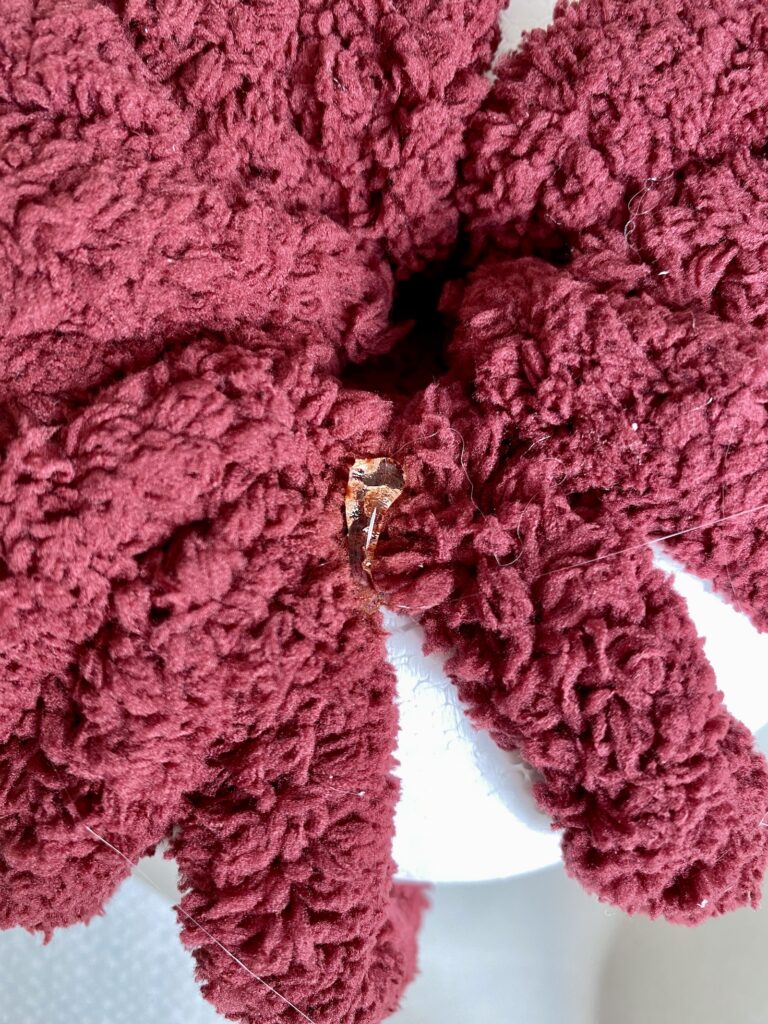 Which Yarn Is Best For Chunky Yarn Pumpkins?
Any chunky yarn will work, but I particularly love Bernat Big Blanket Yarn and Chunky Grande Yarn. Bernat can be found in a lot of craft stores like Michael's. It can also be found on Amazon or Walmart.com. Chunky Grande yarn is found at Michael's.
Chunky Yarn Pumpkins DIY Decoration Ideas
The possibilities are endless, but it's pretty easy to find a Fall floral pick that has a selection of items to use.
The nice thing about one full pick is that you can cut pieces off and make several pumpkins out of one. You may already have a selection of faux florals or fall leaves that will work great. I've been known to steal a flower from a wreath in my craft stash or from a fall garland.
Pumpkin Stem Ideas
You can use a stick as a stem that can easily be found in the yard. I've also used cinnamon sticks which make the house smell like Fall.
Roll a piece of cardstock to create a stem and wrap it in twine or yarn as another option. You can also find real pumpkin stems on sites like Etsy.
Before you go, be sure to take a look at one of my most viral Pinterest pins. My Fall yarn gnomes have been pretty popular and are fun to make. You can also check out these fabric pumpkins.
Other Posts You May Enjoy: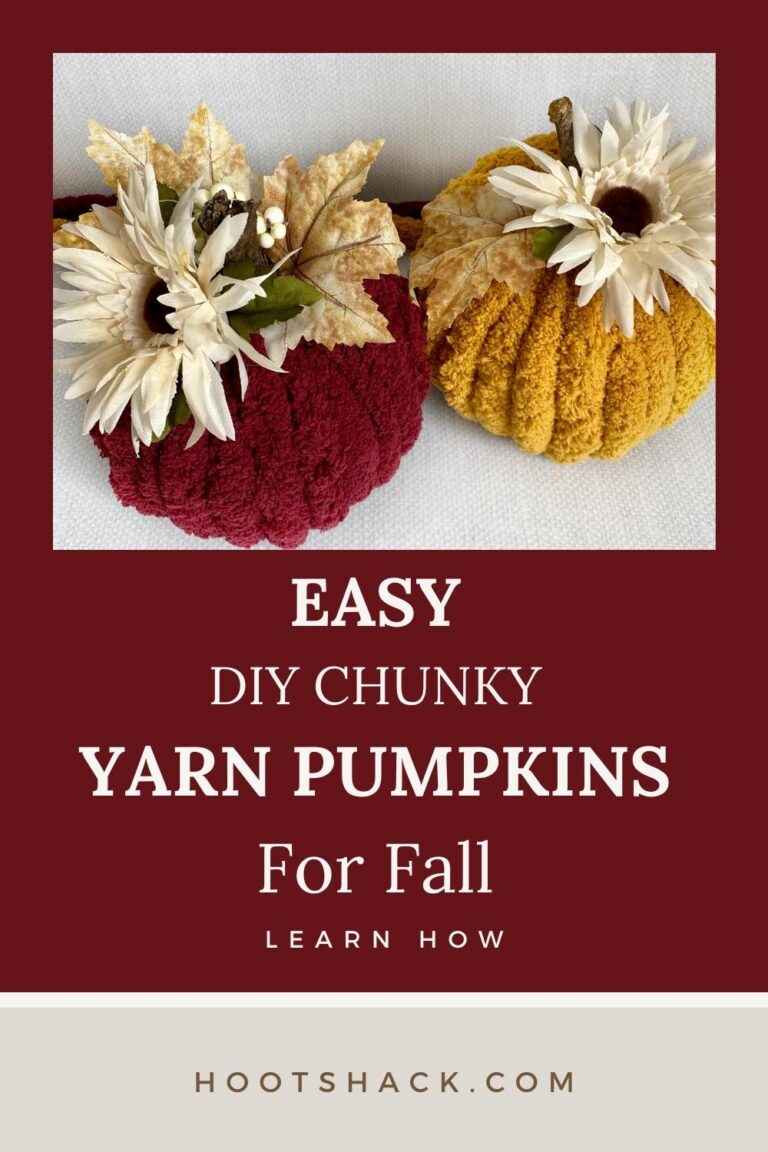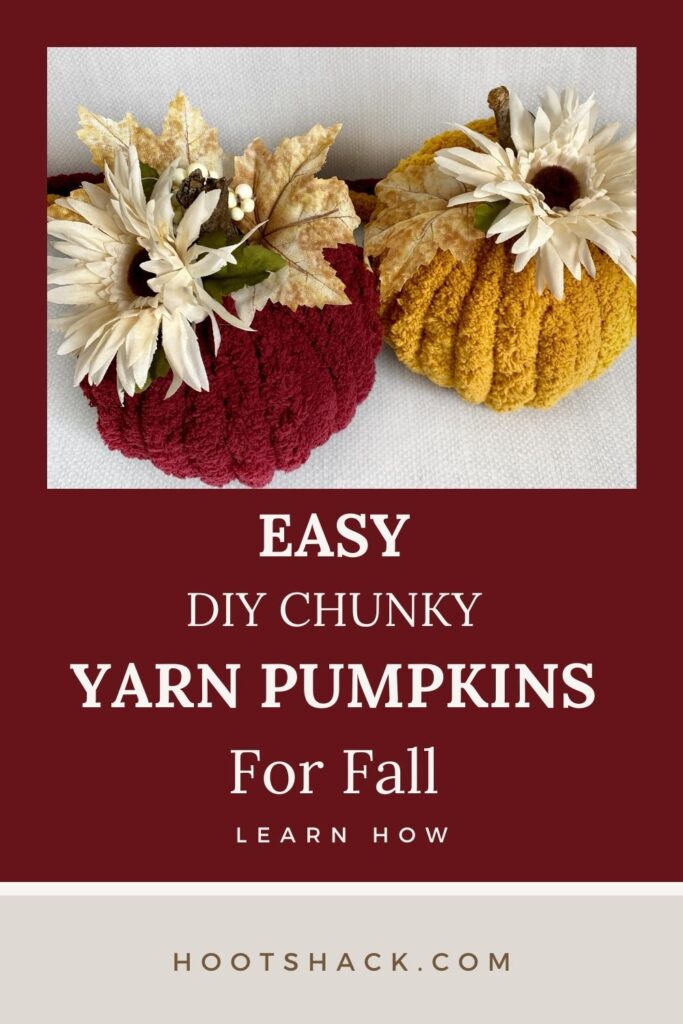 Happy crafting,
Denise