How to Make Fabric Garlands In A Snap
Fabric garlands add texture and interest to your home decor and they are incredibly easy to make. They can be made with scraps of different fabrics, with coordinating fat quarters or fabric by the yard. Learn how to make a DIY fabric garland quickly and easily with this step-by-step tutorial. This is an easy craft to make for just about anyone!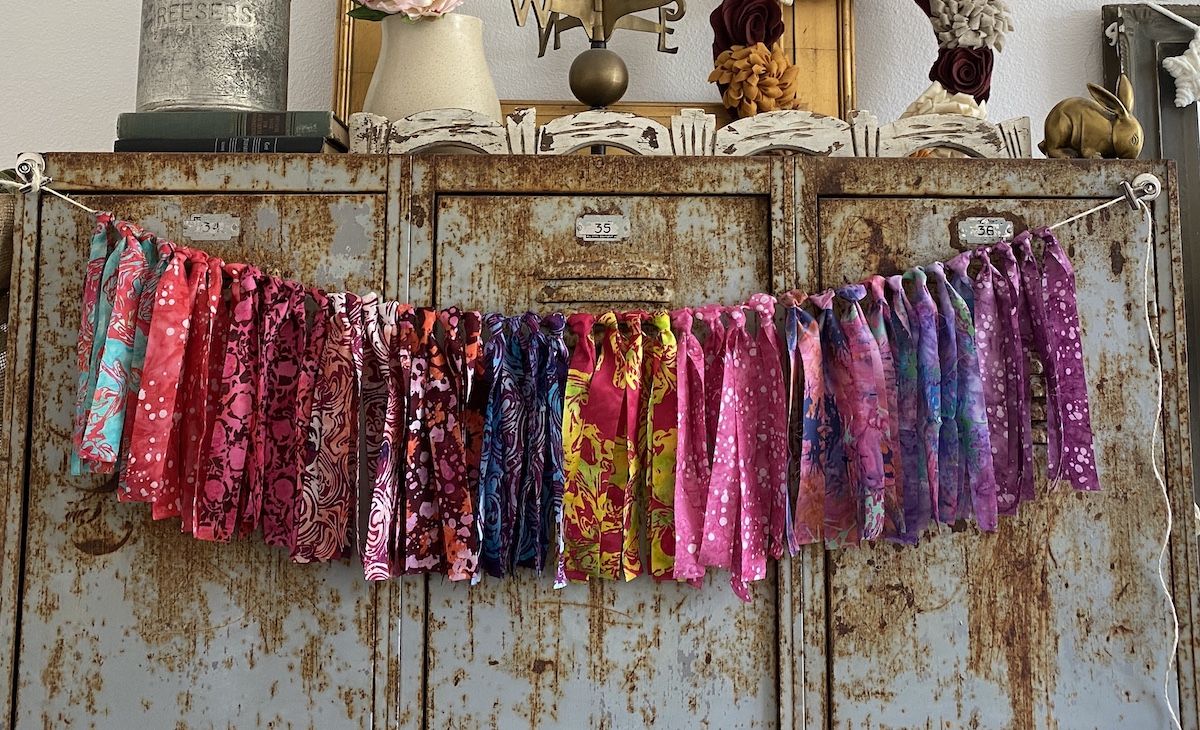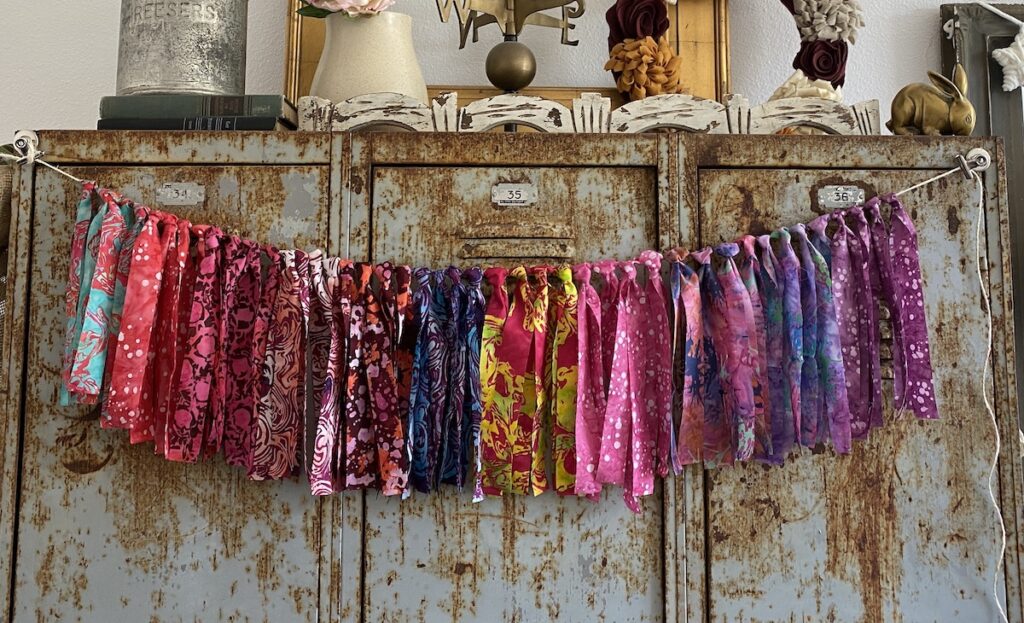 When decorating a mantel, mirror, or hutch, I love to use something soft mixed in with other materials. A fabric garland mixed in with a pom pom garland is a fun way to combine two textures. I love an easy DIY project and this is definitely one of them.
For this project, you can use different patterns mixed together or choose a solid color that works with your home decor or party theme. A fabric garland DIY is a fun way to add interest to your display.

This project is completely no-sew, so you won't need a needle, thread, or sewing machine. I love easy fabric projects. They are so much fun to make and I've provided an easy tutorial for you to follow. If you want to know how to make a garland out of fabric strips, you're in the right place!
What Types Of Fabric Are Used For A Fabric Or Rag Garland?
The fun part about these garlands is that they can be made with new fabrics or old fabric scraps. Any fabric will work.
You might be thinking of scrap fabric from another sewing project, but you can also use so many other things in your home.
You can even use old clothes, t-shirts, scarves, sheets, towels, jeans, pillow covers, etc. They are a great upcycled fabric craft to make.
If you don't have the perfect colors in your stash, try color-coordinated fat quarters to make life even easier! You can find fat quarter packs on Amazon.
I have also found pretty matching fat quarters of fabric at Walmart in the craft department or at fabric stores for great prices. You can also visit the Fat Quarter Shop for some beautiful and unique options.
So what are fat quarters? They are slightly larger than a quarter of a yard of fabric. Most Walmart fat quarters are 18″ x 21″ and you can purchase fat quarter bundles that match. This takes all of the guesswork out of color coordination. Whew! There are so many cute fabrics to use but I have one more favorite to share!
Jelly rolls are coordinated rolls of pre-cut strips of fabric. They are usually a little wider than what I've used in this tutorial, but they can easily be cut to size, and half of the work is already done for you!
For reference, if you use a jelly roll, the strips are 2.5″ wide and I cut them to be half the width. I also cut each strip in half to make 1.25″ x 20″ pieces. This will make more sense if you buy a jelly roll.
Supplies You'll Need to Make A Fabric Garland
Fabric – new fabric or fabric scraps (the amount of fabric you need will depend on the width and length of your garland)
Scissors or a rotary cutter set (recommended if you want the edge of the fabric to be straight) – You can also use pinking shears.
Twine or ribbon for hanging – use something sturdy as the fabric can get a little heavy
Determining The Size Of Your Garland
One of the first things you'll need to do is determine how long you want your garland to hang and how wide the finished project will be. These factors will help you determine the length and width of the strips you'll be cutting.
If you need a very wide garland for a photo backdrop, for example, you can get away with cutting wider strips (aka the Jelly Roll!) so you don't have to tie on as many fabric pieces. If you're decorating a mantel or something a little smaller, narrower strips look best.
For this project tutorial, I'll be using 1.25″ x 20″ strips of fabric and I'll be cutting them with a rotary cutter. If you're using fat quarters, they are already 21″ so just use that length. Your desired length of the garland may be different than mine so you'll need to adjust accordingly.
How To Make A DIY Fabric Garland
Here are the step-by-step instructions for how to make a garland out of fabric strips:
Cut a piece of twine or ribbon the width you want for your final project with a little extra length for hanging. This is the piece that all of your fabric strips will be attached.
Tie or tape the piece you just cut to something so that it's easy to work with. You can tape each end of the twine to a wall or table or tie it between the backs of two chairs.
Cut all of your fabric strips in advance to speed up the process. For reference, I used 48 pieces for the garland on my lockers.
Attach the fabric strips using one of the methods below.
Cutting Fabric Strips Using A Rotary Cutter Set
A rotary cutter will be the quickest method for cutting the strips. The ruler will help keep the strips straight and cut down on time substantially.
If you don't have one, just prepare your work surface by clearing enough space to keep your fabric flat and straight. You can use a ruler to draw lines on the back of the fabric if you want each piece very straight.
If you like a rag garland look, you can just tear strips of fabric and create a rustic look instead of a neatly cut garland. Rag garlands are just as cute!
Attaching The Fabric Strips To Make A Fabric Garland DIY
After cutting your twine to the desired width, the next step is to attach your fabric strips. There are several ways to attach fabric strips to create your fabric garland.
You can tie a single, simple knot, use a slip-through knot, or make fabric tassels. I'll cover each method and you can choose which method works best for you.
Single Overhand Knot Method
The easy way to do this is to hang all of your stips over the twine next to each other. From the bottom of the twine, tie a single knot in the first strip of fabric and slide it into place. Continue with each strip until you're done.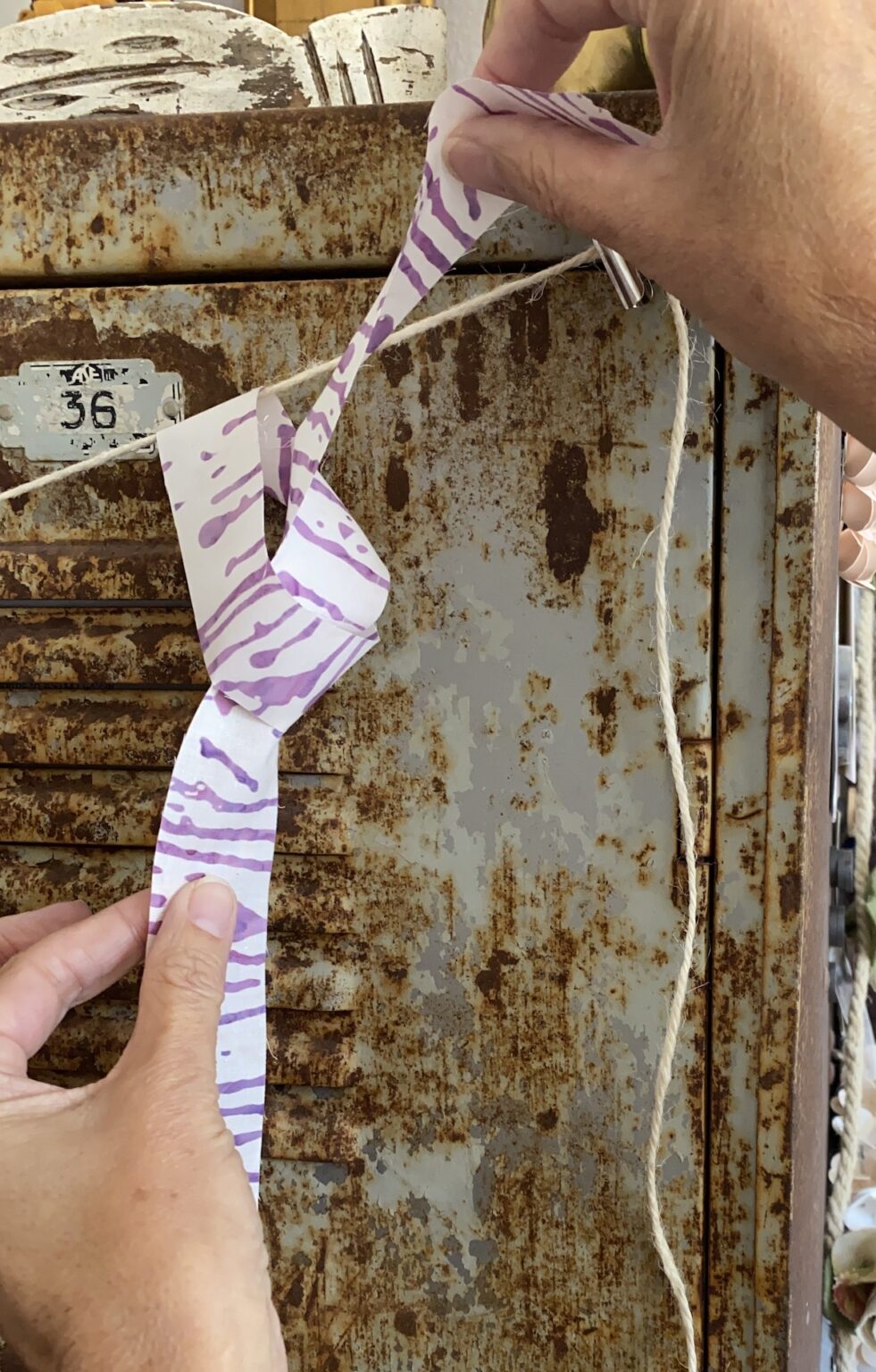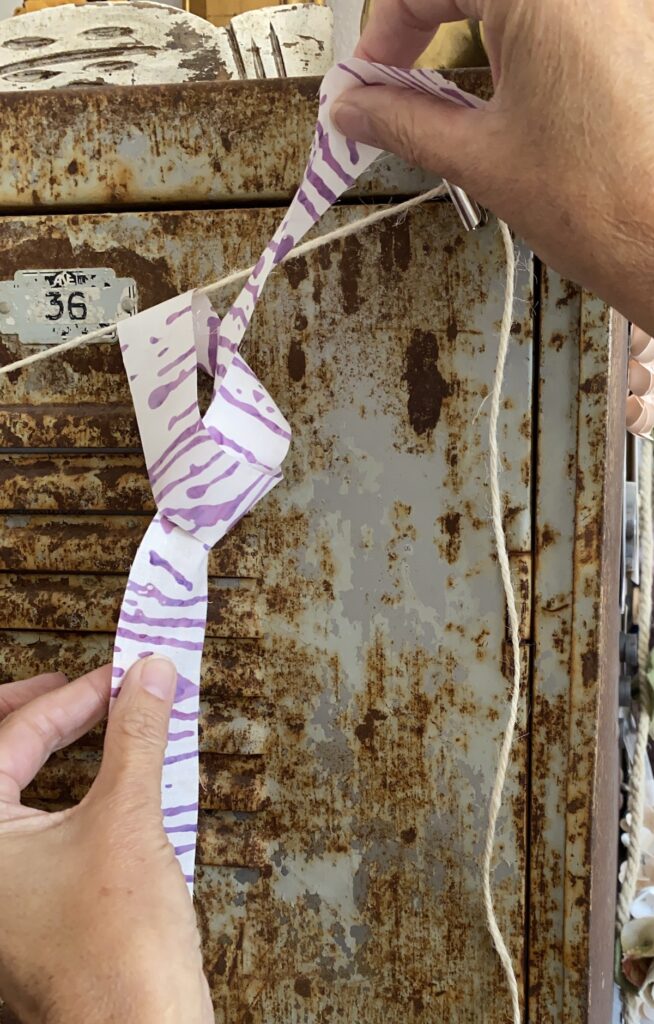 You can hang the strips by folding them equally in half or go for a tussled look by making them uneven in length when you tie them. This method will take more effort to get the strips to hang even along the bottom.
Slip-Through Knot Method
Fold a fabric strip in half creating a "loop". Hold the folded end pointing down behind the twine. Take the two loose ends and pull them through the loop, holding on tightly to the ends to keep them even
. See the photos below for a better explanation. Continue until all of your fabric strips are attached to the entire length of your twine.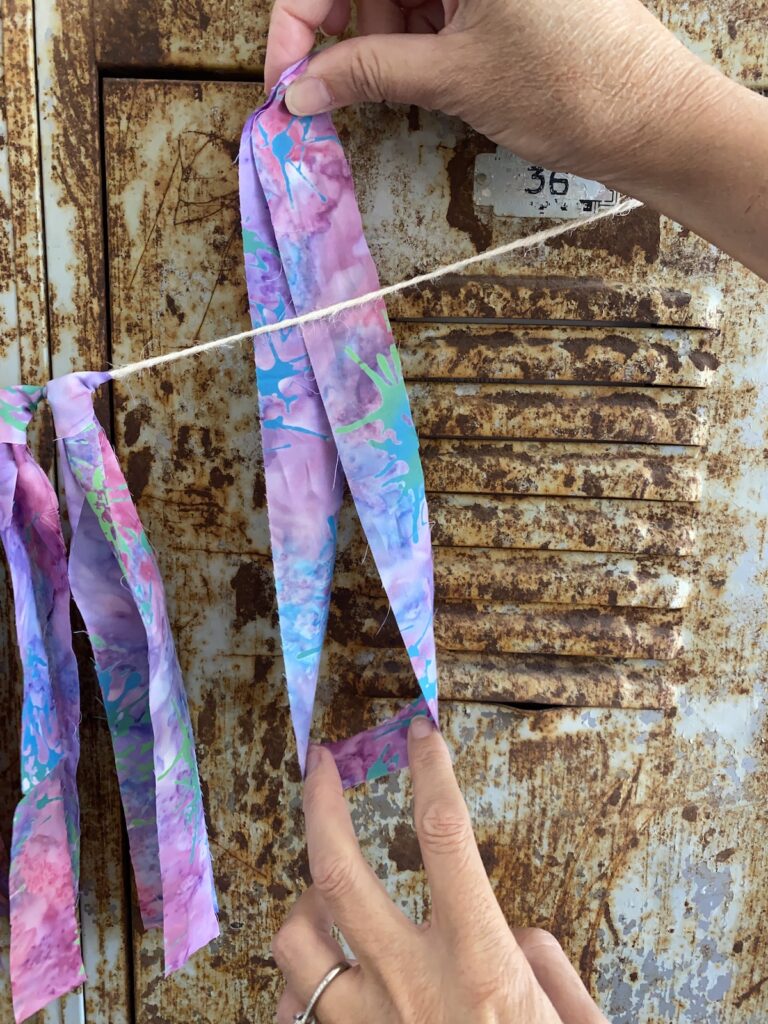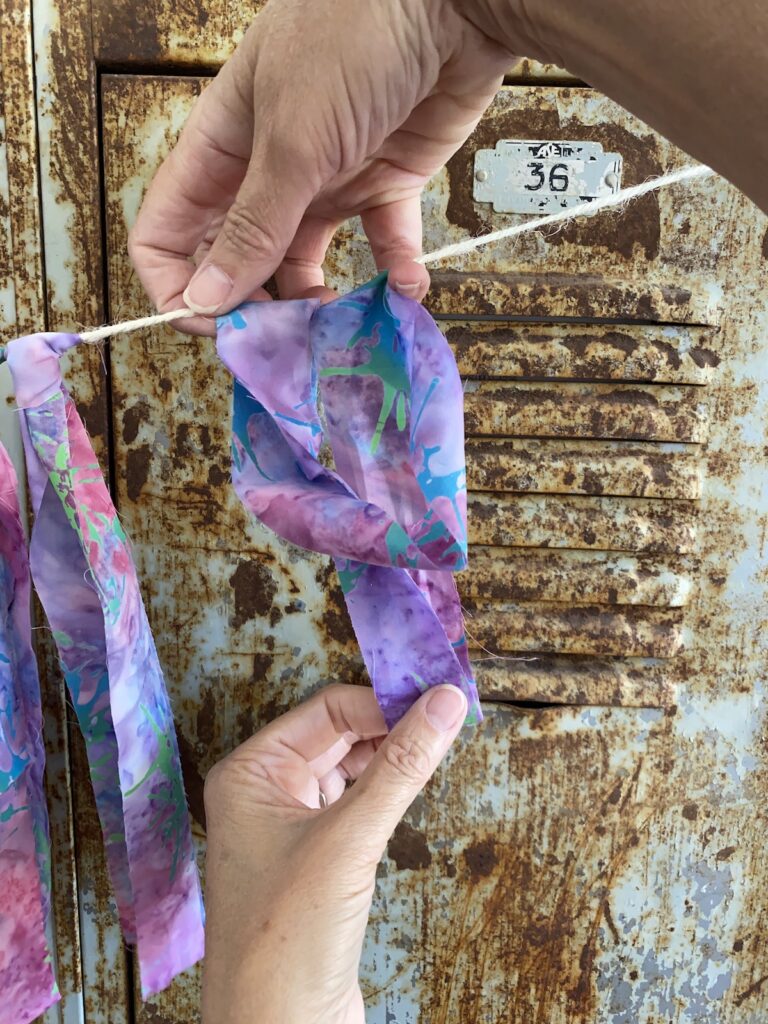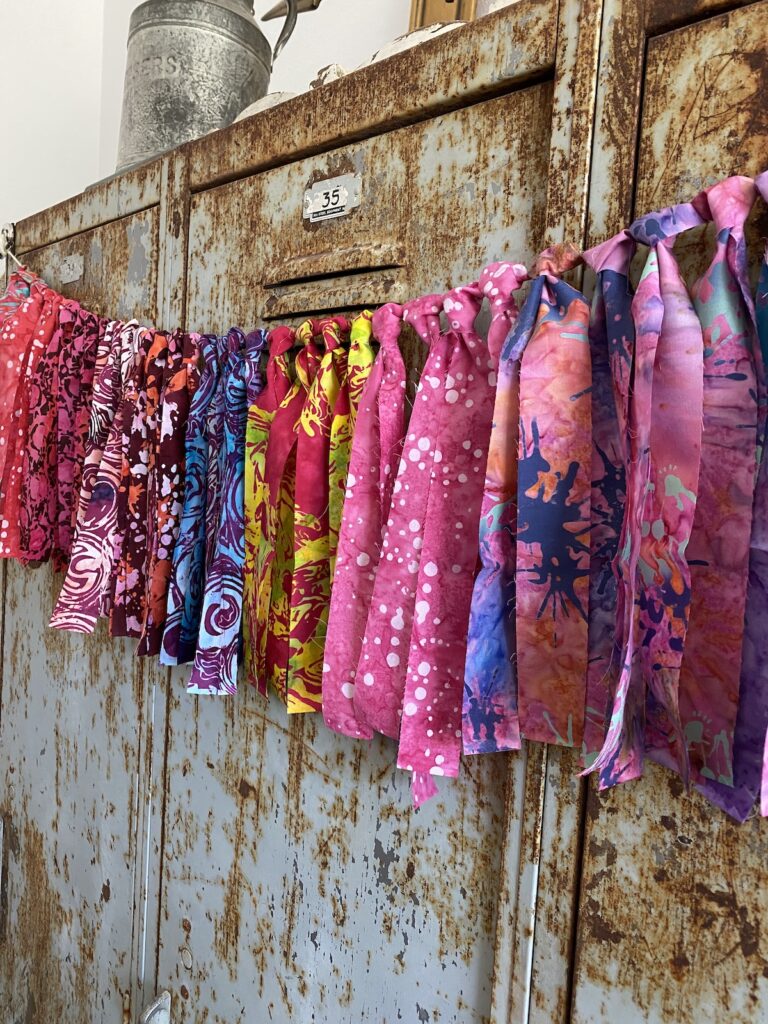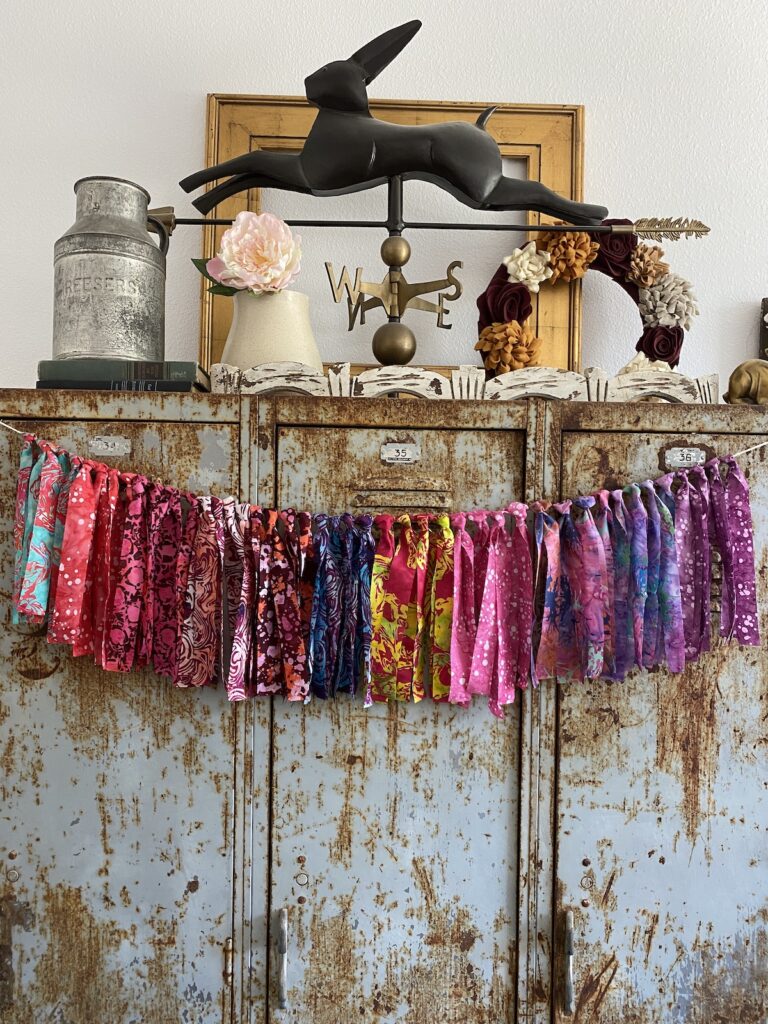 The Tassel Method – How To Make Fabric Tassels
For this method, you'll take 3 or four strips of fabric and lay them evenly over the twine. Use either fabric, string, or twine to tie off the top to create a tassel. First, tie a tight knot, then wrap the string around a few times and tie it off with a knot in the back.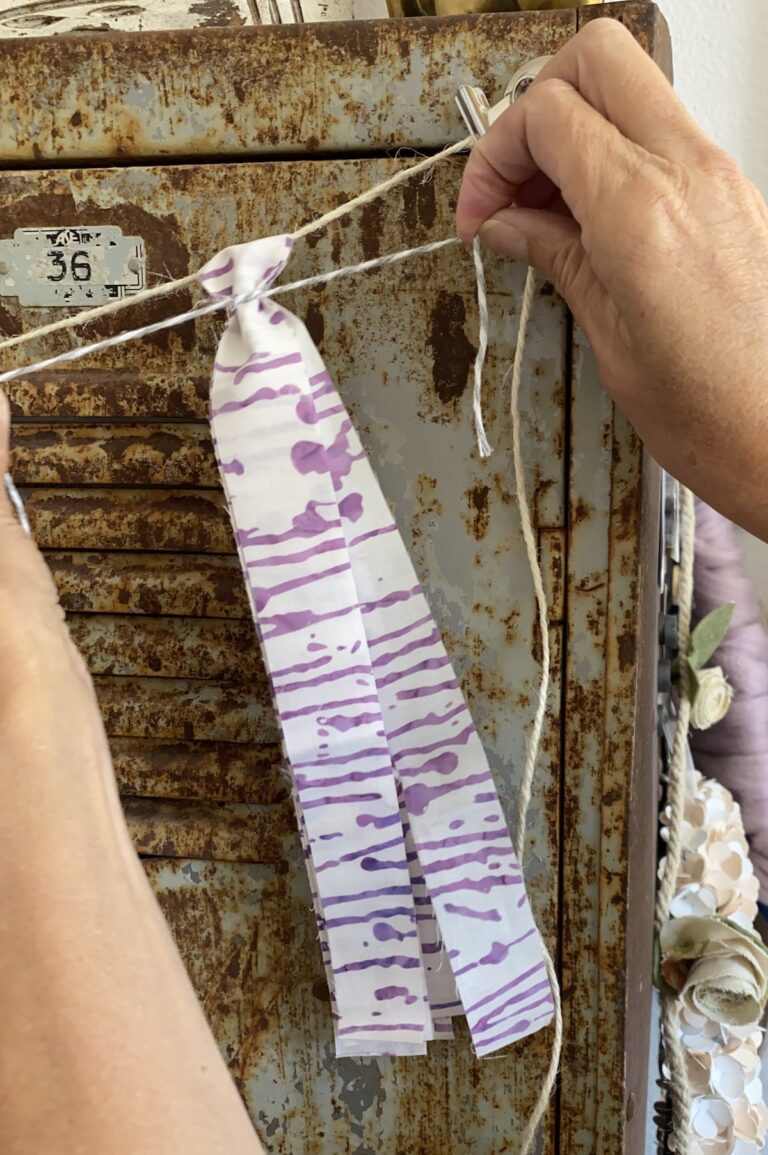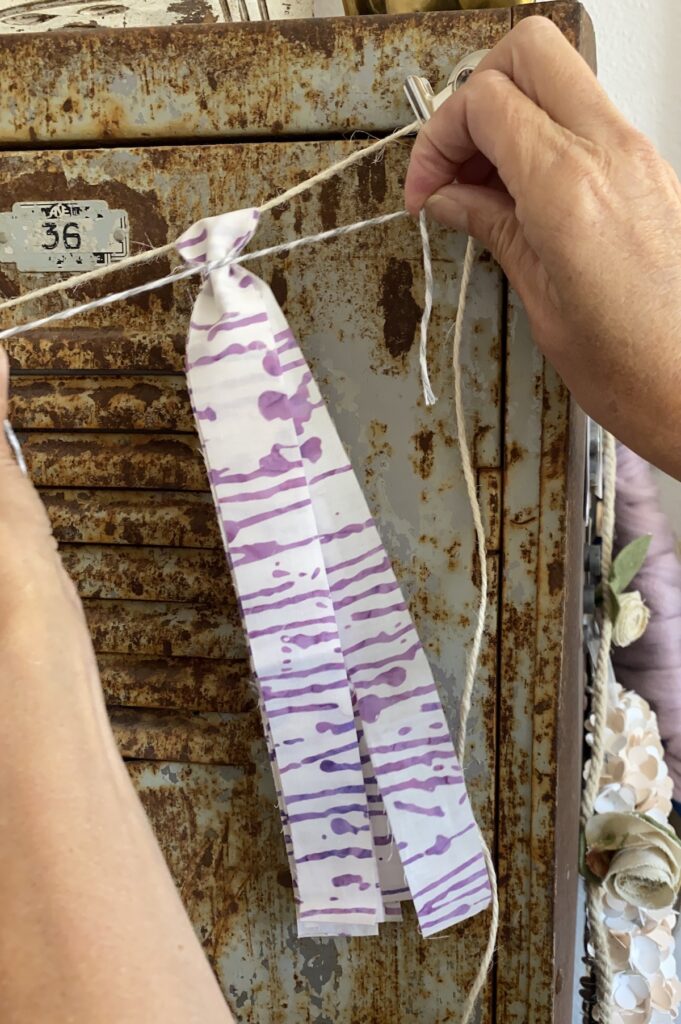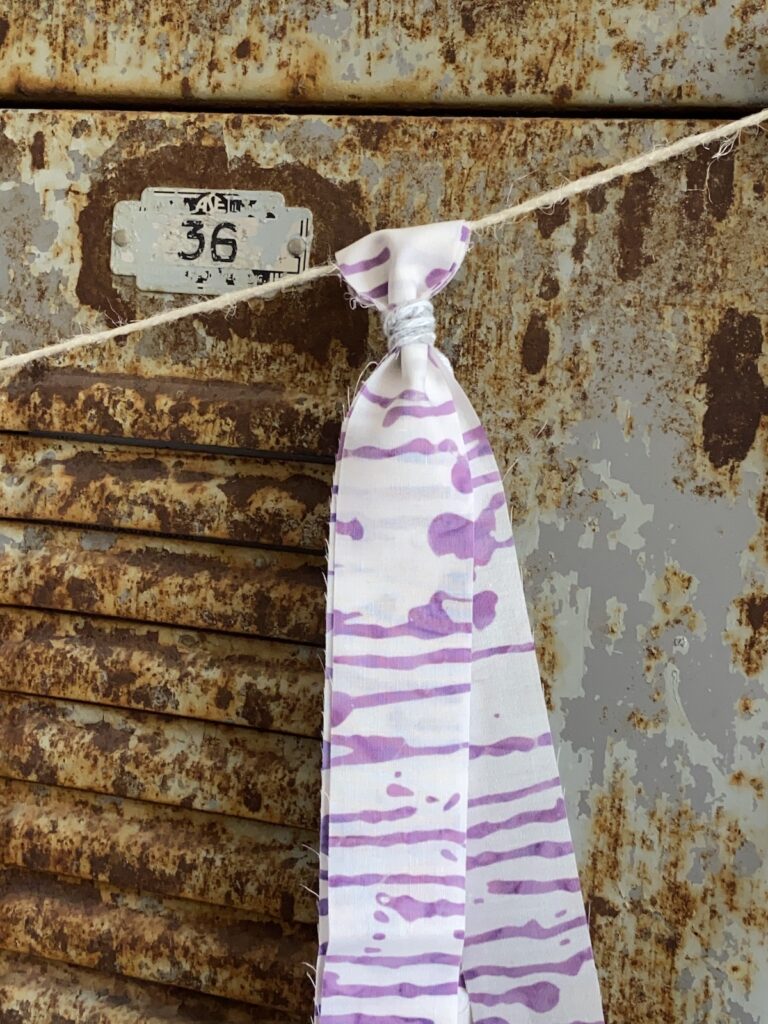 Fabric tassels are easy to make but will likely require more fabric and add extra cost to the finished project. They look amazing though!
Different Ways To Use Fabric Garlands
Your garland can be used for different occasions. Try using one at your next party.
Christmas – Fabric garland DIYs look great as a Christmas garland on the mantel or wrapped around the Christmas tree.
Parties – Use a fabric garland for baby shower decorations, birthday parties, graduation parties, or any type of celebration.
Photo backdrops – A fabric garland looks great in a photo backdrop. I've seen some that are made floor-length and they can be quite stunning. Sheets work great when making a really long garland.
Valentine's Day – String a fabric garland along a mirror, hutch, or mantel for a cute holiday decoration.
Child's Room – Decorate a child's room with a fabric garland. Just be sure to keep it out of reach of young children and do not hang them above cribs. Keep safety in mind.
Outdoor decor – Use outdoor fabric to create a cute garland for an outdoor party.
DIY Coffee or Cocoa bar decoration
DIY Fabric Garland Ideas To Add Variation
This is the part of the project that I love. You can make your fabric garland very simple or try some of these variations instead.
For additional texture, you can add grosgrain or velvet ribbon, different textures of yarn, or even denim! The possibilities are endless. You can also cut the ends of each strip into points like you would when creating a ribbon for a wreath or a gift.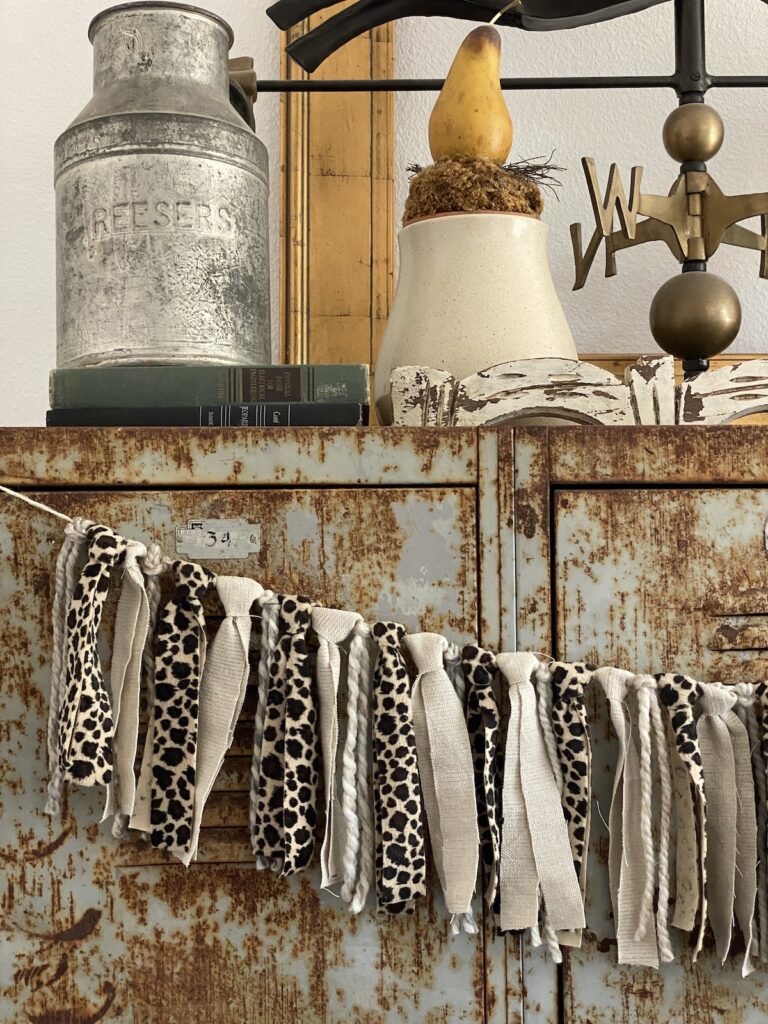 Other Posts You May Enjoy
Frequently Asked Questions
How much fabric do I need to make a garland or rag garland?
This will depend on the size you want to make. I used only 1 total yard for a garland that is 3 feet wide by 10 inches long.
I used several fabrics so this makes it a bit more complicated to answer. This is why fat quarter bundles or jelly rolls work so well if you want to use a mixture of patterns.
What size strips for a fabric or rag garland?
I used 1.25 inches by about 20″.
I hope you enjoyed this post about how to make fabric garlands. Enjoy!
Happy crafting,
Denise
Note: If you are unsure of how to use a rotary cutter, you can find a tutorial here.