Make A Festive DIY Sea Glass Christmas Tree And Ornaments
This post contains affiliate links which means that at no cost to you, I may earn a commission if you purchase using one of my links. For more information view my full disclosures.
~
Today's project is making a DIY sea glass Christmas tree and ornaments for the holiday season. Sea glass trees make the cutest holiday decor. I love the way the natural light reflects through the sea glass pieces. Let's get started making these adorable beach glass trees!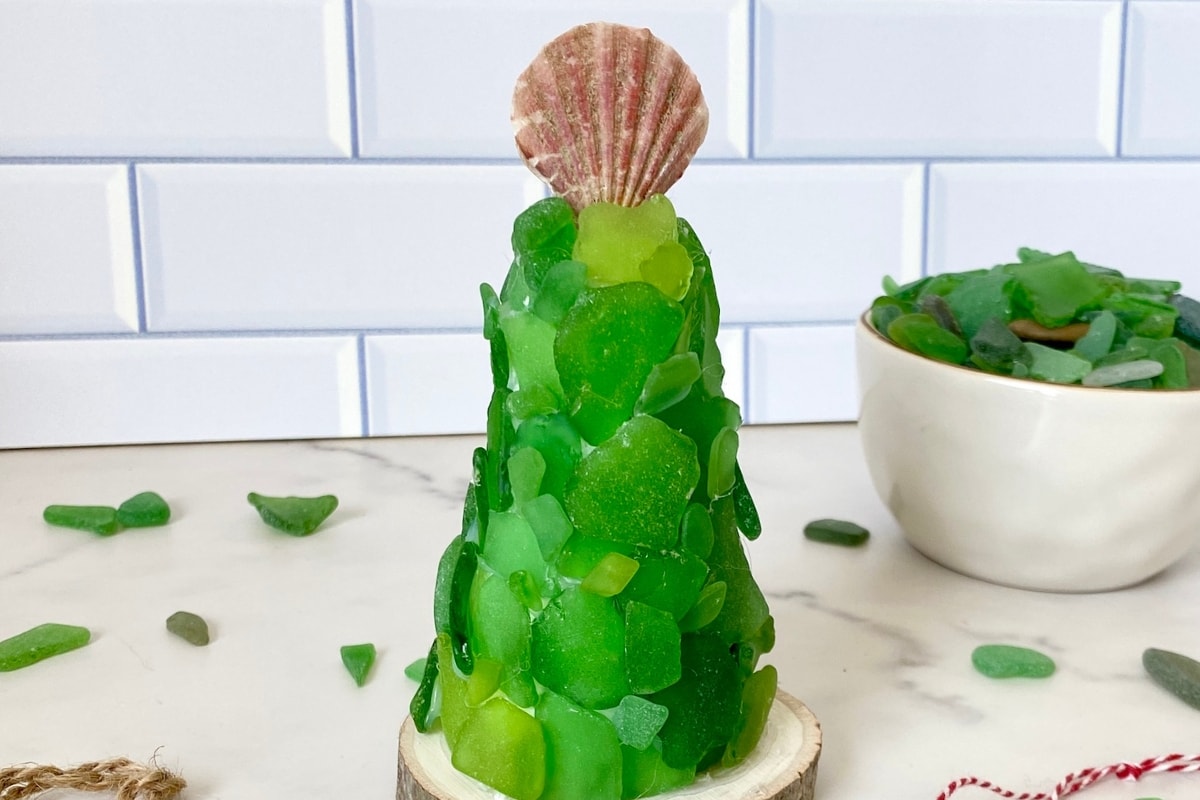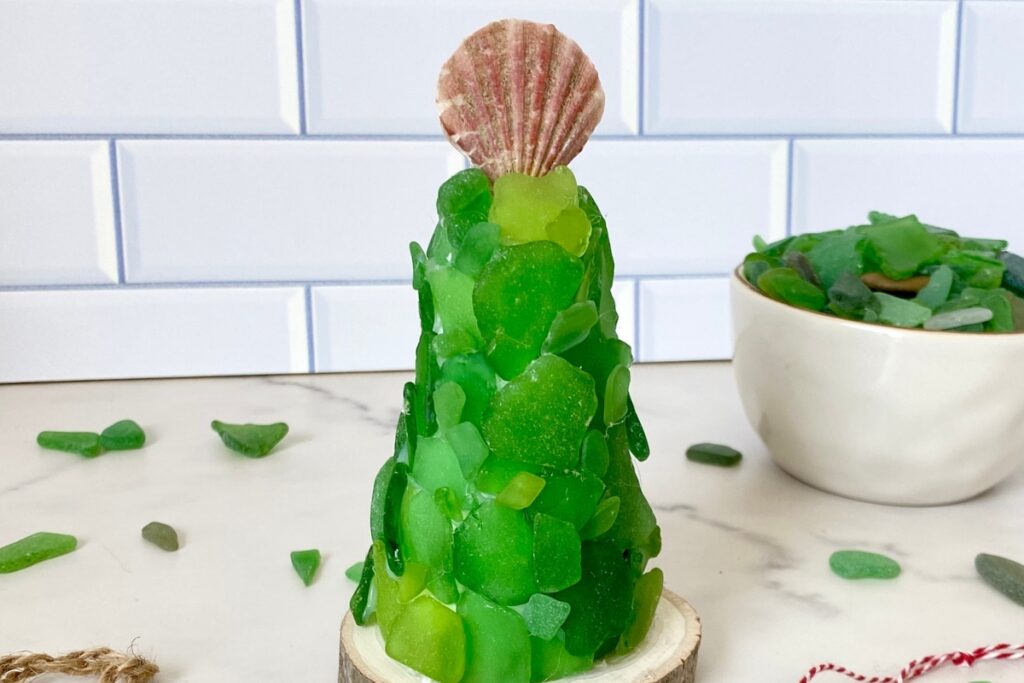 Sea glass can be found in so many different colors. For some reason, green and white are the most popular colors on our local beaches. Sometimes we're lucky enough to find blue, red, yellow, pink, and brown. These gorgeous sea glass Christmas trees can be made in all different sizes, depending on the amount of sea glass you've collected over the years.
I've seen beautiful sea glass Christmas trees made with blue sea glass perfect for coastal decor. My Christmas colors are a little more traditional so I opted to work with green glass when making my tree and sea glass Christmas ornaments. I love making seaglass crafts and will be posting more tutorials soon.
Supplies and Tools For A Beach Glass or Sea Glass Christmas Tree
Most of these supplies can be found at a local craft store with the exception of the sea glass.
​Sea glass (aka beach glass)
Hot glue gun or craft glue like EB6000
A white foam cone (Yes, white, in my opinion. More on this in a bit.)
Wood round or plaque (optional but recommended)
Utility knife or a pairing knife
Shells, stars, or starfish embellishments
Sea Glass
Beach glass is fun to collect on local beaches, but it can also be purchased on Etsy, Amazon, and other craft stores like Hobby Lobby. Not everyone has access to local beaches so it's perfectly fine if you need to buy some beach glass to make your DIY beach glass trees or ornaments.
Be aware that a lot of sea glass purchased online is not real beach glass. Some people use rock tumblers to make their own faux beach glass and sell it. You can usually spot this when you see sharp edges on all of the pieces of glass.
Even if it is real sea glass, you're bound to see some pieces with sharp edges so be sure to wear gloves or handle it carefully.
​Best Glue For Making Sea Glass Christmas Trees
The best glue for gluing sea glass will depend on what you're making. My hot glue gun worked great for the little Christmas tree, but not for the ornaments. Every time I glued the glass to the ornaments, it would easily pop off.
I ended up using EB6000 on the ornaments. If I were to make more little Christmas trees, I would use EB6000 instead of the hot glue gun.
The hot glue gun had loose glue strands that I was constantly fighting with. You can also pull a piece of glass off with a little force so I'm not sure how long the hot glue method will last. EB600 is stronger and will likely last the longest. Wear gloves and protect your work surface when using it. Clear-drying Tacky glue will also work.
White Foam Cones
I prefer to use white foam cones because the light will still shine through the glass, showing the variance in colors. When I first tried making the Christmas tree, I painted the cone with green acrylic paint thinking it would help hide any white parts of the cone that might end up showing.
I was right, it did do that, but it also changed the color of the glass and it just wasn't as pretty. I tore it apart and remade it with a new white cone.
I bought my cone at Dollar Tree. I wanted the cone to be shorter, so I just cut off the bottom. If you have lots of sea glass, you can make them as tall as you want. Keep in mind that they get pretty heavy!
Other types of cones you can use are clear plastic or paper mache. The clear plastic cones are great for sea glass tree toppers.
Base For The Tree
Sea glass gets heavy so I opted to glue the cone to a wood round to make it more stable. If you're making a very tall tree, you may want to use a larger wood plaque. This isn't mandatory, but I recommend it for a more finished look.
Instructions For The DIY Beach Glass Tree
So how do you make a sea glass Christmas tree? Here are the step-by-step instructions for making a gorgeous sea glass Christmas tree:
Glue the cone to the wood round or base. (optional)
Glue your shells, star, or starfish topper to a skewer or toothpick and push it into the top of the cone.
Place a dab of glue on your first piece of sea glass and glue it to the base of the cone. Continue gluing pieces all the way around the base slightly overlapping the pieces to hide the bottom of the one.
For the second row, use your utility knife or a kitchen pairing knife to dig little pieces out of the cone so you can tuck one piece of glass in behind another. This helped a lot in hiding the white parts of the cone. Continue gluing until the entire cone is covered.
The next step is to glue tiny pieces of sea glass in places where you can see white pieces of the cone.
How To Make DIY Sea Glass Christmas Tree Ornaments
There are several ways to make a sea glass Christmas tree ornament. I like to glue small pieces of sea glass in the shape of a tree. You can also use a Dollar Tree plastic Christmas ornament, wood rounds, glass ball ornaments, or small framed chalkboard ornaments.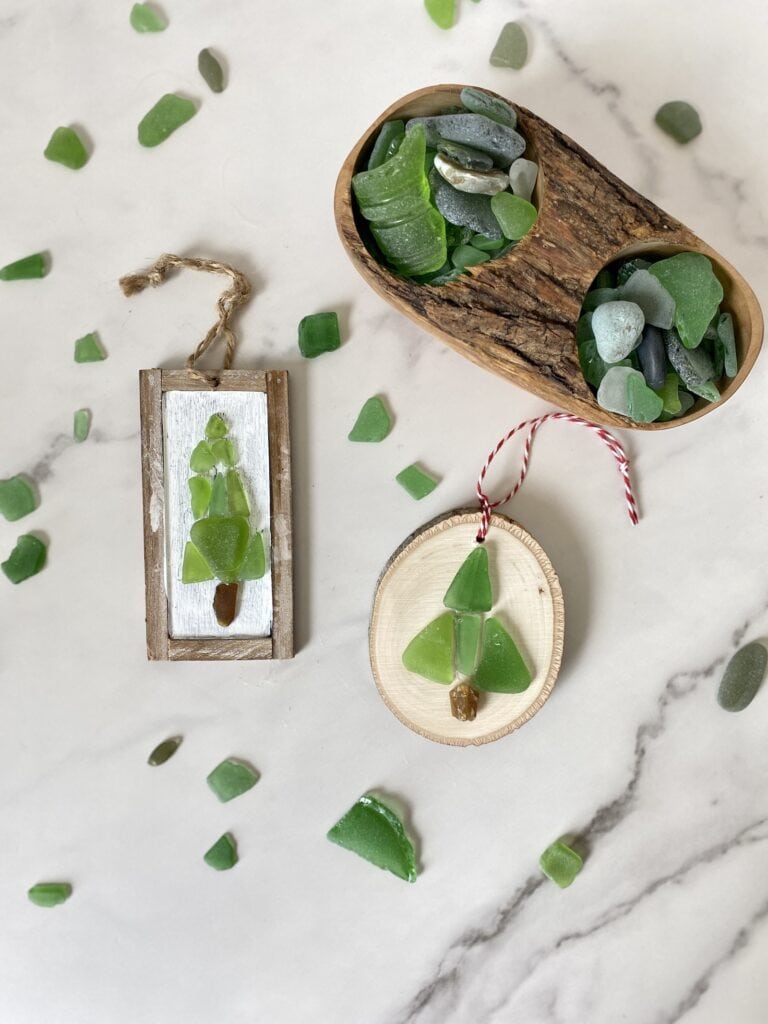 The best way to do this is to lay your pieces into the pattern you want first and then glue one piece at a time. You can hang the ornaments with ornament hangers or use twine or ribbon.
For this ornament, I used a wood round and picked pieces of glass to form a seaglass Christmas tree. I used a rock for a tree trunk but you can also use brown sea glass.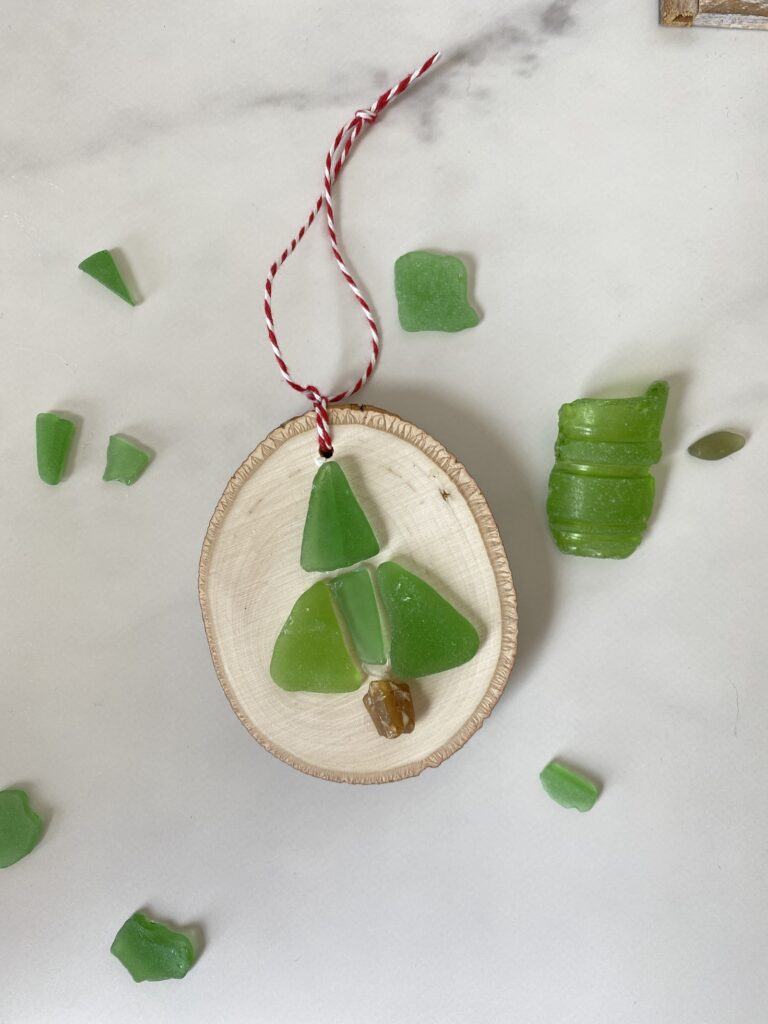 For this ornament, I used a framed chalkboard ornament and painted the chalkboard part white.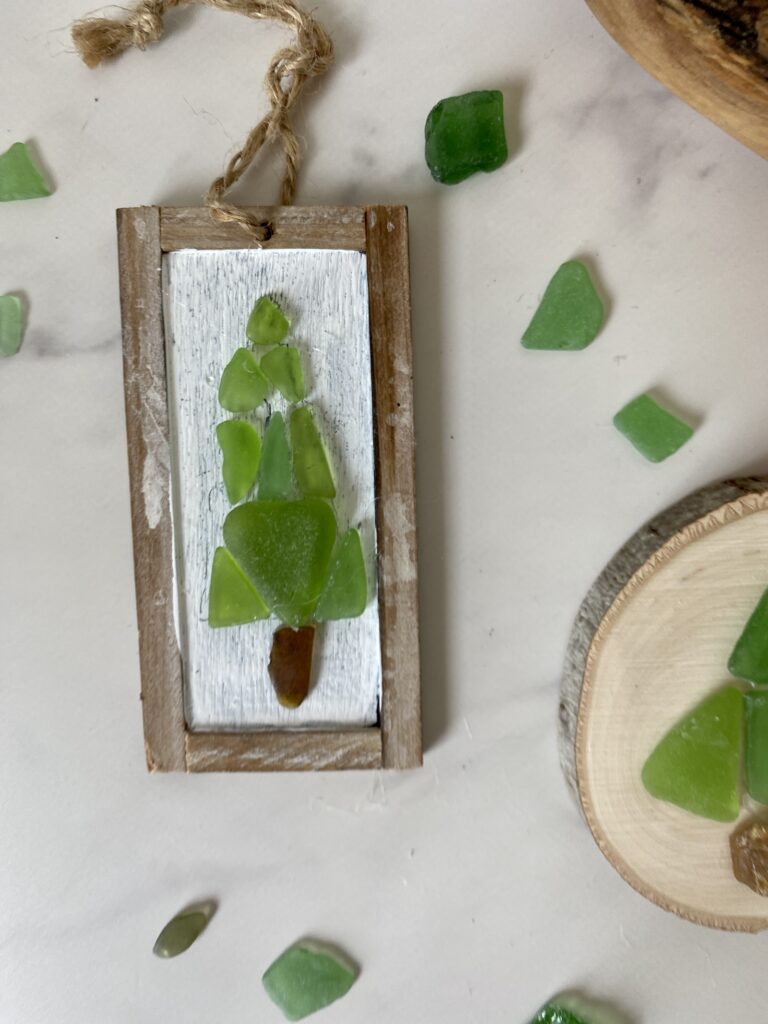 ​Happy crafting,
Denise