This post contains affiliate links which means that at no cost to you, I may earn a commission if you purchase using one of my links. For more information view my full disclosures.
~
I love to make book page ornaments for several holidays throughout the year. Making book page Christmas ornaments is probably my favorite, but they also look great in Valentine's, birthday, or fall decor.
Making Christmas ornaments from book pages is fun and easy. What I love the most is that they cost next to nothing. If you don't have an old book lying around, I'm sure you have a friend or neighbor who has one you can use.
I love making book-page Christmas decorations. I've made a Scroll Book Page Wreath and another wreath using book page flowers that you may enjoy. I'm still using the same book for all of these book page crafts!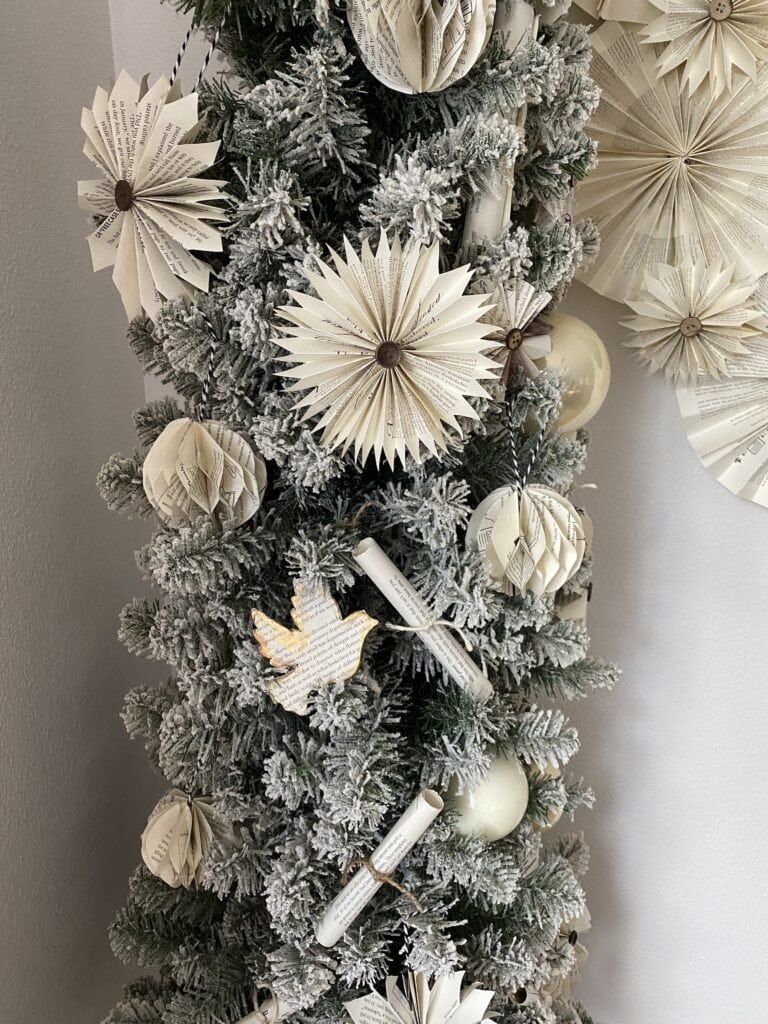 If book pages aren't your thing, you can make DIY paper ornaments with any paper! Paper ornaments aren't just for a tree, you can make a paper wall hanging with them as well.
I had to use quite a few pieces of tape to get these to stick to my mirror. The smaller ones are glued with a hot glue gun. I won't be able to reuse this next year but I plan on changing the decor anyway.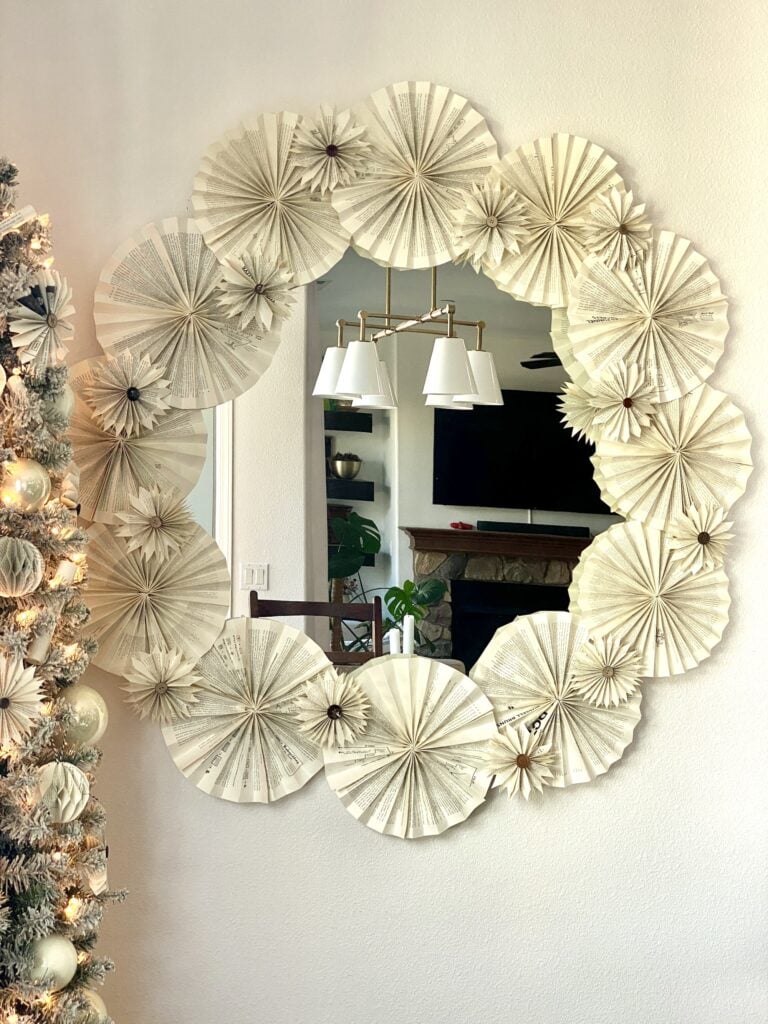 To make book page ornaments, you'll need an old book and a few basic craft supplies.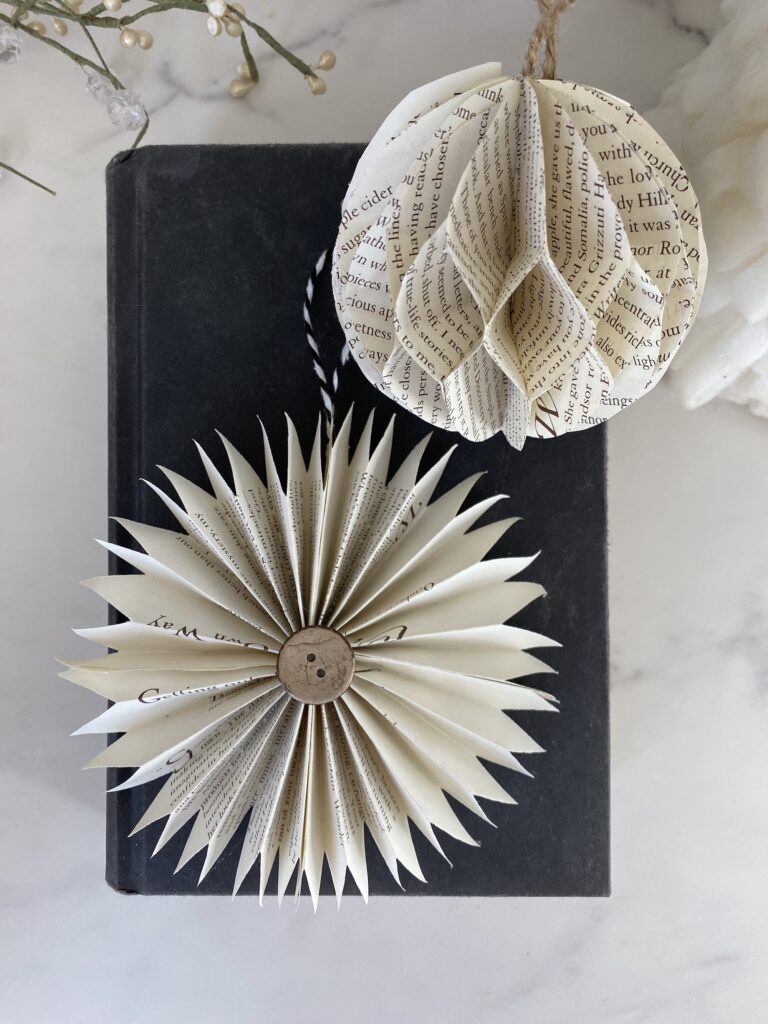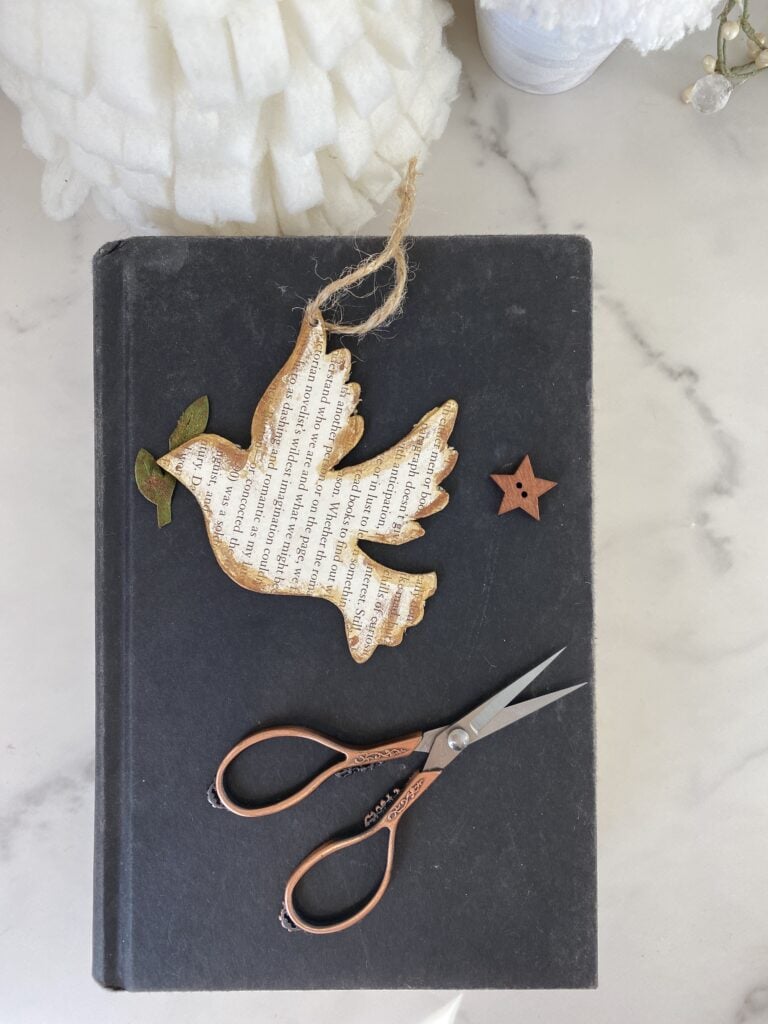 Supplies
Book pages – You can use old books, cookbooks, hymnals, maps, dictionaries, or any other type of book you can think of.
Scissors
Glue or a hot glue gun – I prefer a hot glue gun for most of these ornaments because it's quicker, but regular glue can also be used with a bit of patience.
Tape
String, ribbon, or twine for hanging the ornaments. I like to use jute twine and baker's twine.
Mod Podge (for one style)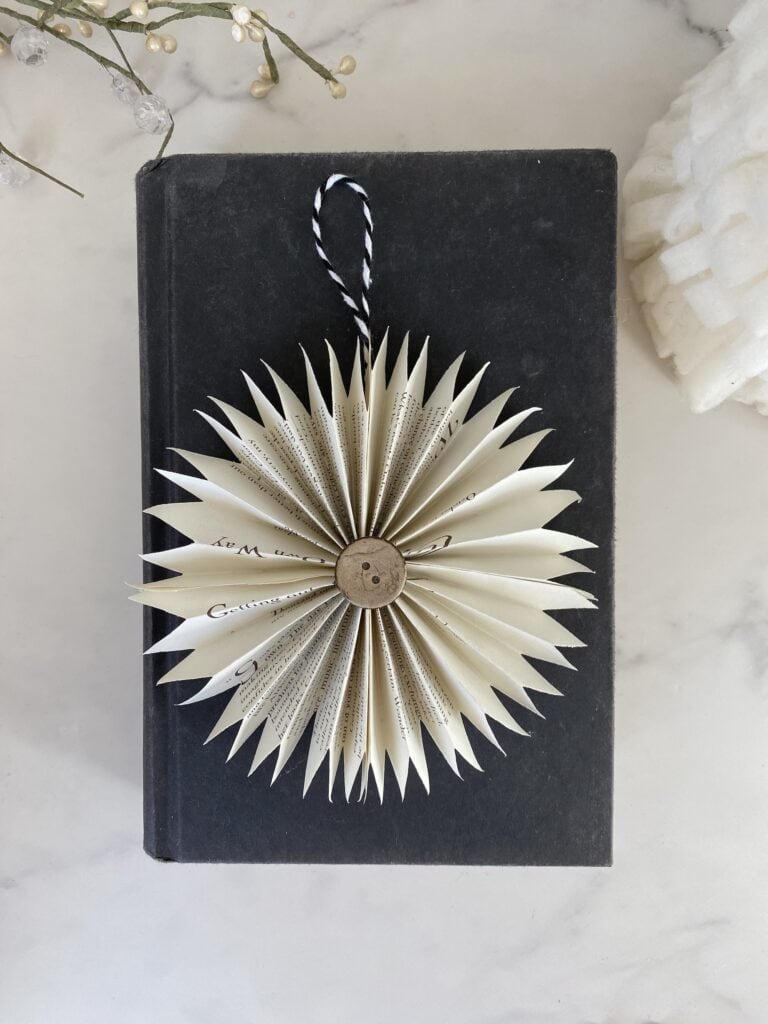 How To Make Book Page Ornaments
Time needed: 5 minutes
Here are the step-by-step instructions for how to make ornaments out of book pages:
Decoupage Wood Ornaments

Paint Mod Podge on the ornament and the book page. Stick them together and smooth out the book page. Tear away the page around the edges of the ornament. A toothpick helps to get into tight corners.
Paint another coat of Mod Podge on top and seal the edges. Do both sides if you'd like. I only did one side. You can use sandpaper once things are dry if you need to clean up the edges even more.
For a decorative look, paint gold and/or copper paint around the edges.

Fold Paper To Make Paper Starburst Ornaments

Accordion fold a book page in 1/2″ sections. Cut each end into a point. Wrap a piece of thin wire around the center then fold in half and glue in the center. Make two of these. Glue one to the other then add twine to the last section before securing the final side with glue.

Cut Circles Out Of Paper
Use a glass to trace circles. I used 16 circles to make this ornament. Fold a circle in half and glue it shut with one thin strip of glue across the middle. I drew a black line to show where to put the glue. Fold and glue all 16 circles like this.
Glue all of the halves together using two stripes of glue between layers about an inch from the top and bottom and glue the half circles in stacks on top of each other until they are all glued using the two stripes. See the second image.
Be sure you don't squeeze glue out of the edges or you'll glue sections together that shouldn't be. Take your time and use the glue sparingly. Hot glue is easier and much faster.
Glue a piece of twine in the middle of the stack for hanging. Carefully fan the ornament out and use your fingers to hold it in a round shape then glue the two sides to each other.
The last ornament doesn't need a tutorial, just roll book pages and tie them with twine to create little scrolls. You can either tuck them into the tree or loop an ornament hook through the twine on the back.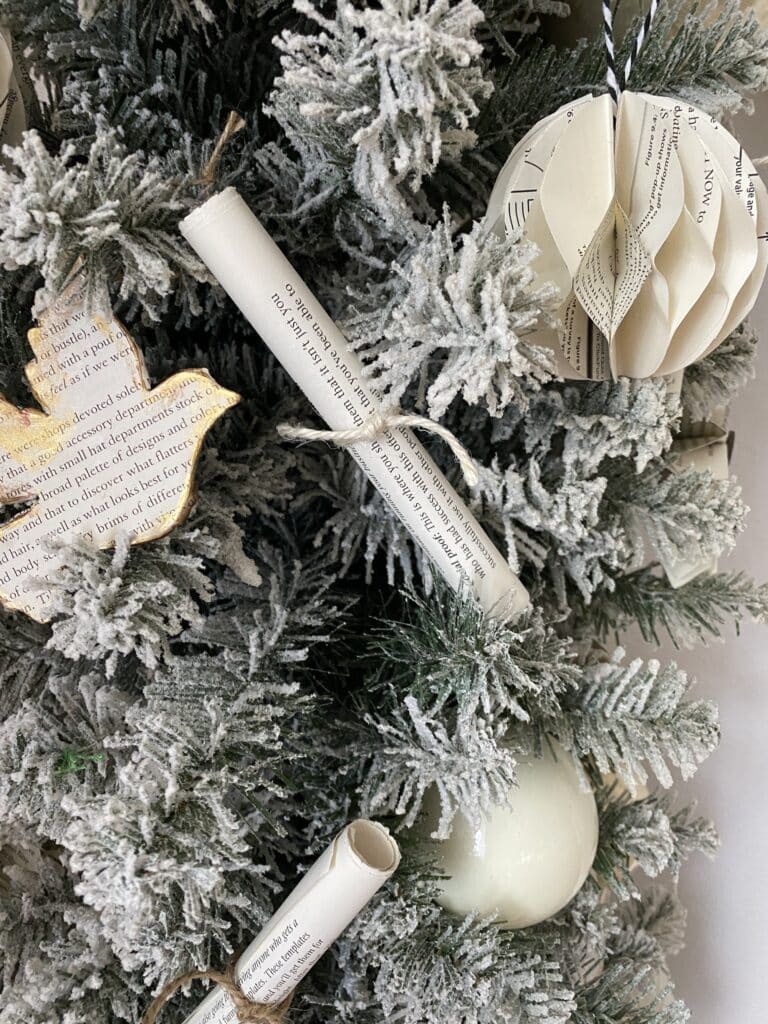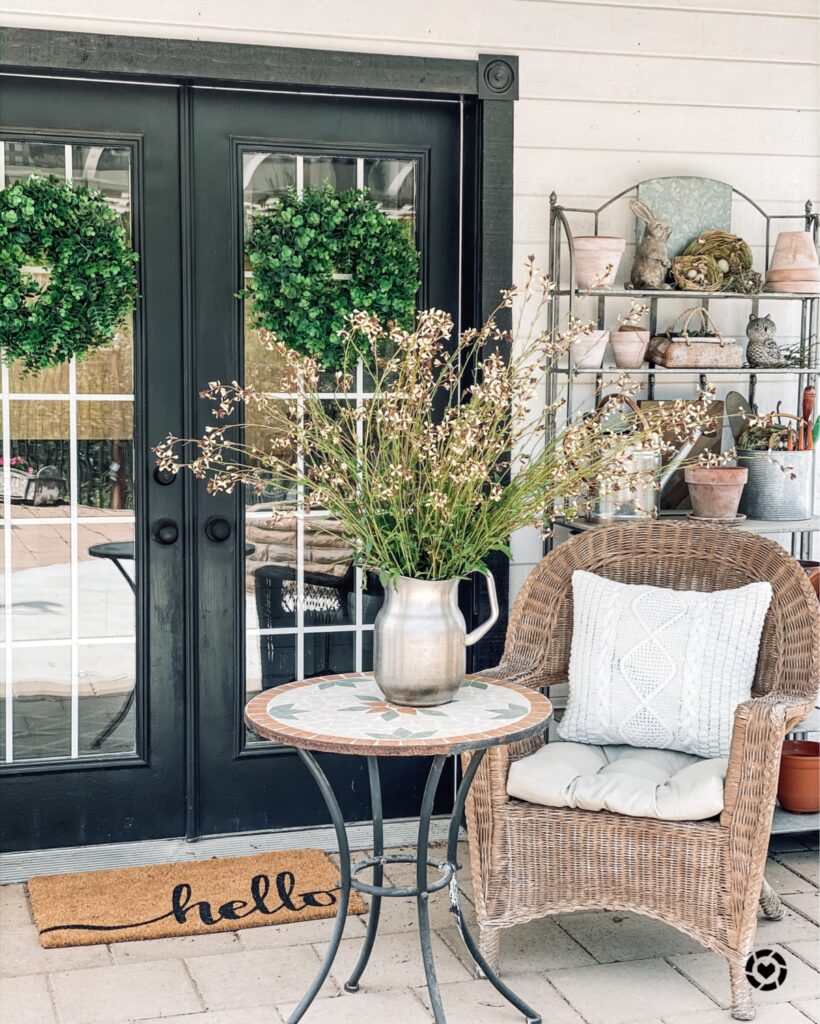 Get the latest updates and freebies!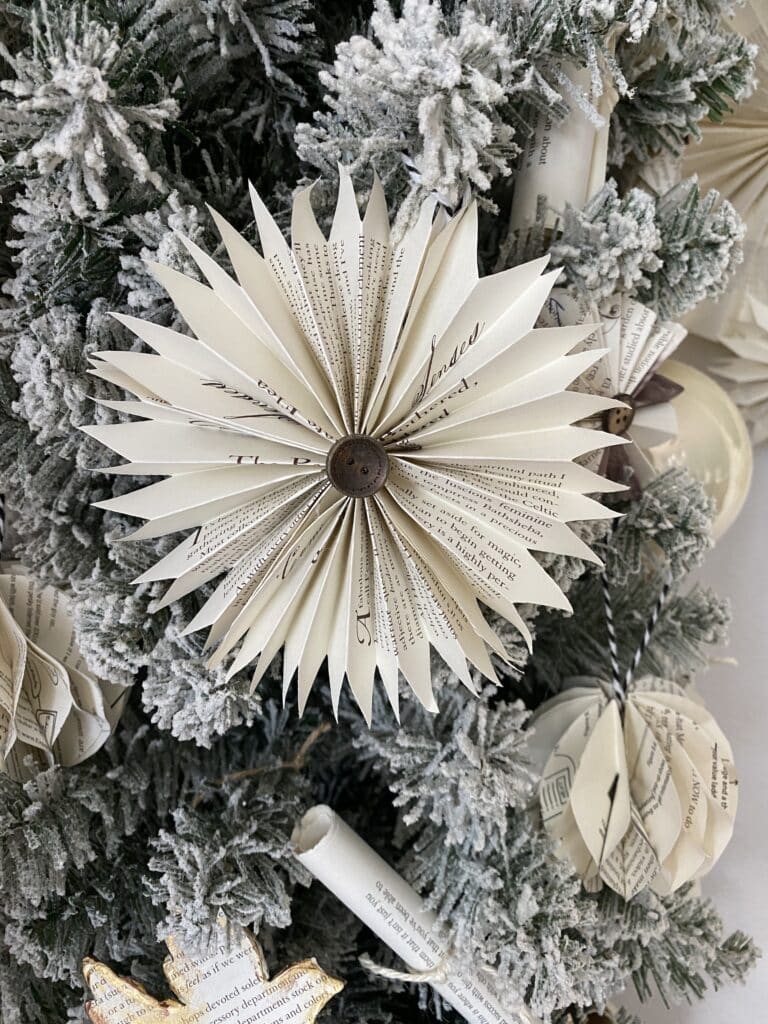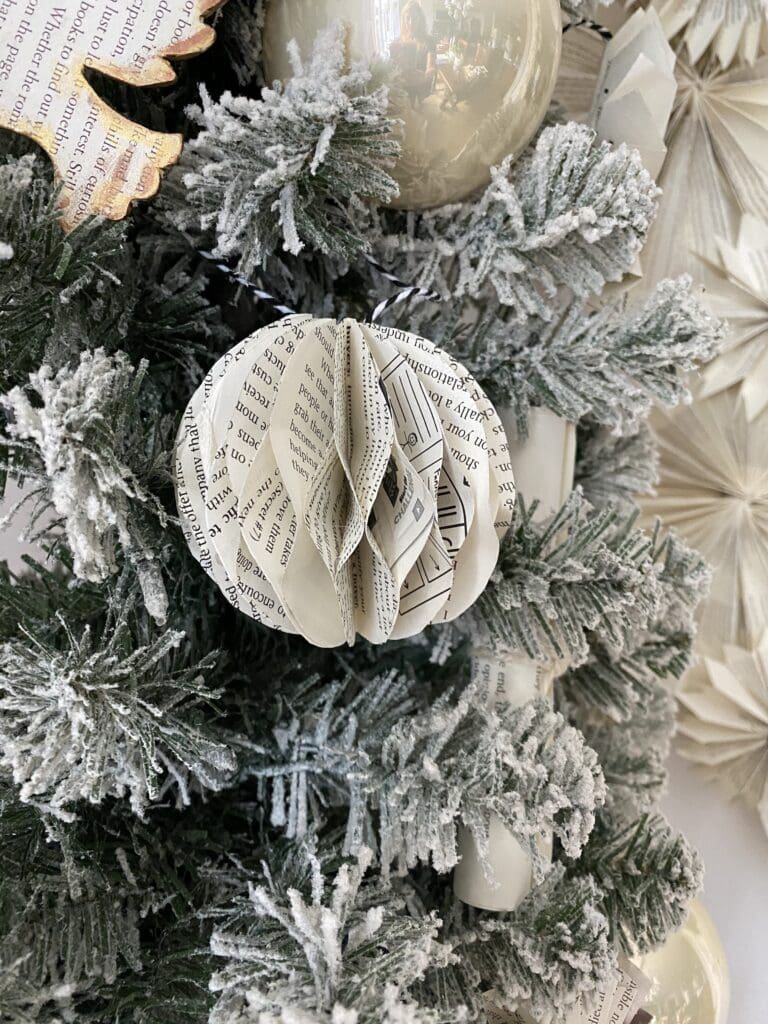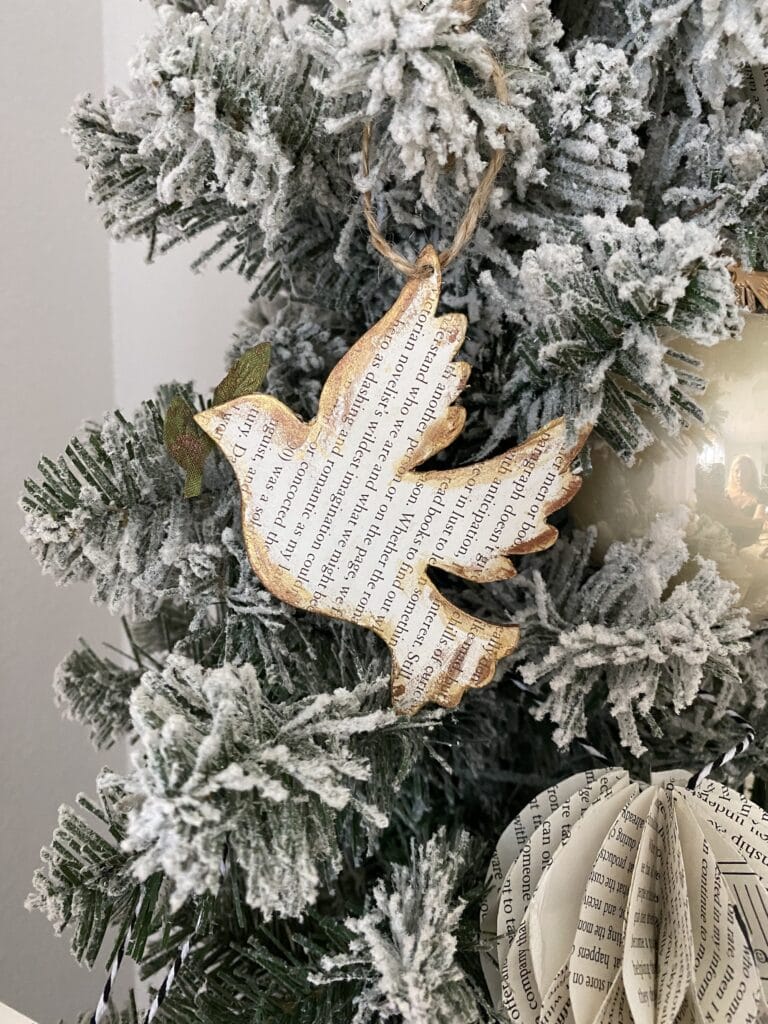 How To Make Paper Fans
For these fans, accordian-fold 6 sheets of book pages. Separate them and crease them better. Punch a hole in one end of each sheet about 1/4″ away from the edge. Sting the pages together but don't tie them too tightly. Place your thumb inside when tying to keep things loose. Glue each page together and then fan out the last two pages and secure with glue.
I ended up gluing a circle of paper on the back of each fan to keep it from being floppy.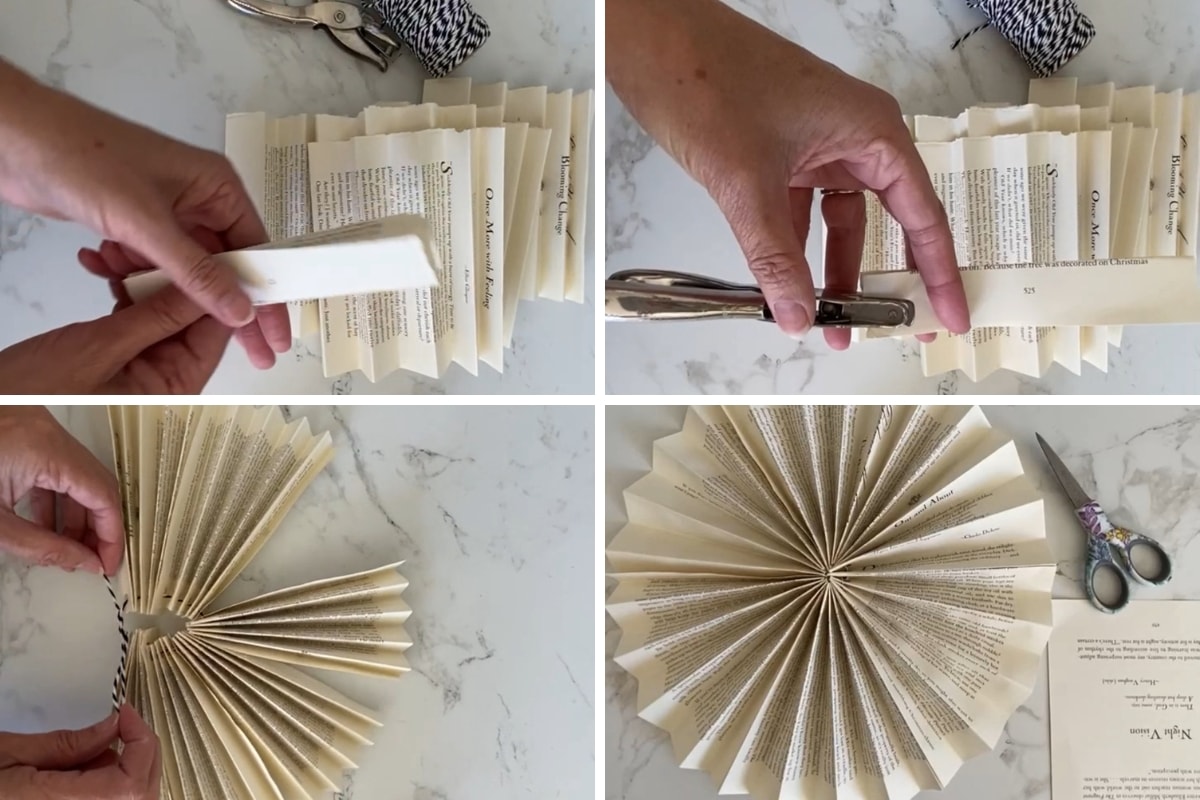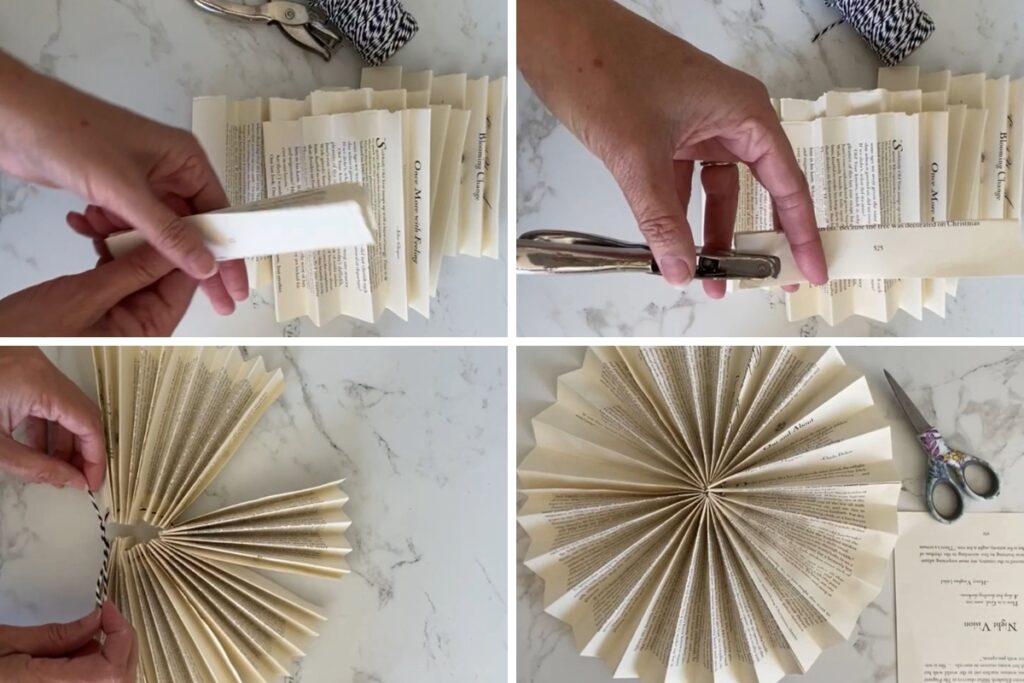 Happy crafting,
Denise