Best Owl Kitchen Decor For Owl Lovers
Whether cute and traditional is your home decor style or you prefer a more modern look to your home, there is a ton of owl kitchen decor for my fellow owl lovers.
Adding owls to your decor can be done with classy elements that don't overpower your love of owls. Just a touch will leave your kitchen all the wiser!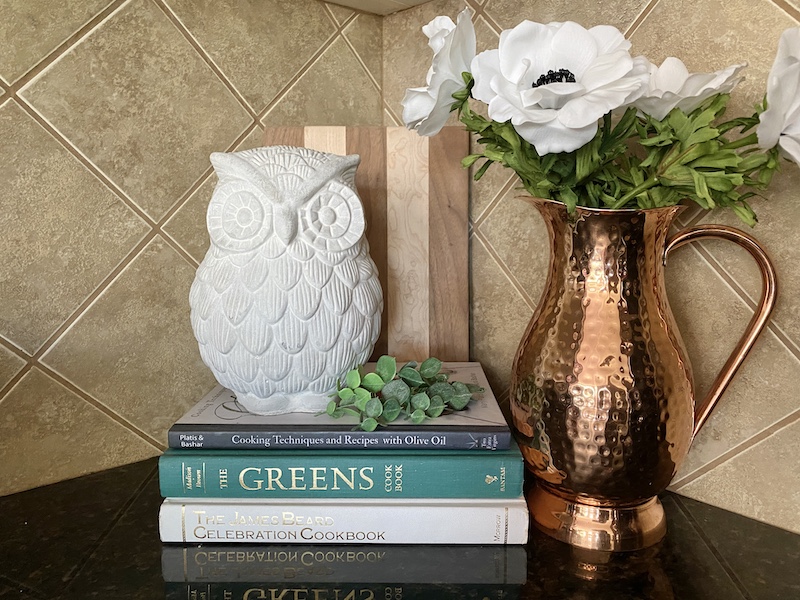 Places To Buy Owl Kitchen Decor
Let's start with some favorite places to find decorative objects for the kitchen or anywhere in your home decor:
Now that we have a few places to find your treasures, let's look at the different decorative items you can add to your home. It's not necessary to put owls everywhere in the entire space, just a couple will do and be less overwhelming.
Owl Salt & Pepper Shakers
Add a subtle owl accent to your kitchen with a set of salt and pepper shakers. Whether you love colorful owls or prefer simple white, there's a set for you. They even have toothpick holders with owls on them.
Curtain Tiebacks
A beautiful and unexpected place to add owls to your kitchen is with curtain tiebacks. Adding them to your curtain rod is another fun place, but they can be a little more difficult to find. The tiebacks poke out at eye level so you'll be able to enjoy them even more.
Appliance Covers or Decals
I was amazed at some of the beautiful appliance covers with owl themes on them. Many are magnetic so just test your appliance before ordering to make sure the surface is magnetic. Some stainless steel appliances don't have a magnetic surface. You can update the exterior of your appliance with a cover or large stickers to complete a new look.
Cookie Jars
Owl cookie jars create extra storage for more than cookies. You can use them for coffee, flour, sugar, or other knick-knacks that you need to hide away. There are some beautiful options that deserve a place in your kitchen. You can do the same with adorable owl teapots.
A Wall Clock
There are some beautiful and unique owl clocks. Some with painted owls and others clocks with realistic-looking owls.
Bottle Stoppers
Another easy way to add owls to your kitchen is with bottle stoppers. They can be used for wine, olive oil, vinegar, and more.
Utensil Holders
Utensil holders are another cute way to add an owl to your kitchen. A simple, white owl utensil holder with your wooden utensils right at your fingertips is stunning. If you already have a utensil holder, they have utensils with owls on them.
Owl Kitchen Towels and Linens
From an oven mitt to kitchen towels, you can find pretty linens with owl motifs on them. A table runner on the dining table is another idea. Table runners should indicate that you can machine wash them for a runner that will last the longest.
Paper Towel Holders
Yes, they even make paper towel holders with an owl theme on them.
Owl Signs and Prints
There are a number of different owl signs and prints available to level up your decor. From small wooden signs to large prints for your kitchen, you're bound to find something you love. Some prints may need to go in the dining room due to size and this will tie the two rooms together.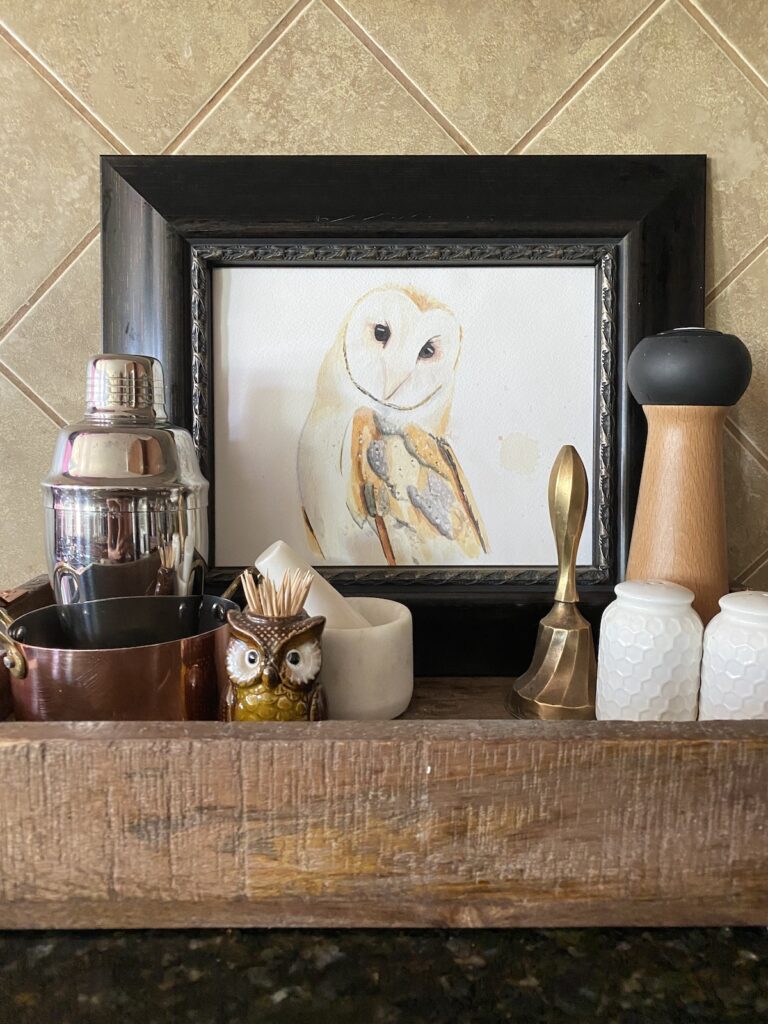 Rugs
Rugs are another way to add themed items to your home. A kitchen runner or a mat in front of the sink is functional and pretty.
Other Home Decor Posts You May Enjoy
Owl Sanctuary
I recently ran across a cool owl sanctuary page. We have a lot of owls on our property and I've learned a lot from visiting their page.
What are some of your favorite owl kitchen items? I'd love to hear in the comments below.