How To Store Blankets Without A Closet
Storing blankets can be a challenge, especially without a linen closet. Finding simple, pretty blanket storage ideas can be super helpful and I have several options for how to store blankets without a closet. Sometimes you need your blankets stored within reach and other times they need to be packed away. Let's look at some of the best blanket storage solutions.
Blanket Storage Bags
One of my favorite ways how to store blankets without a closet is through space-saving blanket bags. These blanket storage bags are great to keep blankets clean and smelling fresh until they are ready for use. You can compress some of the bags by sucking the air out with a standard vacuum cleaner if you really need a lot more space. Once you have your blankets sealed in the blanket storage bags, you can choose from several ways to store the bags.
Blanket storage bags can be great for long-term storage. They are also great blanket storage ideas for apartments or small spaces. I like blanket storage bags for campers and RVs as well. There are some great space-saving blanket storage bags that also work great when moving. There are even storage options for under the bed.
These useful storage bags also work great for storing extra sheets and towels.
Hide Blankets In Large Baskets
Fill the space in your living room blanket storage baskets with your larger bagged blankets. One large blanket basket near the fireplace or sofa can provide great storage for lap blankets, but also storage for your larger bed blankets and quilts. You can also use blanket baskets in bedrooms. The larger blankets will prop up the lap blankets you have on display and it's a great way to use that extra space in the basket.
Having a basket for throw blankets and extra regular blankets in a guest room gives your visitors a place to grab an extra blanket without having to ask. You can get three or four large blankets in the bottom of one basket and then display your lap blankets on top.
Here are a few great large baskets for blanket storage:
How To Store Blankets Without A Closet – Furniture Blanket Storage
If a basket isn't what you're looking for, consider using furniture pieces for unique living room or bedroom blanket storage ideas. Blankets can be stored inside blanket storage end tables, rolled in a magazine rack, or even inside a footstool or coffee table.
If you're looking for blanket storage for apartments or small spaces, consider using a trunk-style basket or blanket storage chest. Both can double as an end table or even as a coffee table. Use a storage ottoman for blanket storage at the foot of a bed as well.
Use Blanket Ladders For Storing Blankets
Sometimes baskets or furniture just aren't an option or maybe your blankets are too pretty to tuck away. Using a blanket ladder is a unique way to store blankets. Blanket ladders can be used inside or to store blankets on a covered patio. Blanket ladders are easy to build and you can make them as narrow or as wide as you'd like.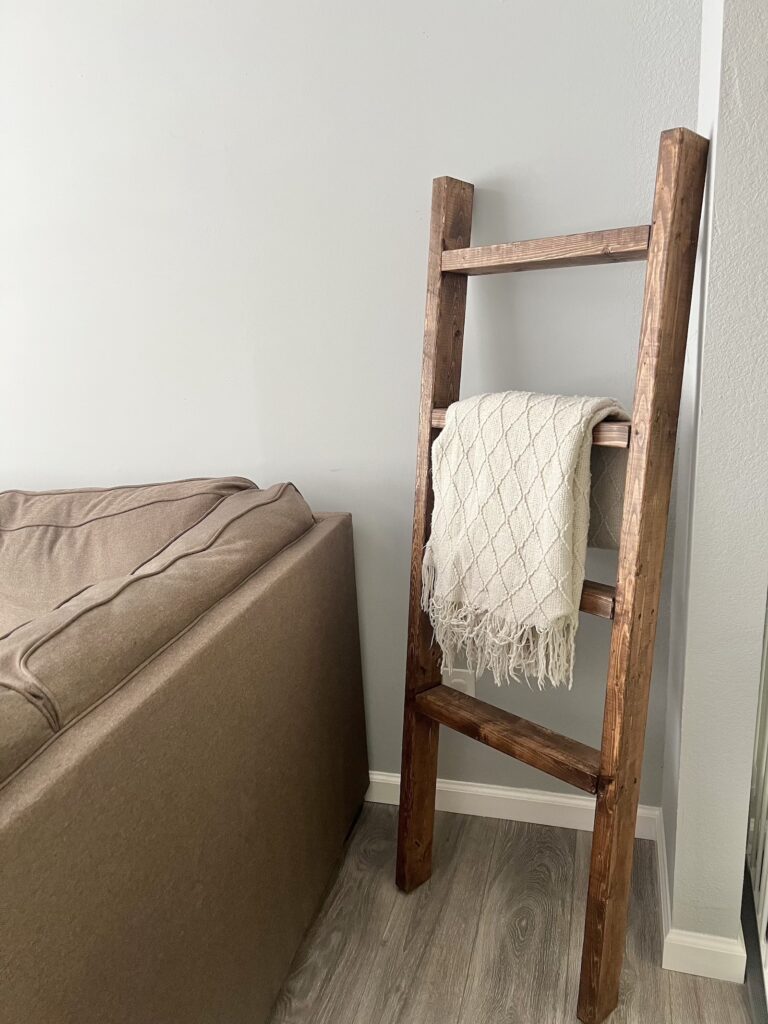 Quilt or Blanket Racks
Quilt racks aren't just for grandma's quilts. They are great blanket storage options for throw blankets, too. Blanket racks are so convenient and they even make shelves with blanket racks.
Blanket Storage Ottomans
We talked about using ottomans for blanket storage earlier, but I wanted to share a few more blanket storage ottoman ideas for the living room. Throw blanket storage ottomans are great for storing blankets without a linen closet. They have end table blanket storage ottomans, coffee table blanket storage ottomans, and even end of bed ottomans.
Under Bed Blanket Storage Boxes and Container Ideas
Using the space under the bed is completely genius. It keeps blankets clean but easy to grab when you need them. They also make Under-bed blanket storage with wheels making the containers easier to reach. They have so many different styles, but here are a few for you.
What do you like to use to store your blankets?
xoxo,
Denise