Pottery Barn Elijah Chandelier Review
When I purchased our new Pottery Barn light fixture, I couldn't find a single review so I figured I couldn't be the only one searching for a Pottery Barn Elijah Chandelier review. If you're like me, you like to see photos of something actually hanging so I've included a few Elijah Chandelier photos hanging in my dining room.
I looked off and on for a couple of years for a chandelier to replace the builder-grade light fixture that came with our home. Nothing really jumped out at me until I saw the Pottery Barn Elijah Chandelier in gold and white. I saw it and even though it was nothing like the others I'd been contemplating, I just bought it!
I've been transitioning some decor pieces in our home to create a traditional look but with a slightly modern edge. I'm in love with this Pottery Barn gold and white chandelier and it looks perfect in our dining room.
Being a former furniture store owner, I've always loved Pottery Barn Light Fixtures. Their buyers do an excellent job in selecting high-quality fixtures for their customers. Here's a lookbook to browse through the Pottery Barn Light Fixtures that we looked at. Click any photo to take you to the listing.

In comparison to some of the major home-do-it centers that feature hollow tubing and low-quality painted fixtures, Potter barn light fixtures are always top-notch. You don't even have to touch their light fixtures, you can see the difference in quality from afar. Since you're here to see the Elijah Pottery Barn Chandelier, let's get to it.
Full Pottery Barn Elijah Chandelier Review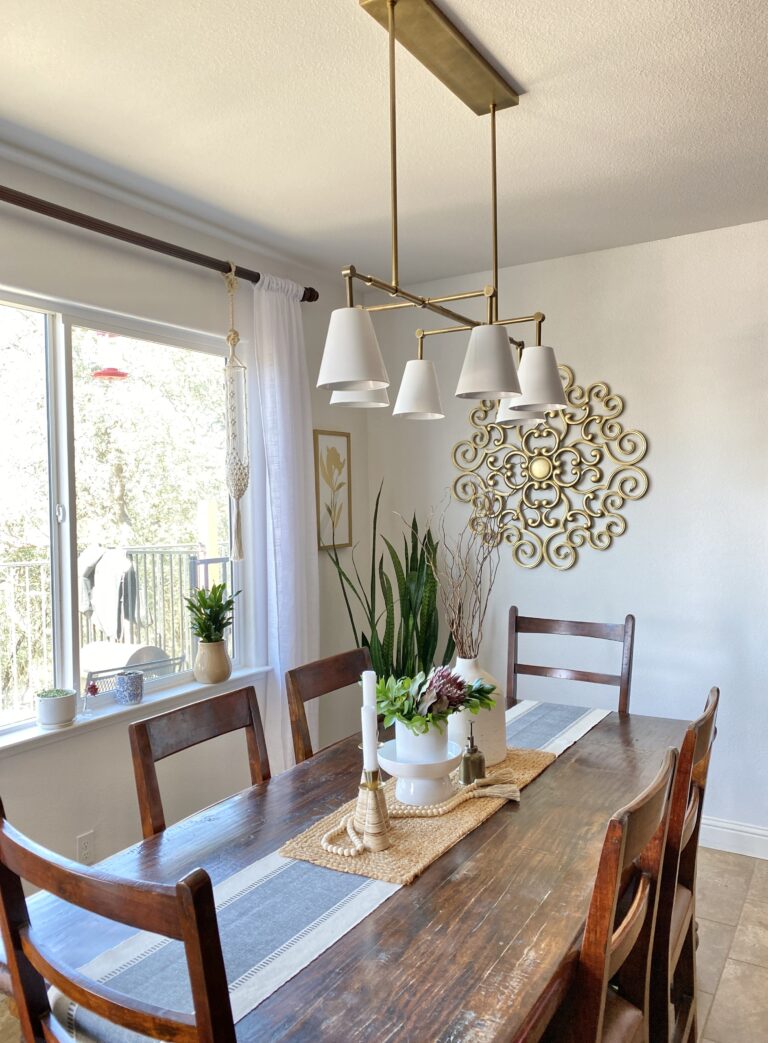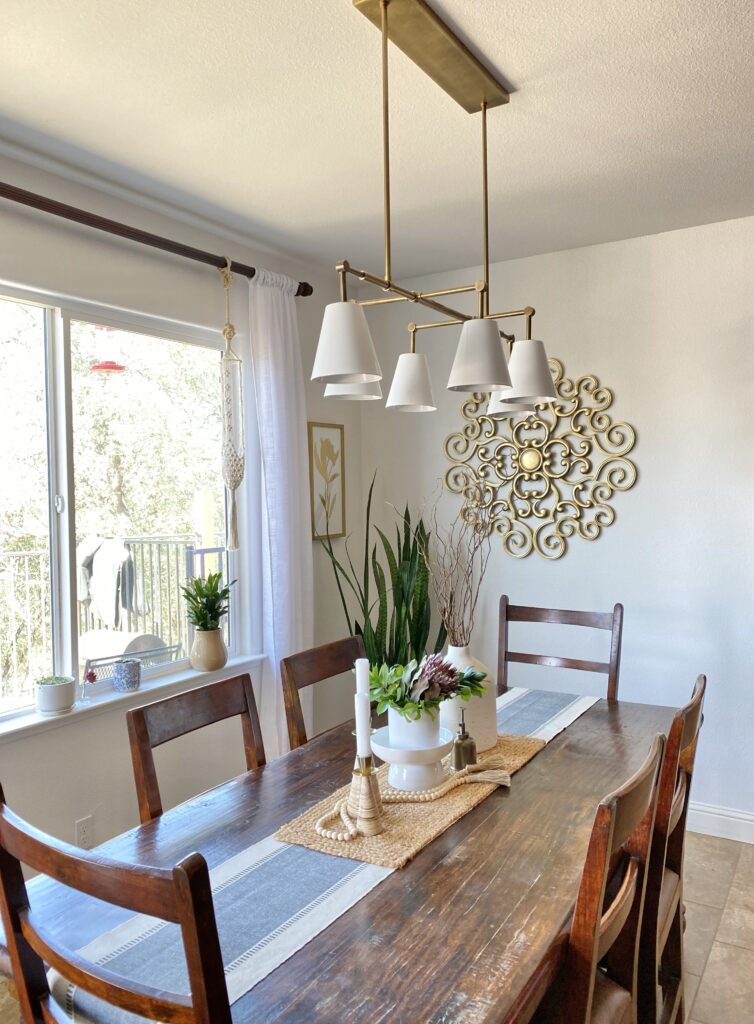 This chandelier was not gifted, I bought this chandelier and I have no regrets. This is my honest review of the Elijah chandelier from Pottery Barn. I earn from qualifying purchases at no cost to you. If you find this review helpful, you can purchase your light fixture using the Buy Now button below.
When I first saw the chandelier on the Pottery Barn website, my biggest concern was the exposed screws on the mounting plate. I was worried they were going to bug me so I was fully prepared that I may end up returning it. Little things like that can drive me crazy.
Once the chandelier was installed, which was fairly easy to do, I realized the exposed screws added to the modern industrial chandelier look. I was instantly in love!
The chandelier is pretty lightweight which made it easy to hang. We used one of each of the longer extension poles and one of each of the shorter ones to hang the chandelier. This left us with two extra pieces so it can easily hang from a 10′ ceiling. Our ceilings are 9′. We have very little natural light in our home. The dining room window and the two living room windows are all we have in the main area of the house.
Most chandeliers that I looked at were too bulky and I knew they would block our view. The Pottery Barn Elijah chandelier gave me the size I needed for our 82″ table and it hung at the perfect height to not obstruct the view that we enjoy so much.
Hanging The Chandelier
The only trouble hanging the chandelier was nothing to do with the chandelier itself. We hit a stud in the ceiling so my husband had to use a screw to hang it on one side and drill directly into the stud instead of using one of the included supports.
It was an easy fix so be prepared with long screws and a drill in case you have your arms up there holding a chandelier and run into the same issue.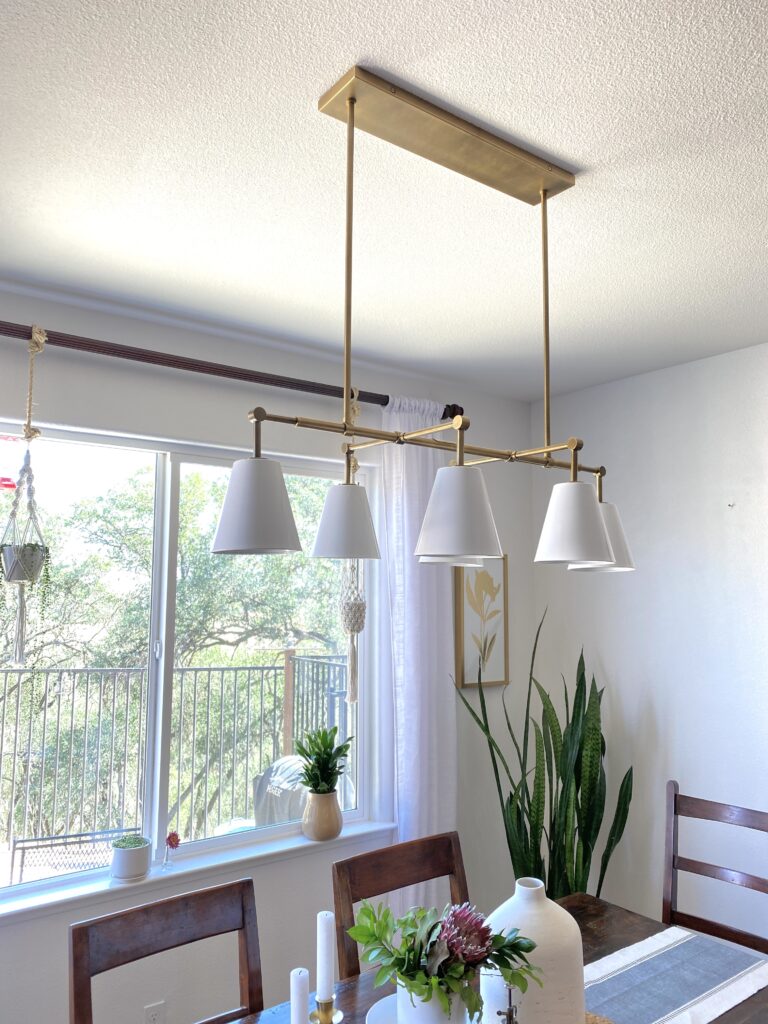 It just takes a bit of patience but between the two of us, we had it hung within thirty minutes. They do recommend professional installation but this is something we'd accomplished before so we were comfortable with handling the electrical ourselves.
The entire gold frame came assembled with the exception of the extension poles but those just easily screw together. We had to attach the white enamel pieces but they are super simple to install. You'll need to purchase lightbulbs so don't forget to order those. They take the smaller 60W type G bulbs and you'll need 6.
The Antique Gold Finish
I figured a common question might be about the gold finish. I would describe it as antique brass. It is definitely not a high-shine gold. It has a beautiful antiqued-looking finish. I've done some DIY projects in which I've painted gold and then lightly rubbed the finish with Rub N' Buff and I guess that is how I would describe it.
They have dimensions of 42″ wide and that is correct from the edges of the shades. The gold metal rods are heavy duty and you can feel the quality.
Elijah Matching Pieces
Here are the other pieces that match this Pottery Barn gold chandelier.

Now that I have the chandelier hung, I'm contemplating three of the matching Pottery Barn gold pendant lights for over our bar area. I'm thrilled with the chandelier and look forward to hanging some greenery on it for the holiday season.
It's going to be fun to decorate. If you have any questions about the chandelier, please don't hesitate to use the comment section below to ask. Comments are always welcome.
I appreciate your visit today! If you want to see more of the modern touches I've added to our guest bedroom, you can look at this guest bedroom refresh. I'm still working on swapping out decor in our main bedroom but it's coming along slowly but surely. Because I love owls, I've also written about some new kitchen decor.
Chandelier Installation
I'm definitely not qualified to teach you how to do anything electrical but I did find a great article about how to hang a chandelier that you can take a look at or you can always hire a professional.
Happy decorating,
Denise