How To Make Zombie Gnomes
This post contains affiliate links which means that at no cost to you, I may earn a commission if you purchase using one of my links. For more information view my full disclosures.
~
Today I want to show you how to make zombie gnomes. These DIY gnomes might not be scary gnomes like you may be thinking. They're still kind of cute. I'm not one for the super scary Halloween decor. Let's get started making these cute zombie gnomes!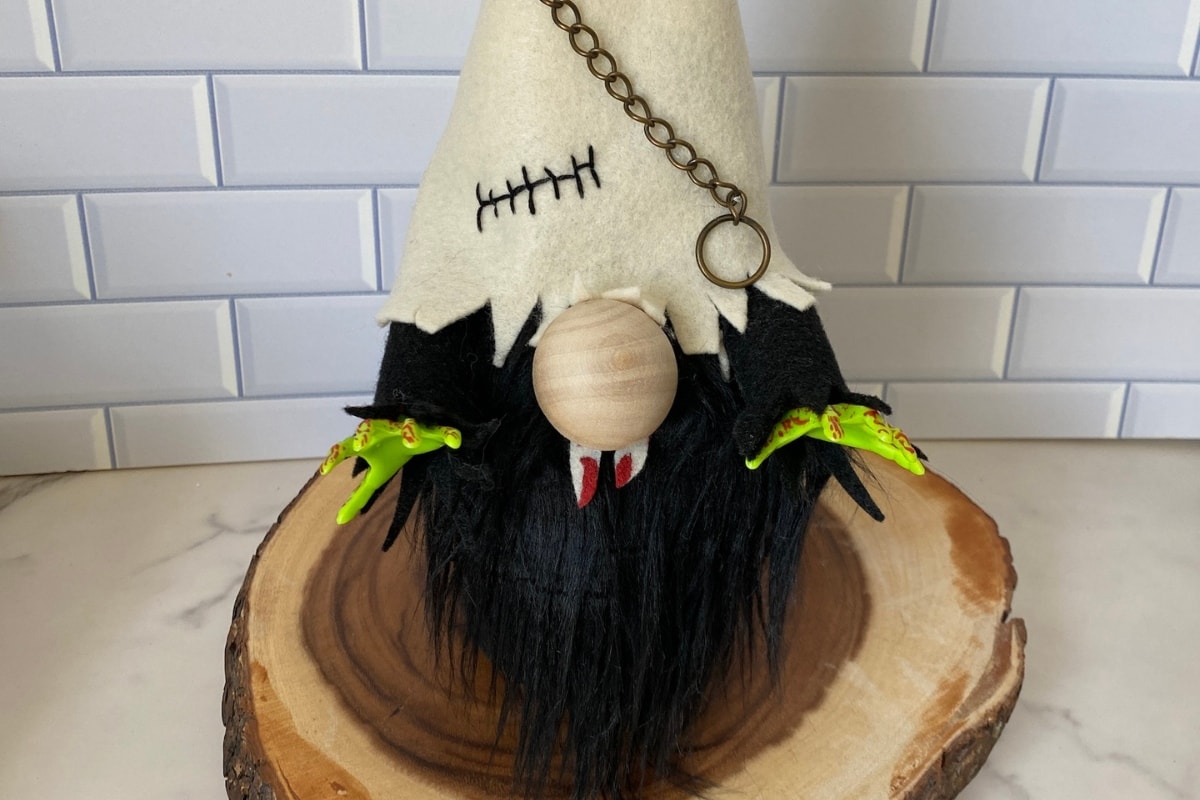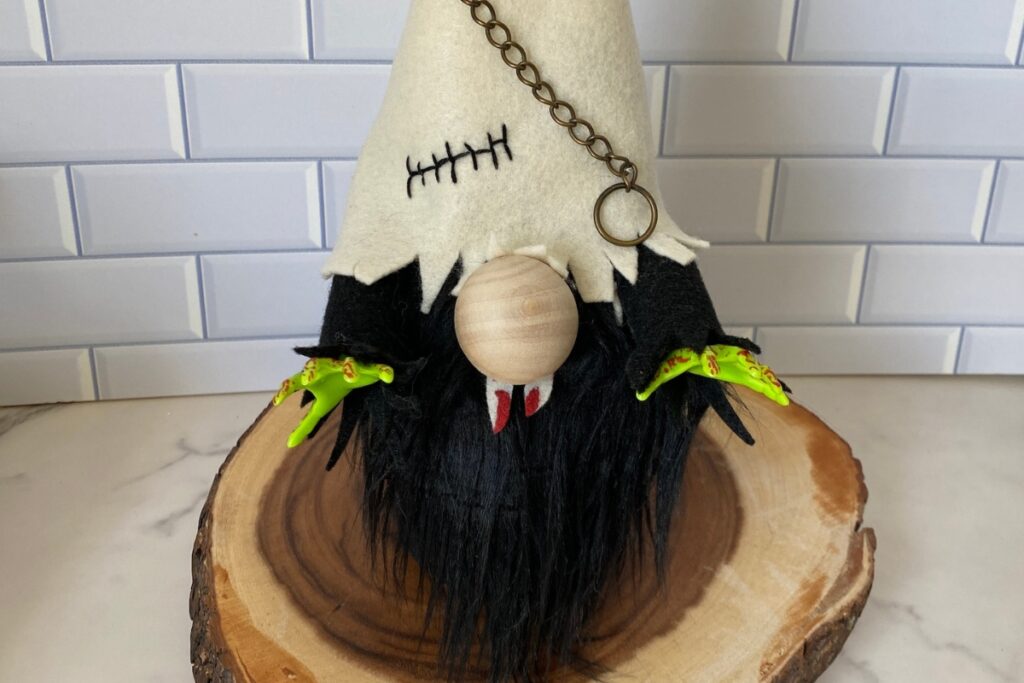 When I first had the thought of making these gnomes, I searched around for some inspiration. I wasn't loving the zombie gnomes on Amazon. They're kind of creepy, but if that's your thing, you do you!
❤ Be sure to check out my favorite Gnome Making Supplies!
My DIY Halloween decor isn't typically very scary. I remember my kids being scared to trick-or-treat because of super scary decor, so I've always shied away a bit to keep it mellow for the kiddos.
I found these super cute miniature zombie hands and I had to make my own version of a scary gnome! (ok, not so scary)
Zombie Gnome Supplies
Felt: I used felt to make the gnome hats but you can make them with fabric as well. Felt will also be used to make the arms and teeth if you want them.
Here's a tutorial for how to make a gnome hat out of felt.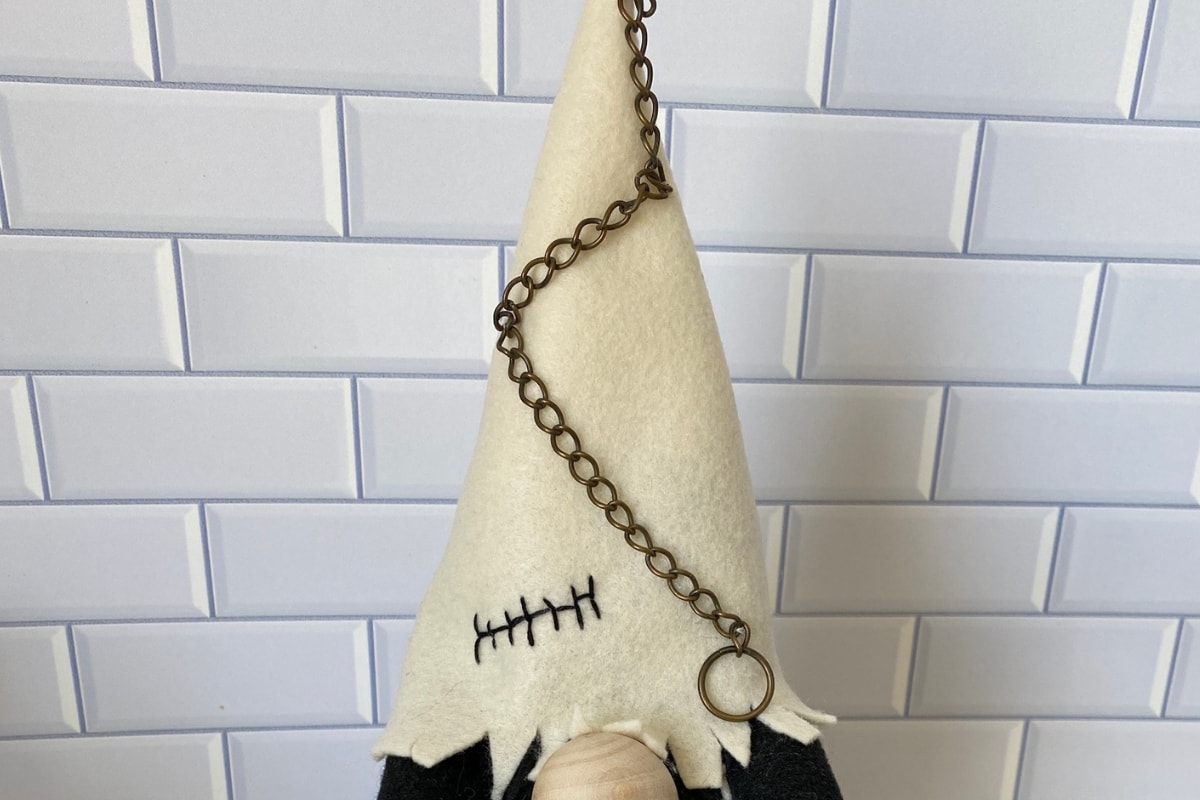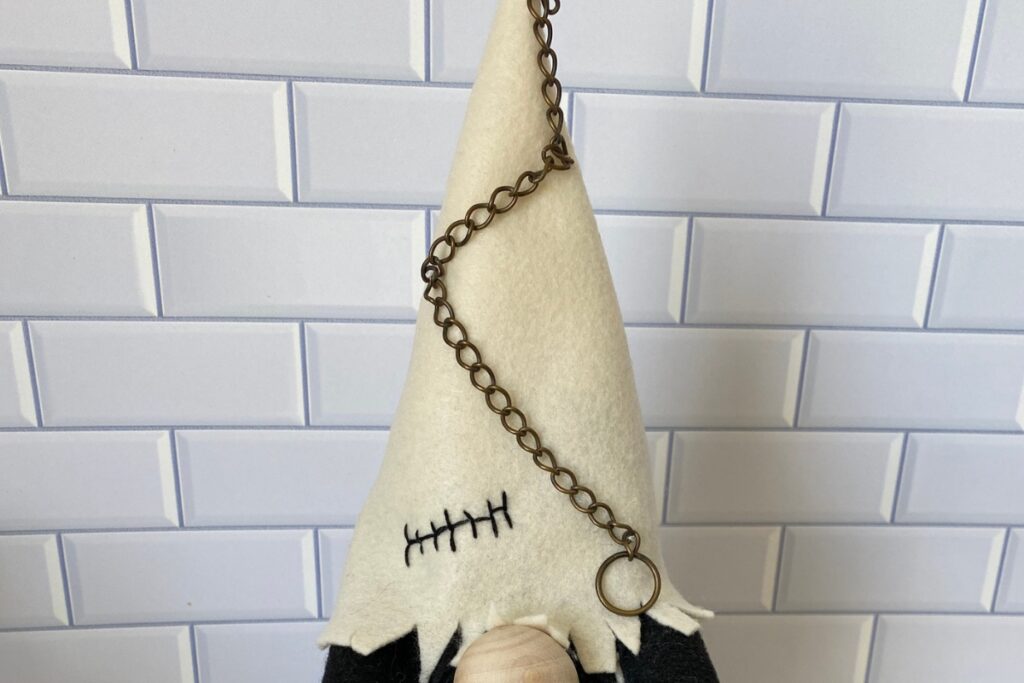 Zombie Hands: As a disclaimer, they are all left hands. I didn't think about that when I ordered them, but if you turn them a bit. You can't even tell. Did you notice?
Stuffing: You'll need stuffing for the hat like Polyfil.
I use Polyfil for all of my hats, but in a pinch, you can stuff the hat with felt scraps.
Gnome Body: Sock gnomes are super easy to make, but there is another way!
Here's how to make a sock gnome but there is another way!
My secret weapon for a quick and easy gnome body is to shove a spaghetti jar of a mason jar inside a sock and tie it off at the top. They stand really well! You can even leave the sock out entirely and just cover the jar with the beard!
Gnome Beard: I like to use faux fur.
I use these pieces of faux fur but there are so many beautiful faux furs to choose from. They even make faux fur gnome beards that are pre-cut with noses included.
Gnome Nose: Split wood beads make cute gnome noses.
The split wood beads I used were 1.5″. I use them for all of my sock gnomes but you can also use felt balls or any round object.
Gnome Arms: I use bendable foam hair curlers that you can find at Dollar Tree.
Remove the wire and cut about 2″ of the foam to use for the arm. If the foam is longer, it's hard to tuck the foam under the hat. I rolled the arms in felt but left the back half of the felt empty so I could glue it to the side of the body tightly.
Decorations – I used old jewelry for the chain but you can get creative here for what you think a zombie would wear.
How To Make DIY Zombie Gnomes
To make this DIY zombie gnome, follow this step-by-step tutorial:
Cut and make the felt hats using the tutorial linked in this post. You can also make a gnome hat out of another sock. Don't forget to stuff the hat a bit so it stands up.
Cut the 2″ pieces of foam and pieces of felt to roll the arms in. The foam is only 2″, but the felt is about 6 inches long. The front is left longer to cut the jagged edge and the back is to keep flat to glue to the body. If you're not sure how long it needs to be, cut the felt longer and you can always trim it off in the back once it's glued.
Make the gnome body with a sock or a glass jar.
Cut the faux fur for the gnome by cutting through the backing only. Don't cut through the fur itself. Glue the fur to the body.
Glue the nose in place.
Decorate the hat and glue it in place. I sewed the chain on with a needle and thread and hand stitched the black stitching. It was meant to be a mended hole. Not sure if that translated well.
Add teeth if you'd like. I couldn't decide if I liked them or not but you can decide what you like best. I really wanted some of those creepy costume teeth but I could find any without buying a huge pack.
Add the zombie hands, of course! The pick fits right down in the hole from the foam curler.
I couldn't decide if I liked him with the teeth or without. What do you think?
More Gnomes You May Like
Happy crafting,
Denise