DIY Mop Head Gnomes (Easy Tutorial)
This post contains affiliate links which means that at no cost to you, I may earn a commission if you purchase using one of my links. For more information view my full disclosures.
~
These DIY mop head gnomes came together so quickly and are a fun craft project. I had intended to make a gnome with a white mop head, but I found the gray and white one instead and I loved it! Let's make one!
I've made so many different DIY gnomes that I should probably create a separate section for them. I seem to have a lot of readers who love making gnomes!
Here's a mop head gnome DIY that you're sure to love! This is a fun craft project that you can make in about 10 minutes!
This neutral gnome color will be so easy to decorate for any season. DIY Christmas mop head gnomes are so popular so you could add some Christmas decor items to his hat. Here's how to make a gnome out of a mop head.
❤ Be sure to check out my favorite Gnome Making Supplies!
I've added a girl mop head gnome to the bottom of this post, so please keep scrolling to meet her!
Supplies For DIY Mop Head Gnomes
Glass jar or vase
Dollar Tree mop head in gray and white
Styrofoam ball cut in half (or any round object for a nose)
A fuzzy sock or another gnome hat
Some polyfill or other fabric for stuffing
Sock Hats or other Gnome Hats
When picking a sock, remember that you'll be turning it upside down. If you choose a sock with a pattern, make sure the design also looks good upside down.
If you'd like your hat to stand up, you can add a thick wire inside. Roll the end of the wire in a circle to keep it from poking through.
Body
I like to use glass jars because they are heavy and the gnomes stand up easily. Optional items that can be used are styrofoam cones or another sock that is stuffed. Read more about how to make a sock gnome.
Nose
You can use a styrofoam ball, ping pong balls, wooden beads, or any other round object for a nose.
Mop Heads
Mop heads traditionally come in white, but I found the gray and white at Dollar Tree.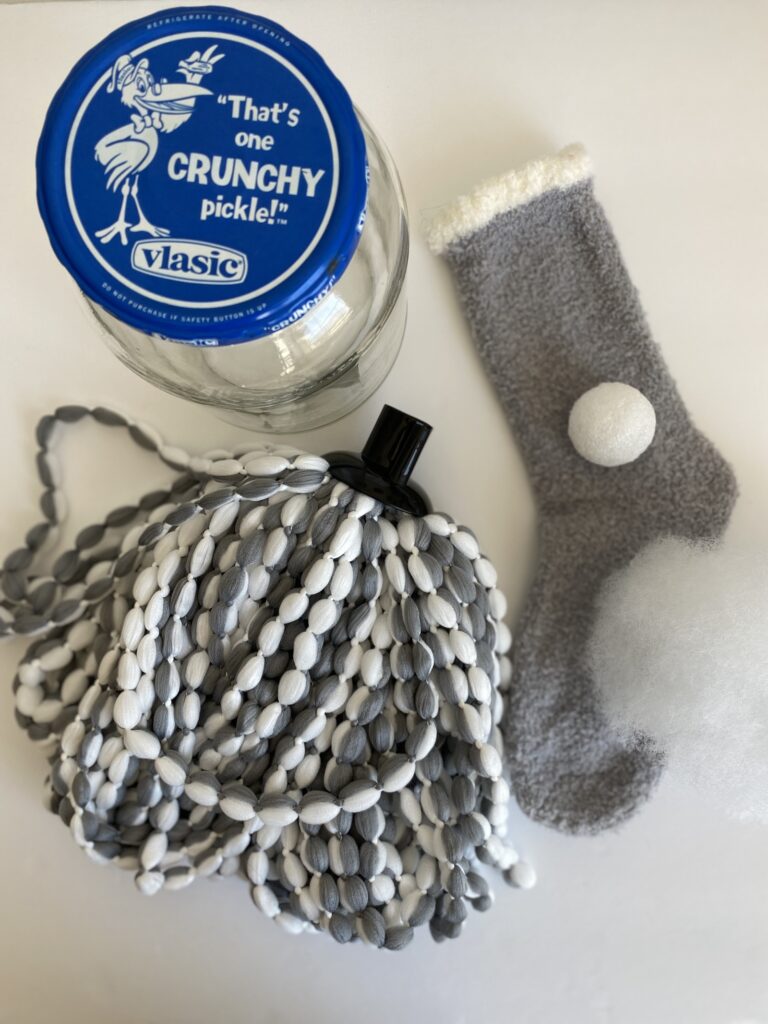 How To Make DIY Mop Head Gnomes
So here's how to make a gnome with a mop head.
Cut off the mop strands to use for the beard.
Glue them under the edge of the jar along the front half. You can trim them how you want once you have enough glued on.
Cut the styrofoam ball in half. You can save the other half for making another gnome.
Glue the nose to the mop strands.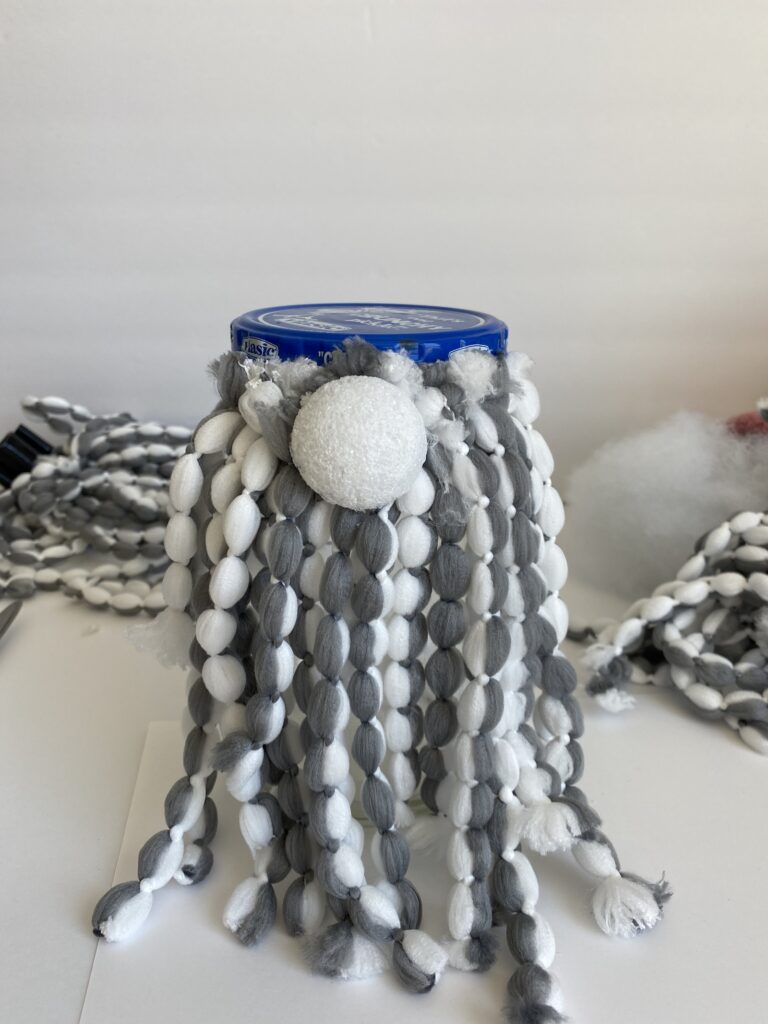 5. Stuff a fuzzy sock up to the heal and pull it down over the lid of the jar. You may need to glue the sock in place around the edges of the jar and near the nose.
6. Flop the top of the hat forward and tie a knot to create a puffball for the top of the hat. I used another piece of mop strand for this.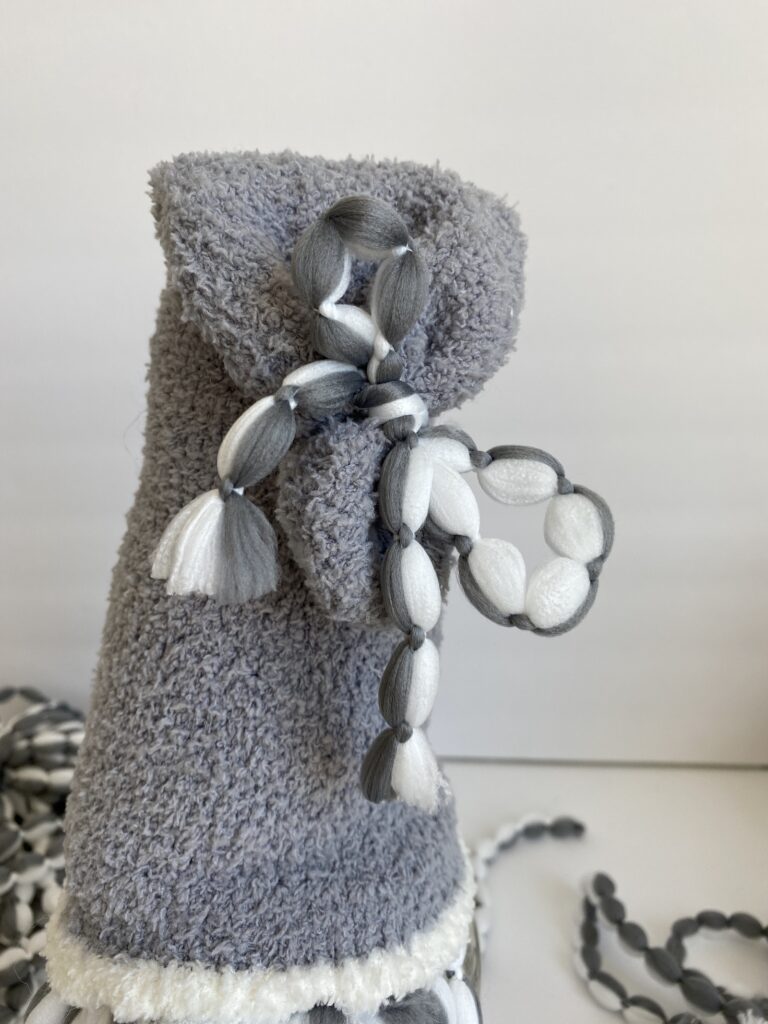 What Kind Of Jars Can You Use
You can use spaghetti sauce jars, mason jars, or any other glass jar. I used a pickle jar. I've also made them with old flower vases.
When you use an old vase of a container without a lid, tape a piece of paper for a lid so the stuffing doesn't end up down in the jar.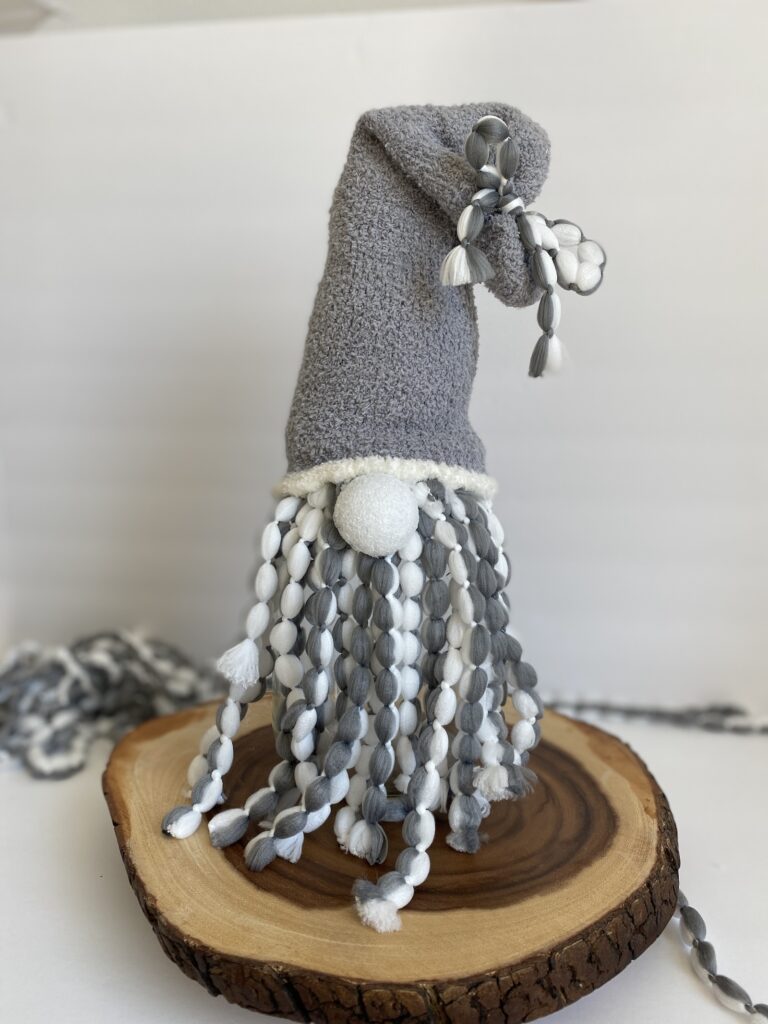 Girl Mop Head Gnome
I've updated this post to include this easy girl mop head gnome and I have a little secret!
This Dollar Tree mop head is not cut or glued at all!
I split the mop head replacement in two. The front half is divided to form braids. The back half is stuffed up into the hat instead of using fiber fill. The black plastic part that holds the mop together is up inside the mop.
I used a DIY felt flower on the brim of the hat and also a miniature one on the top. Isn't she cute?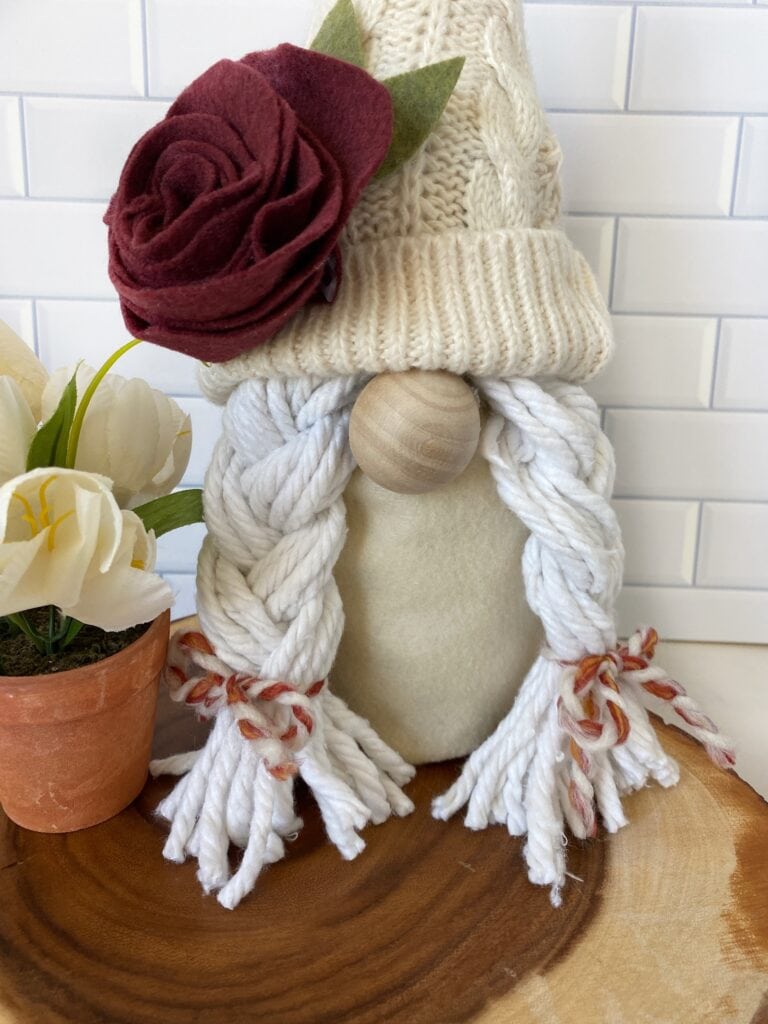 Other Gnome DIY Projects You May Enjoy
I hope you enjoyed learning how to make a gnome using a mop head. Be sure to take a look at some of my favorite gnome ideas before you go.
Happy crafting,
Denise